5 Bedroom   3 1/2 Bathroom   14  Sleeps    Not Pet Friendly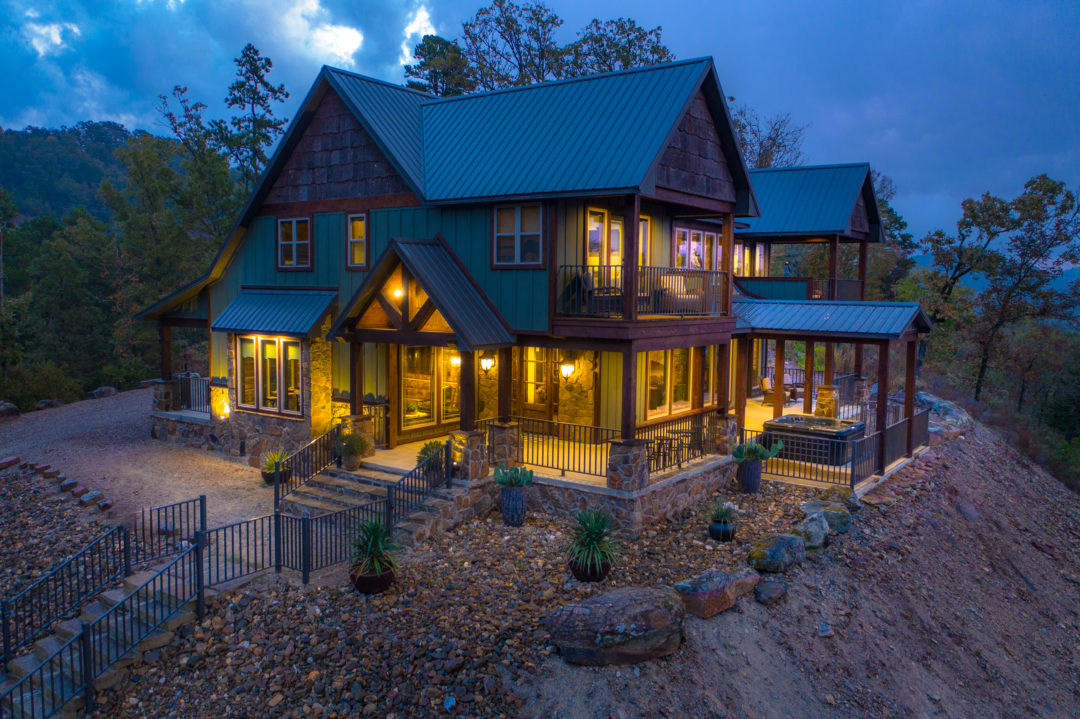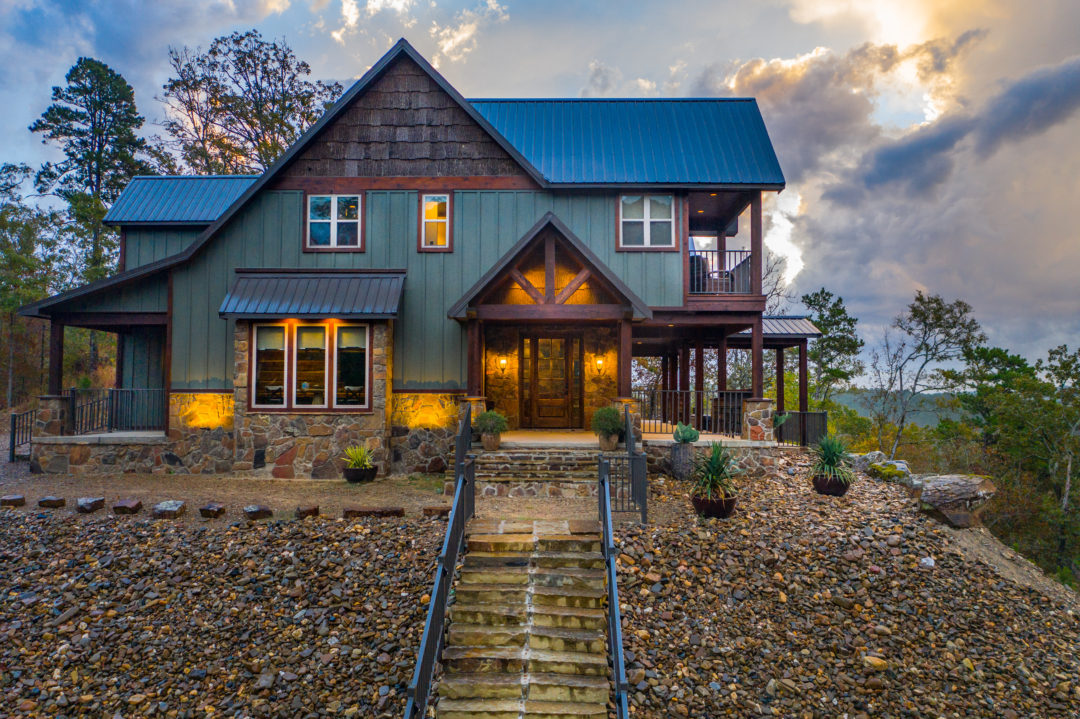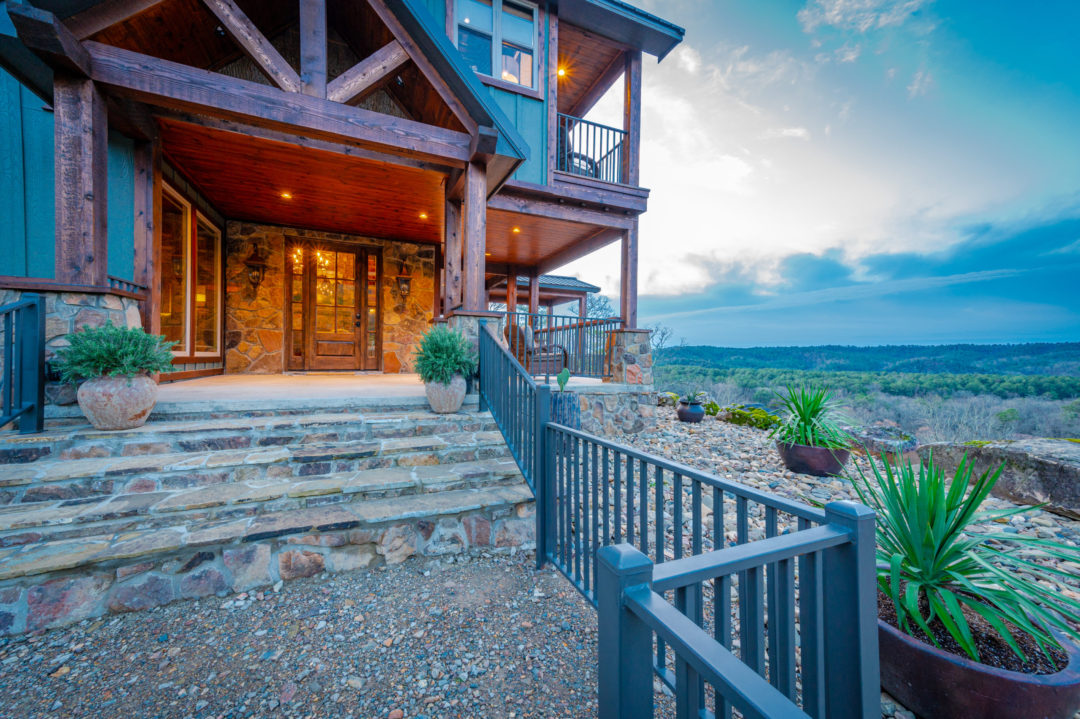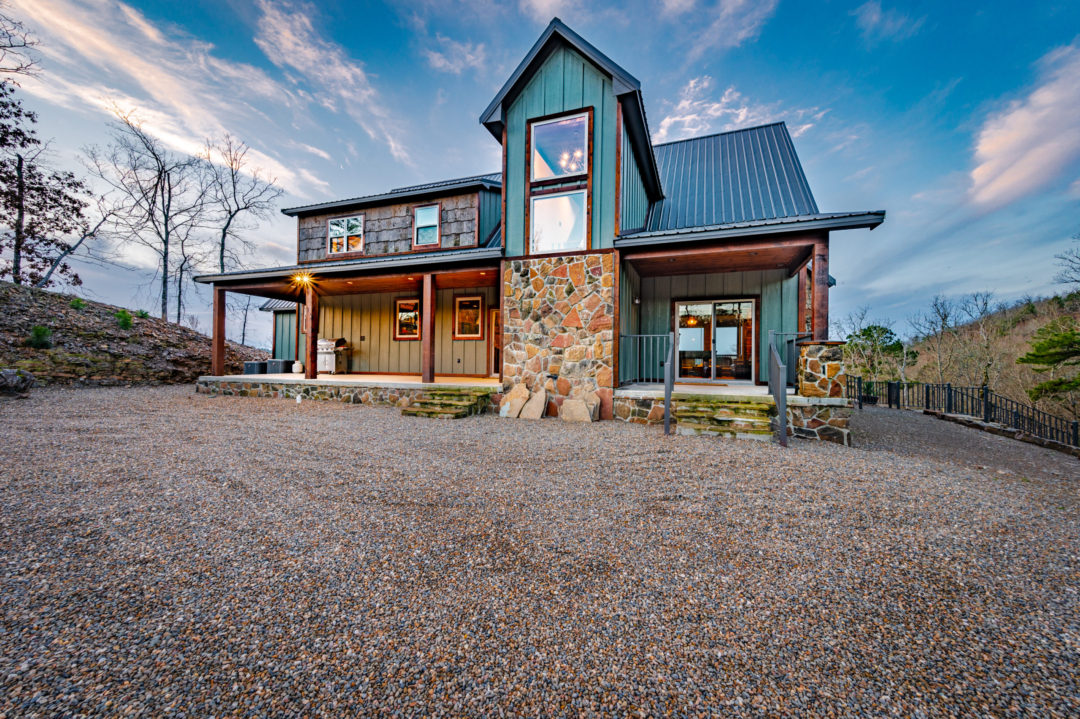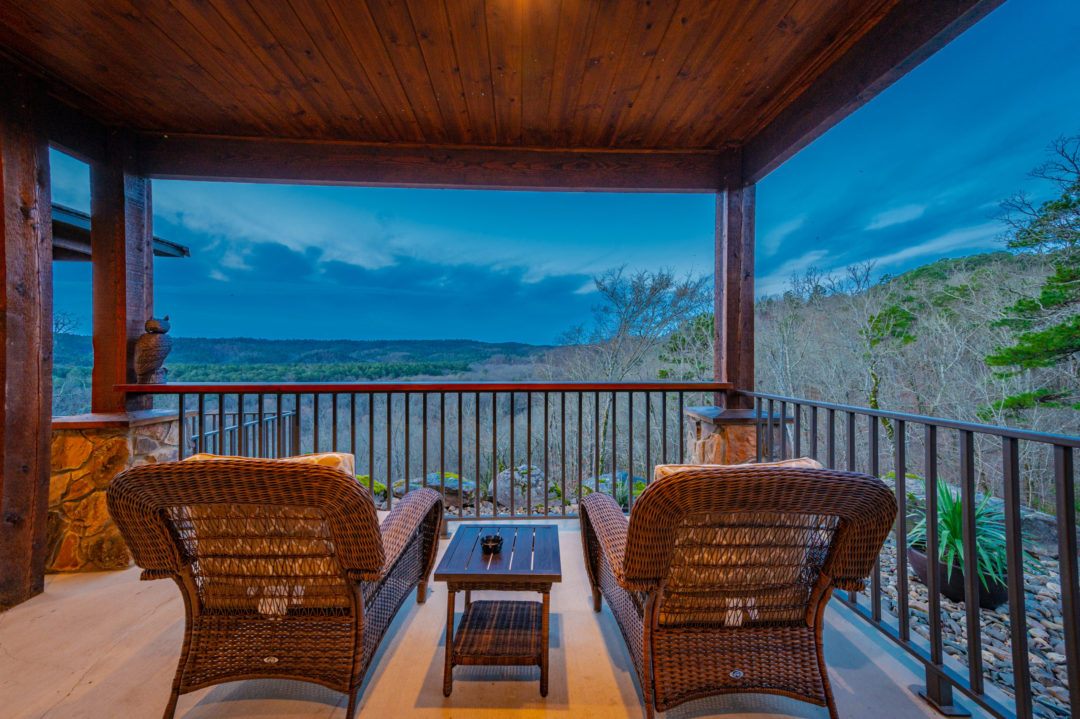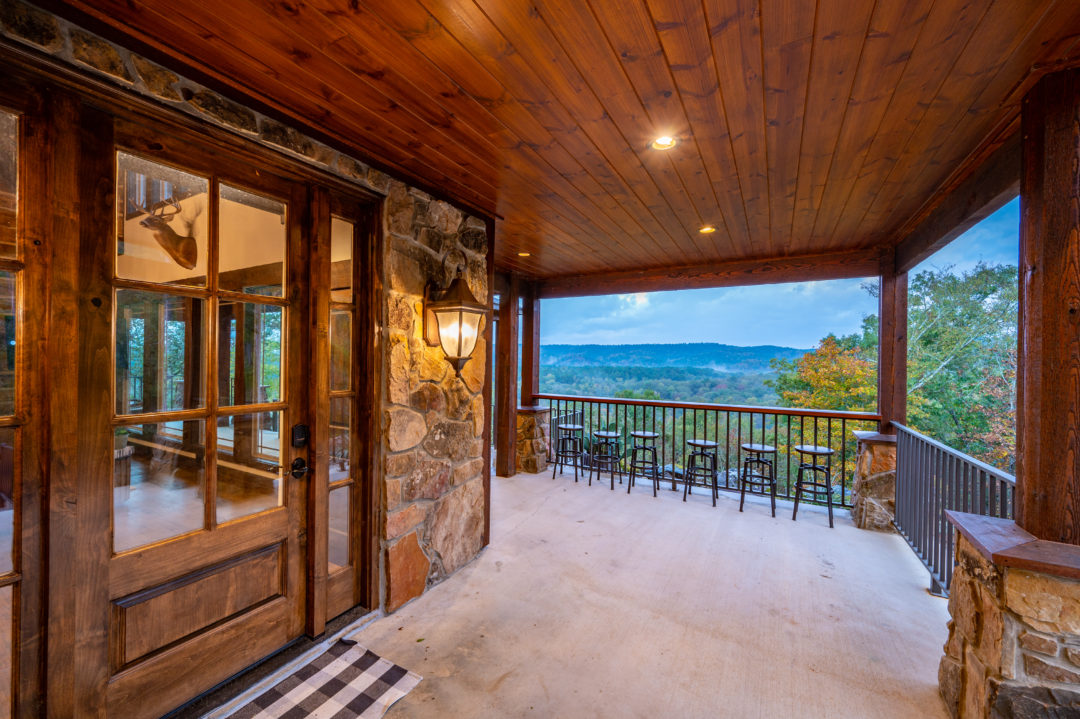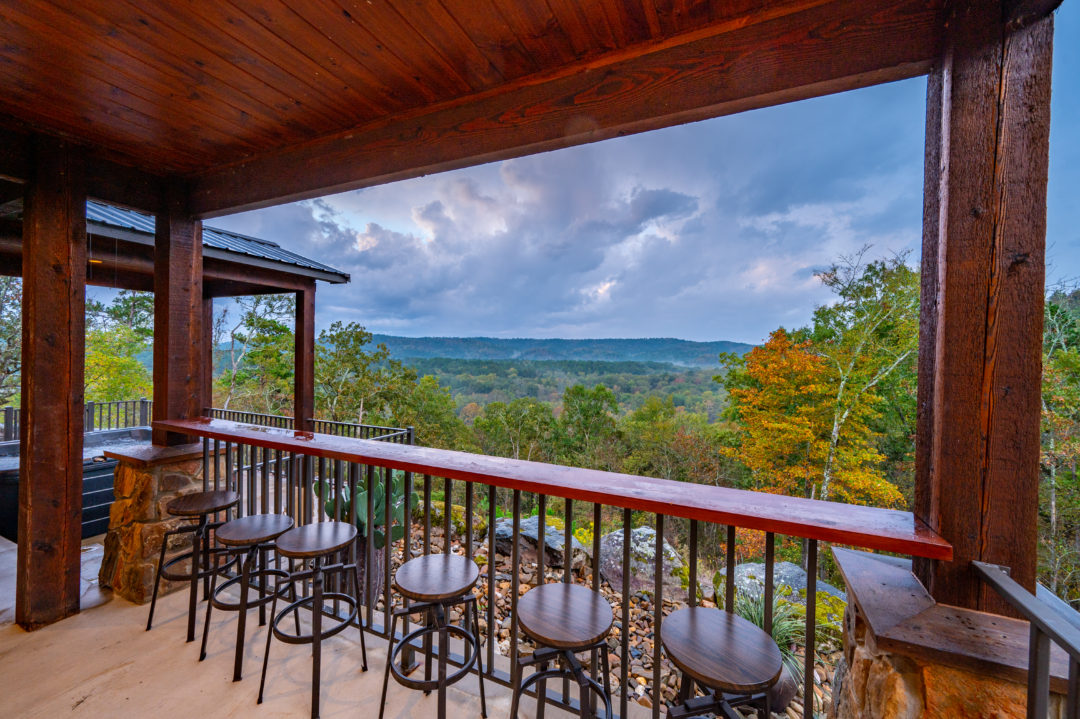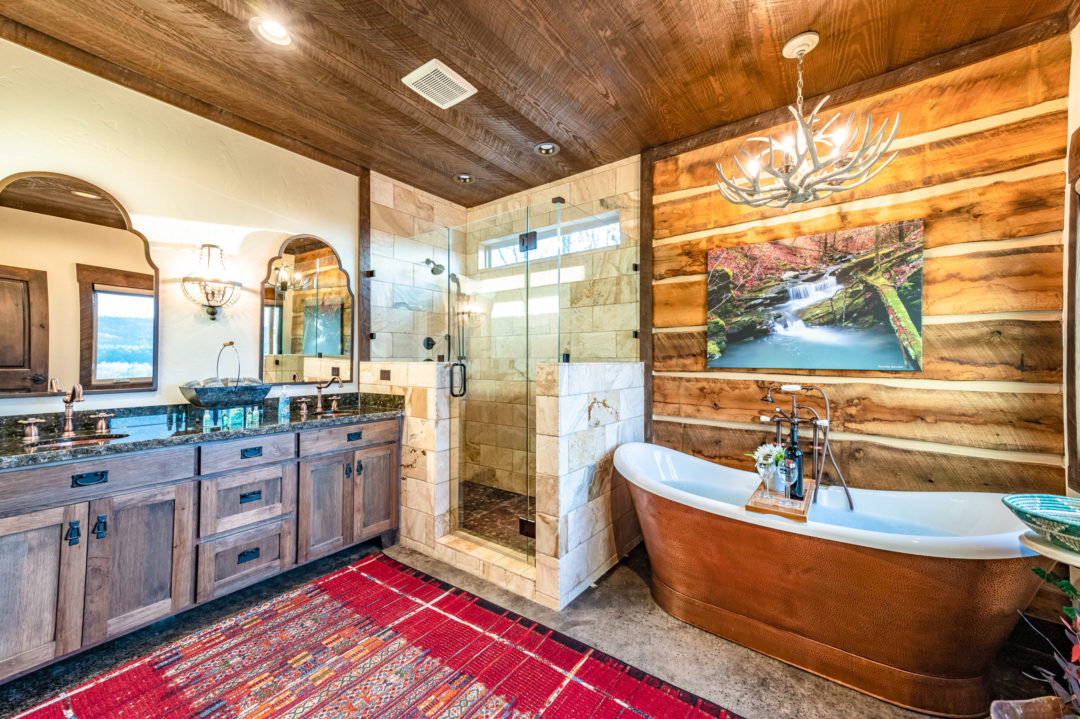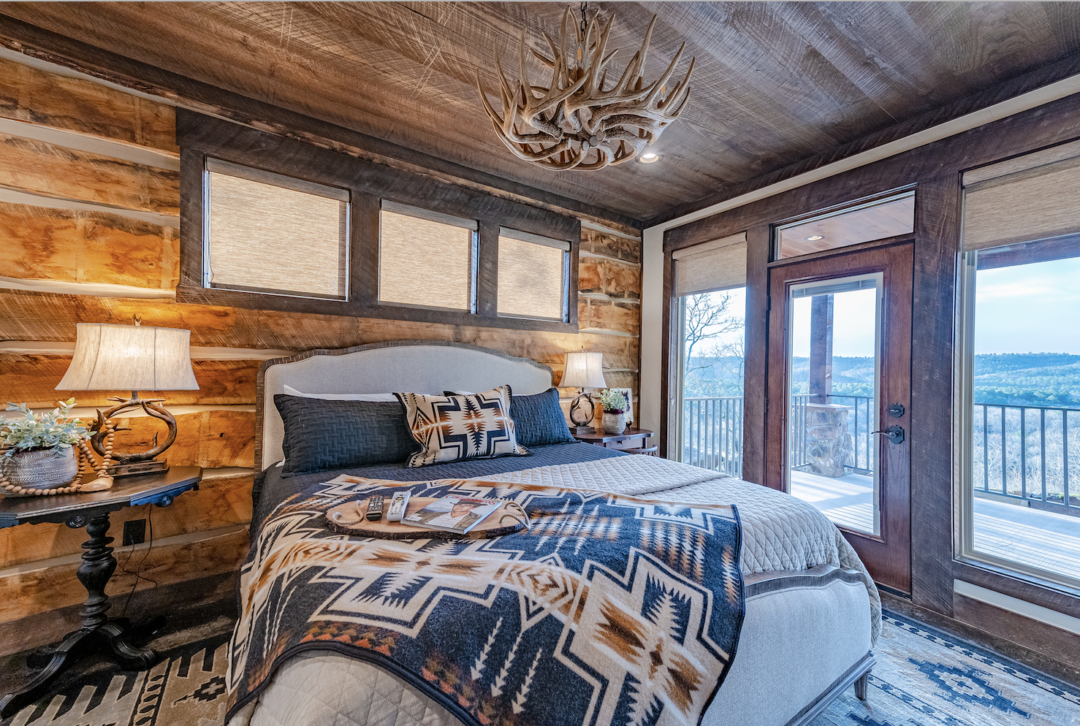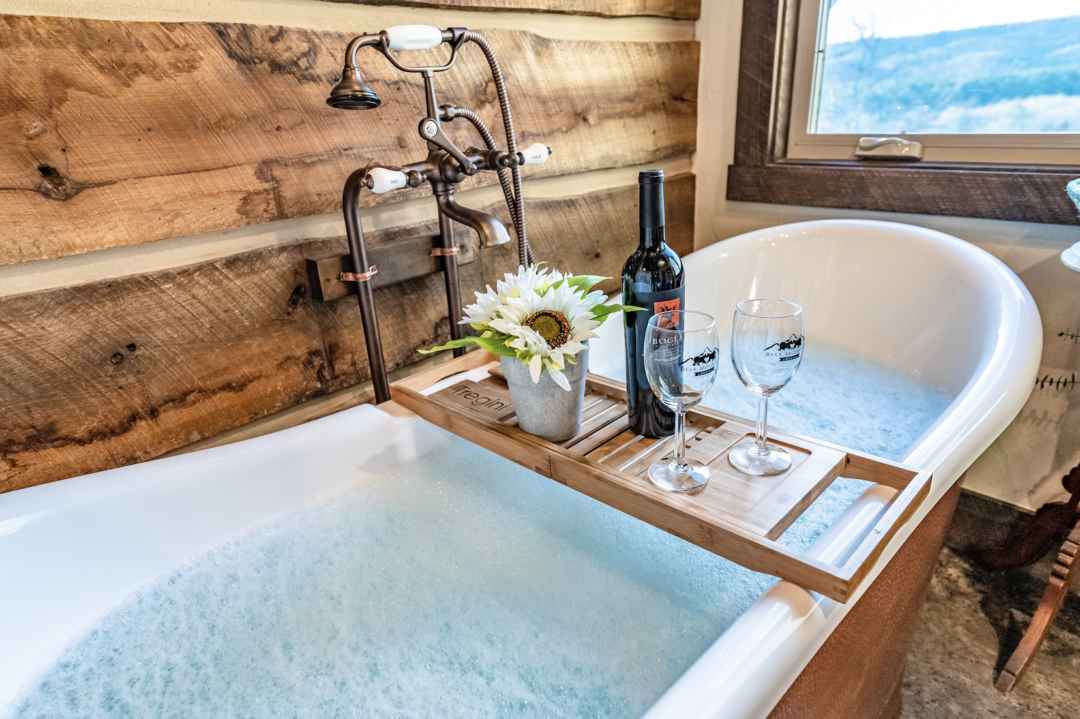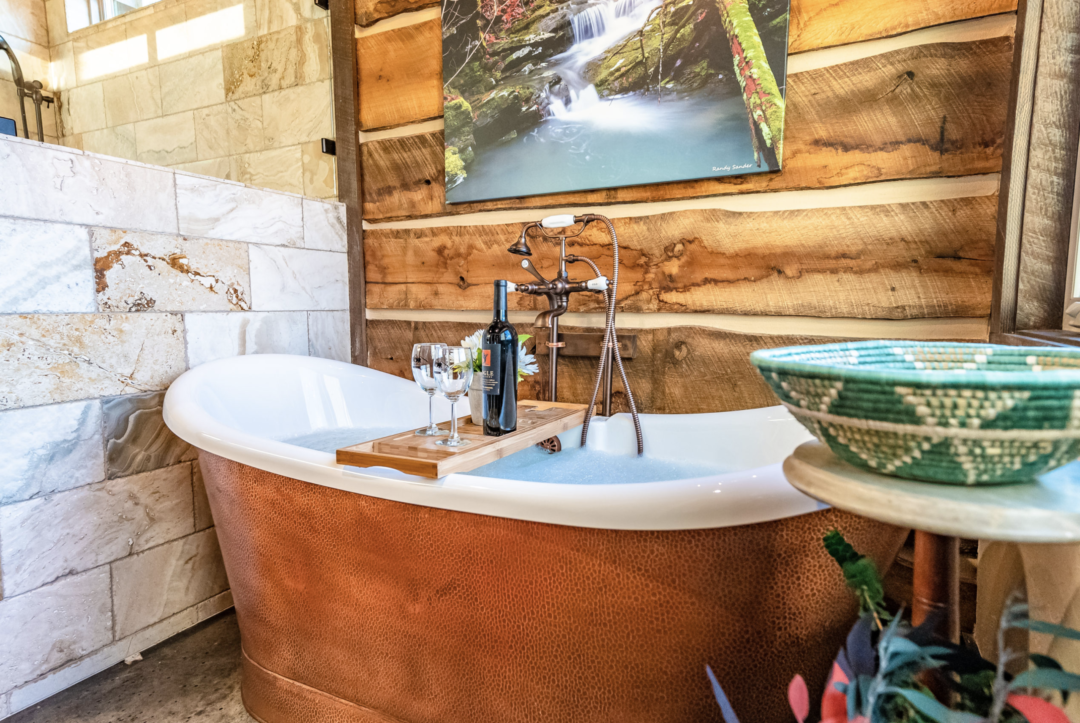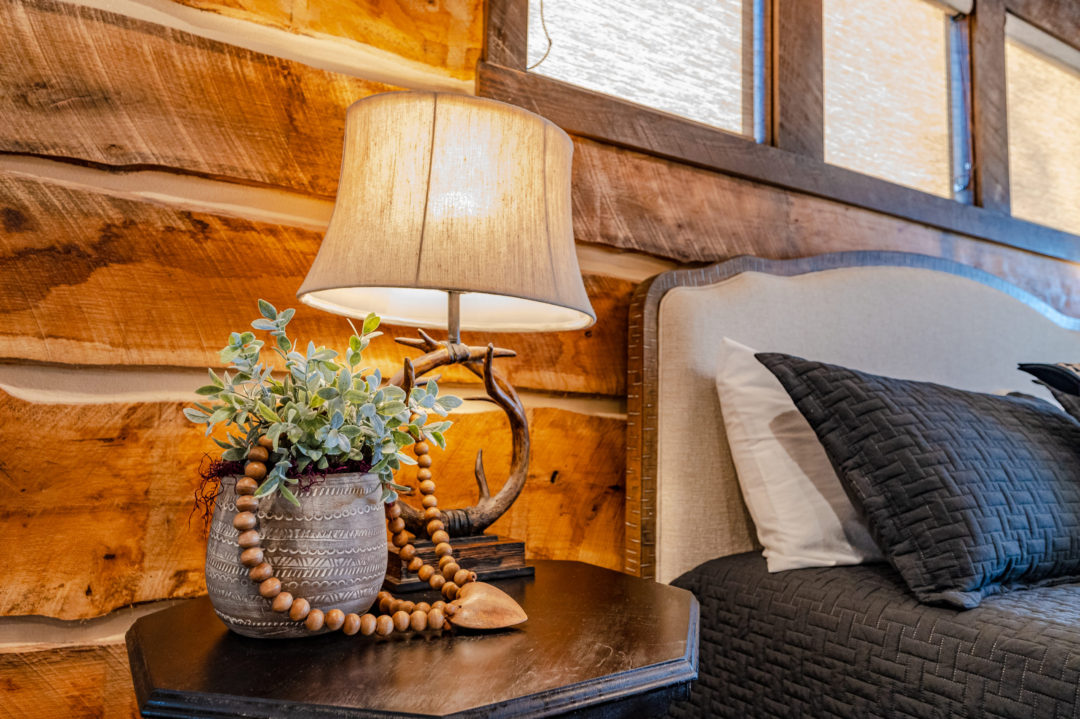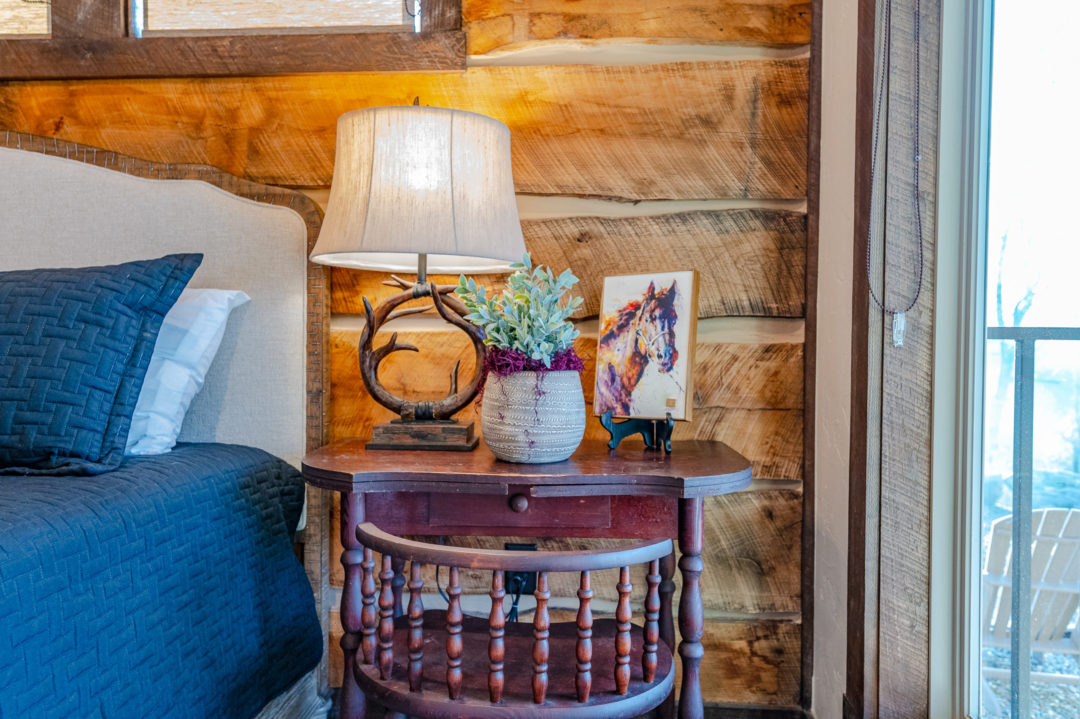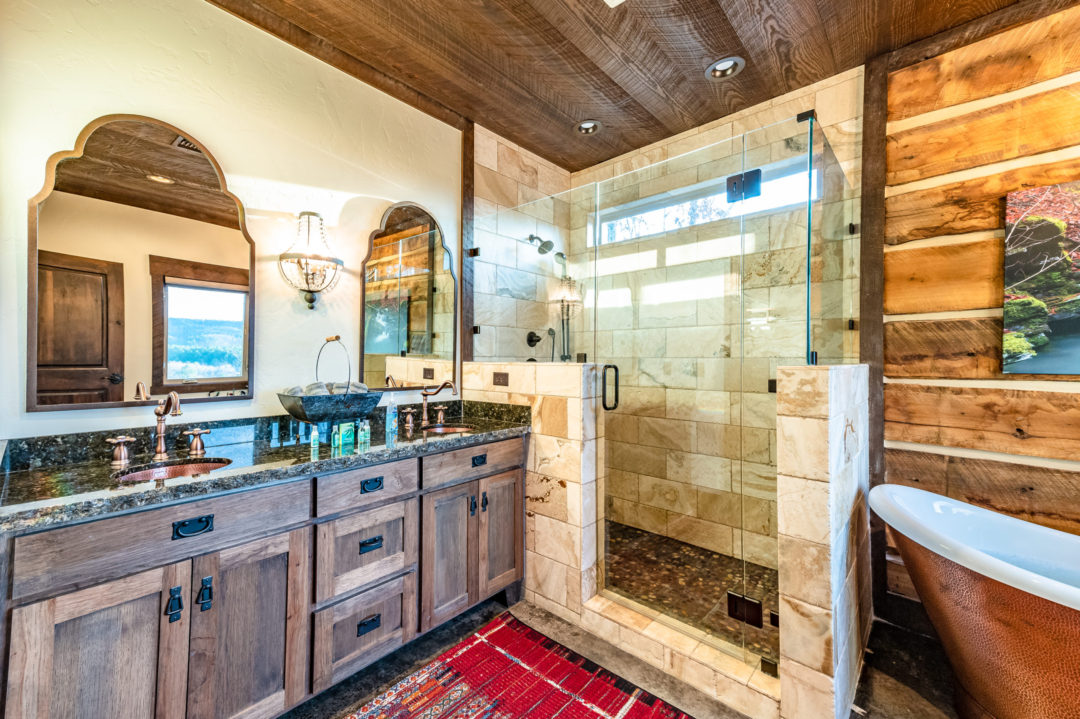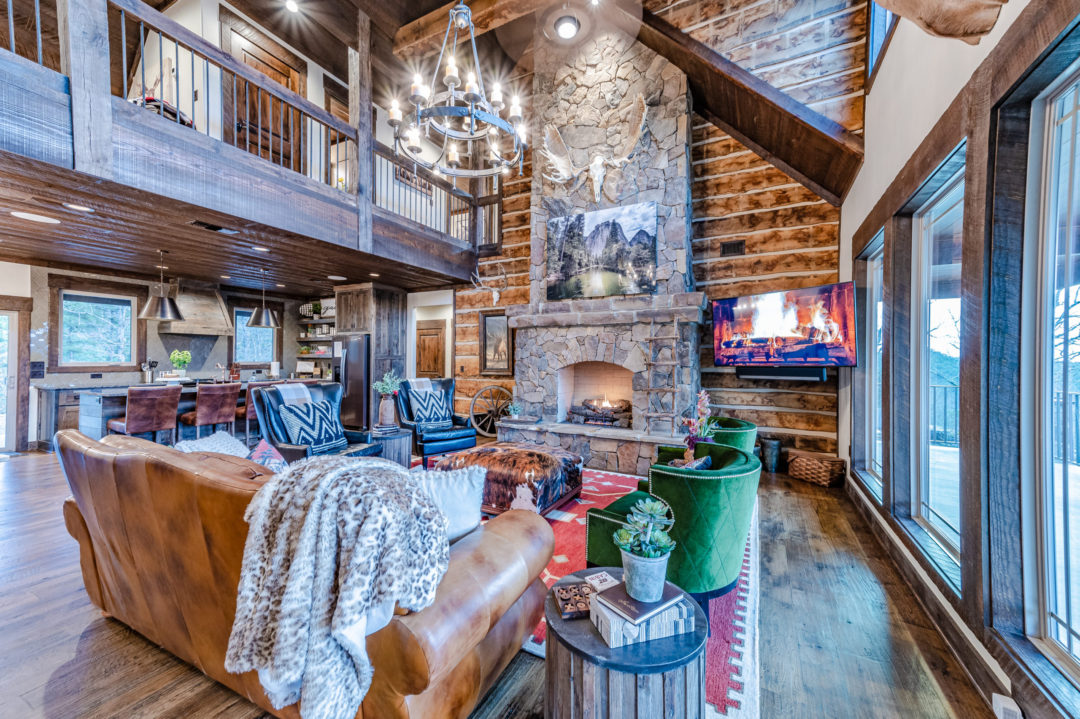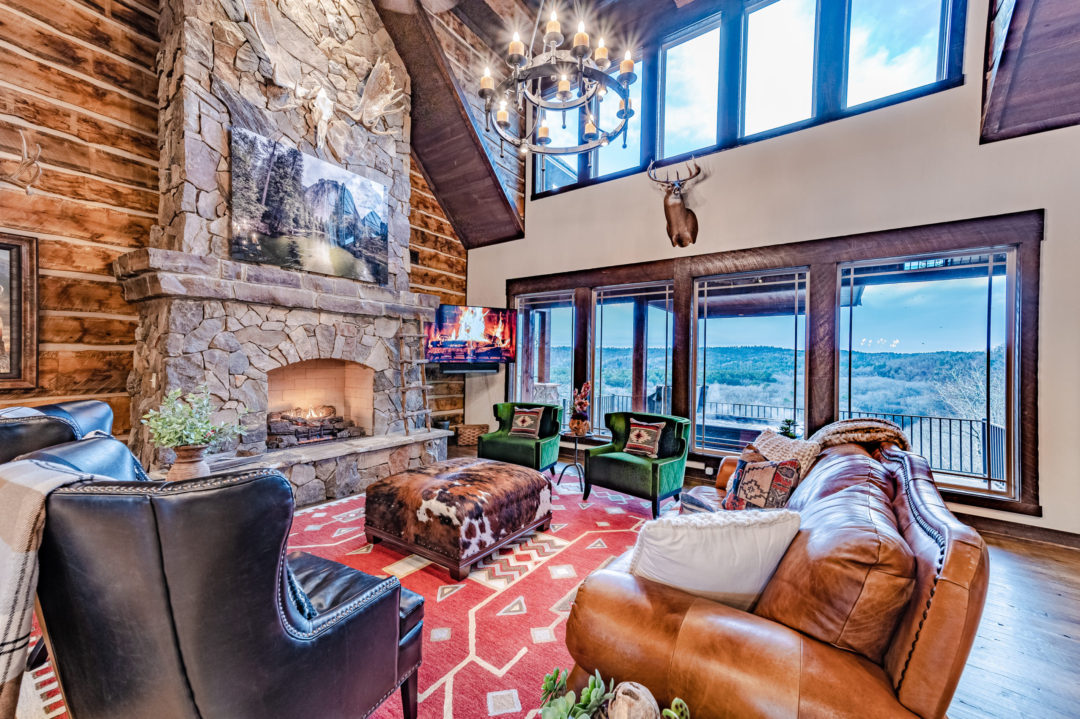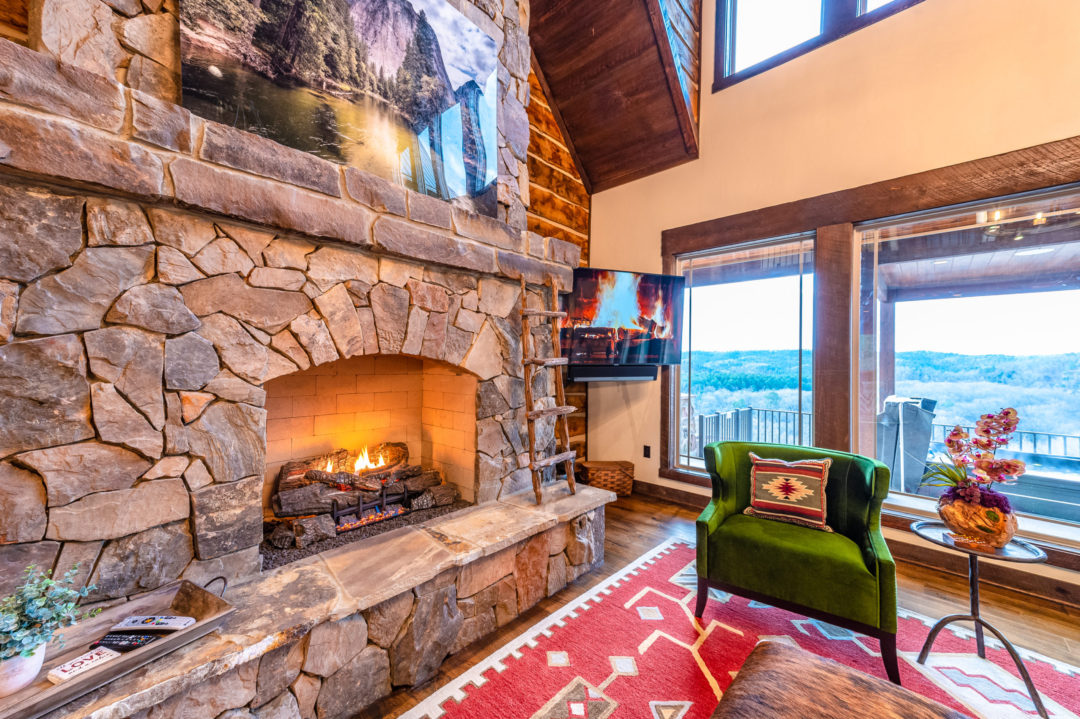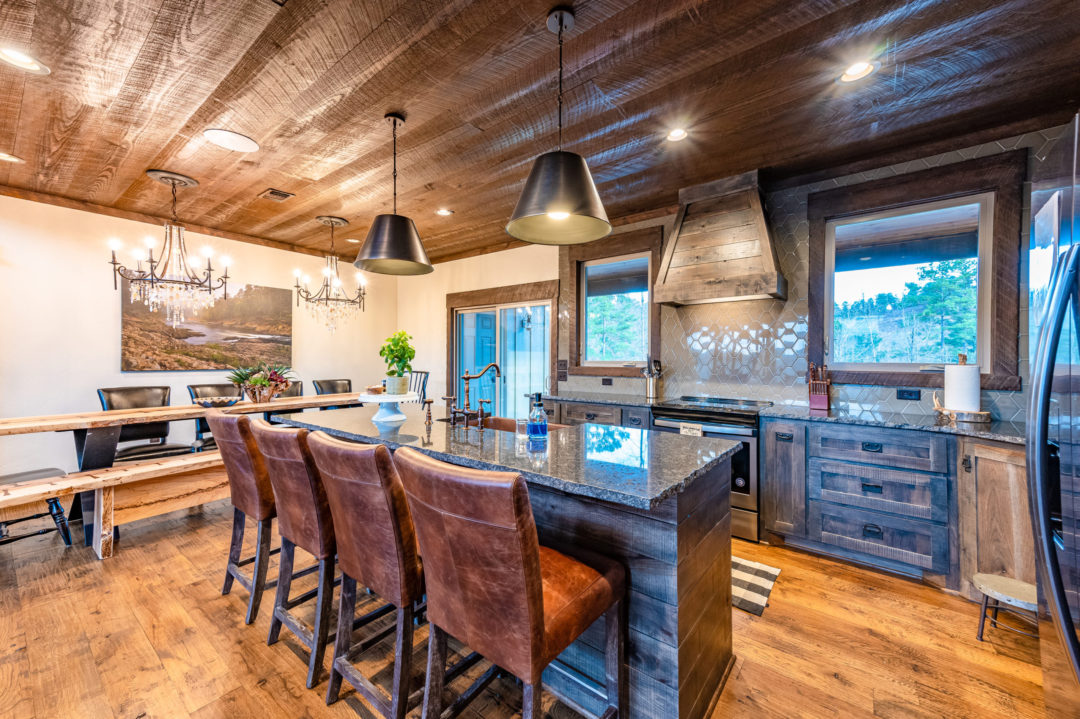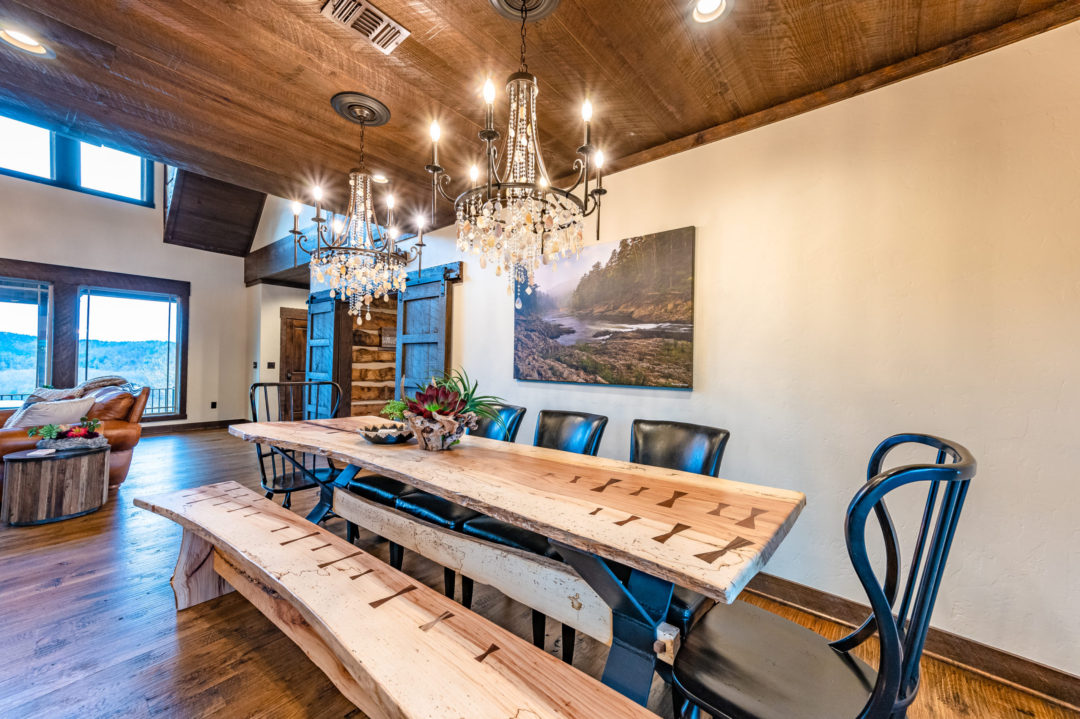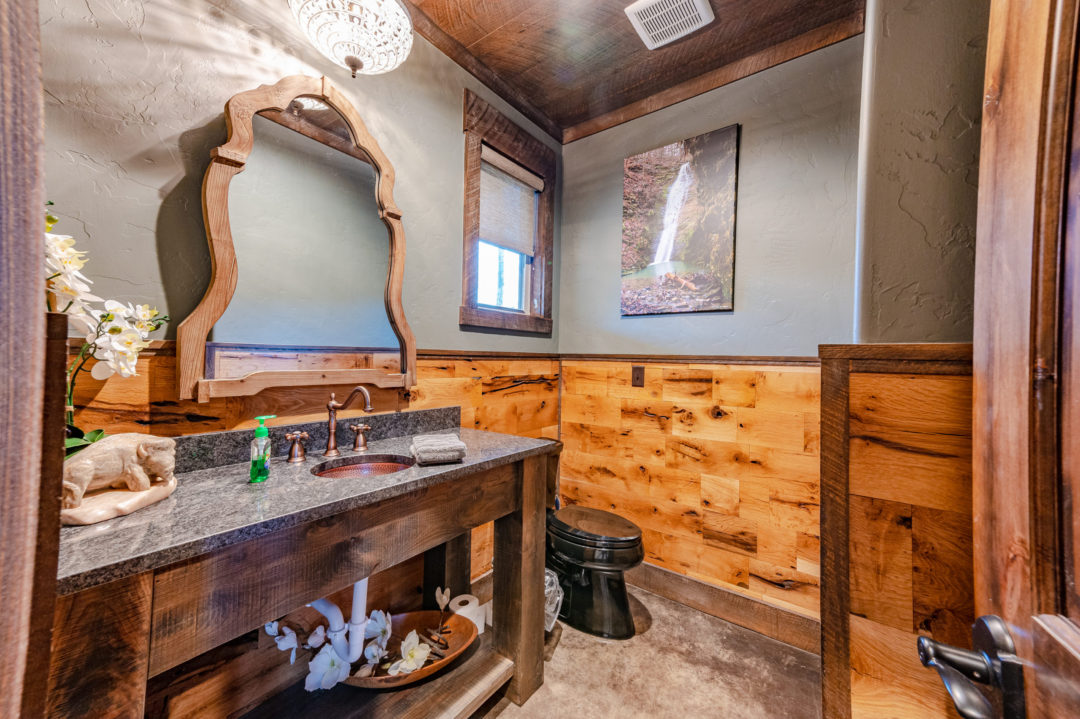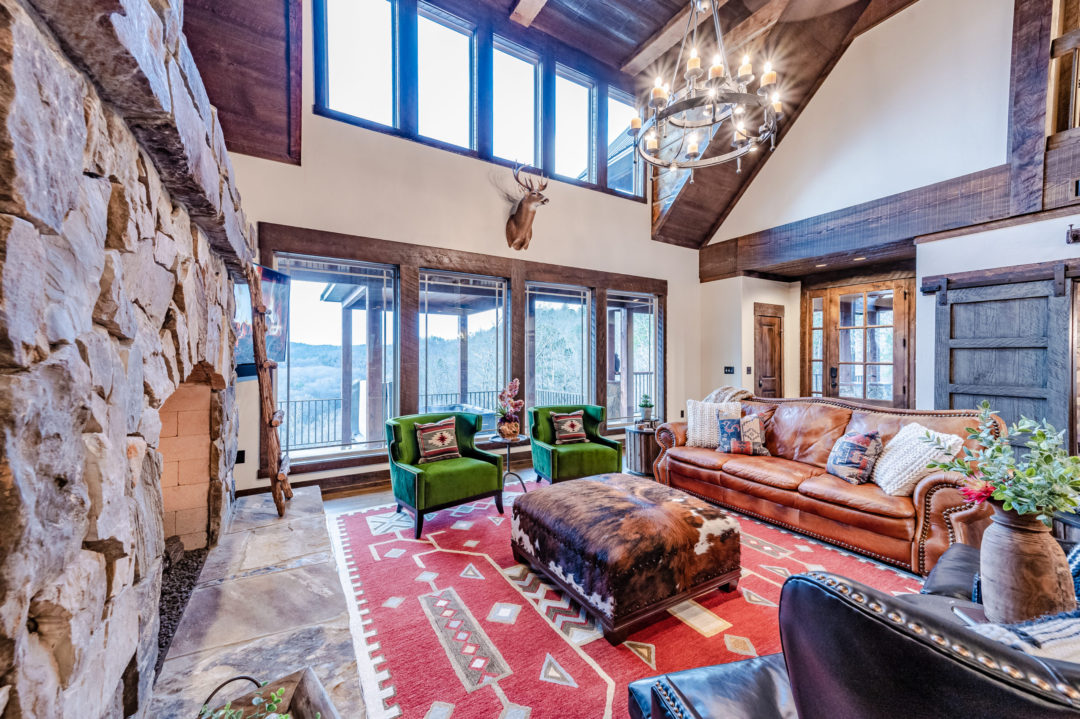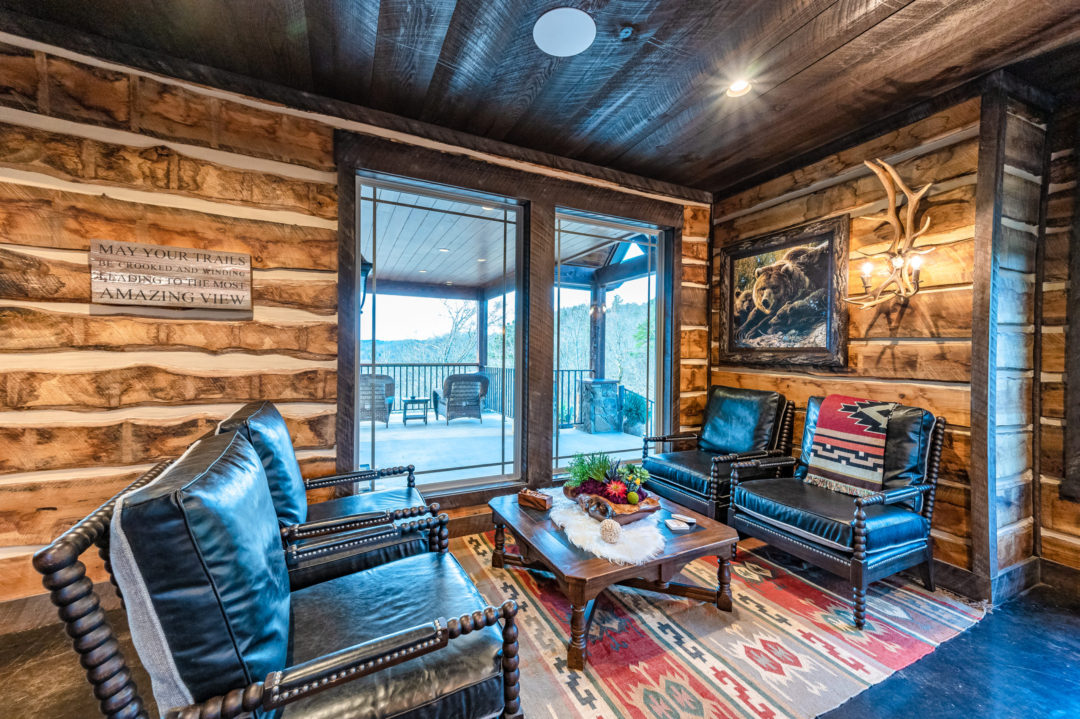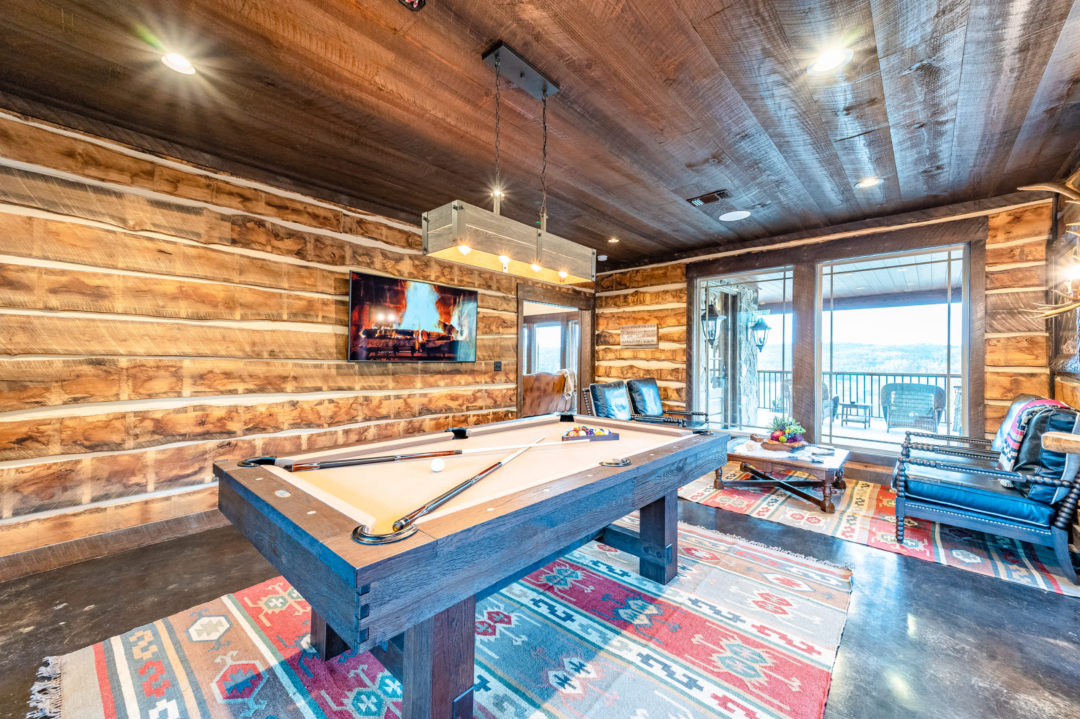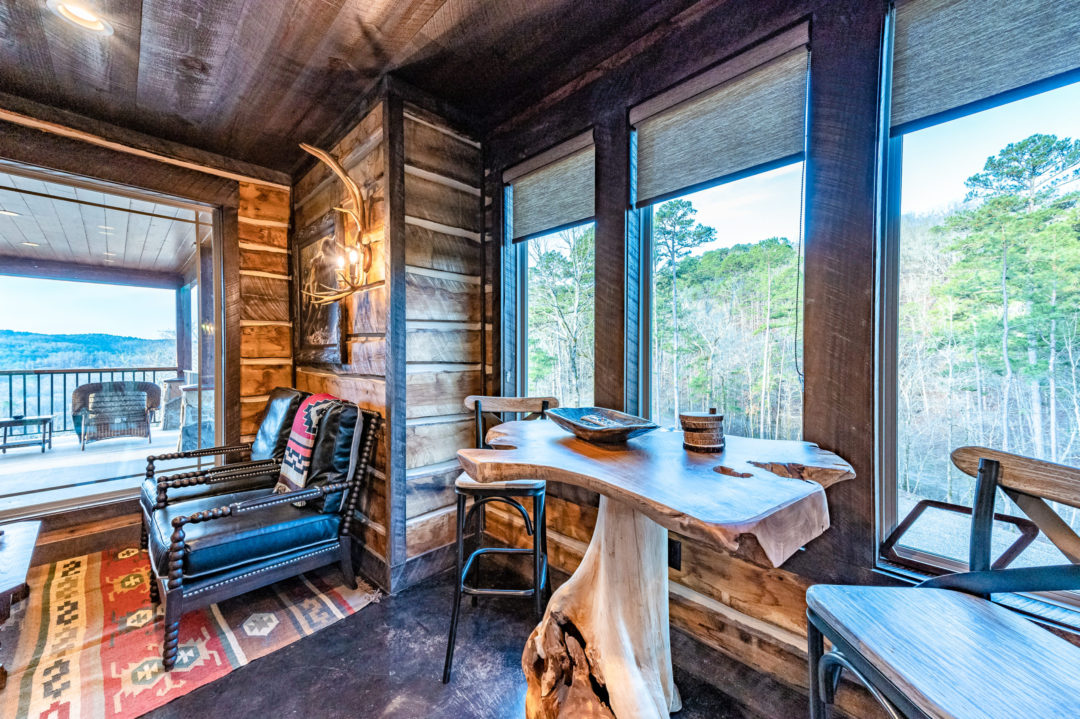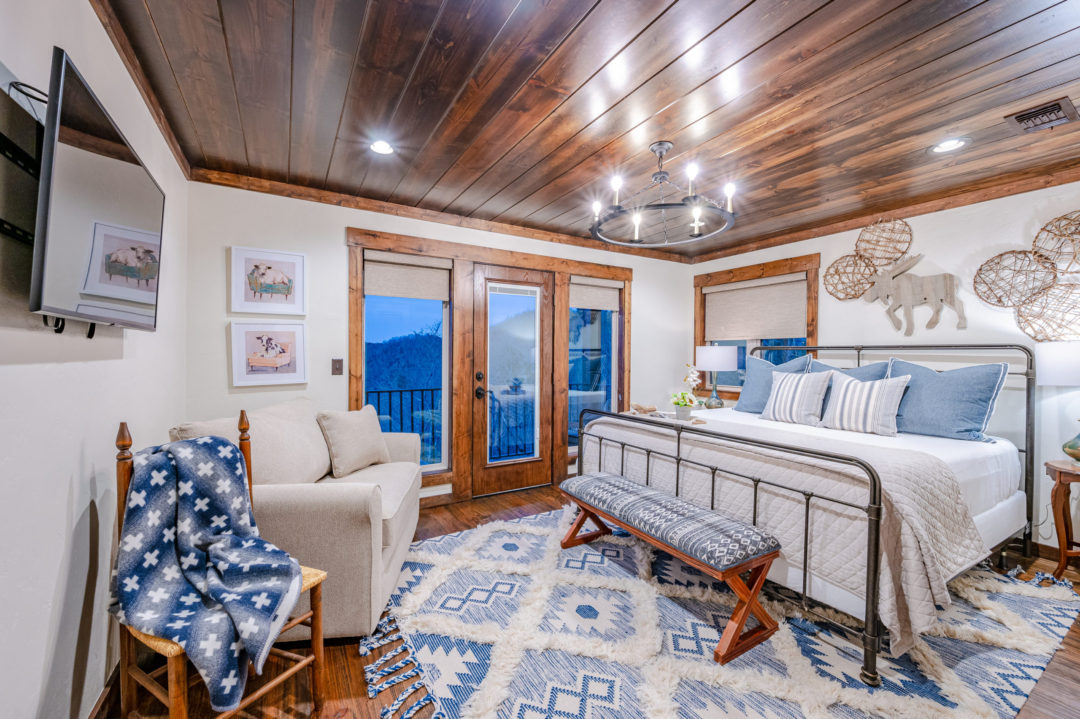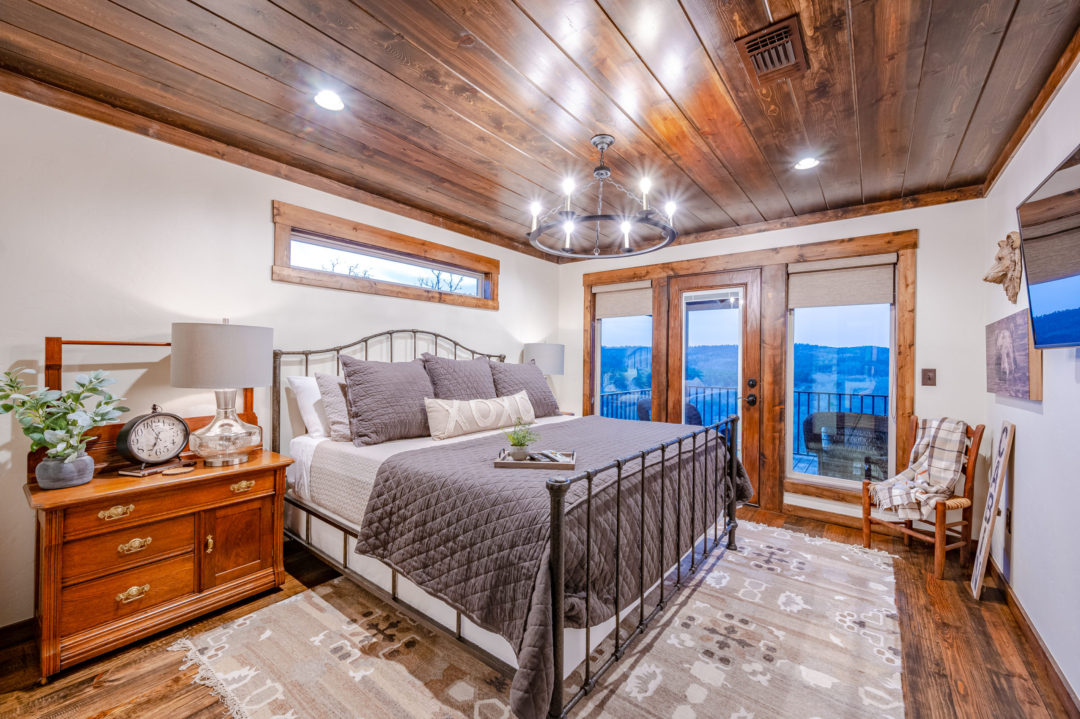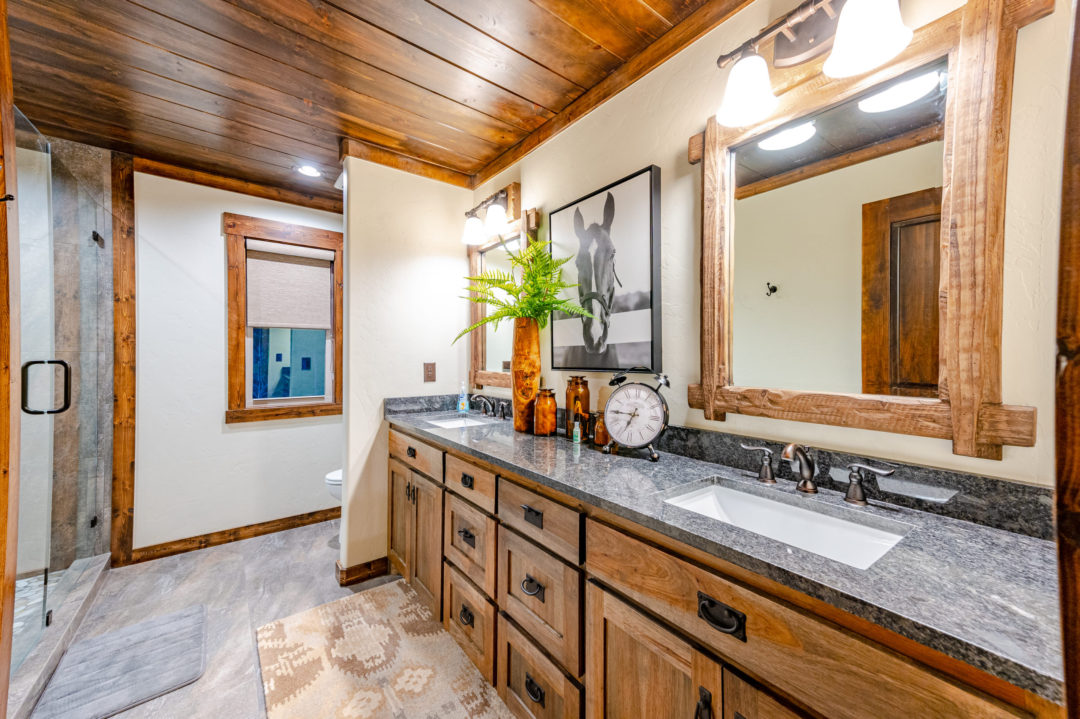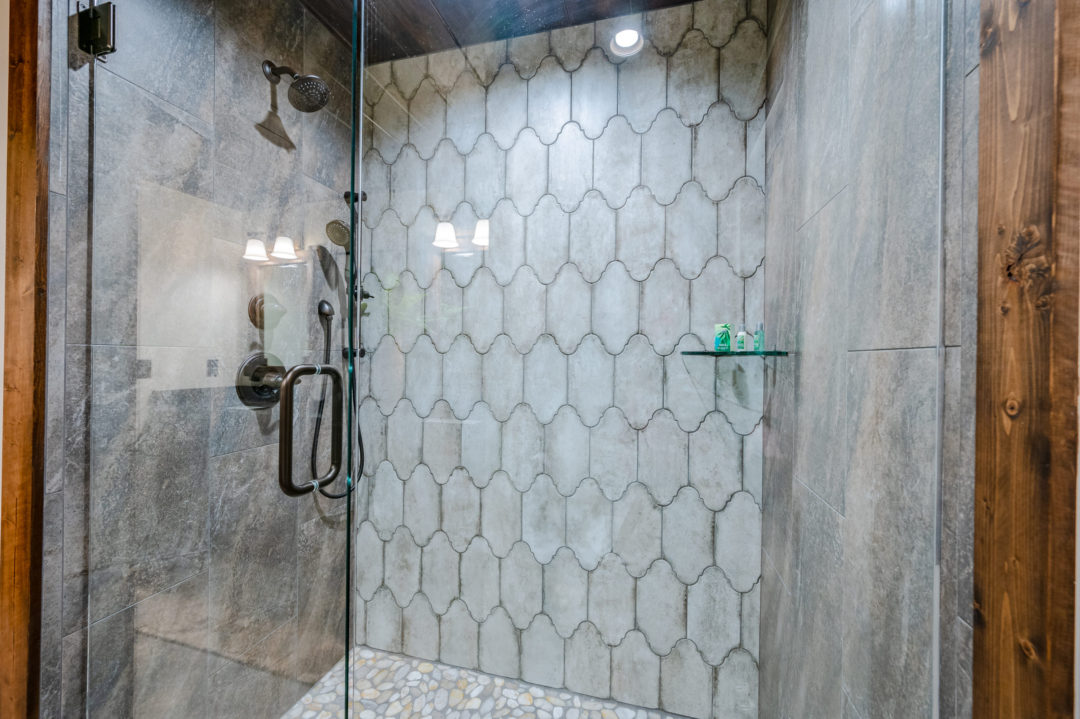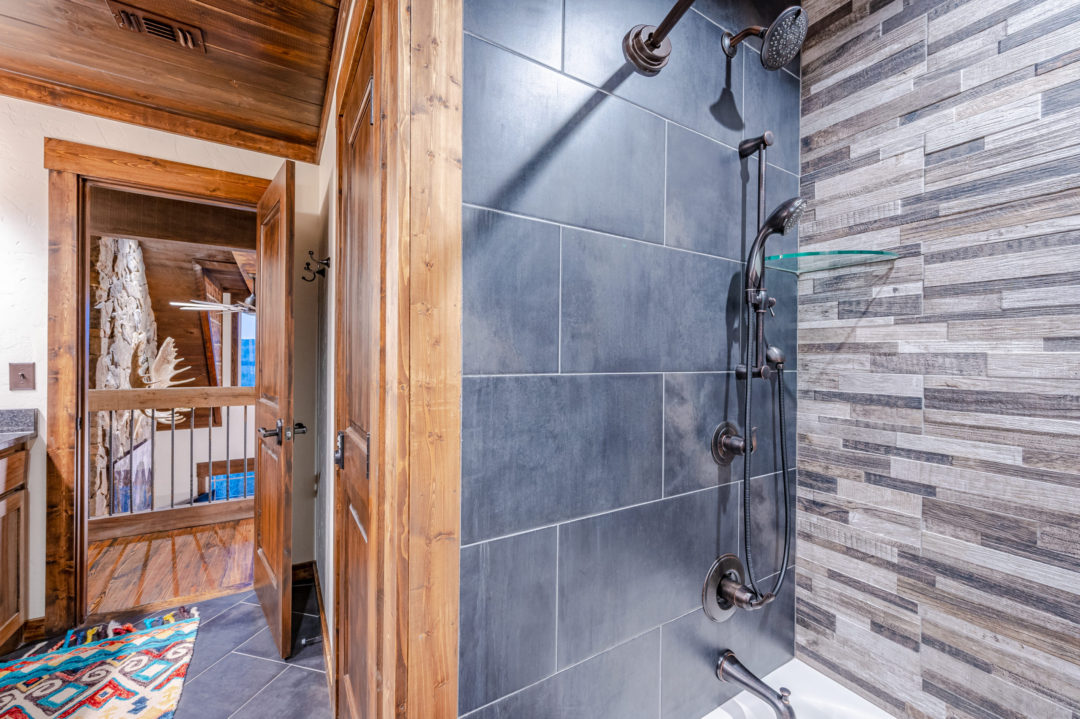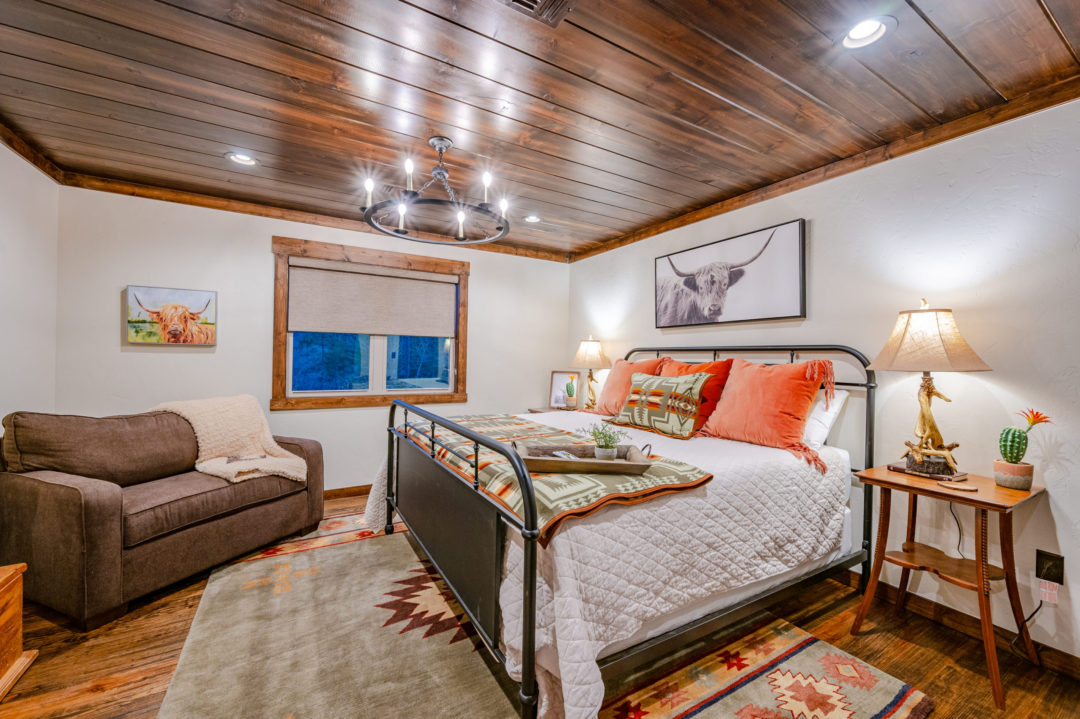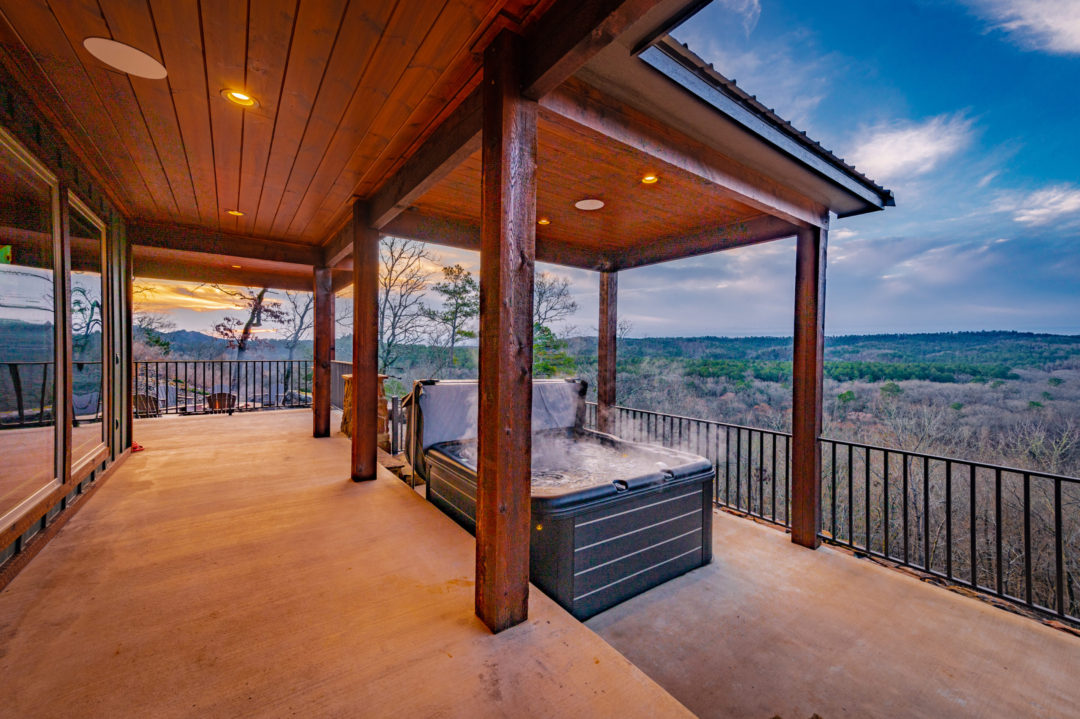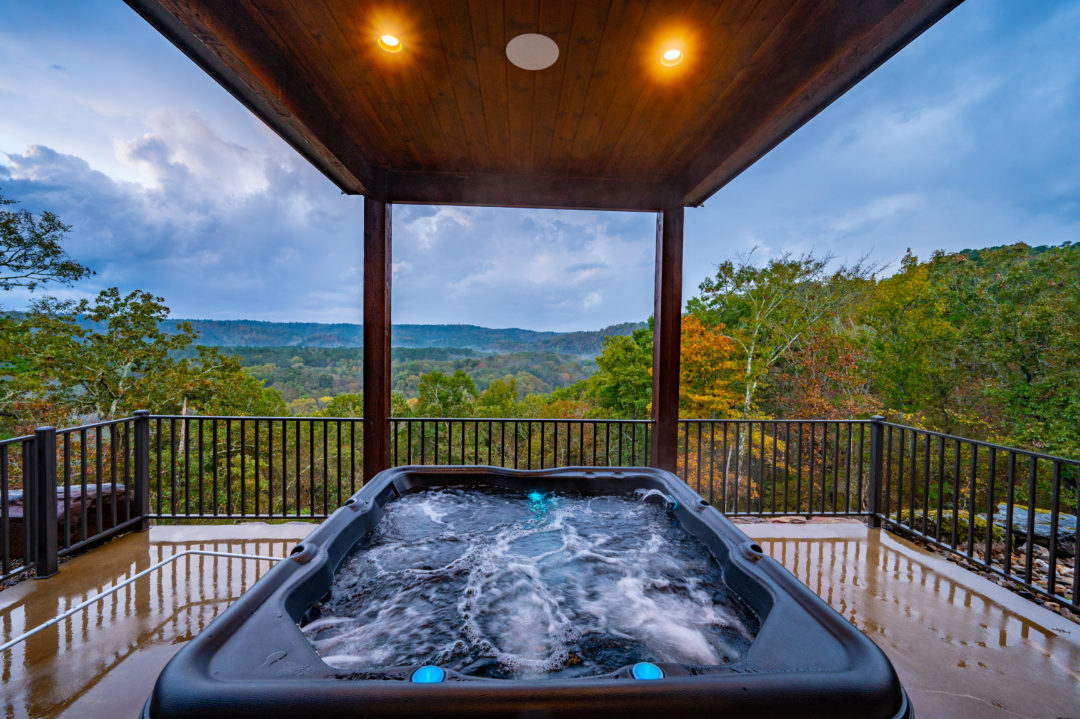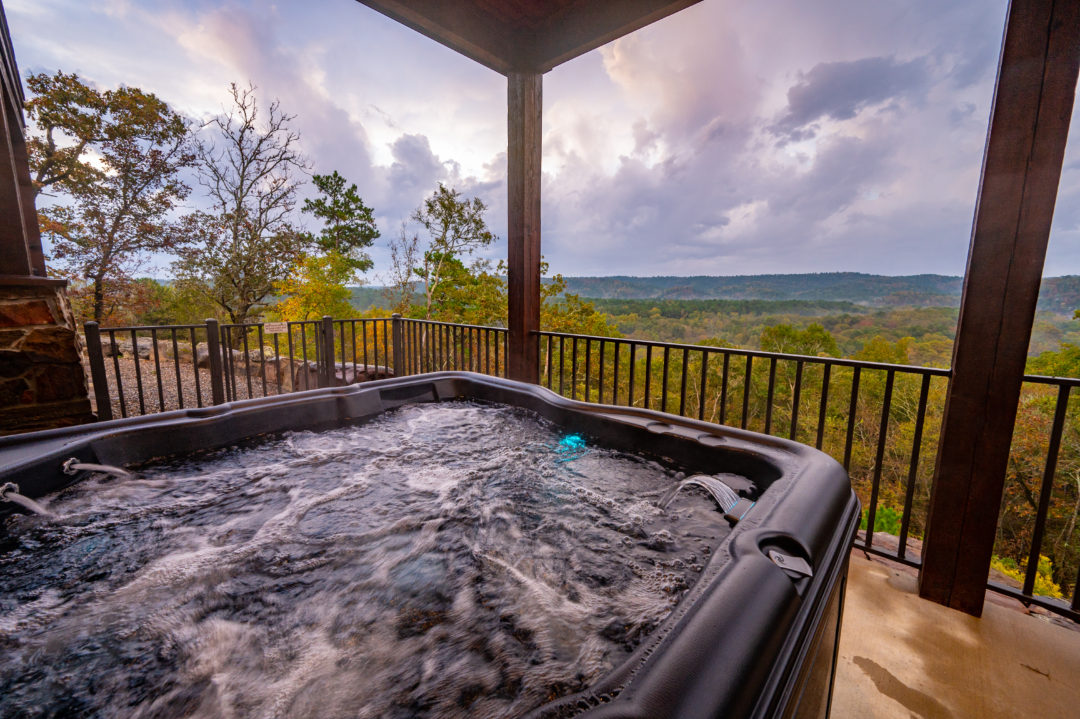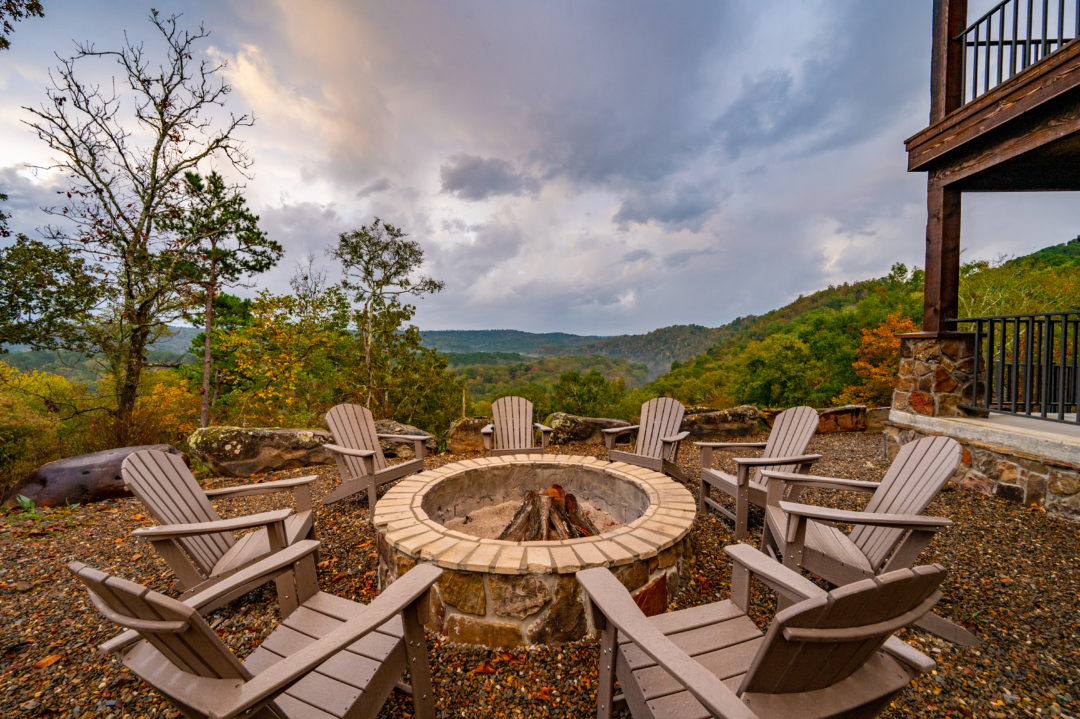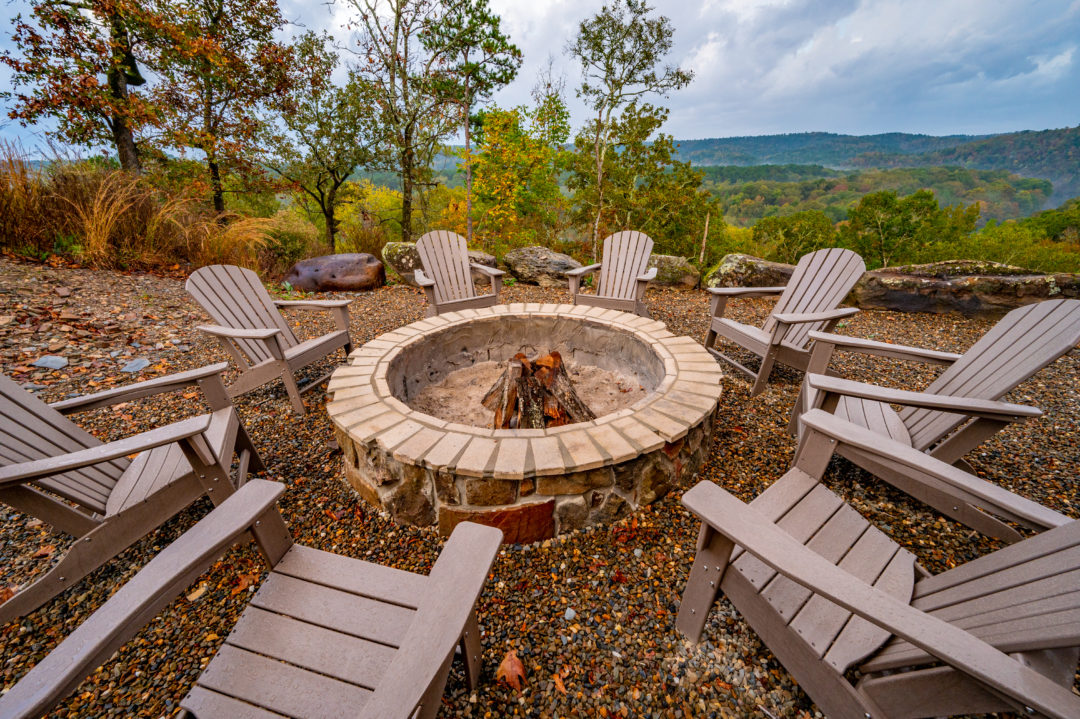 Upper-Balcony-View-scaled
Screen-Shot-2020-02-27-at-3.07.22-PM
Screen-Shot-2020-02-27-at-3.07.10-PM
Screen-Shot-2020-02-27-at-3.06.57-PM
Screen-Shot-2020-02-28-at-12.00.48-PM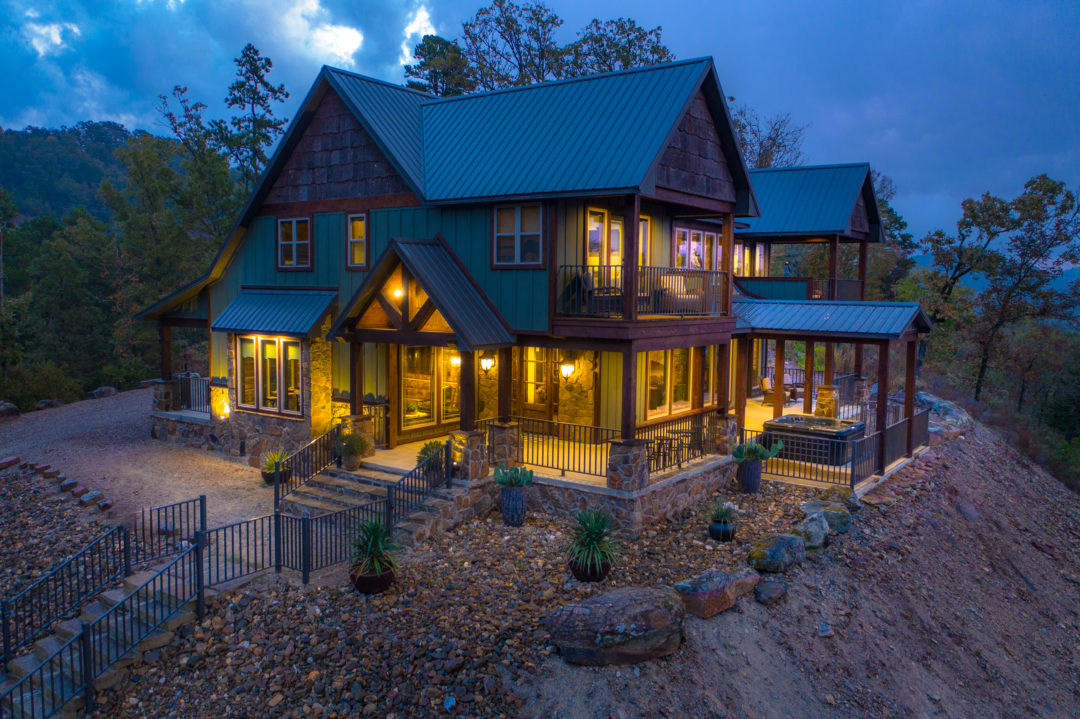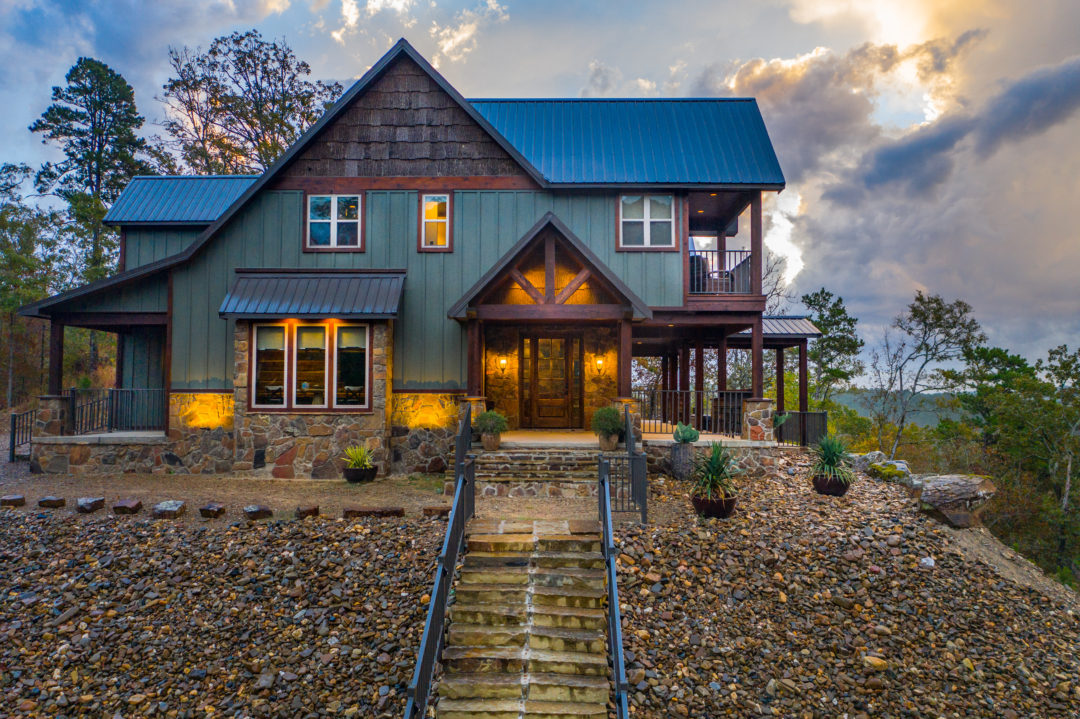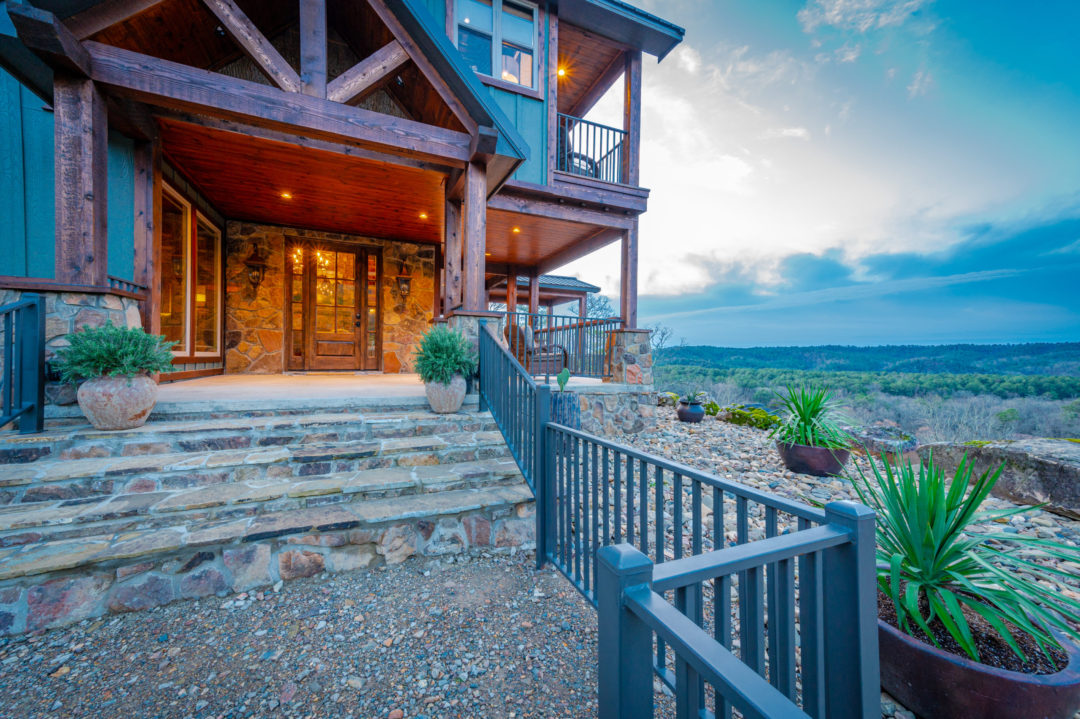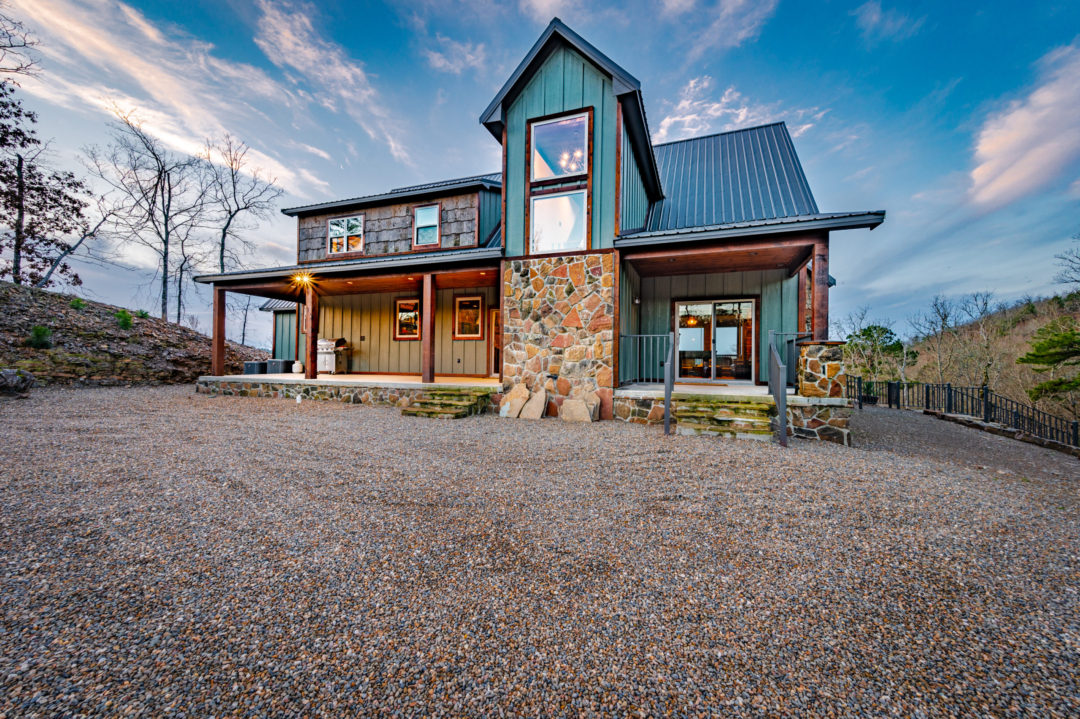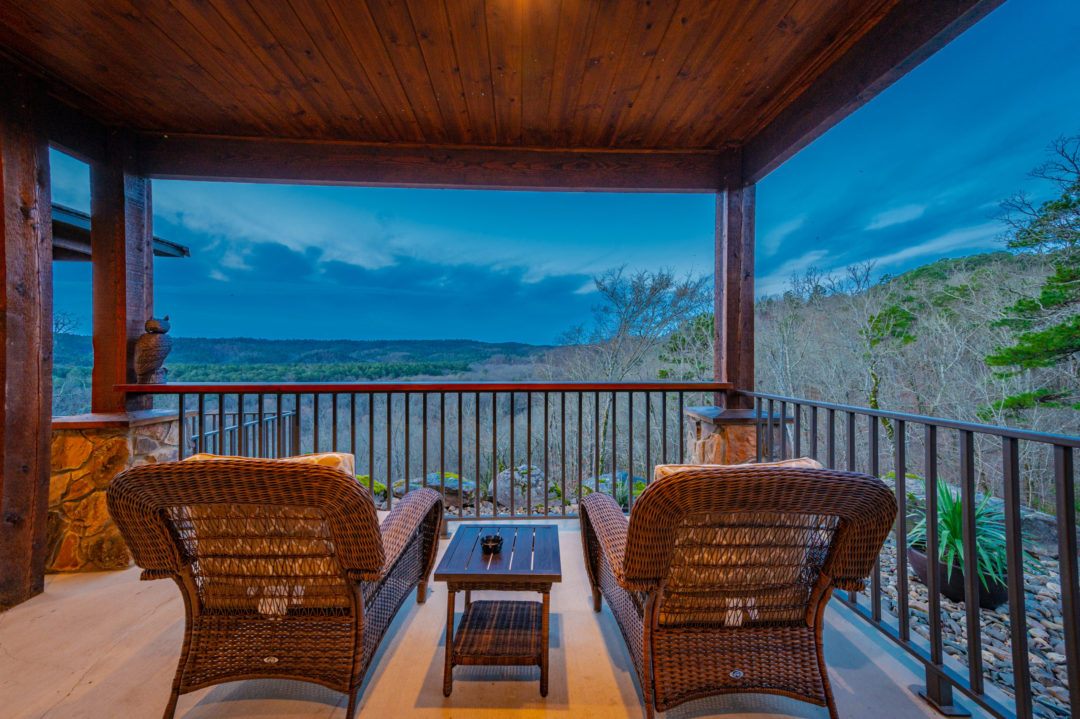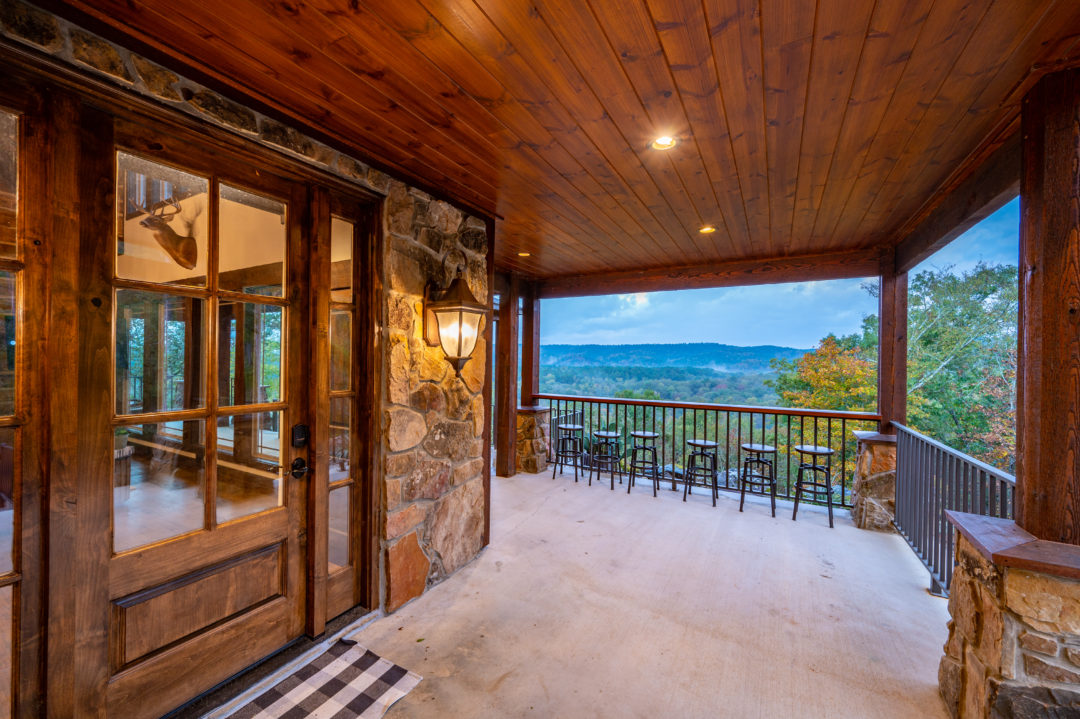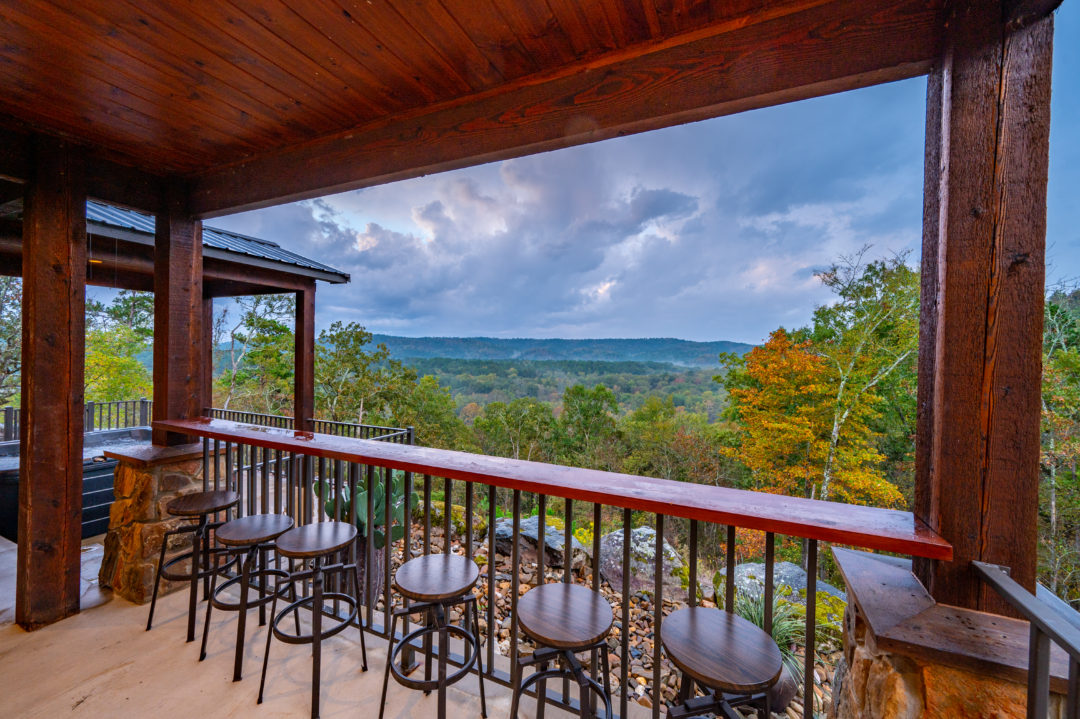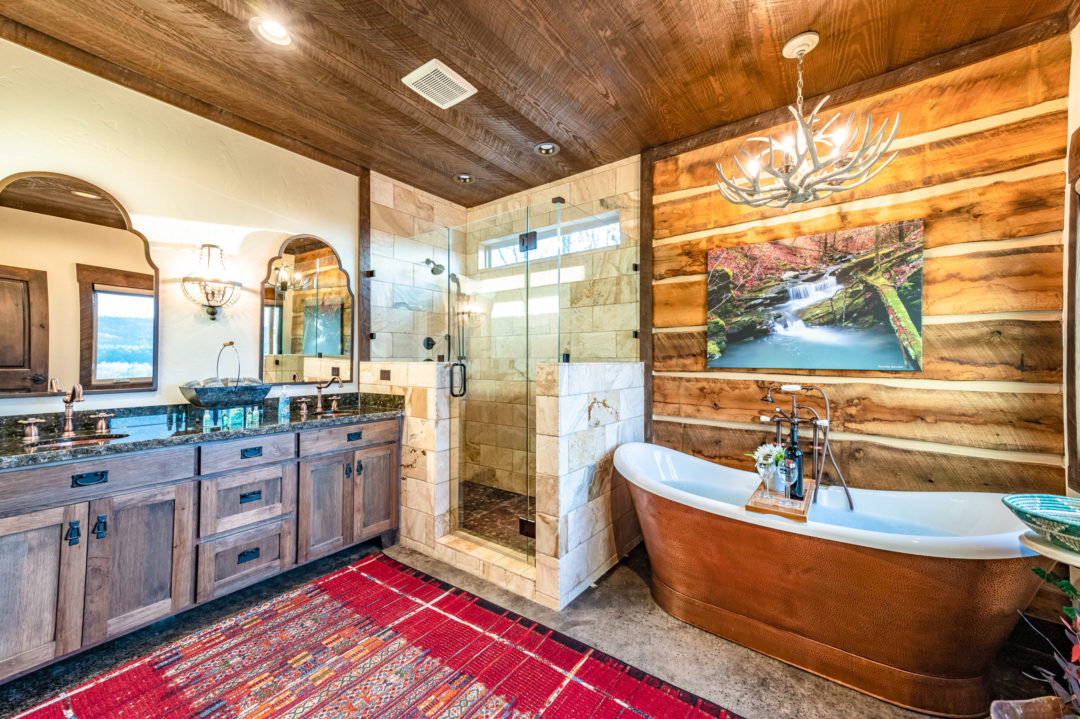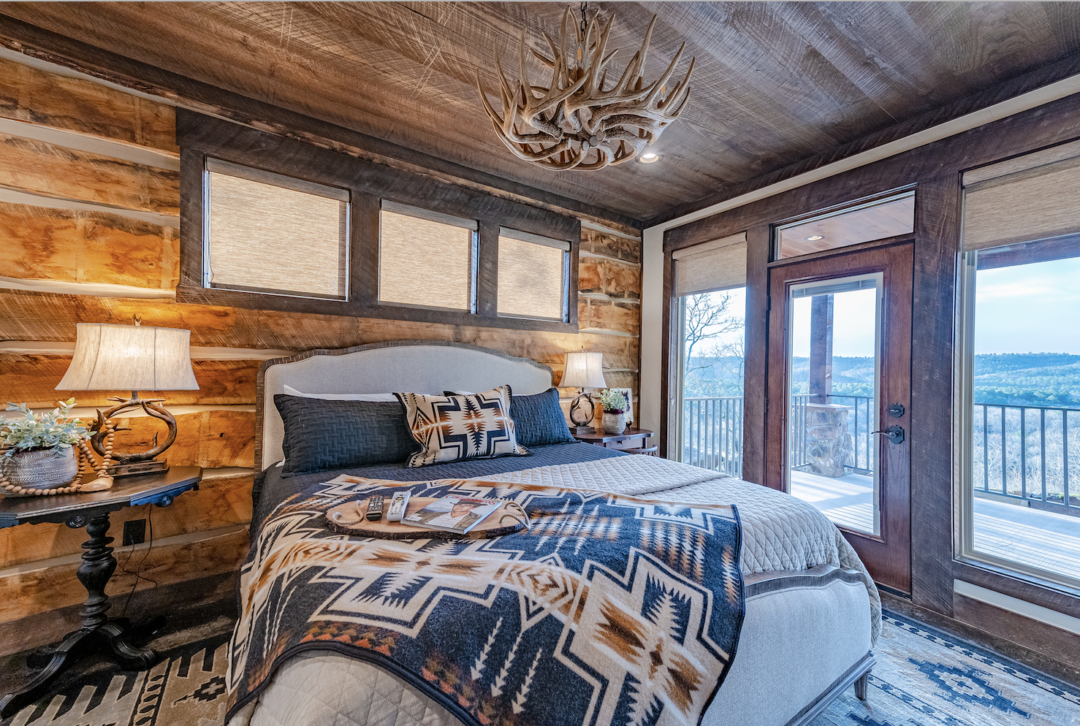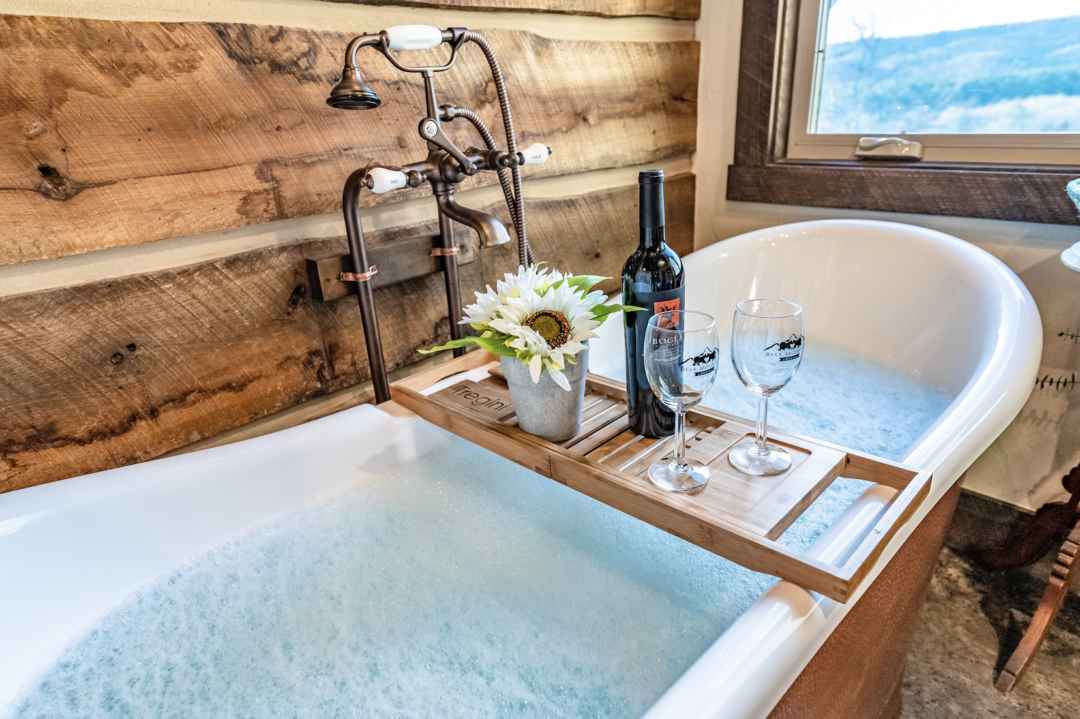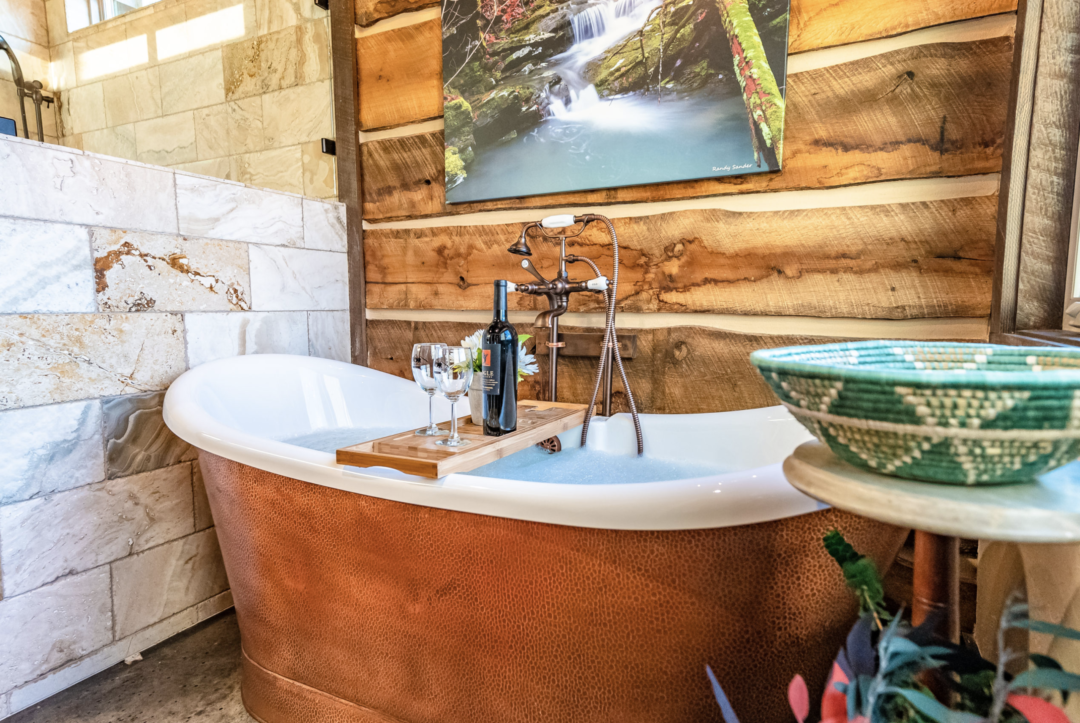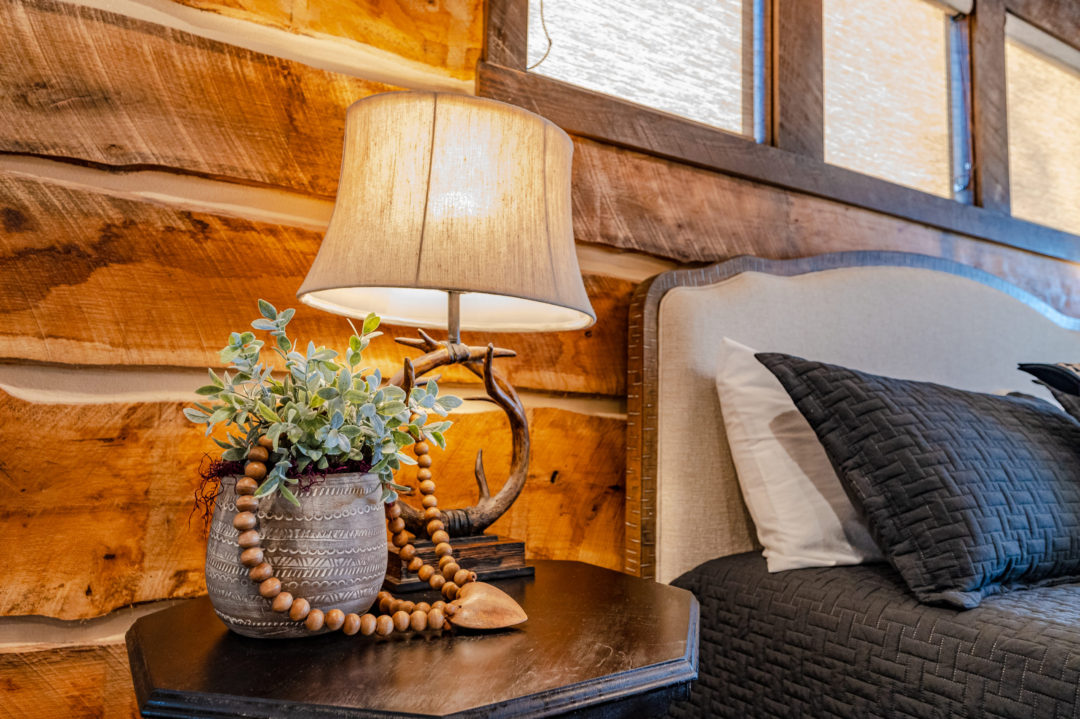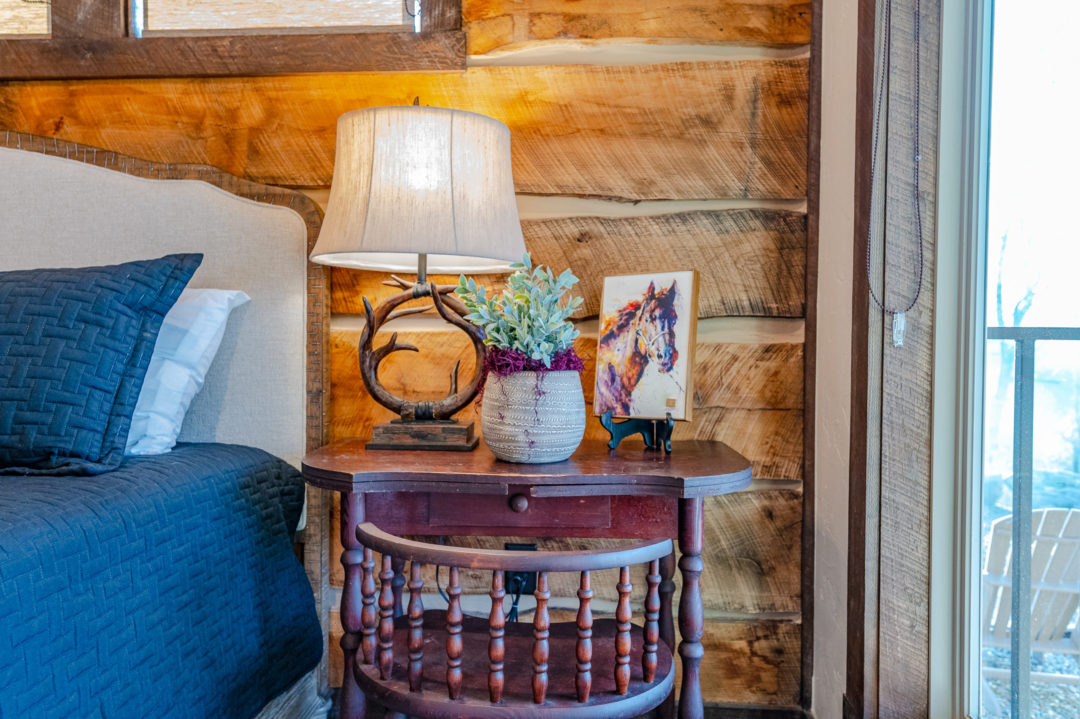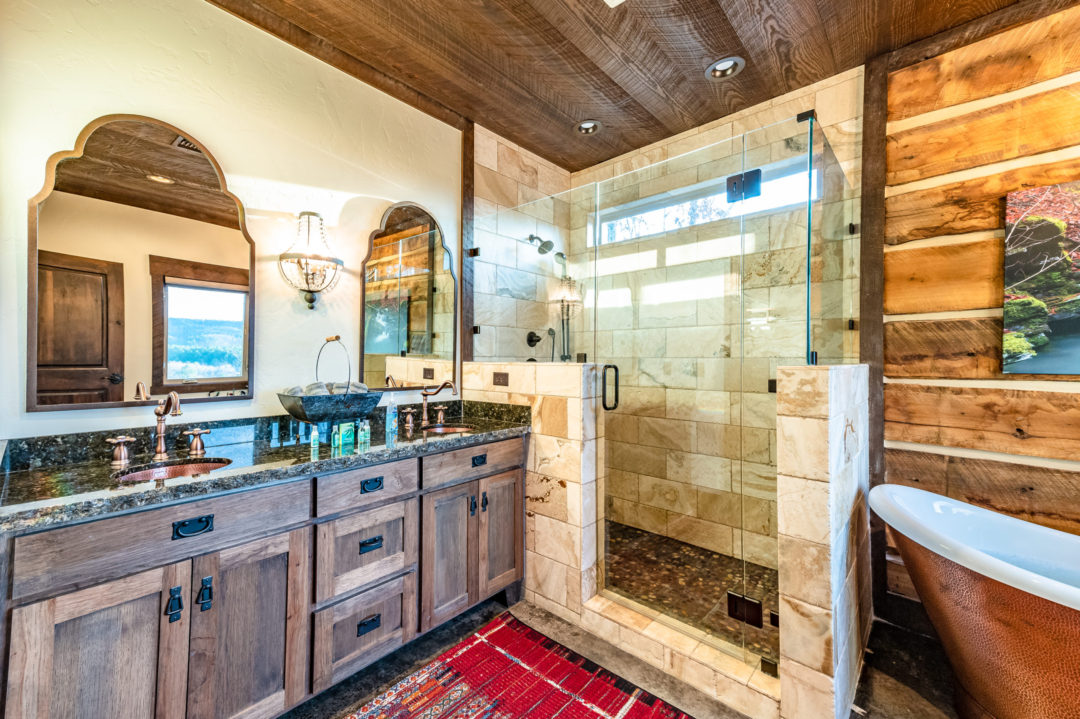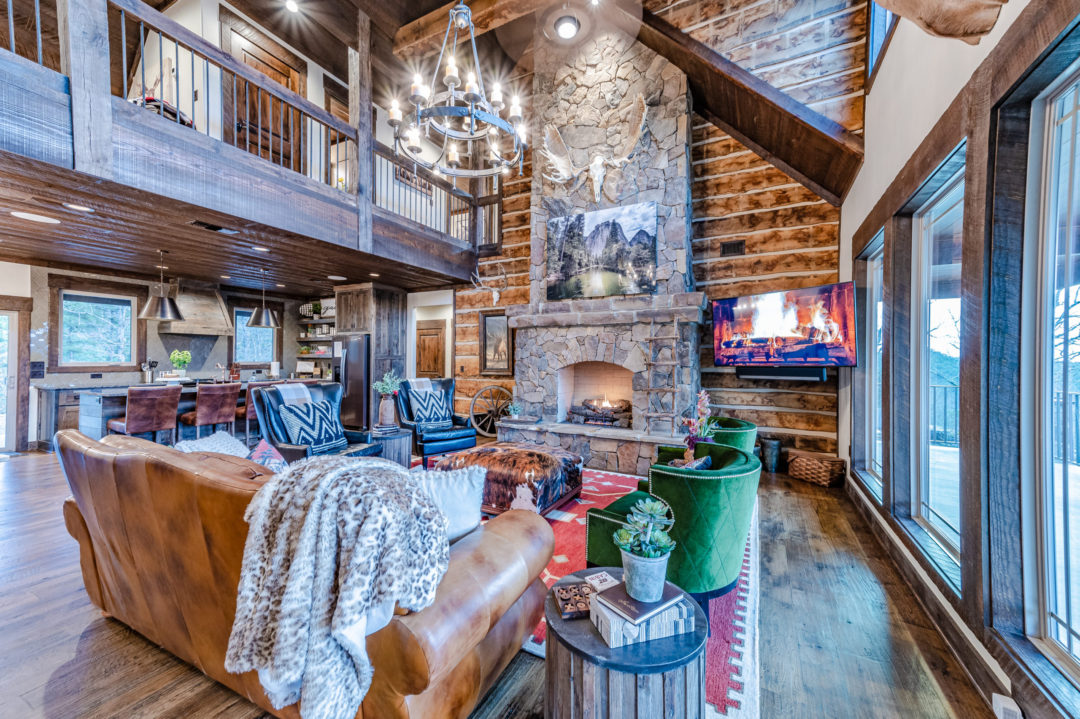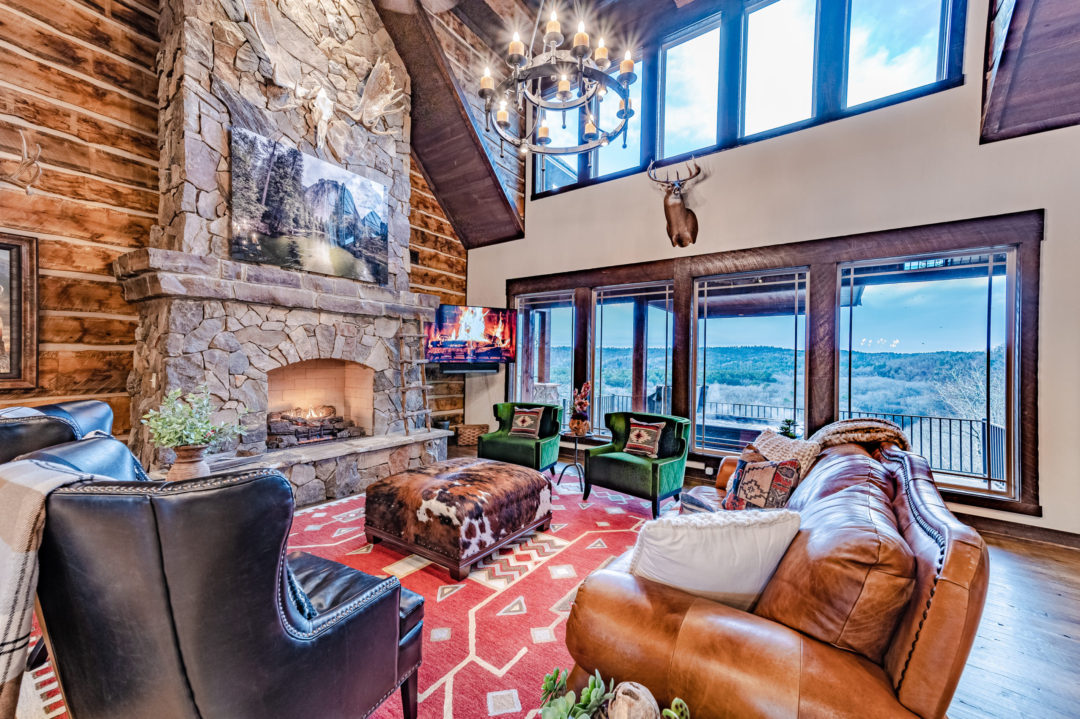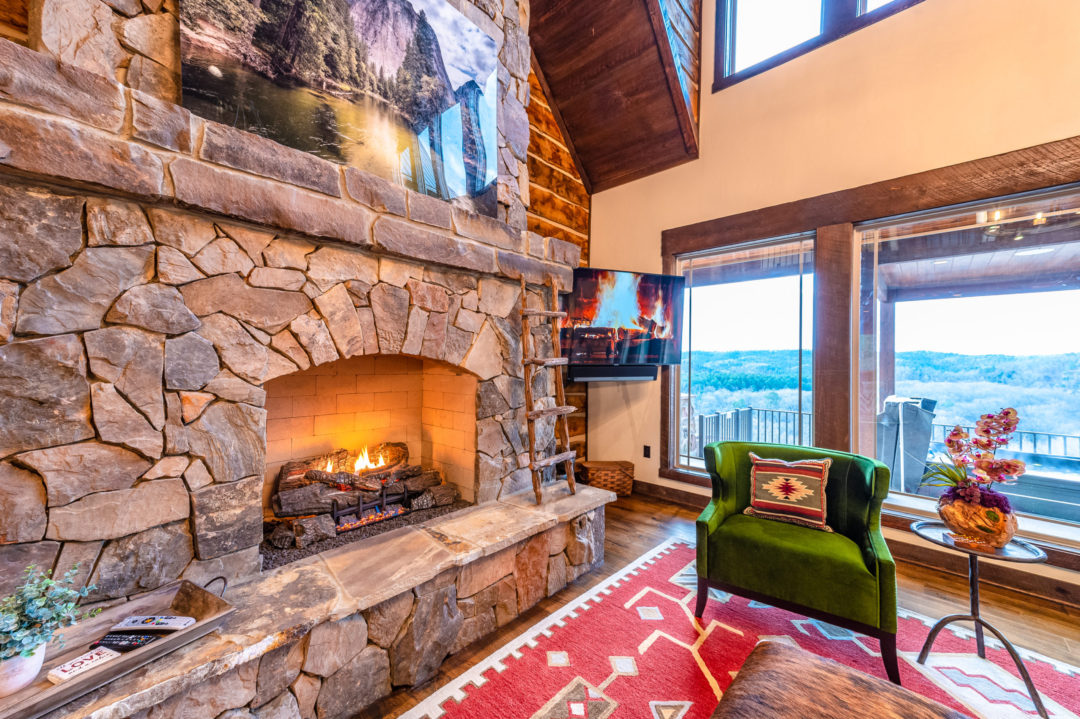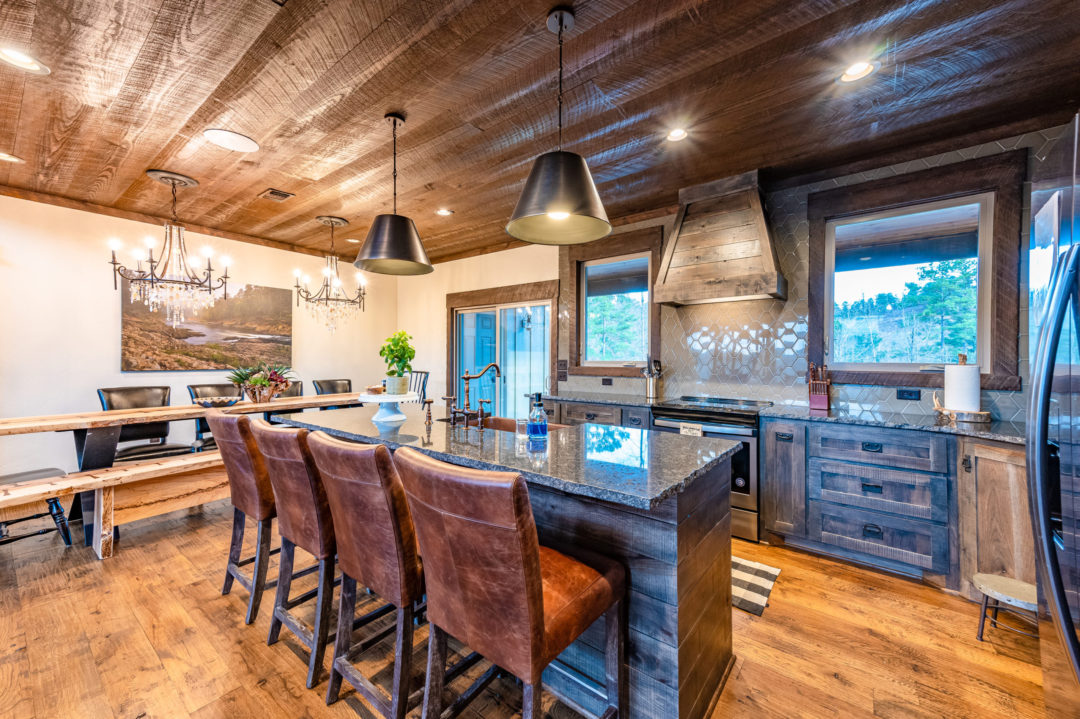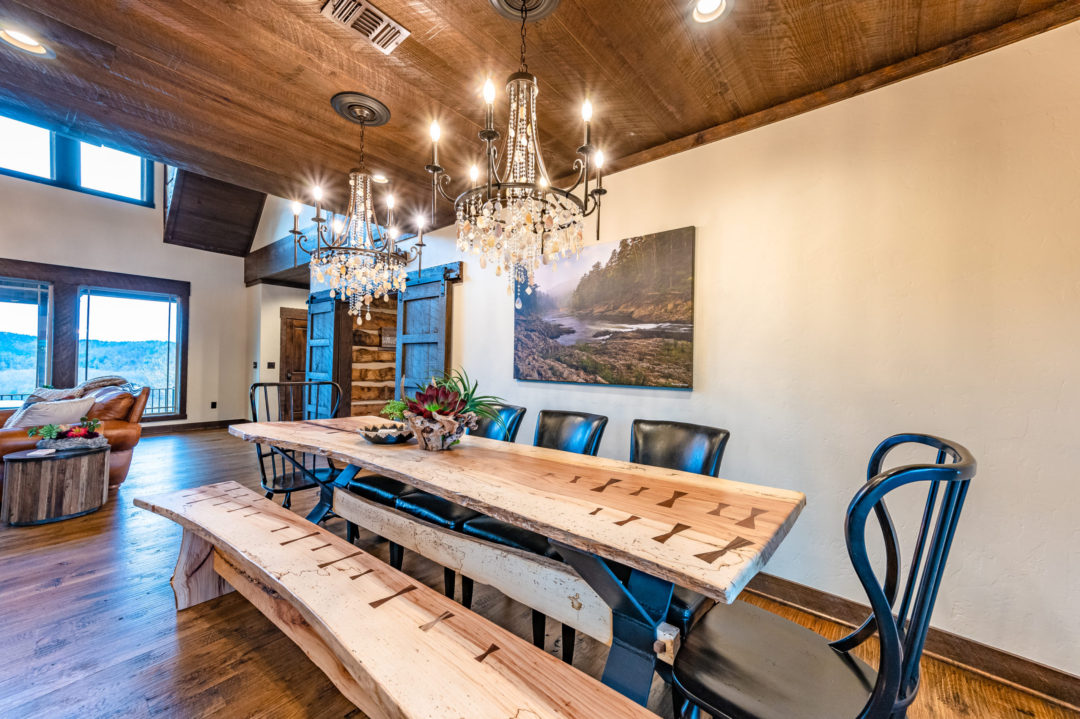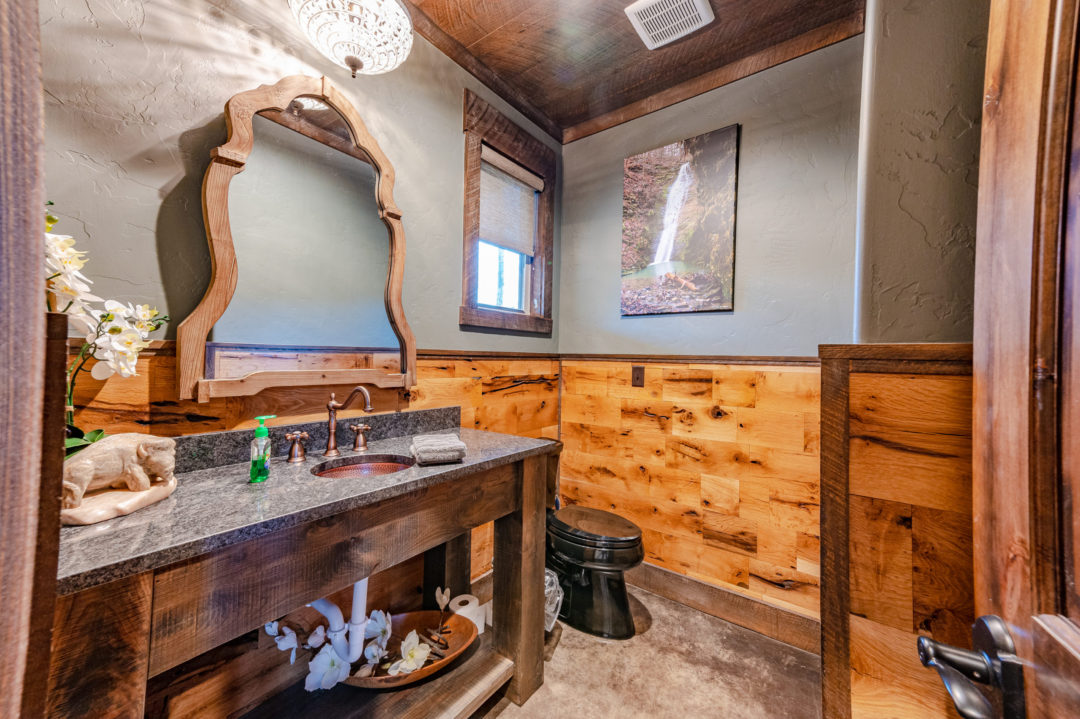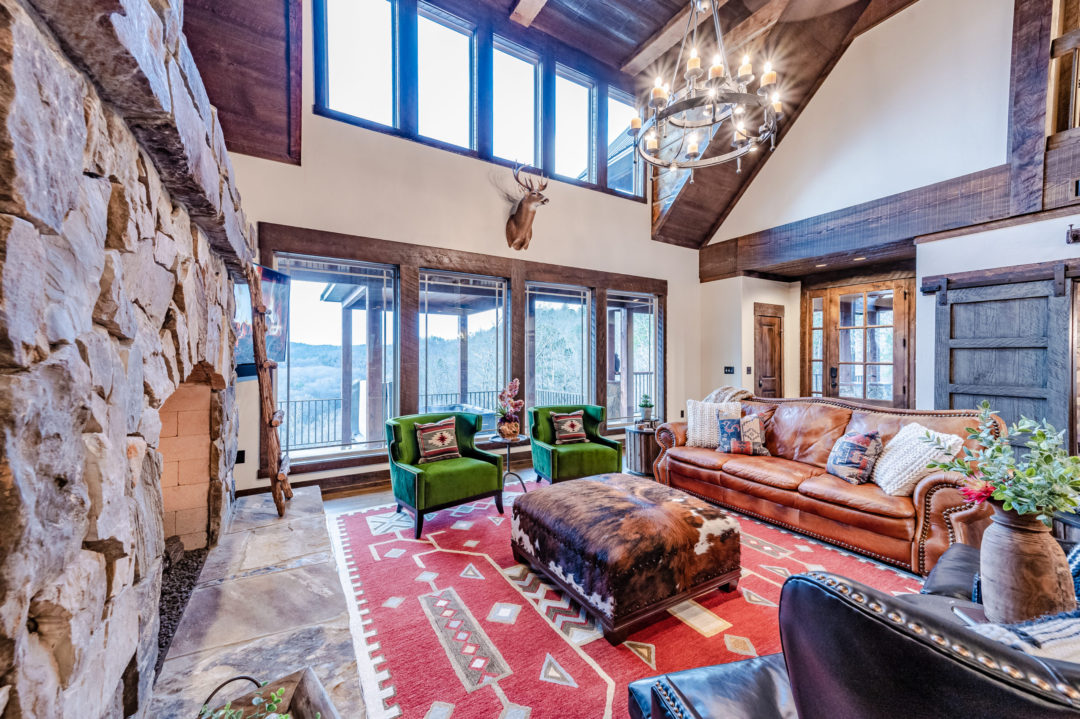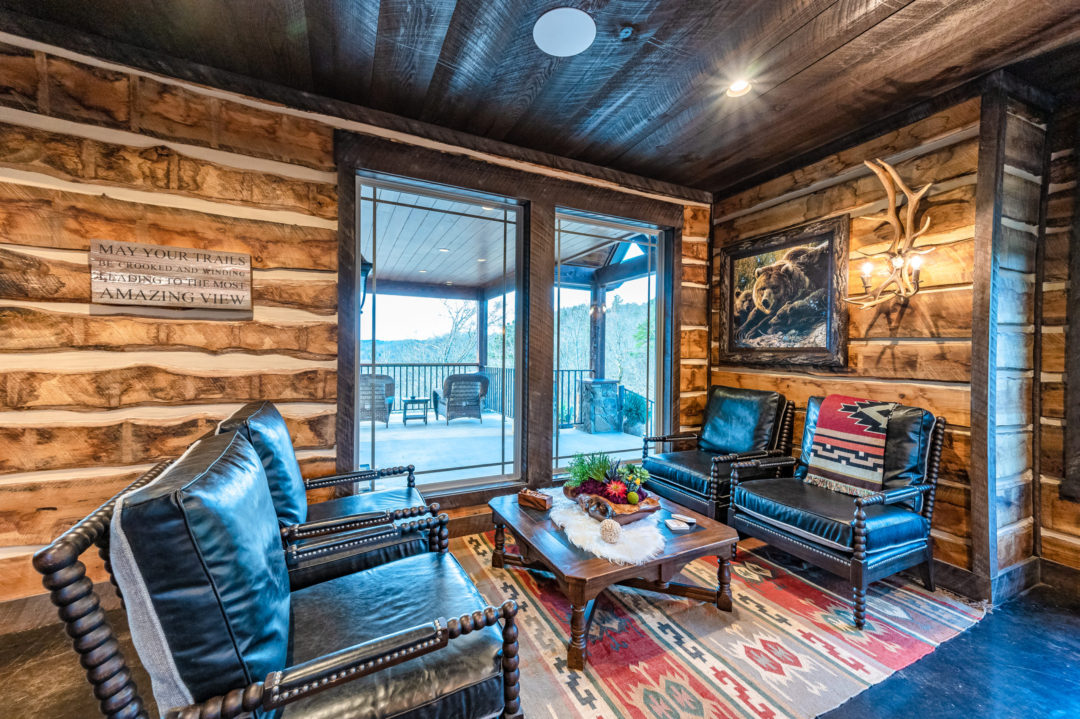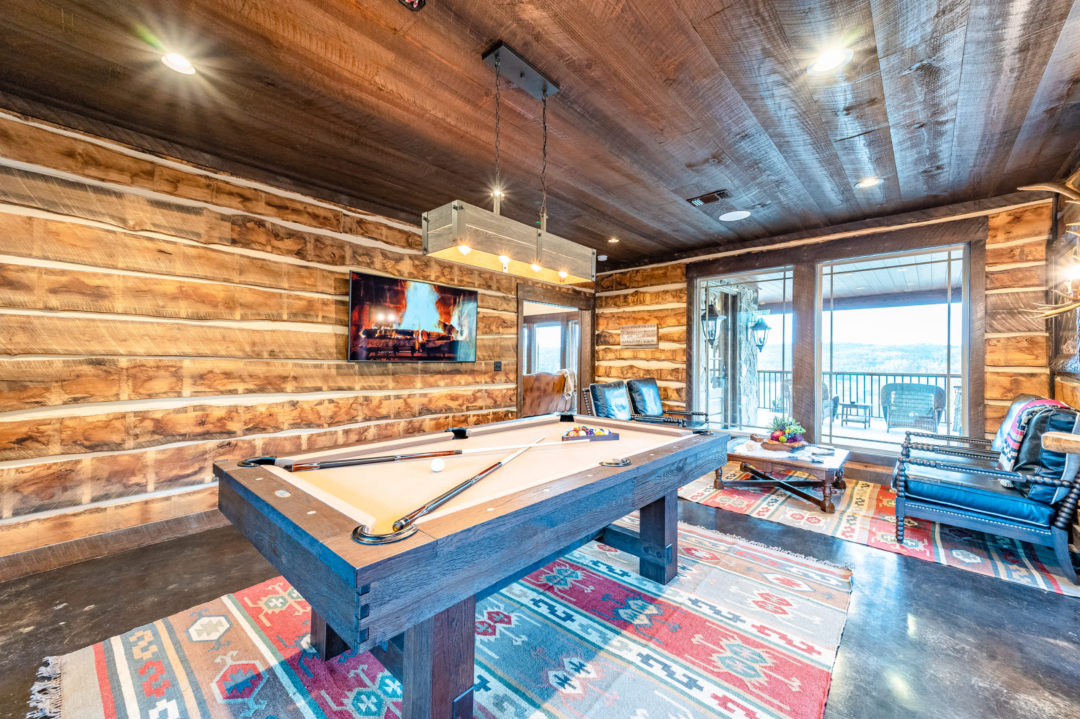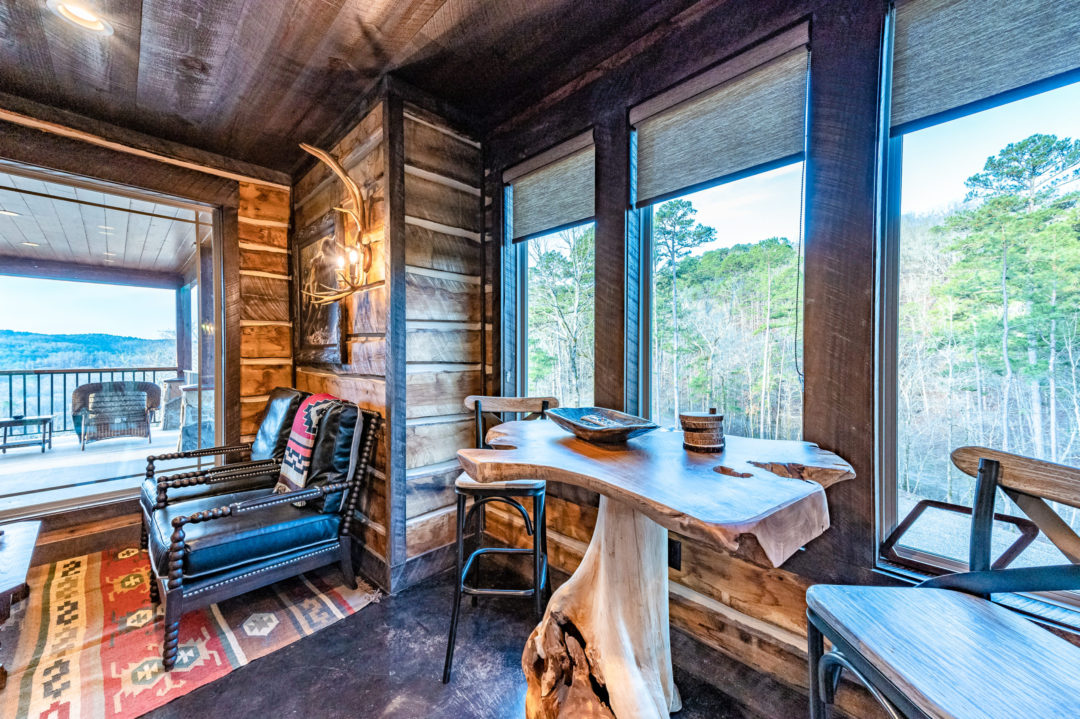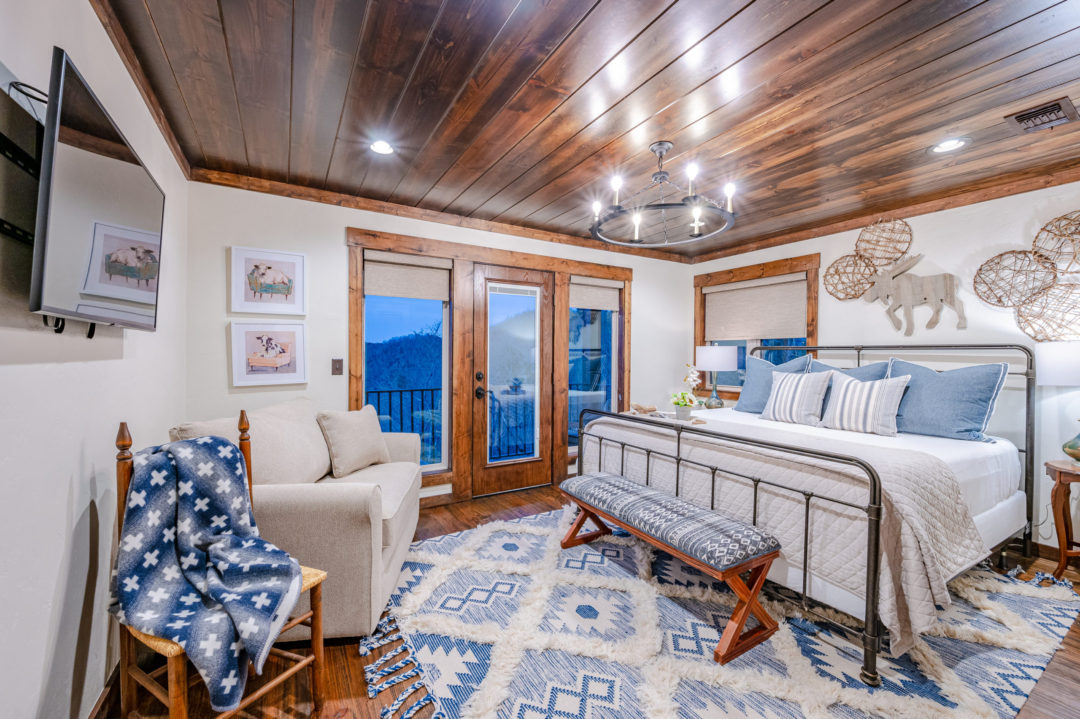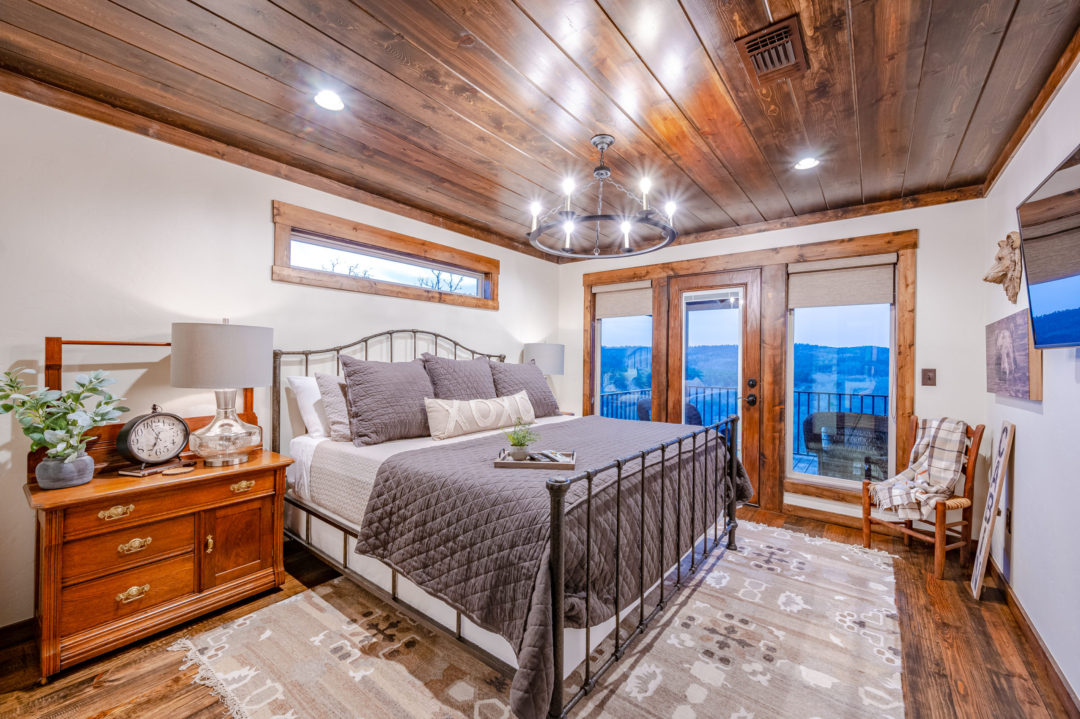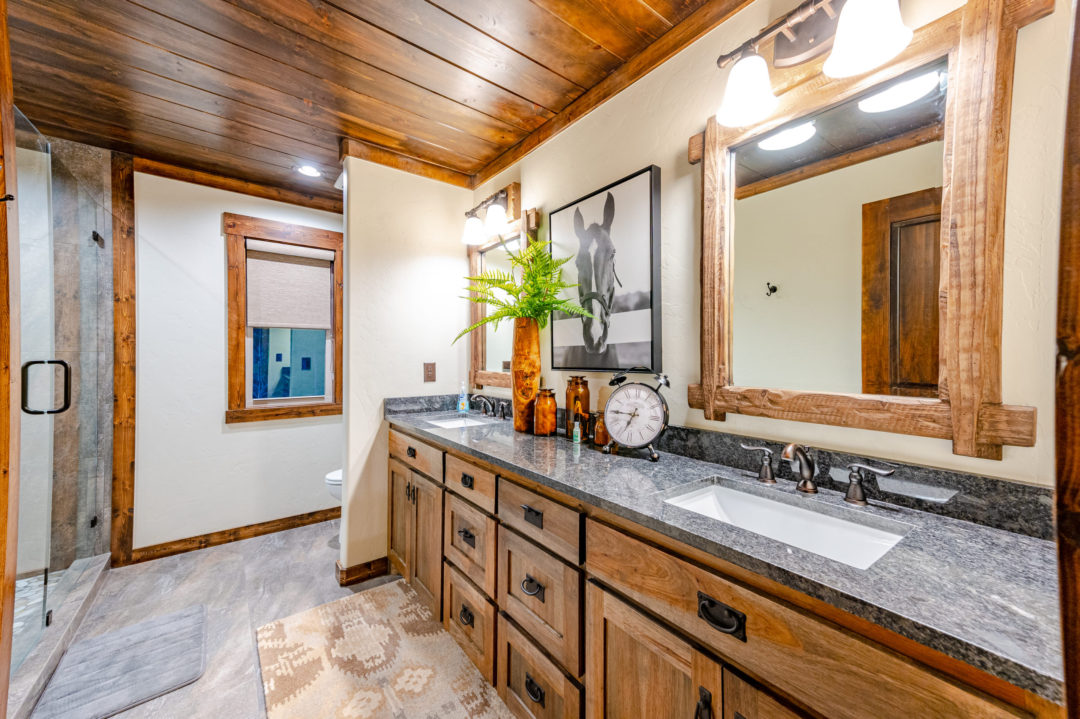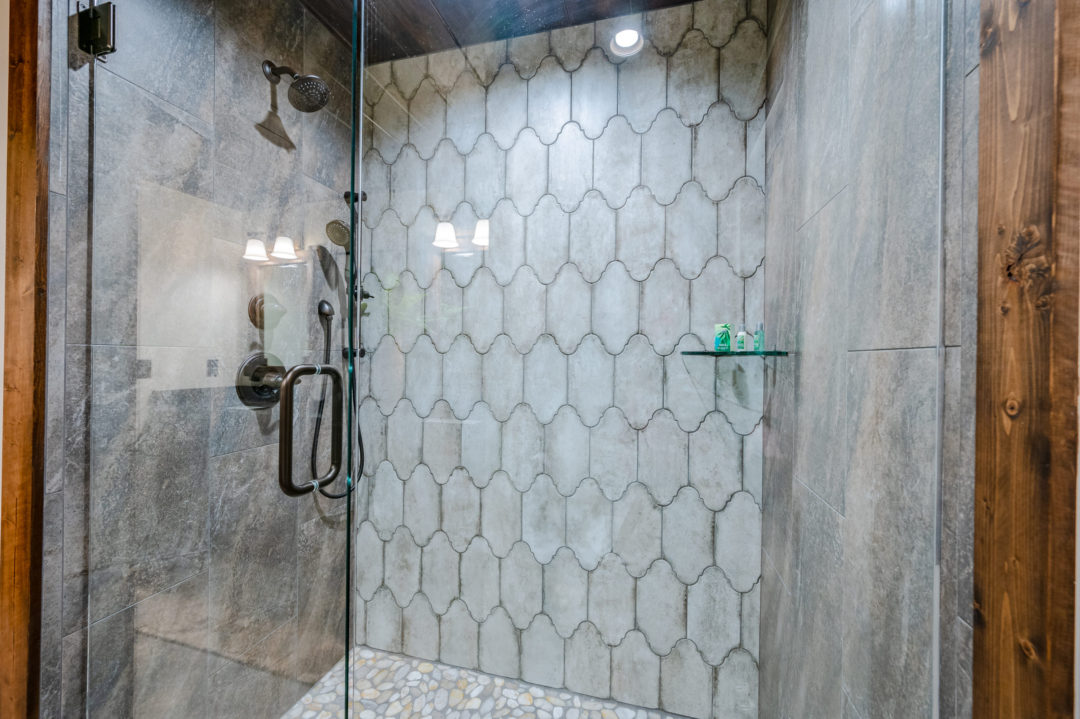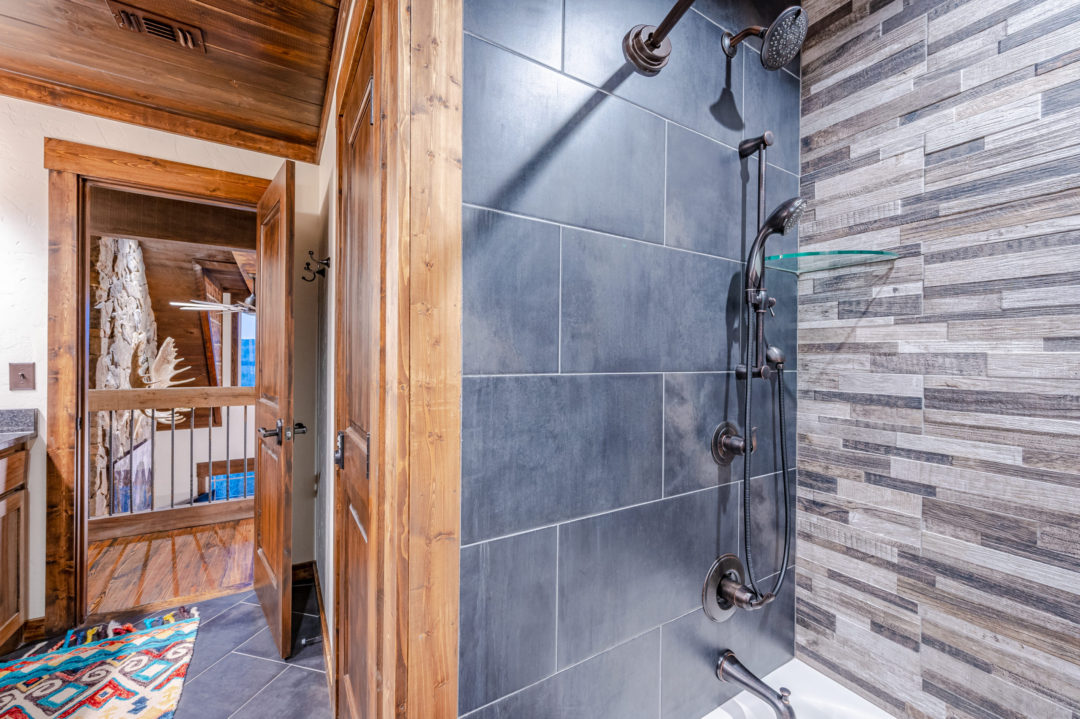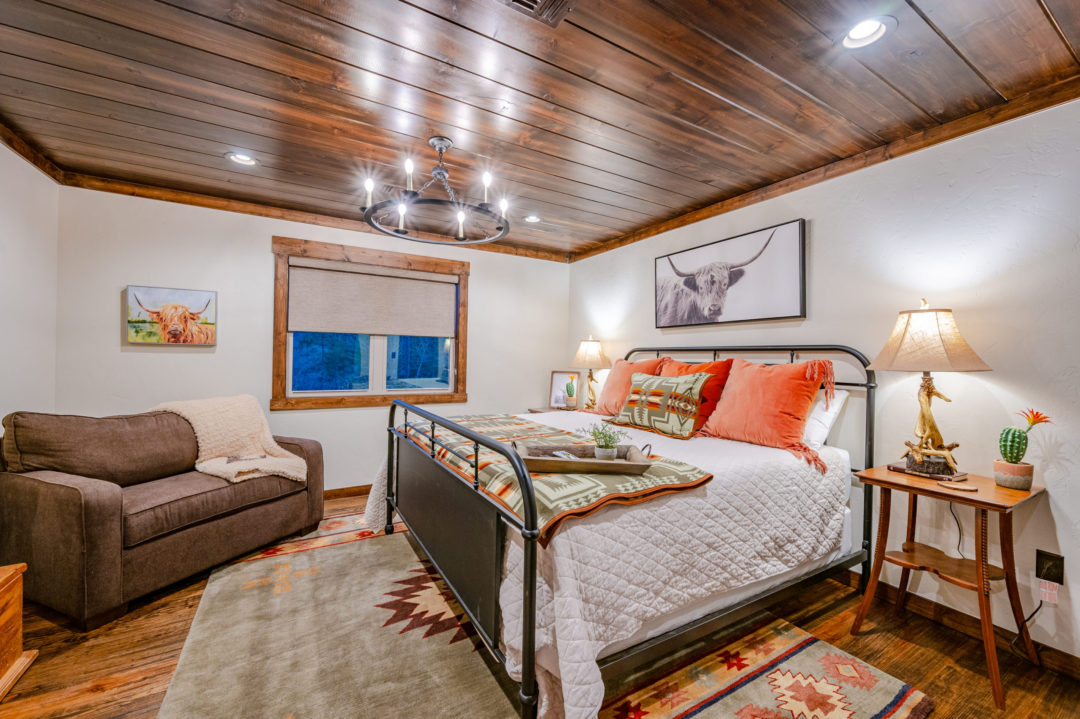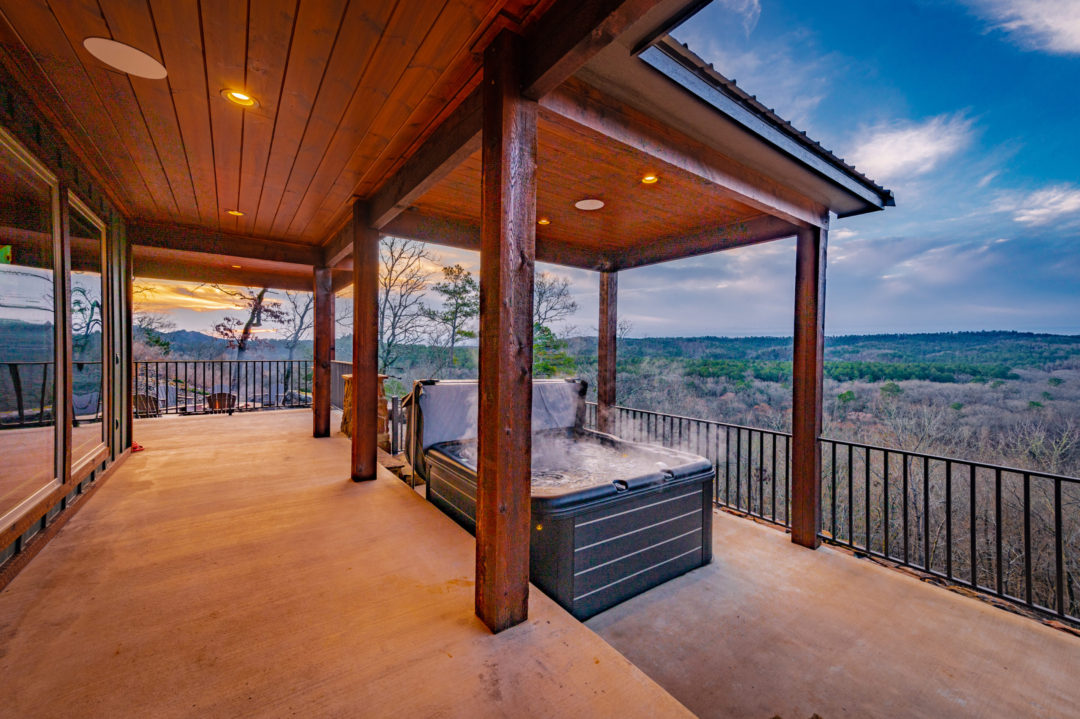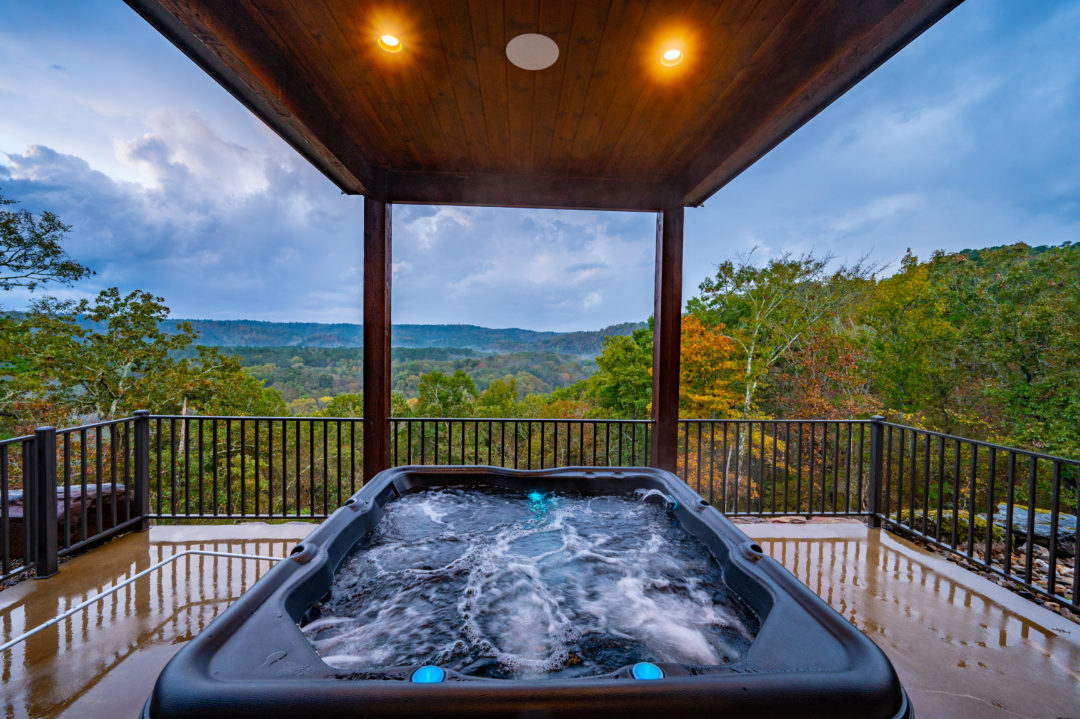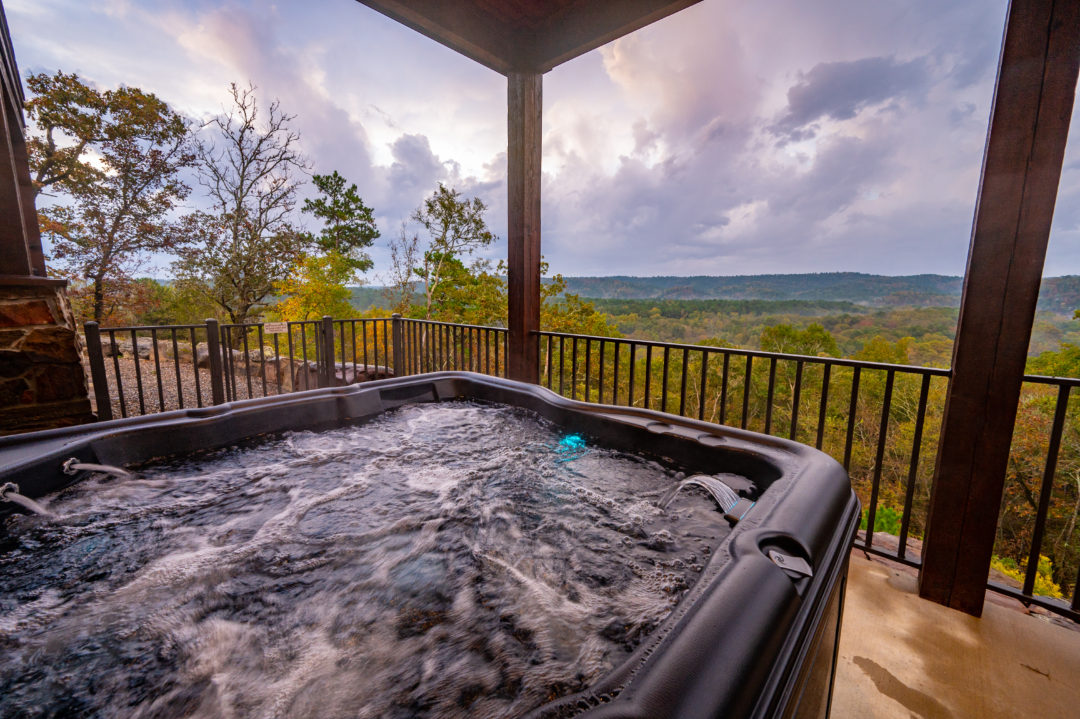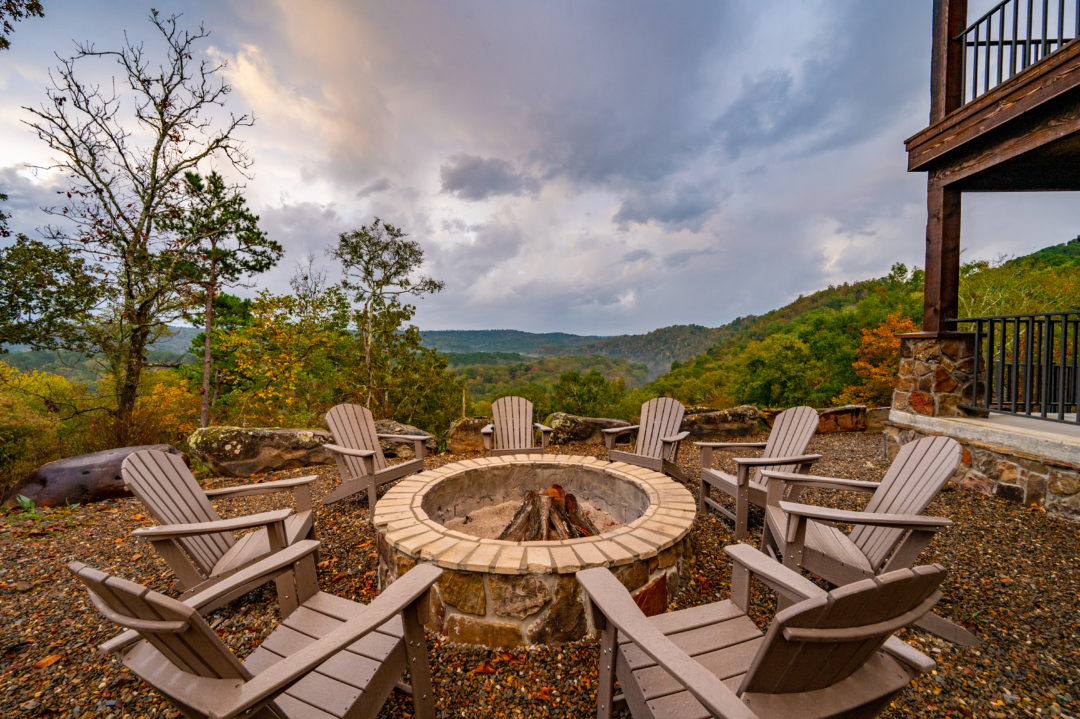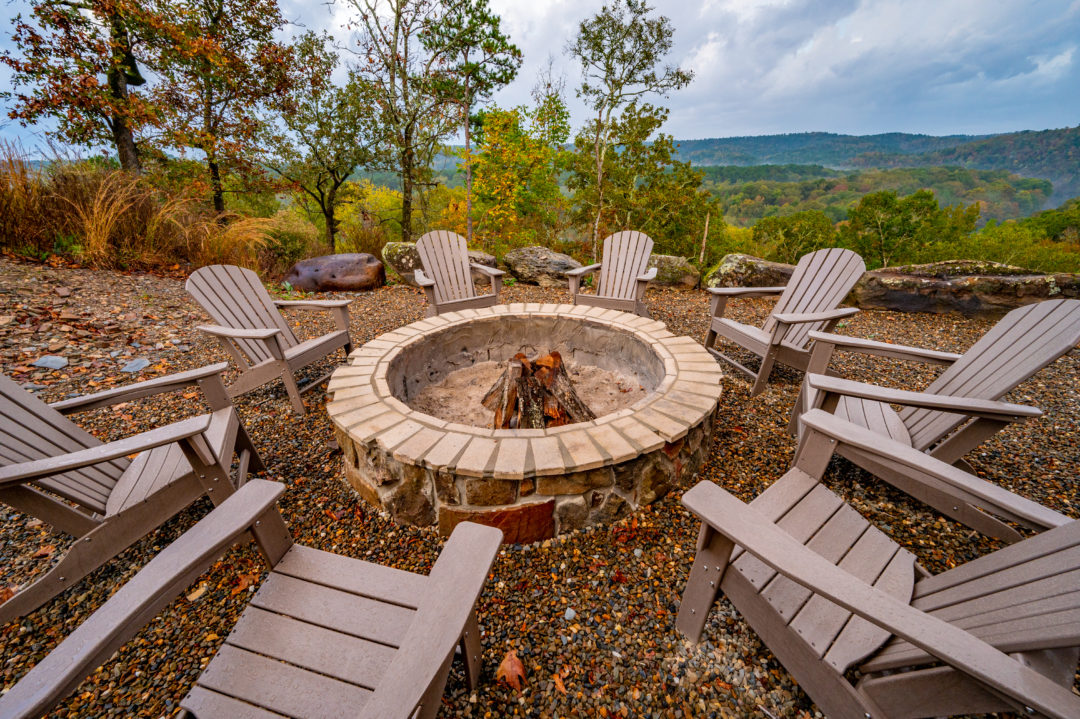 Check out our video or take a virtual walkthrough below.
Your beautiful journey to Rio Vista begins the moment you turn off of Highway 259A into the Cordillera subdivision. From the winding road up the mountain to the stunning views of beautiful Broken Bow Lake, Rio Vista has no equal in Hochatown. A 3-acre plot on the mountaintop allows you to experience both the breathtaking view as well as the gentle sounds of the Mountain Fork River flowing below.
Walk through the cabin and discover different spectacular views of majestic mountains, beautiful bluffs and a rippling river. However, Rio Vista's beauty is not only outdoors as the cabin and décor were inspired by Ralph Lauren's Double RL Ranch (located in the mountains of Colorado). The living room and kitchen are an open concept with the focal point being an incredible, real rock fireplace to keep you warm on those chilly days. This modern beauty is complete with stainless steel appliances and granite counter tops in the kitchen. Pass the time while cooking by watching your favorite show on the TV conveniently located in the cabinets. With 10 seats at the table and 4 bar stools, you may comfortably seat the whole family for your holiday meals.
Open the barn doors in the living room to access the game room. Play pool/board games or watch your favorite holiday movie on the TV with your family in the game room. When you are ready to call it a night, direct the family upstairs to their bedrooms. The upstairs, king bedrooms give you an old west feeling from the wood plank floors and dark ceilings/trim to the metal bed frames with antique nightstands.
This cabin has it all with two bedrooms and bathrooms on each end of the cabin accompanied by an open loft upstairs with a beanbag sitting area and a couch that makes into a bed. Make your way to the king master bedroom and bath downstairs for your peaceful night of sleep. In the morning, refresh yourself inside and out in the copper pedestal tub or the glass top, travertine shower as you take in the mountain view. His and her sinks, granite counter tops, and a walk-in closet all compliment this luxurious bathroom.
The same sound system connected to the living room, kitchen, and game room also plays at outdoor hot tub. So get outdoors with those tunes on to savor the mountain air and beauty while lounging in the hot tub or sitting around the outdoor fire pit or at one of the various outdoor lounging areas! To keep your loved ones safe on the porch (on the view side), a rail with a gate as well as a rock barrier by the fire pit are in place.
Call today to experience this dream property
Full List
3 Full Baths ½ Bath
Living Room Gas Fireplace-65" Samsung Smart TV
Game Room w/ Pool Table-65" Samsung Smart TV
Sitting Area in Game Room
Outdoor Hot Tub & Outdoor Fire Pit (Mountain View with the sounds of the river below)
Out Door Fire Pit
Fully Equipped Kitchen Includes:
Cook Stove*Refrigerator*Dishwasher*Microwave*Toaster*Blender
Mixer*Coffee Maker*Cookware*Flatware*Dishes*Crock Pot*Griddle
32" Samsung Smart TV*Granite Countertops
Bar with 4 Bar Stools
Dining Table Seats 10
Downstairs
1 King Master Bedroom w/Master Bath & Porch -55" Samsung Smart TV
Upstairs
1 King Bedrooms w/ Balcony-40" Samsung Smart TV
1 King Bedroom w/ Balcony & Twin Sleeper-40" Samsung Smart TV
1 King Bedroom w/Twin Sleeper-40" Samsung Smart TV
1 King Bedroom-40" Samsung Smart TV
Open Loft with Queen Sofa Sleeper
More Amenities
Sound System in Living Room, Kitchen, Game Room & Outdoor Hot Tub
DirecTV
Television in each Bedroom, Living Room, Game Room, & Kitchen
Wifi
Privacy on 3.25 Acres
Miscellaneous
*Starter supply of coffee, sugar, salt, pepper, paper towels, toilet paper, hand soap, dishwashing tabs, trash bags, and laundry soap will be provided.
*NO SMOKING*
*PETS NOT ALLOWED*
2-27-23
We have stayed in Broken Bow many times, and this Is my favorite cabin so far!! The views are amazing! The sounds of the river are so calming, and we can't wait to be back! We have six loud kids and have stayed in cabins where all you hear is the kids running upstairs. This one was so different. All six kids stayed upstairs and even with their running we heard absolutely nothing and slept great which is a huge plus! I have nothing bad to say about this beautiful home.
~Ashley T.
1 Month Ago
Wow!
What a fantastic home! The view is incredible, the kitchen had everything we needed and more and the property owners were super responsive when we had a plumbing issue on a Saturday evening. Thanks for everything. We plan to book again next year!
Andrea E
3 Months Ago
Wonderful, secluded getaway
My friends and I stayed three nights at Rio Vista for my 40th birthday. The cabin was amazing. Extremely well appointed and clean as could be. The layout would be great for three to four couples, easily. We all fly fish so the proximity to the State Park was great. I would definitely stay here again!
Weston
4 months Ago
Gorgeous cabin and views
We absolutely loved our stay in this gorgeous cabin. The views from the hot tub, decks and fire pit are amazing as well as most rooms in the cabin. The cabin was fully stocked with everything we needed. We look forward to staying again next year!
Christy W
10 Months Ago
The perfect family vacation
My family takes a family vacation once a year. Every year we try a new cabin in a new location. This is the 1st time we have ever had plans for a 2nd vacation in the exact cabin! When I tell you this cabin is fabulous It truly is. Each room had a fantastic view. Incredible space. A washer and dryer upstairs and another downstairs. Absolutely perfect! My family had so much fun. They played pool everyday. Even my 2 and 3 year old grandbabies were asking to go back to vacation when we got home. If you are looking for a quiet yet beautiful cabin this is the cabin for you. I promise you we will be returning for another vacation. The only difference will be to plan to stay longer. By the way, the owner was just as wonderful. Within a couple of hours of us arriving to the cabin Shari was checking to make sure everything was to our liking. Thank you so much Shari we had a blast.
Pamela C
CHECK-IN:  Check-in begins at 4:00 pm. If you plan to arrive after 4:00 pm, please email us at bearmountainlodging@gmail.com.  This will help us better prioritize our cleaning schedule during the busy times of year.  Rio Vista is a self check-in cabin and you will receive your directions via email 7 days before your arrival.
CHECK-OUT:  Check-out is at 11:00 am.  To make departure day more efficient for everyone, please text 580-212-4746 if you decide to depart early.  This will help us with getting the next guest in on time.  Owner is not responsible for items left in the cabin.  If requested, items will be shipped for a $25.00 handling fee plus actual shipping costs.
Renter agrees to maintain cleanliness of the cabin during their stay and leave the cabin in a reasonably clean condition when they depart.  All dirty dishes should be placed in the dishwasher and turned on before leaving the cabin.  Refrigerator needs to be emptied of all food.  Tie up trash bags and place them in outside containers.  Please start a load of towels before your departure.  Please do not need to strip the beds. Our cleaning staff will take care of that. We will take care of the rest!  Additional cleaning fees could apply if policy is not followed.
DOWN PAYMENT:  We accept Visa, Mastercard, and Discover.  You will need to use one of the major credit cards to make a reservation.  The down payment(Reservation Fee) is 20% of the cost of the total reservation.  Down payments are applied towards the balance. The down payment(Reservation Fee) is non-refundable.
FINAL PAYMENT:  The balance is due 30 days prior to your arrival.
AGE REQUIREMENT: You must be 25 years of age to reserve this vacation rental.  This cabin is limited to families or adults 25 years of age or older.  We will not rent to students or singles under 25 years of age or unless accompanied by an adult guardian or parent.  We reserve the right to refuse service with monies forfeited if any discrepancies in our policies are suspected.
MAXIMUM OCCUPANCY-14:  Do not exceed the maximum occupancy allowed for the cabin.  Guests that violate this restriction will be asked to leave and will lose all rental fees.  We do require a list of names and ages of guests before your arrival if you did not provide it at the time of your reservation.
RESERVATION REQUIREMENT: There is a 2 night minimum required.  There is a 3 or 4 night minimum for holidays and high peak season.
CHANGING CABINS OR DATES:  Date changes or removing nights are subject to a $50 fee.  You cannot make a change if you are within 30 days of your arrival date. Reservations cannot be moved from one cabin to another.
NO HOUSE PARTIES:  House parties are strictly prohibited.  Rental guests understand that we will accept families, married couples, and responsible adults 25 years of age and older ONLY.  Renters acknowledge that violation of this agreement will lead to you being required to leave with NO refund.  Guests must state, in advance, the number of renters/guests during their stay at .Rio Vista .
ATV RIDING IS PROHIBITED ON THE PREMISES:  It is illegal to ride ATVs on the area roads also if you are not properly tagged.
PETS NOT ALLOWED:  We know you love your fur babies and we do too however we do not allow pets at Rio Vista  Non-Compliance of our NO PET policy will result in a $50 per day charge. Again, guests that violate this restriction will be asked to leave and will lose all rental fees.
NO DAILY HOUSEKEEPING SERVICE IS PROVIDED.
NO SMOKING IN CABIN:  We ask that you do not smoke inside the cabin.  Ashtrays will be provided outside.  Please put your cigarette butts in the ashtrays.  Non-compliance will result in a $100 per day charge.
SHOOTING GUNS OR FIREWORKS is prohibited on cabin property.
HOT TUBS & COVERS:  Our hot tubs are cleaned and chemically treated after every rental.  Hot tub use is strictly at your own risk.  Persons with high blood pressure, skin sensitivities, or who might be pregnant are strongly urged not to use a hot tub.
PLEASE do not allow anyone in your group to walk-on, jump-on or play-on the hot tub covers, they will break.  The condition of the hot tub is checked after every checkout and before your arrival.
WE LOVE OUR TREES!  Please do not cut on or cut down trees on the property.  Fines will be charged to your account for damaging trees.
FOR YOUR SAFETY(Rio Vista) please stay off the LANDSCAPE ROCK we placed as a border at the edge of the mountain.  We placed these as a barrier to keep you from the edge.  There is railing around the porch and a gate to the fire pit area to keep children from the area unsupervised.  However, it is your responsibility to keep an eye on the kiddos during your visit.
PROPERTY ELECTRONIC EQUIPMENT: Please do not tamper with the electronics, television, receivers, etc. equipment in the cabin.  Also please do not unhook or disconnect any cords or wires from any of the equipment.  We do check the TV's, DirecTv receivers, and surround sound to ensure they are in working order. Please make sure everything is in working order before you leave.   A $100 fee will be charged for unhooking or tampering with any electronic device.
OUTDOOR SURVEILLANCE cameras are located at both main entrances of the house.
.
MAINTENANCE PROBLEMS will be addressed in as timely a manner as possible. However the rental rate cannot be adjusted due to any malfunction of equipment (which includes  T.V., VCR, DVD, heating units, hot water heaters, stoves, refrigerators, hot tubs, locks etc). In the extremely rare case where there is a major problem with heat, hot water, etc that makes the home uninhabitable we will try to arrange a different accommodation.  If  that is not possible, all fees will be refunded.
COVID 19: As of March 14, 2020 the Covid-19 pandemic has been widely publicized worldwide.  All guests who book reservations are now aware of the risk and therefore our full cancellation policy is in effect. Covid 19 is not a valid reason for cancellation, therefore NO REFUNDS, NO EXCEPTIONS.
LIABILITY NOTICE: Acknowledging this contract signifies you, as the guests, agree to all above policies and certifies you as the guest are 25 years of age or older.  This cabin is privately owned, the homeowners or property management are not responsible for any accidents, injuries or illness that occurs while on the premises or its facilities.  The Homeowner or property management are not responsible for the loss of personal belongings or valuables of the guest.  By accepting this reservation, it is agreed that all guests are expressly assuming the risk of any harm arising from their use of the premises or others whom they invite to use the premises.
If anyone neglects to follow the rules, policies, and suggestions of Bear Mountain Lodging, LLC they cannot hold us responsible for their actions, accidents, or neglect.  Once your first payment is received, it is considered a rental agreement and is considered a legal and binding contract.
CANCELLATION POLICY
*Regardless of notice a cancellation will result in the loss of your Reservation Fee.
*We require a 30-day notice of cancellation. You will forfeit your full amount if the cancellation is made 30 days or less prior to your arrival date.
*We request all cancellations in writing, via email. We will accept cancellations via phone, but will again request a follow up email. Only the guest on the reservation may cancel a reservation.
*Inclement weather does not make a valid cancellation.
*If the cabin can be rebooked, we will refund you less the Reservation Fee.
*Trip Insurance can be purchased at www.insuremytrip.com.
COVID 19: As of March 14, 2020 the Covid-19 pandemic has been widely publicized worldwide.  All guests who book reservations are now aware of the risk and therefore our full cancellation policy is in effect. Covid 19 is not a valid reason for cancellation, therefore NO REFUNDS, NO EXCEPTIONS.