Last Wild River Resort offers a unique outdoor experience for nature lovers with total privacy and seclusion! Here you will find some of the most amazing mountain views. Glover River runs through about a mile of the 164 acre property. On River Time Lodge gives you a front row seat of the river. You can experience hiking trails, fishing, kayaking and canoeing without leaving the resort. This family cabin will sleep up to 18 guests. The resort is nestled on the banks of Glover River surrounded by the Quachita Mountains. It is located 16 miles from Broken Bow and 45 minutes from Beavers Bend State Park. When you get here, you won't want to leave this little piece of heaven on Earth!
Welcome to Last Wild River Resort
Welcome to Last Wild River Resort
5 Bedroom   4 Bathroom   18 Sleeps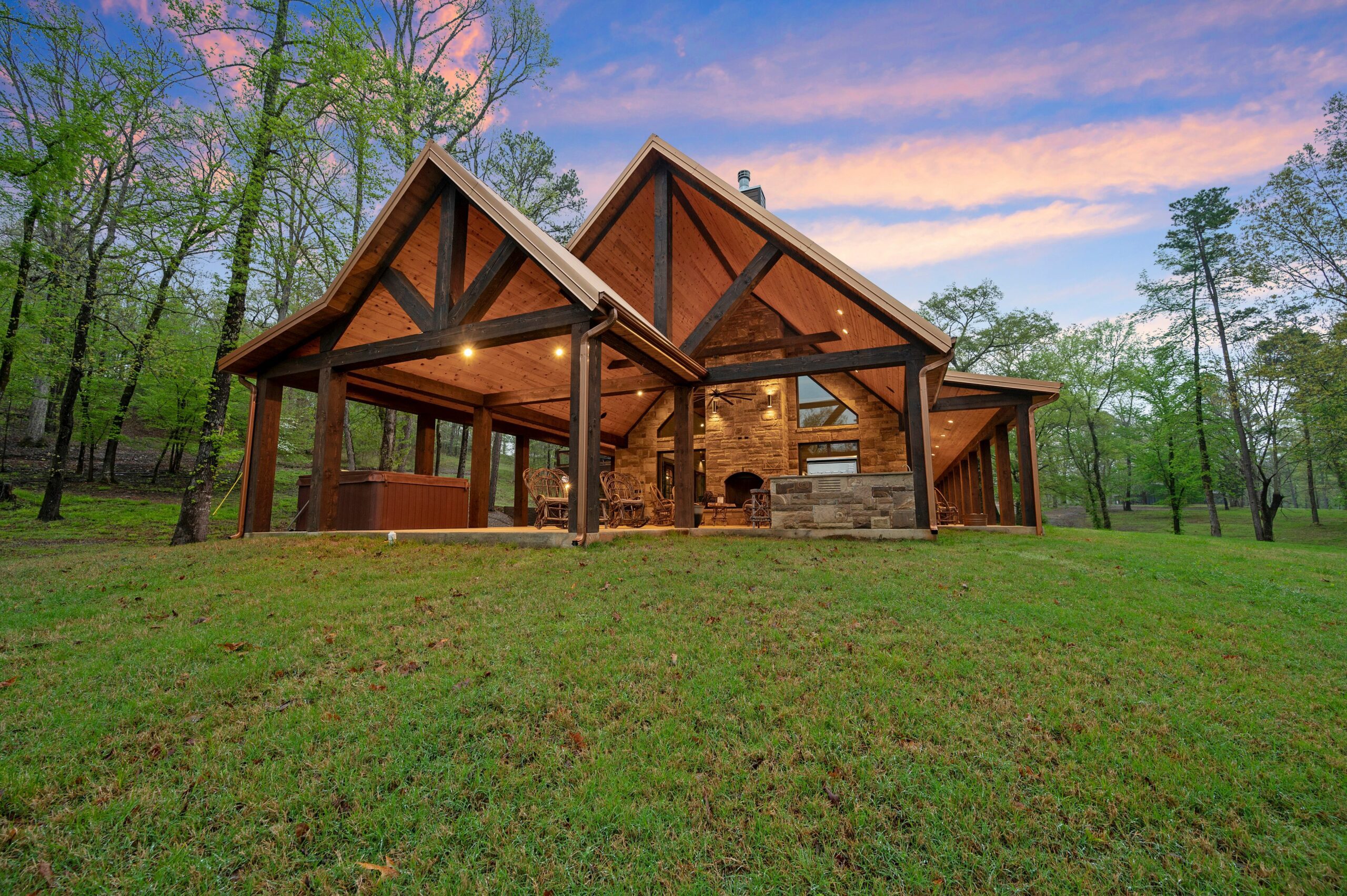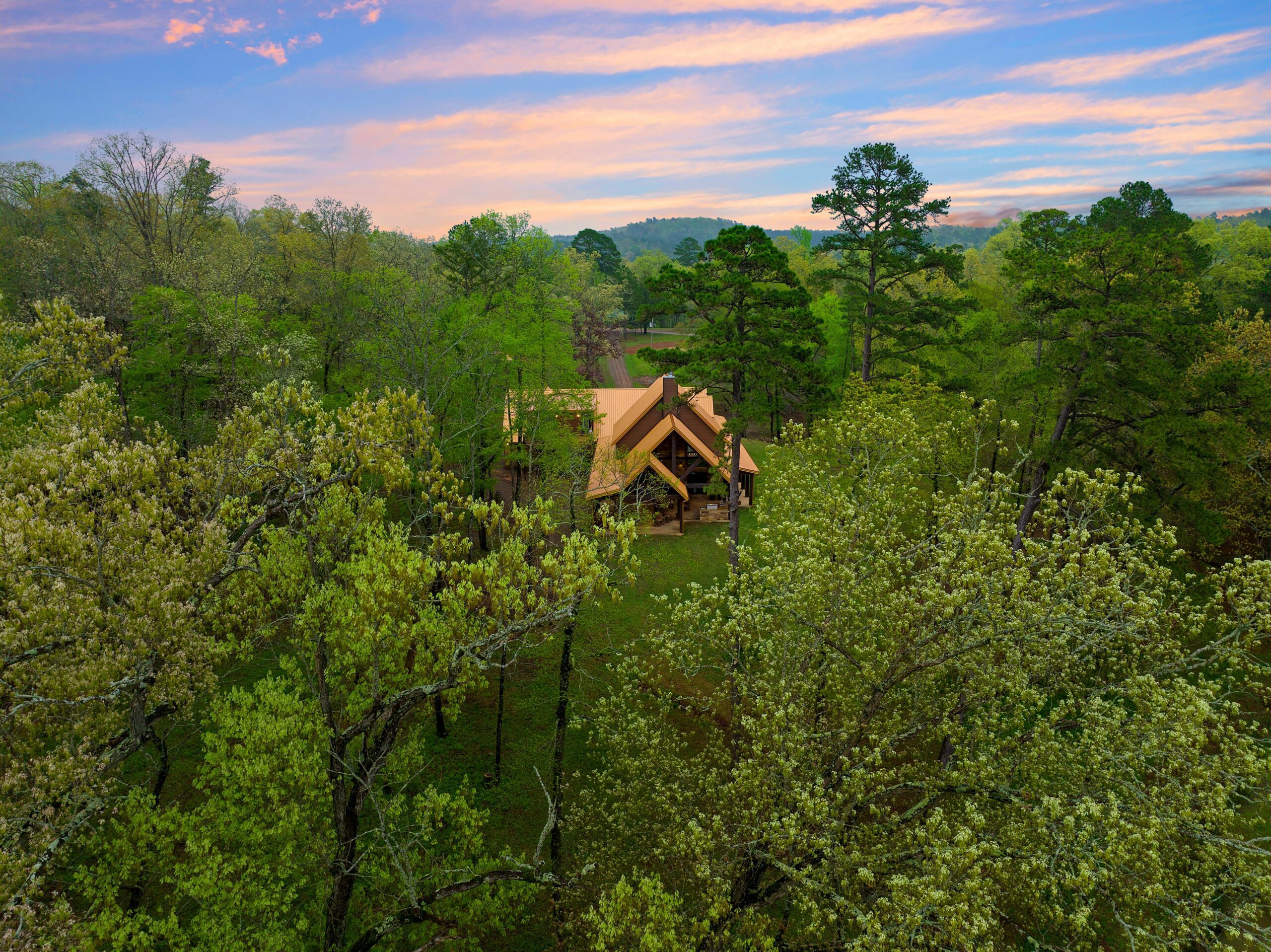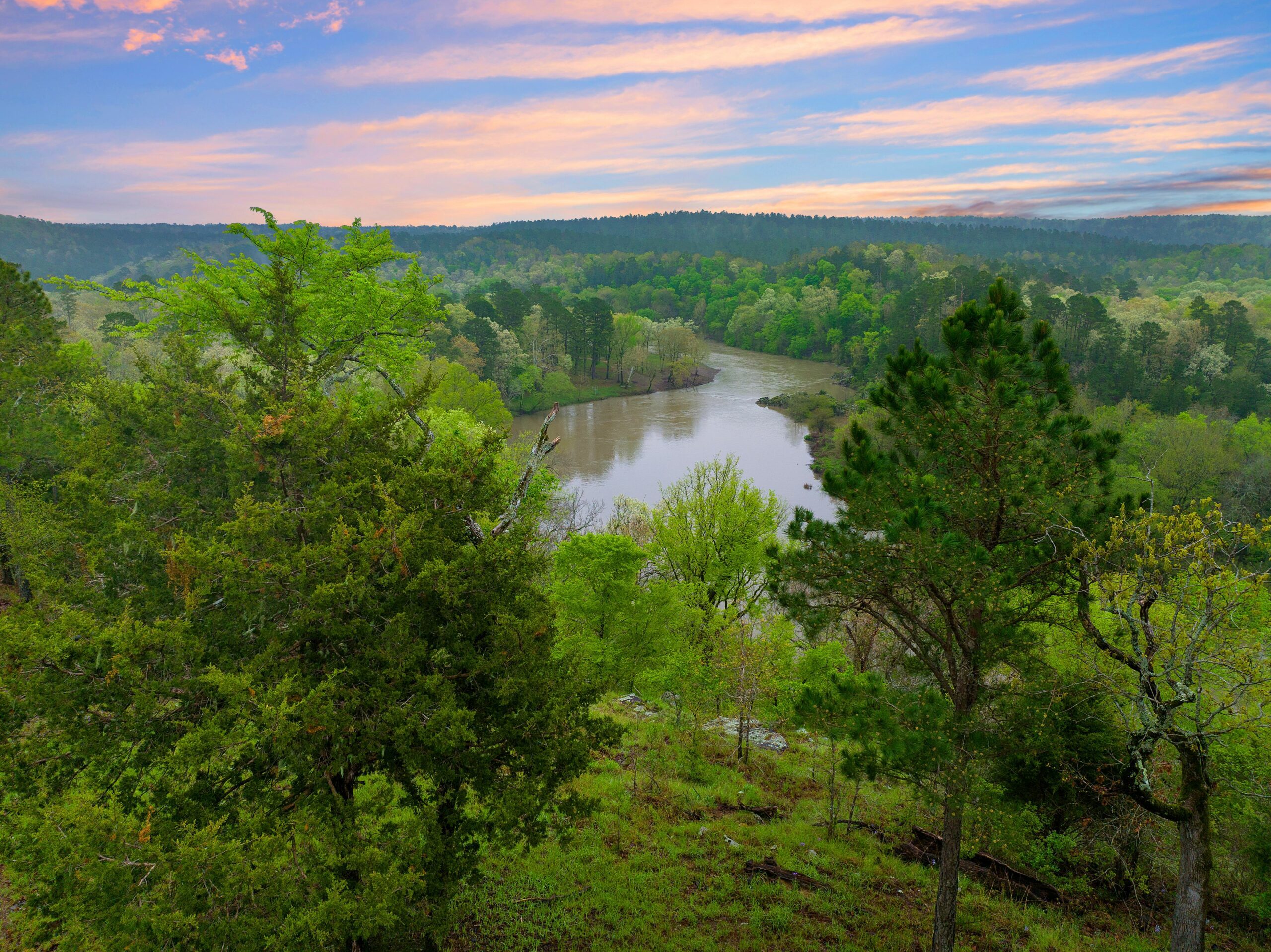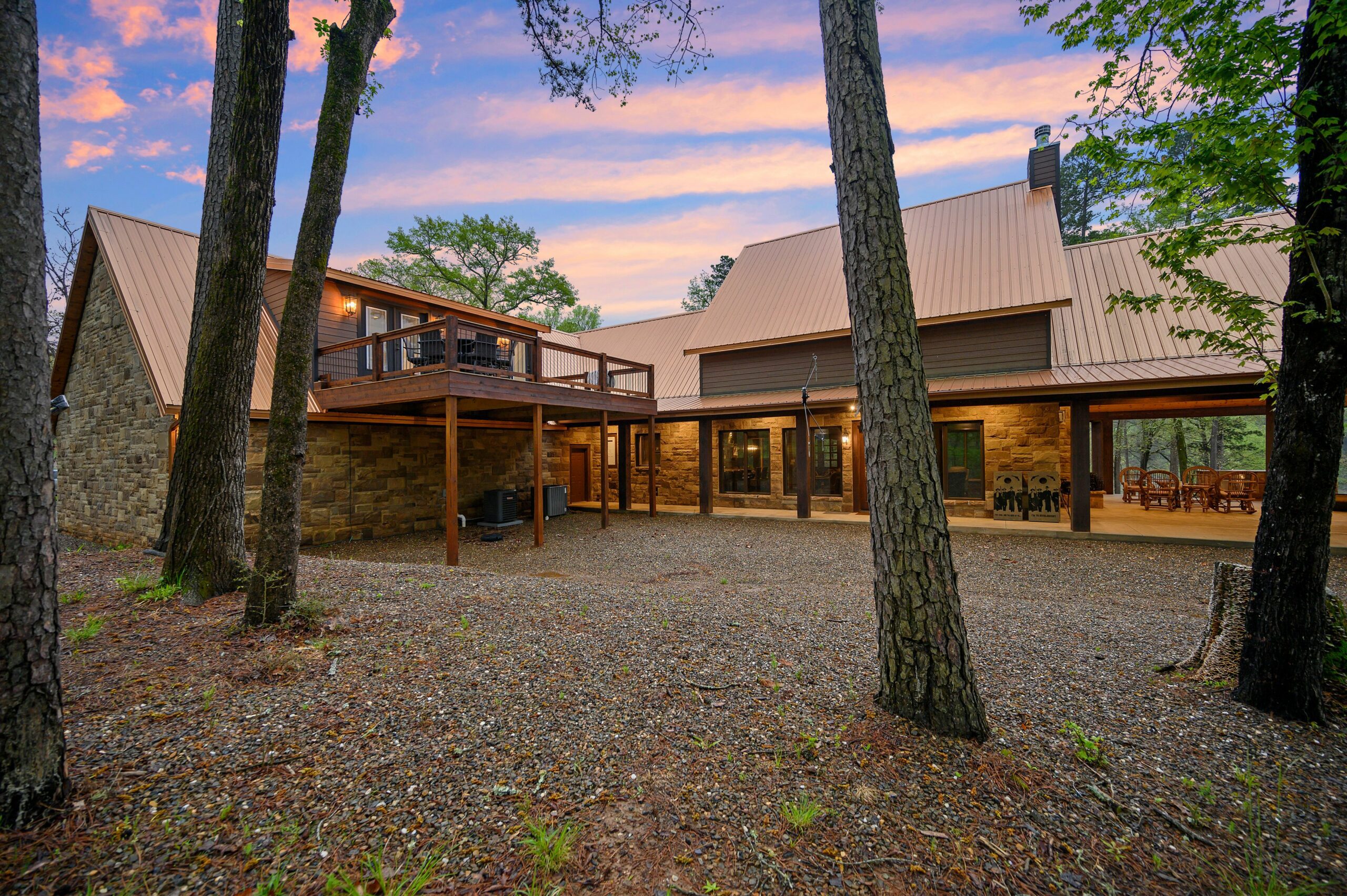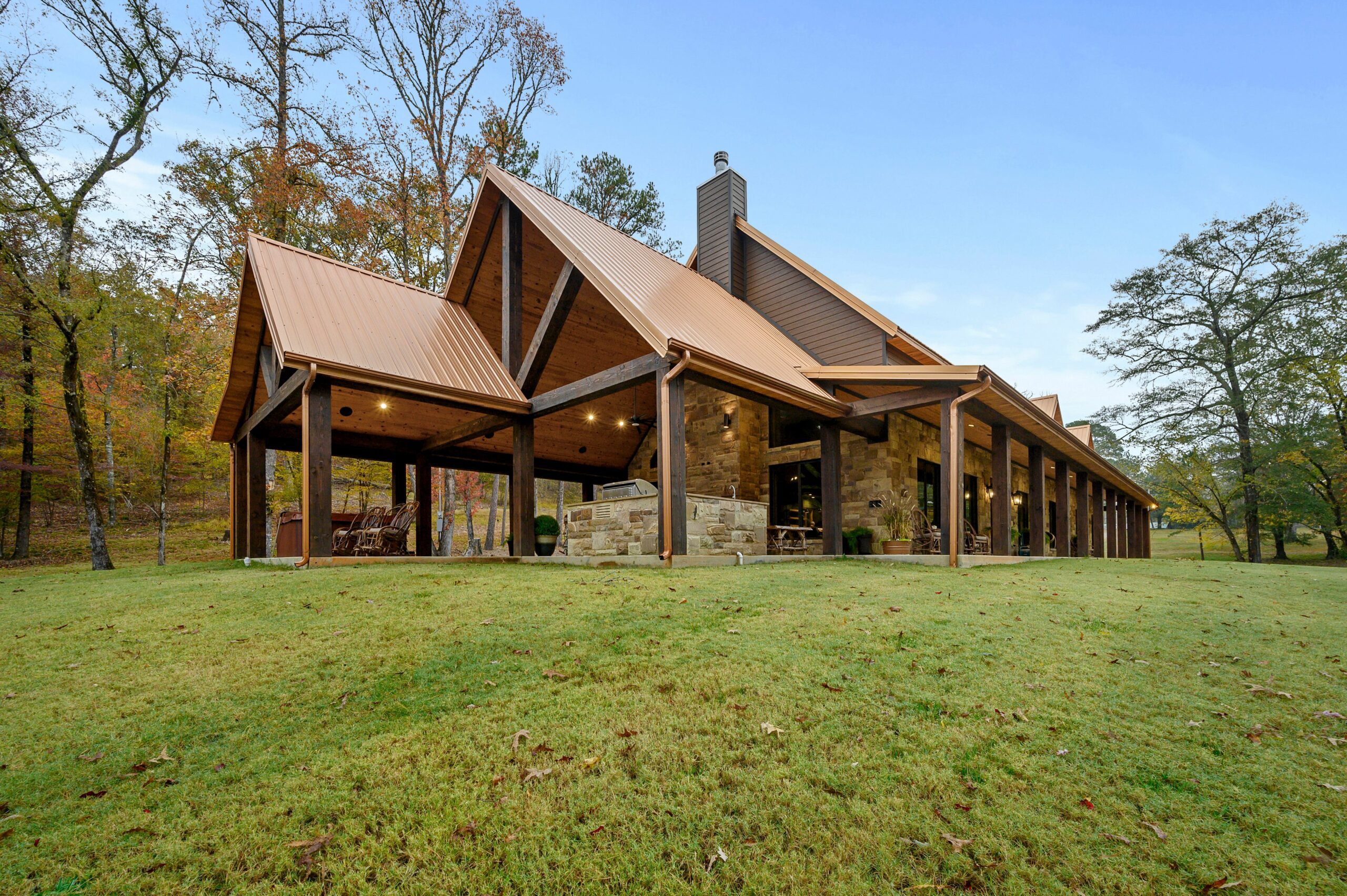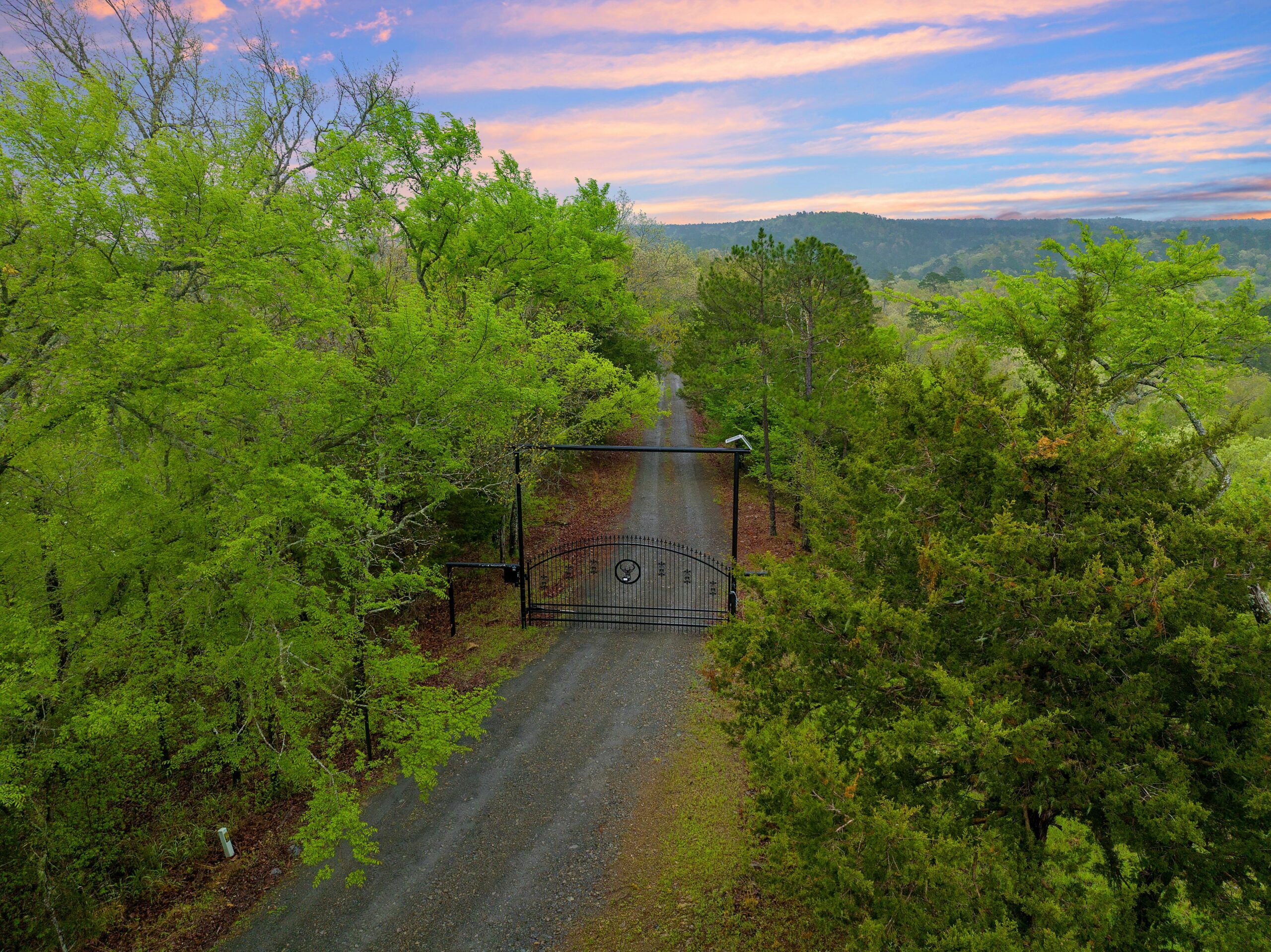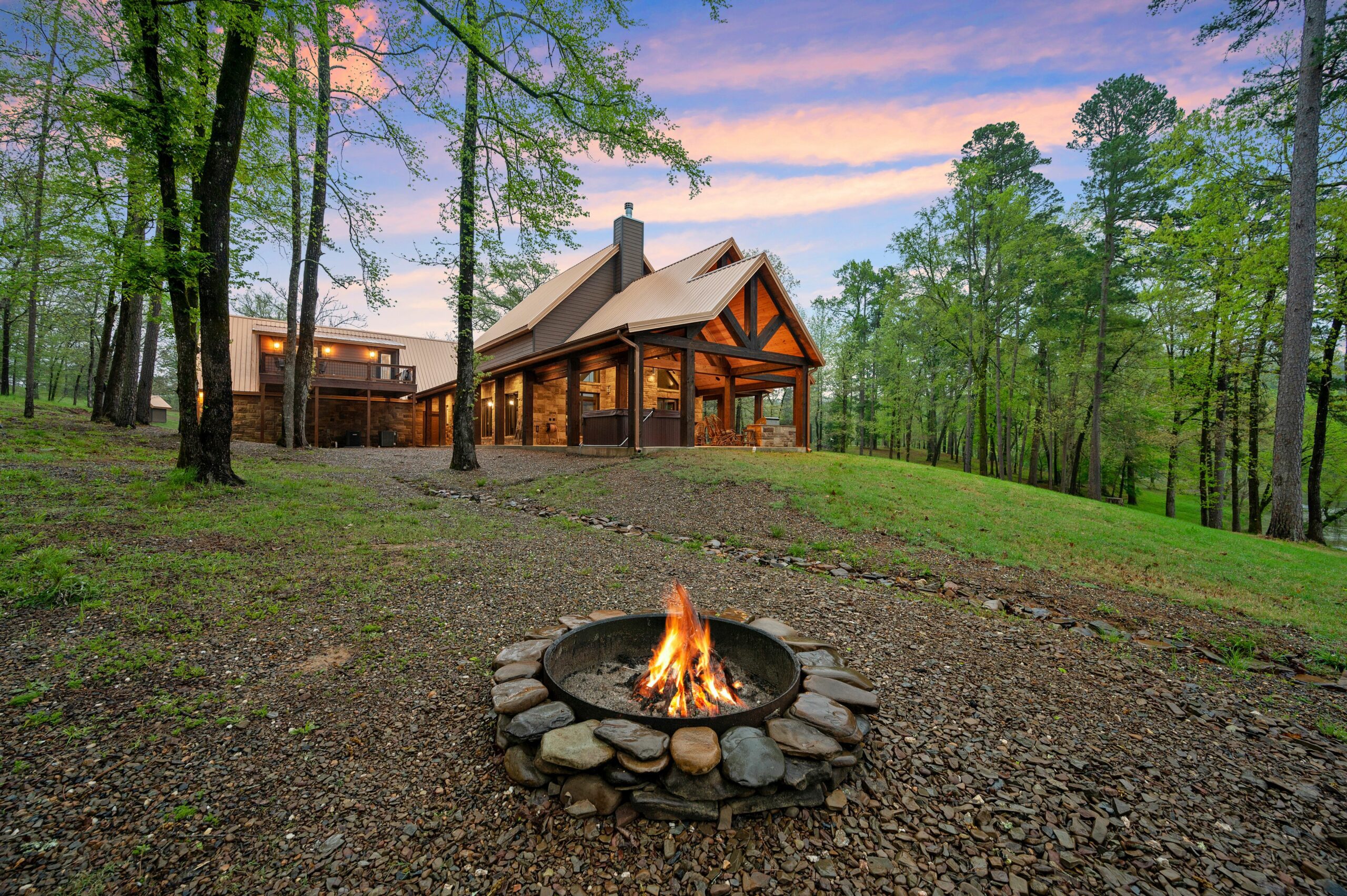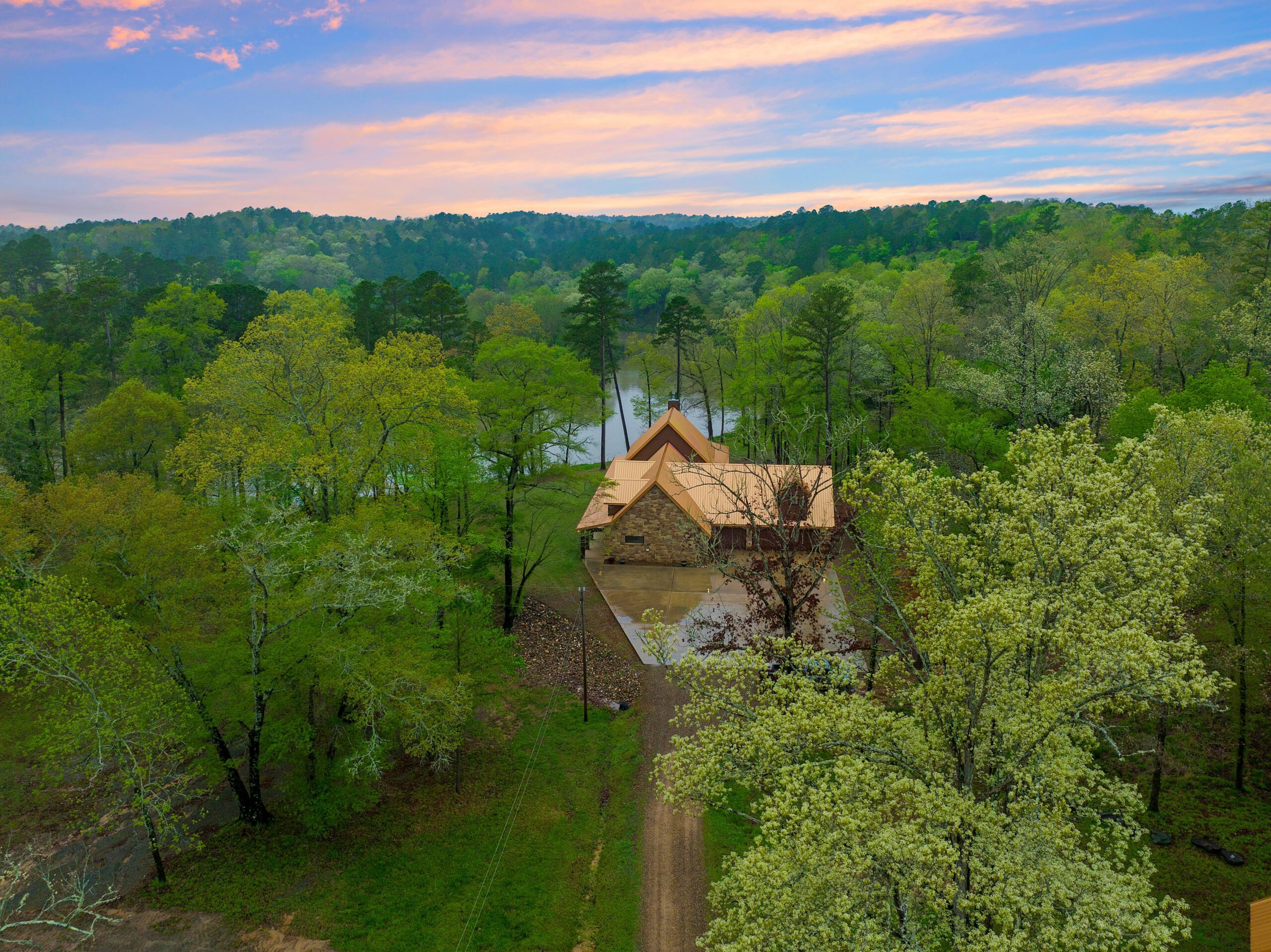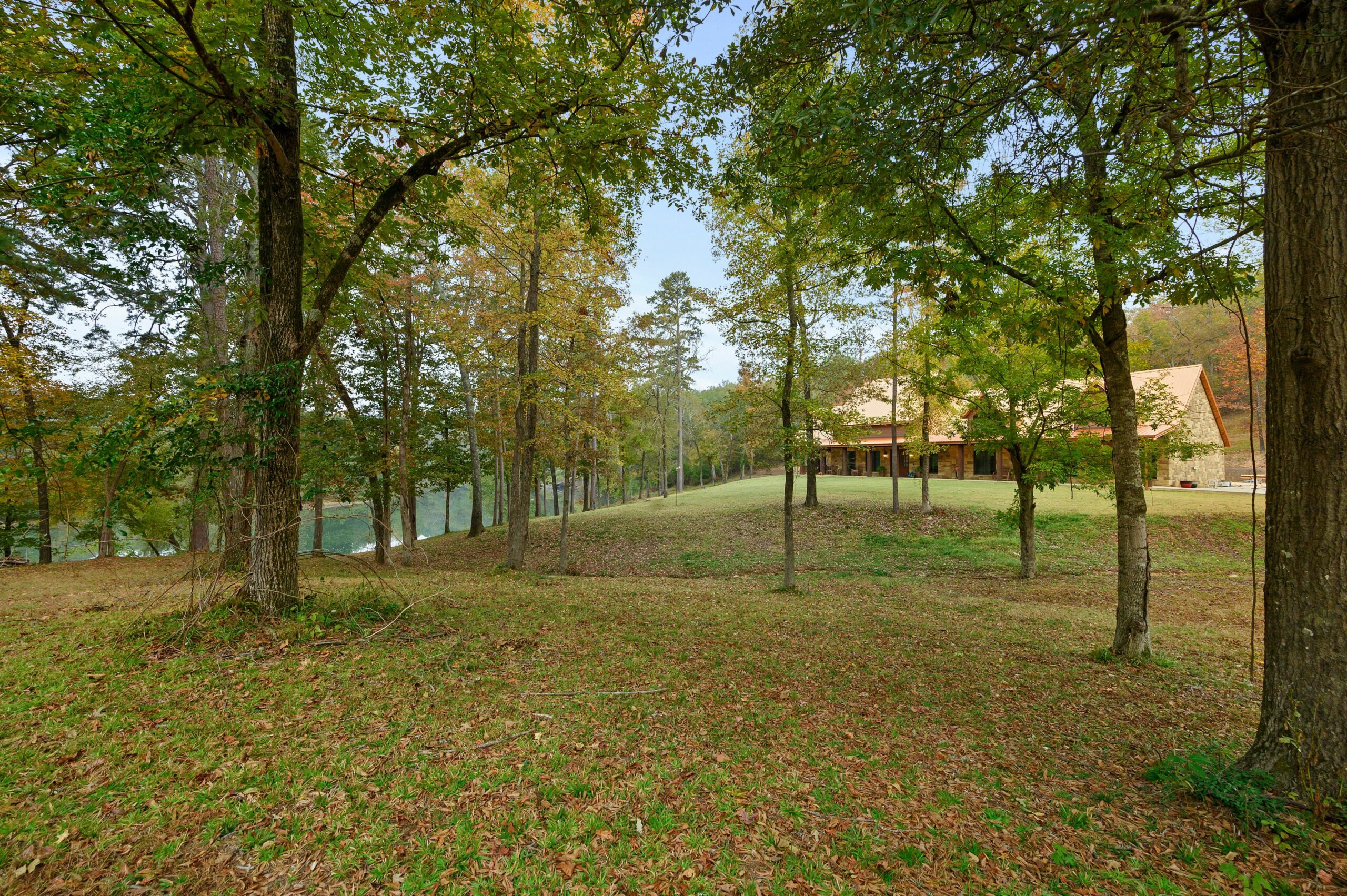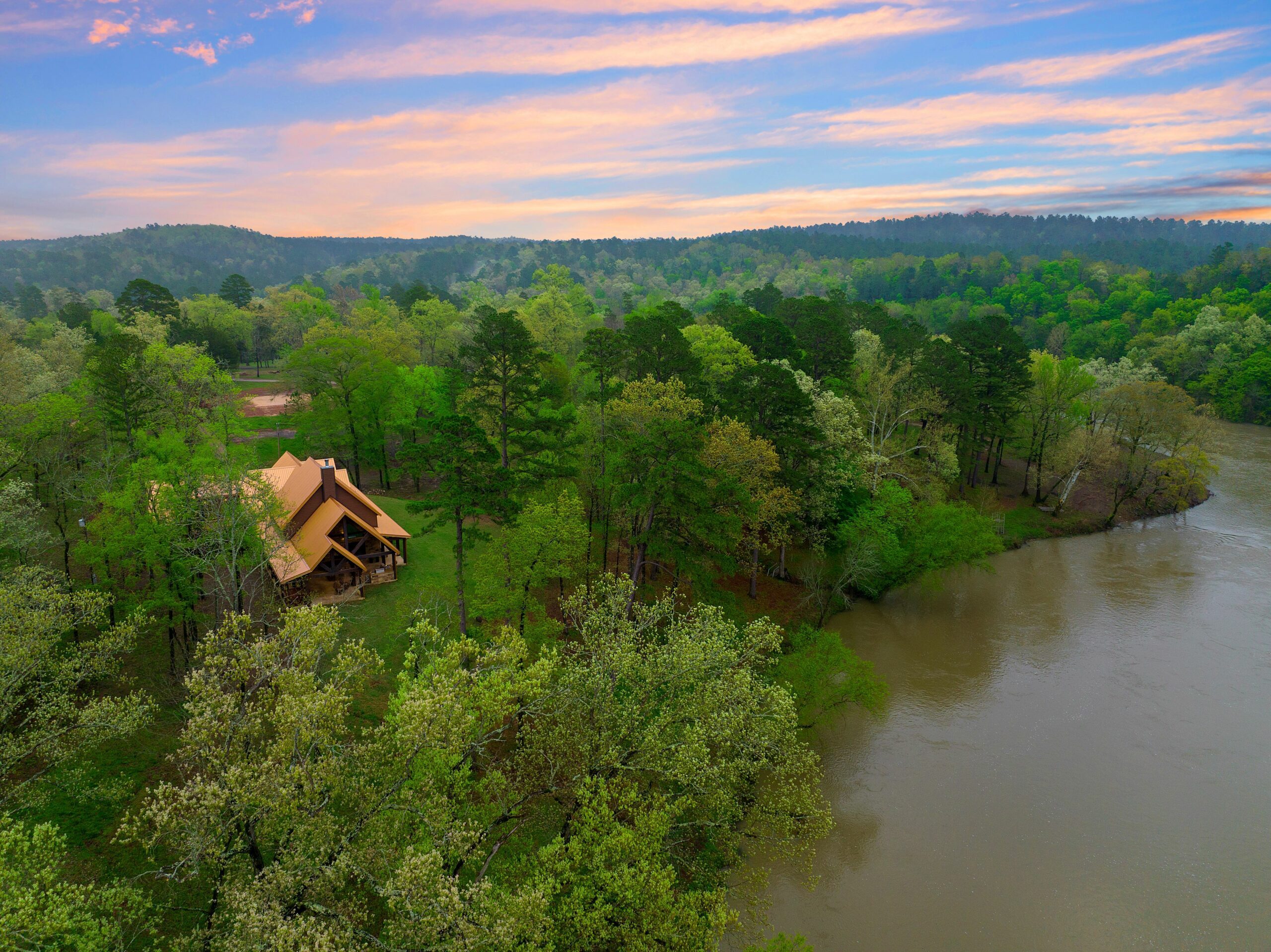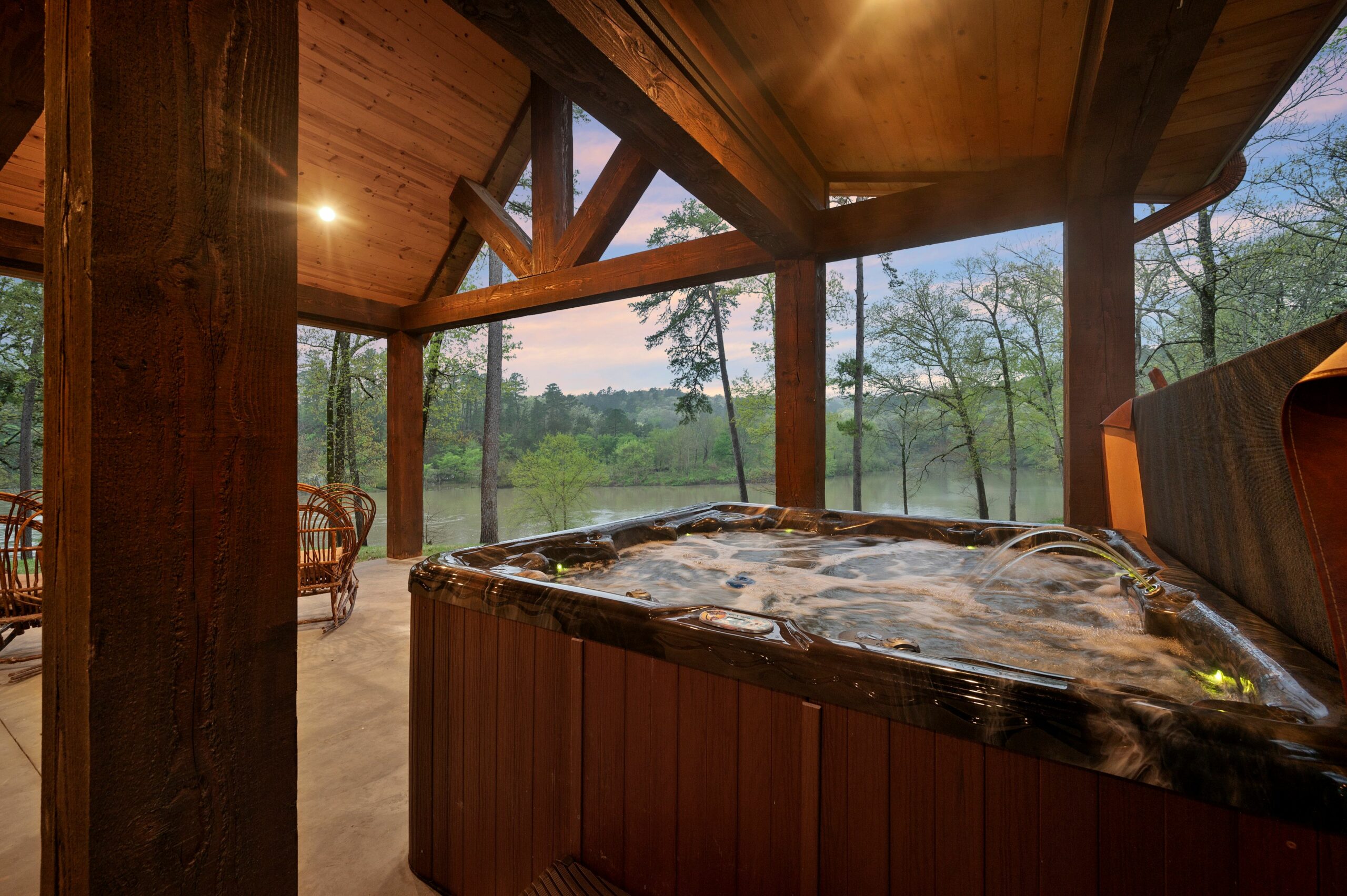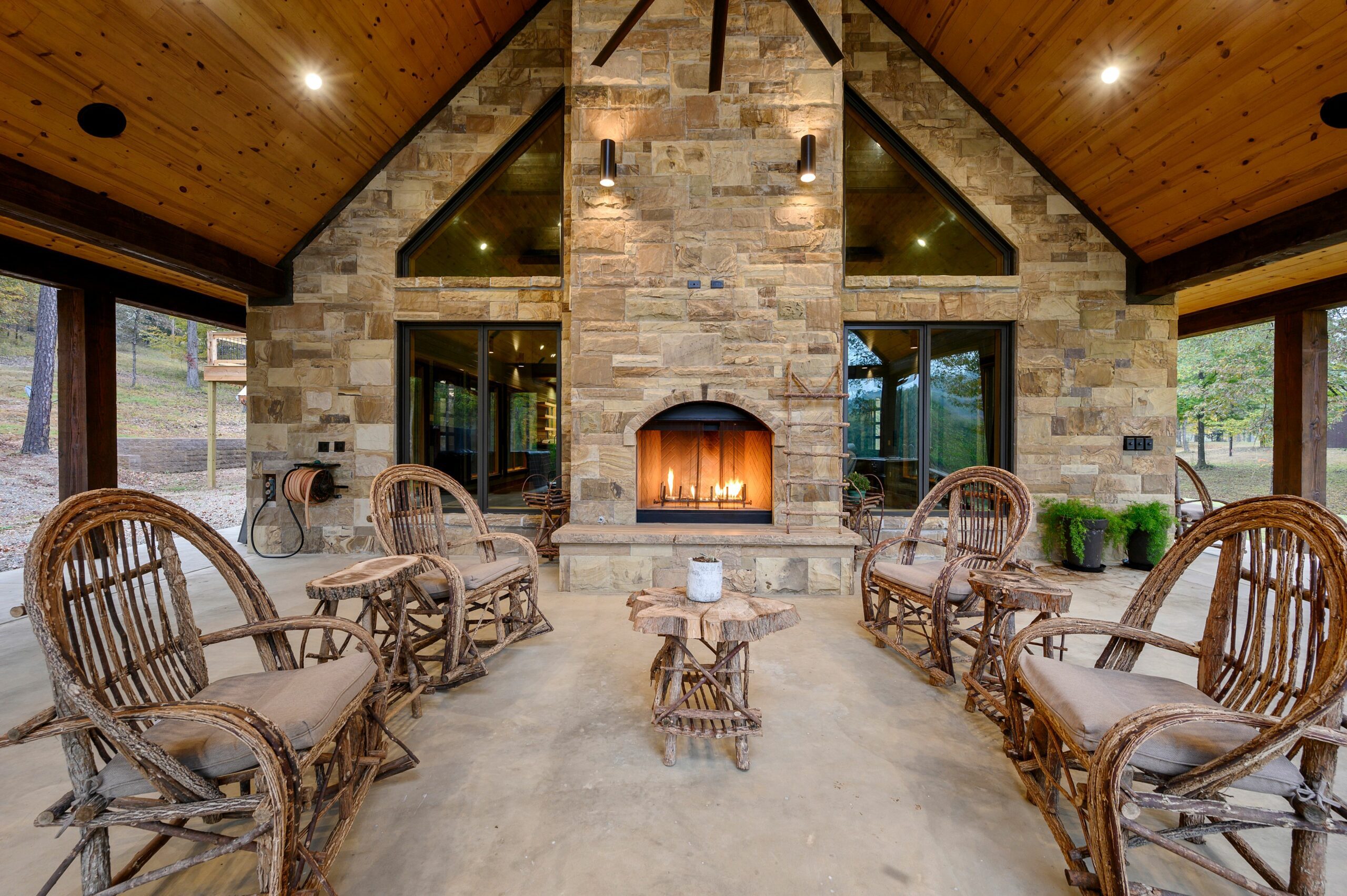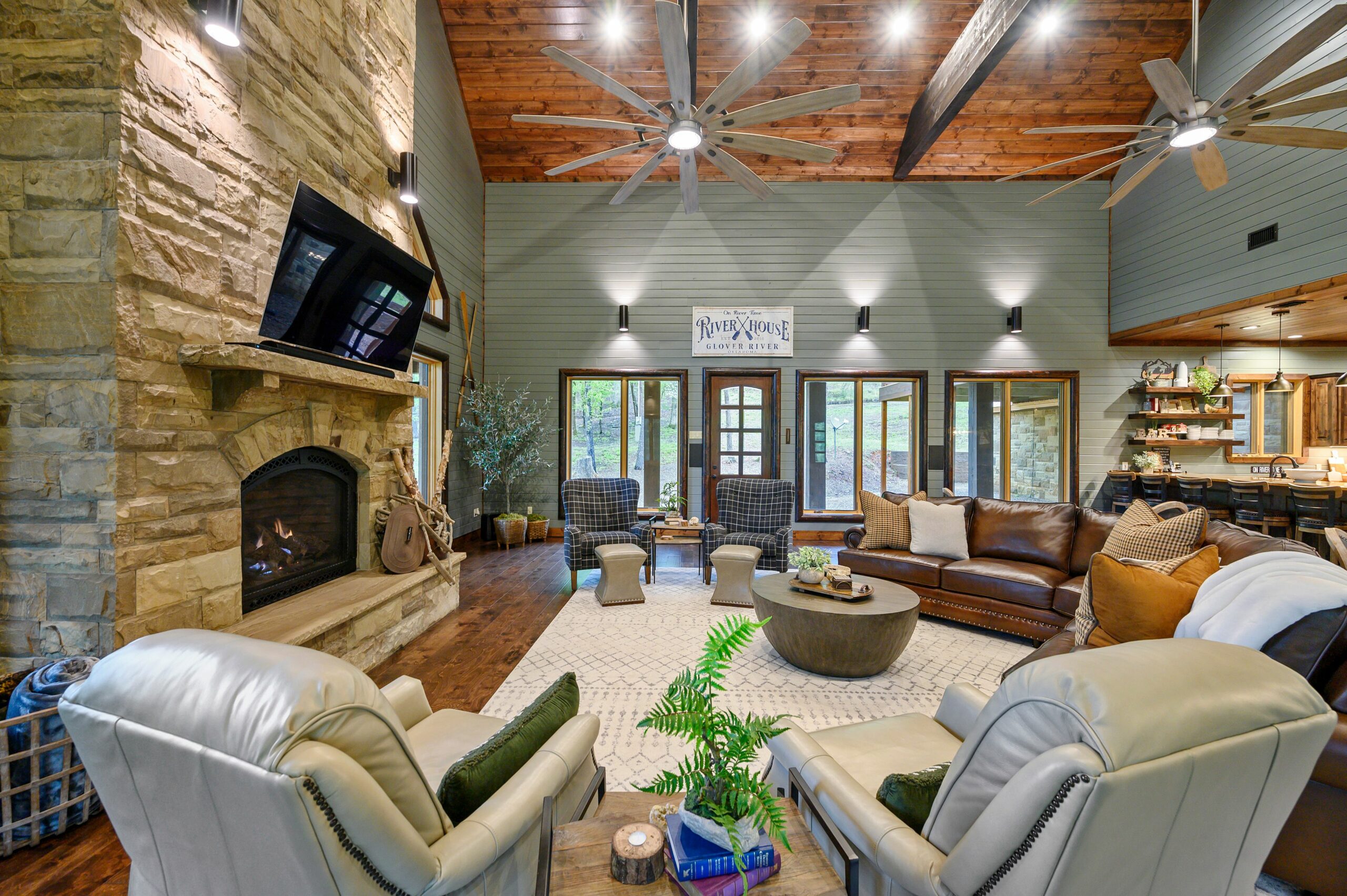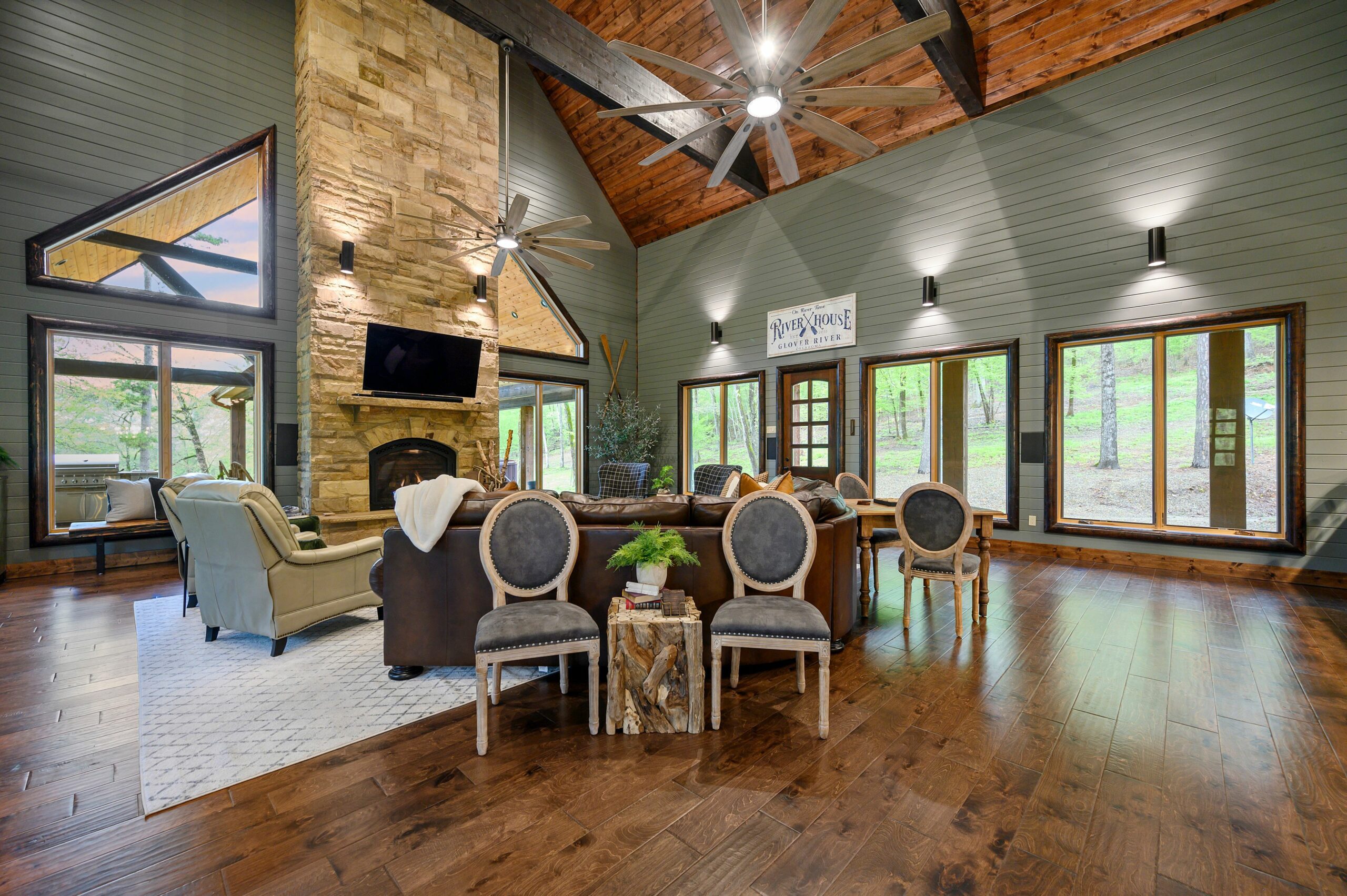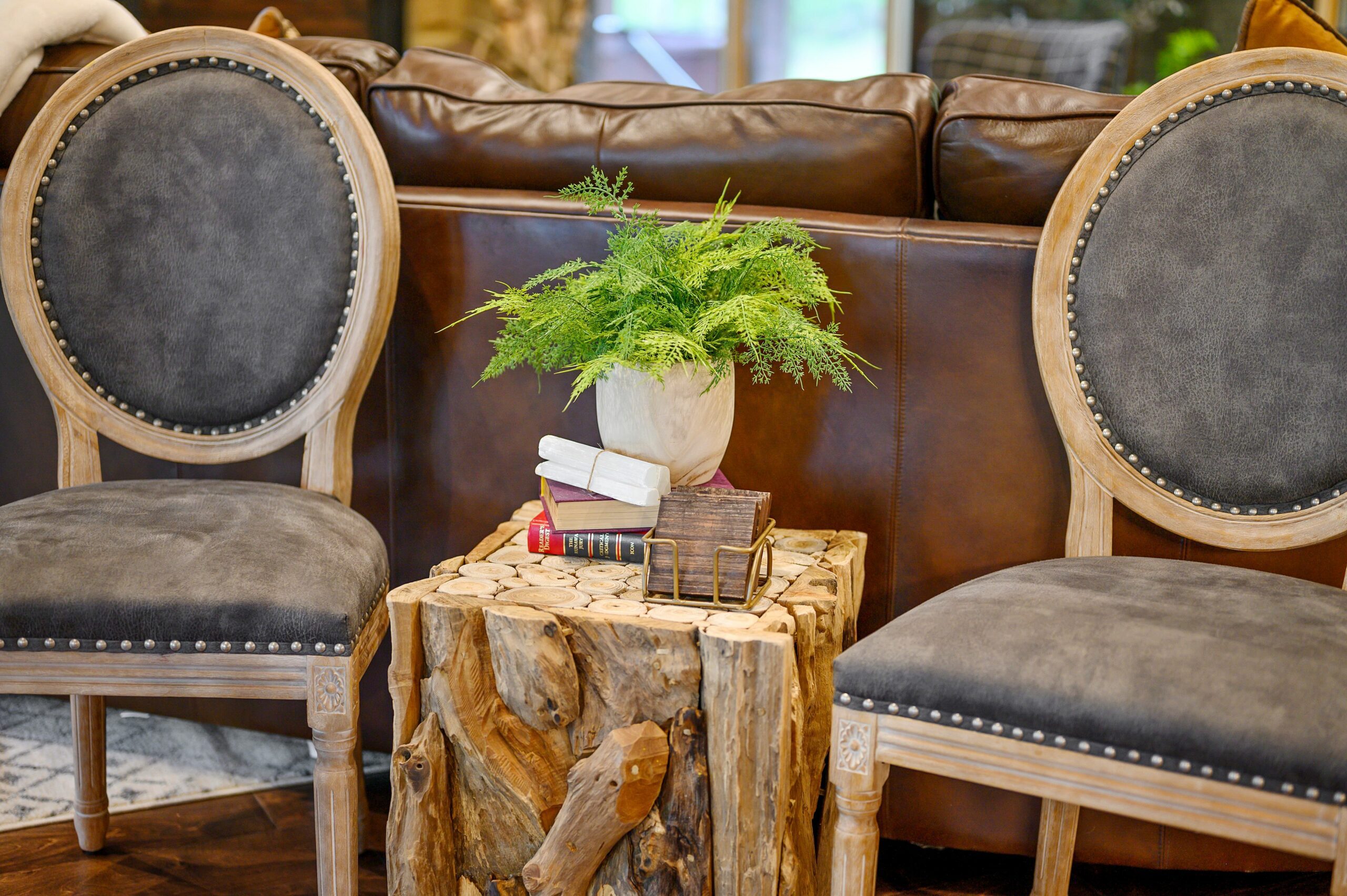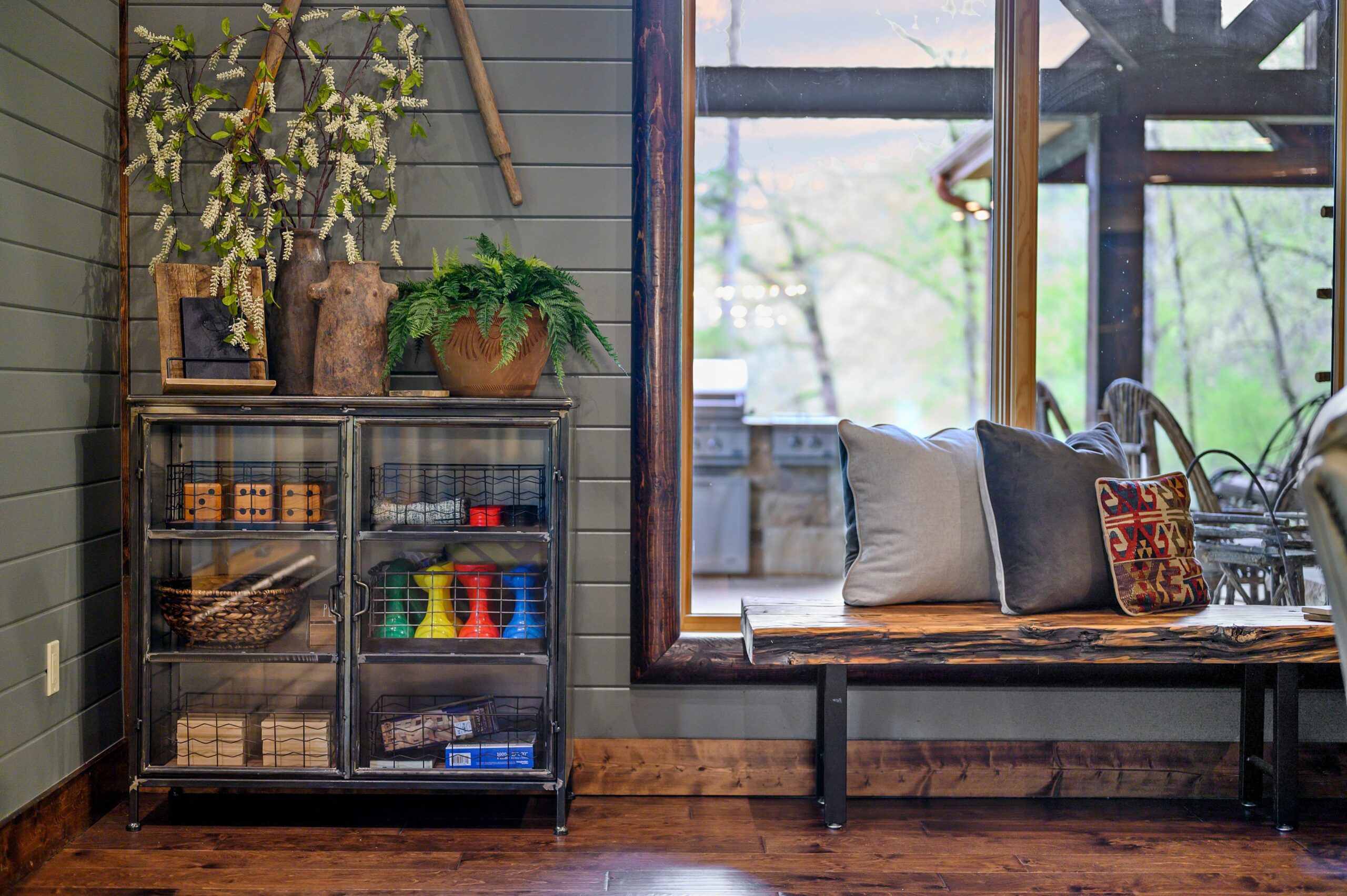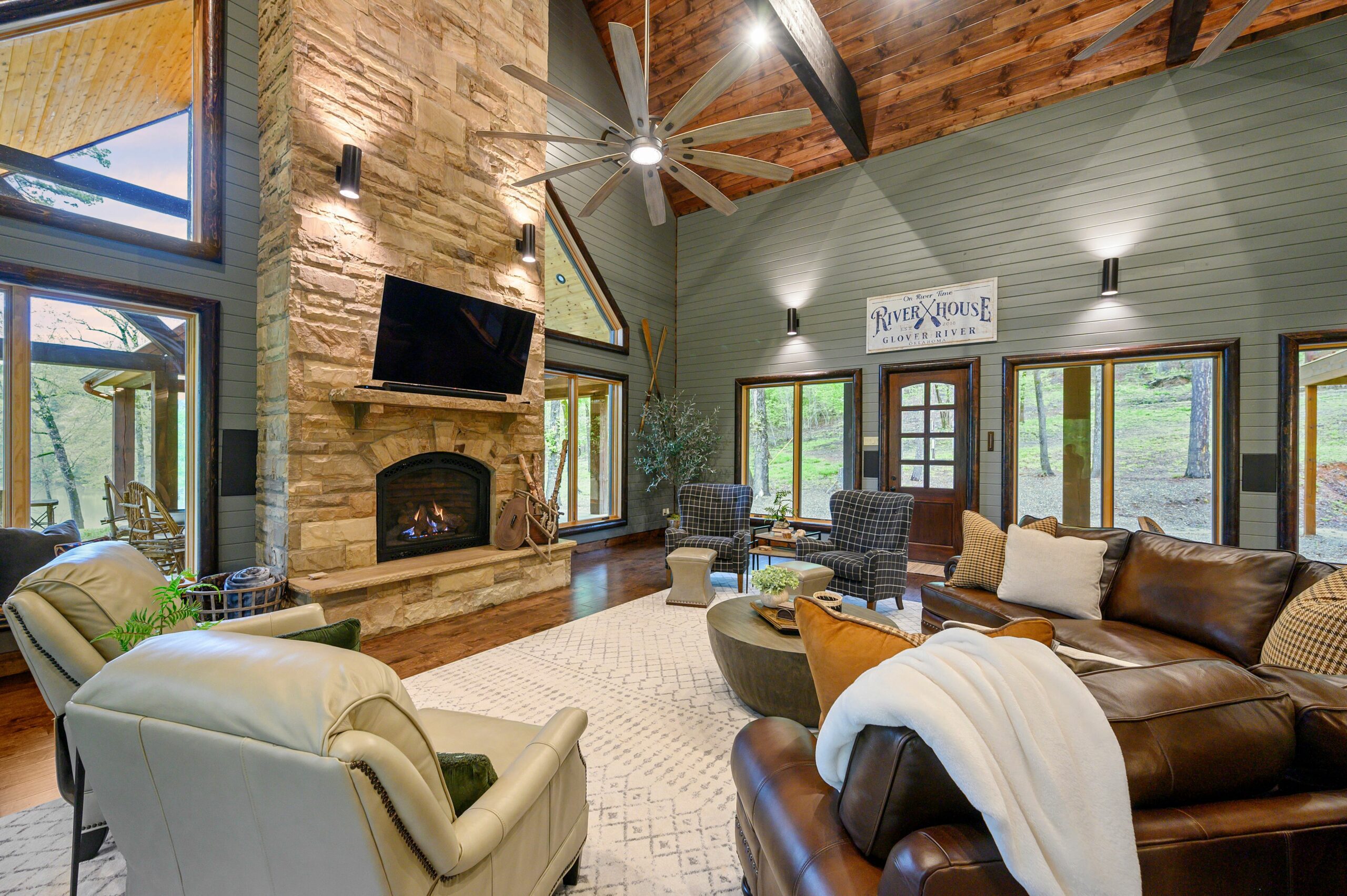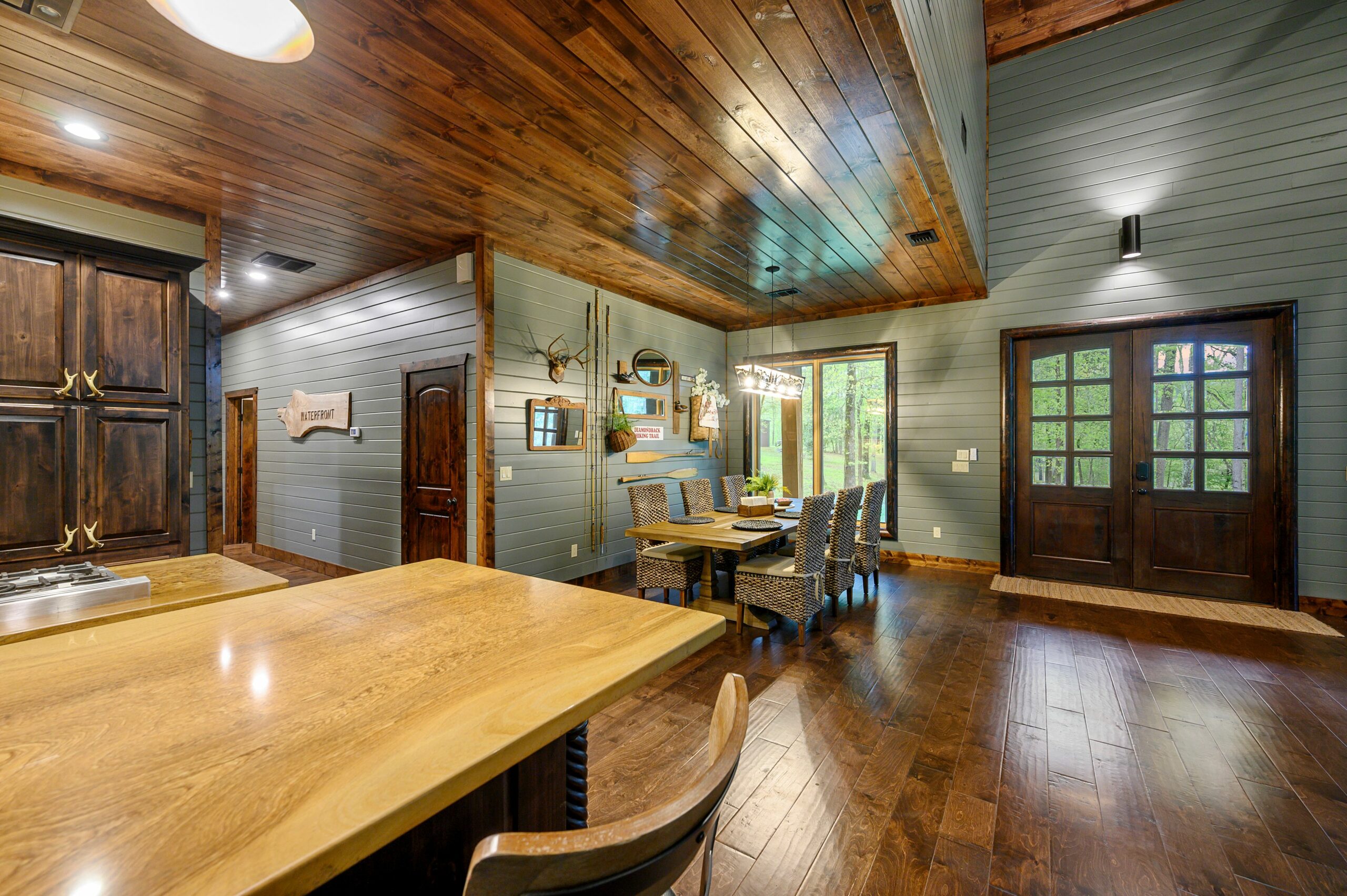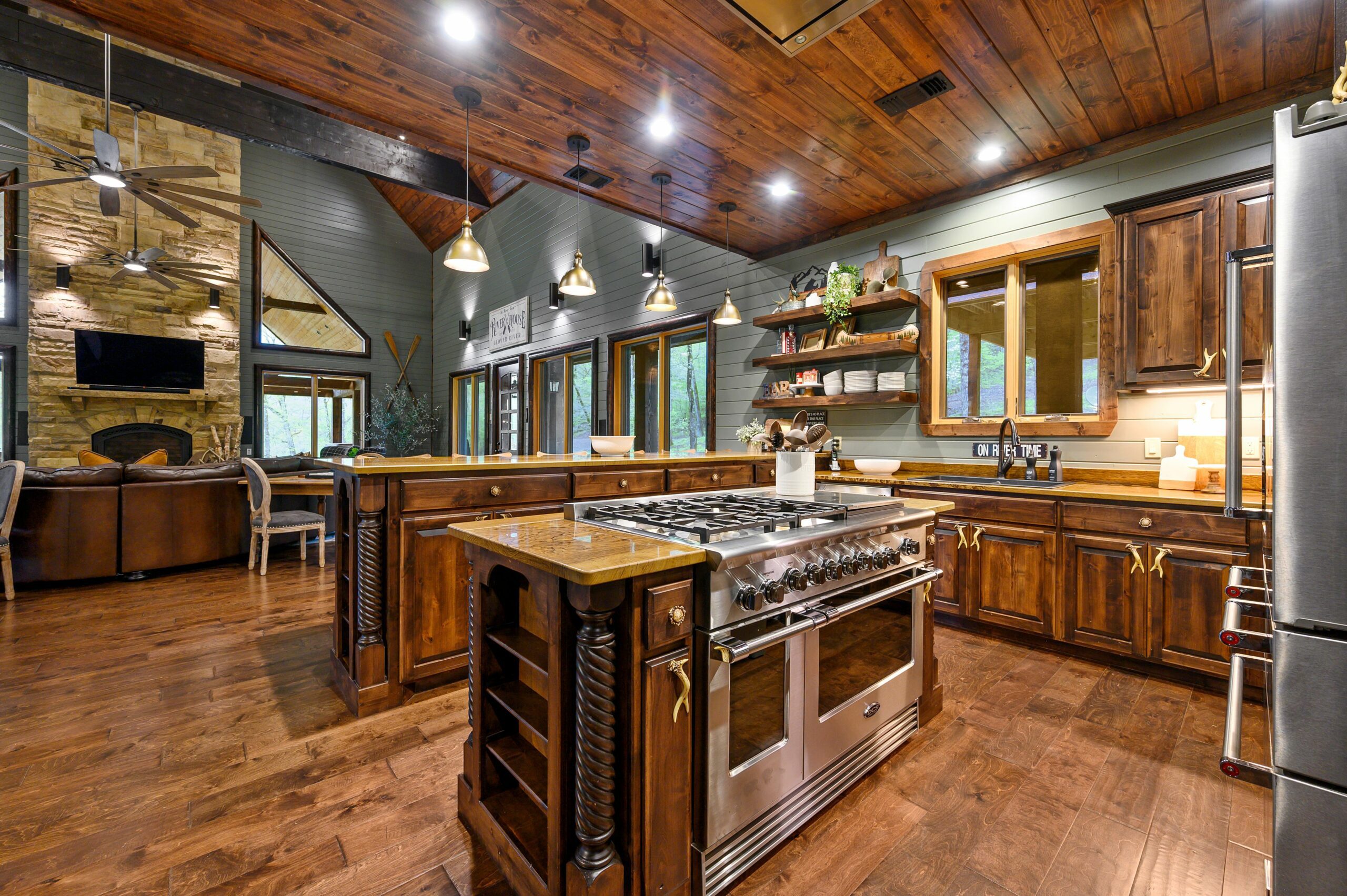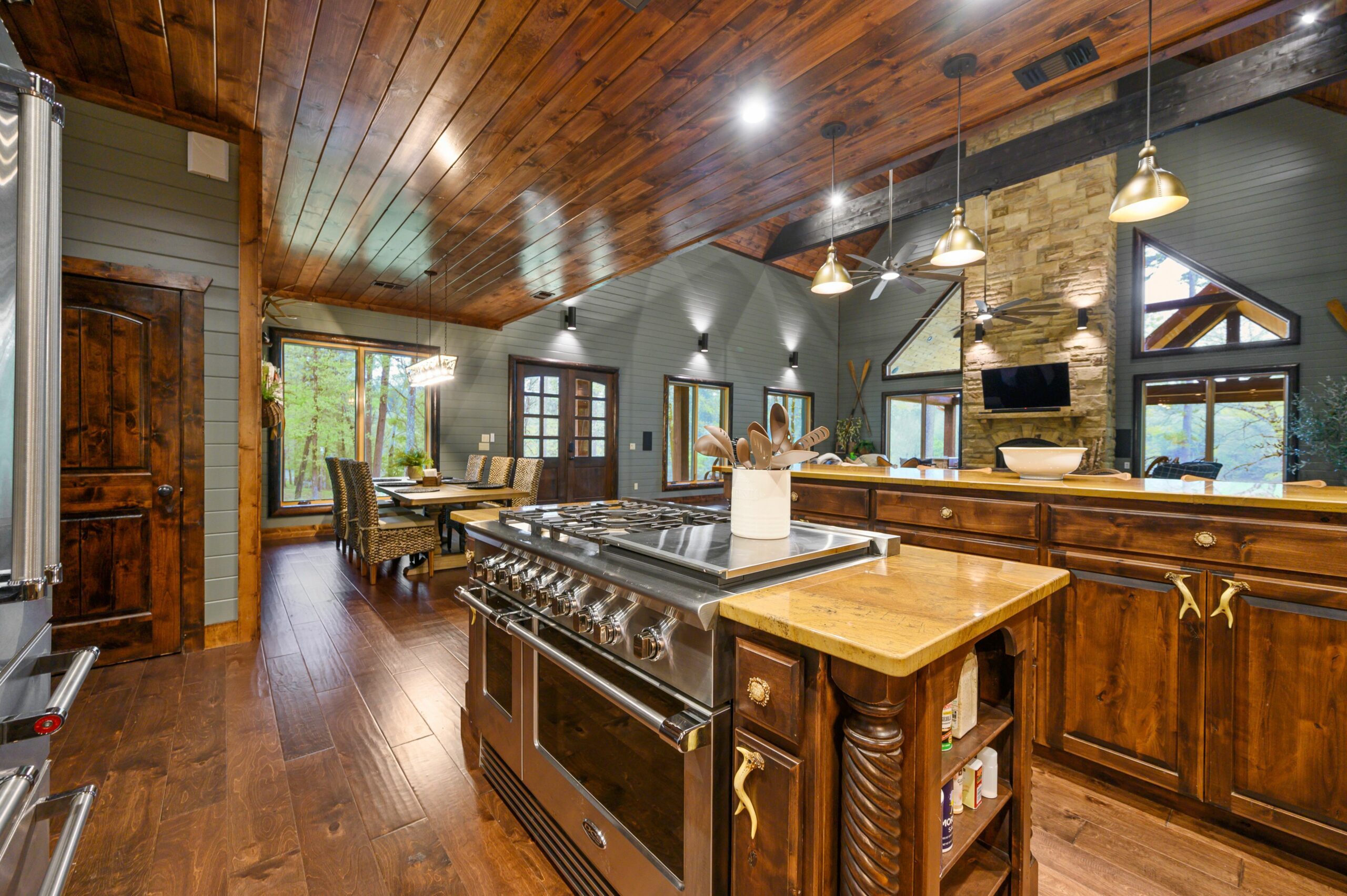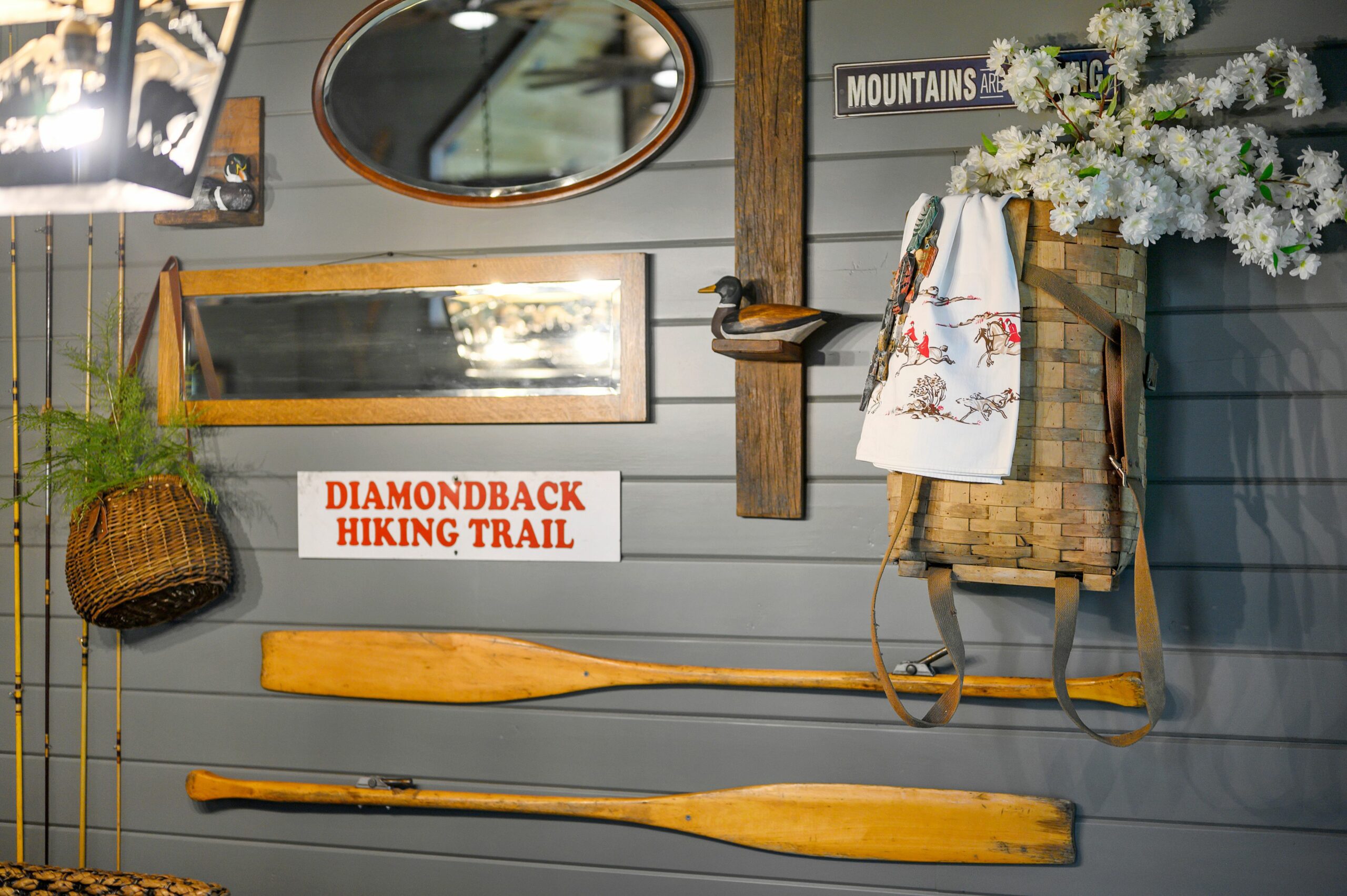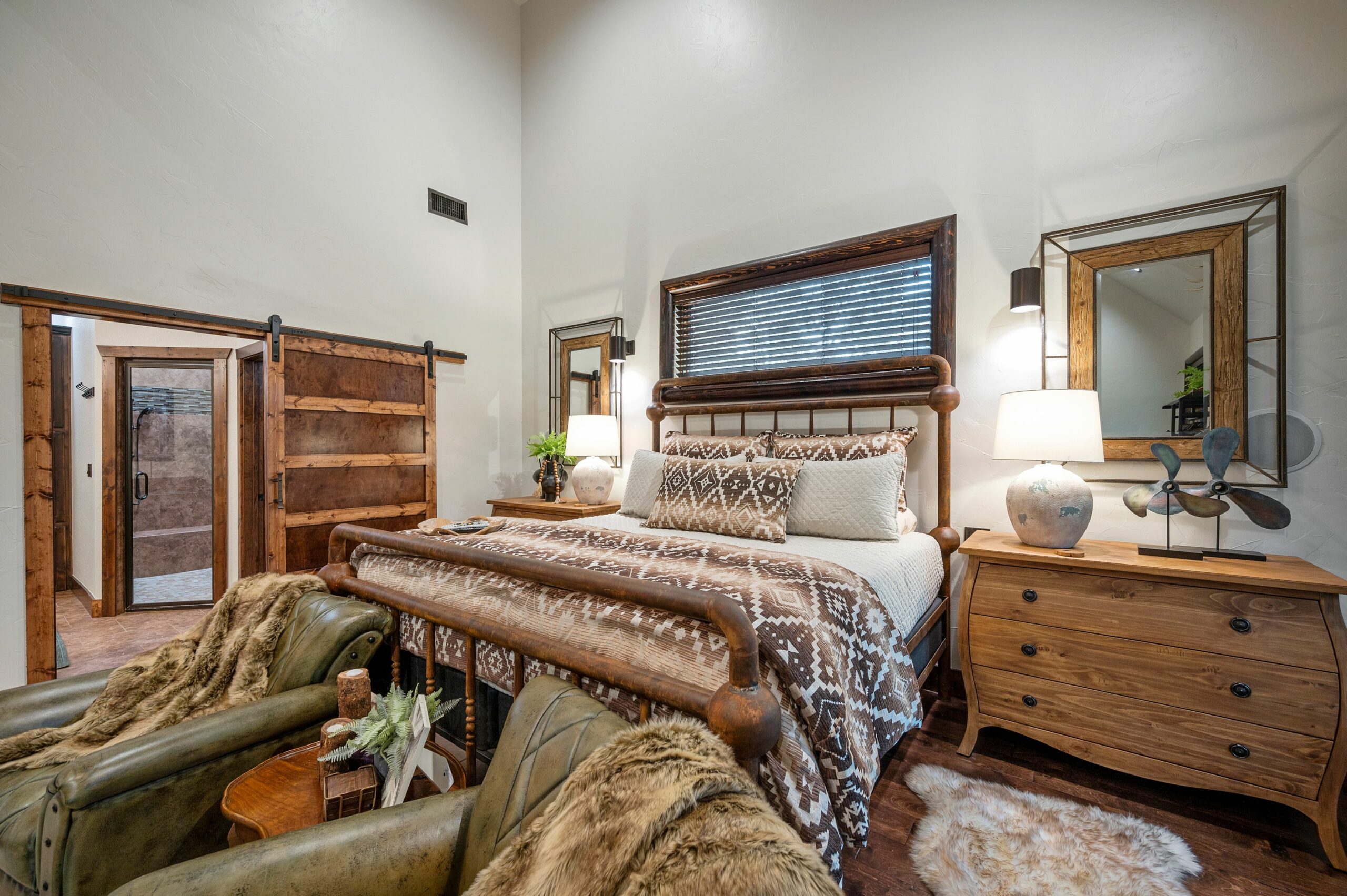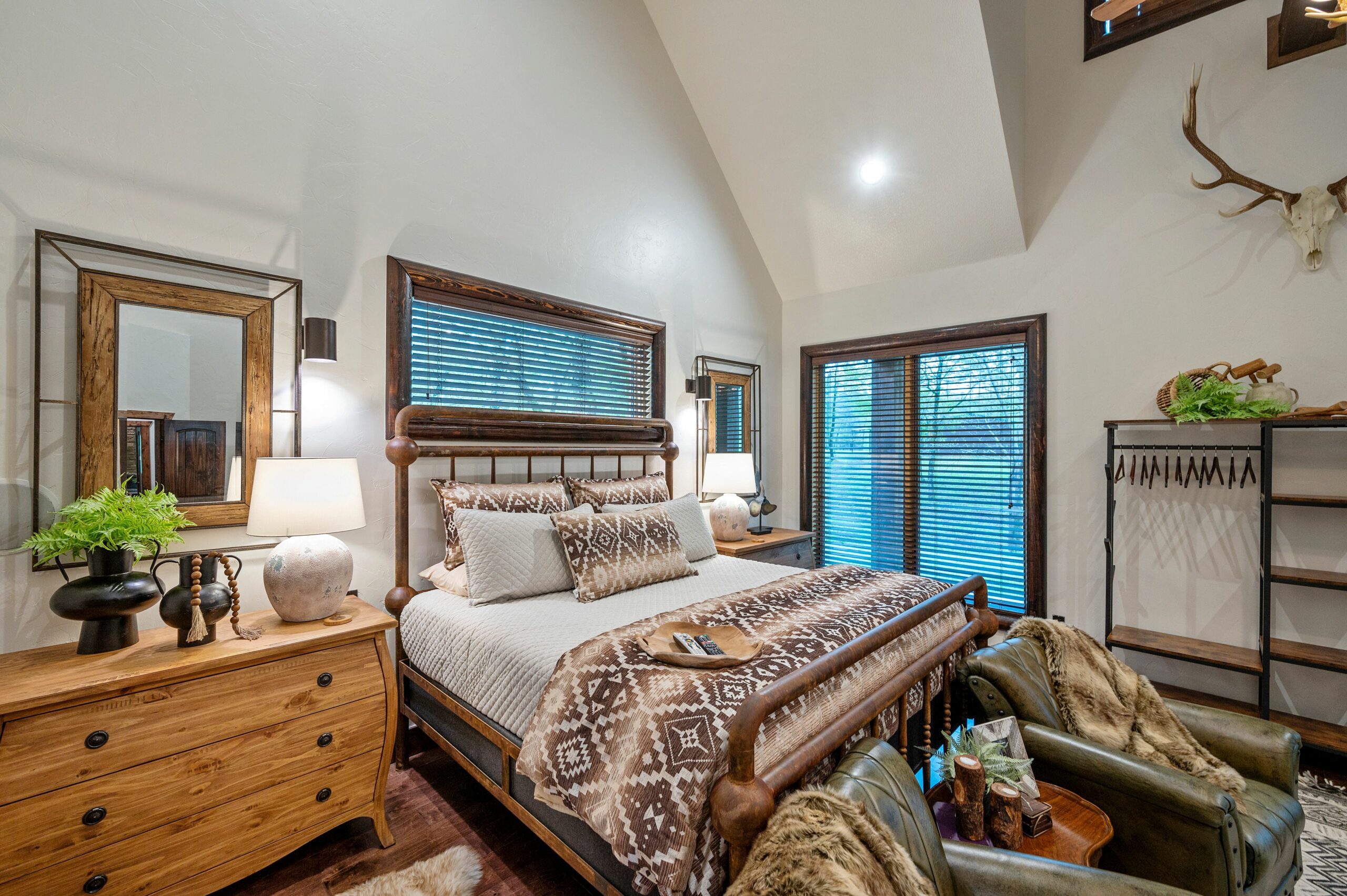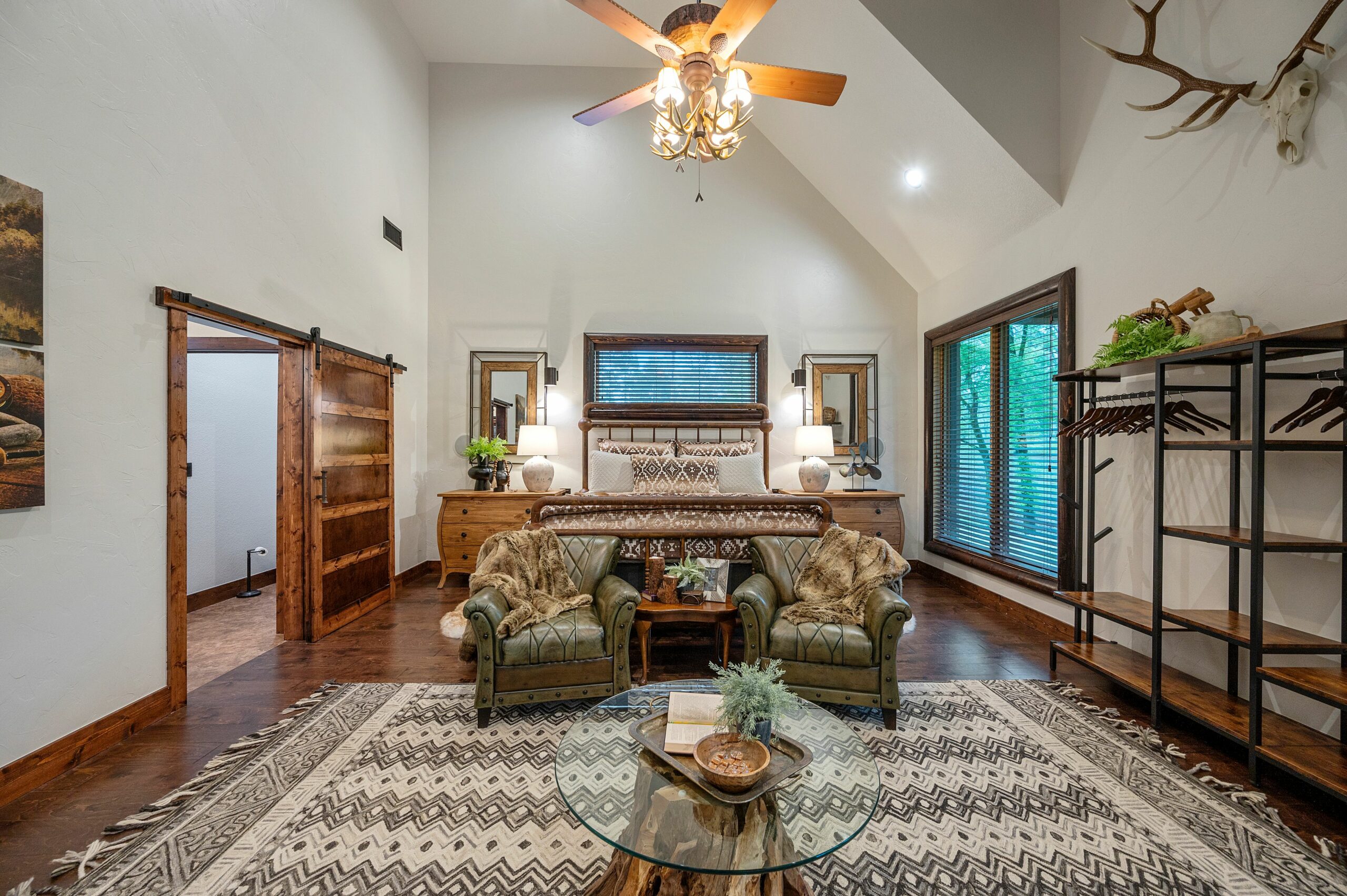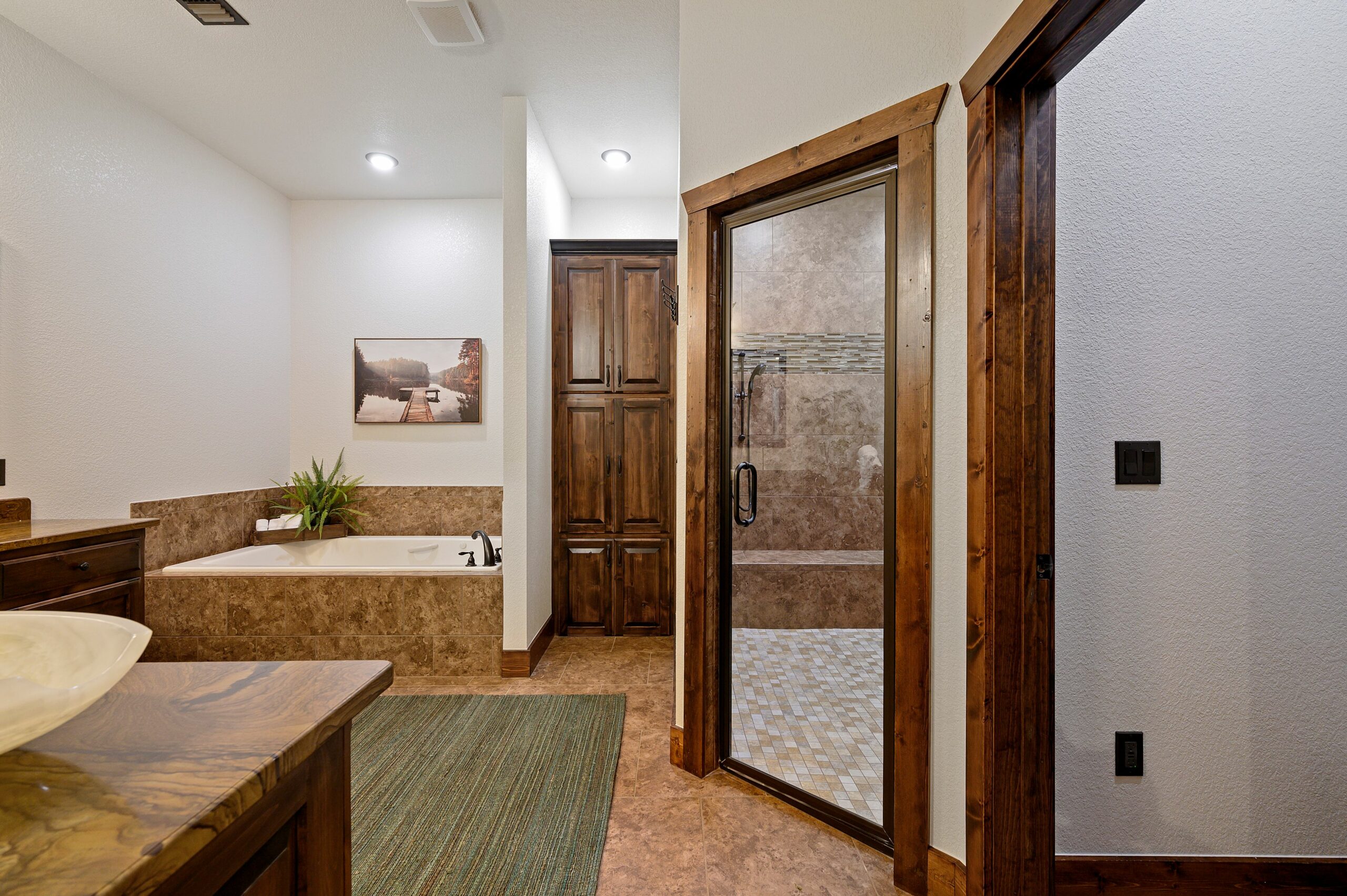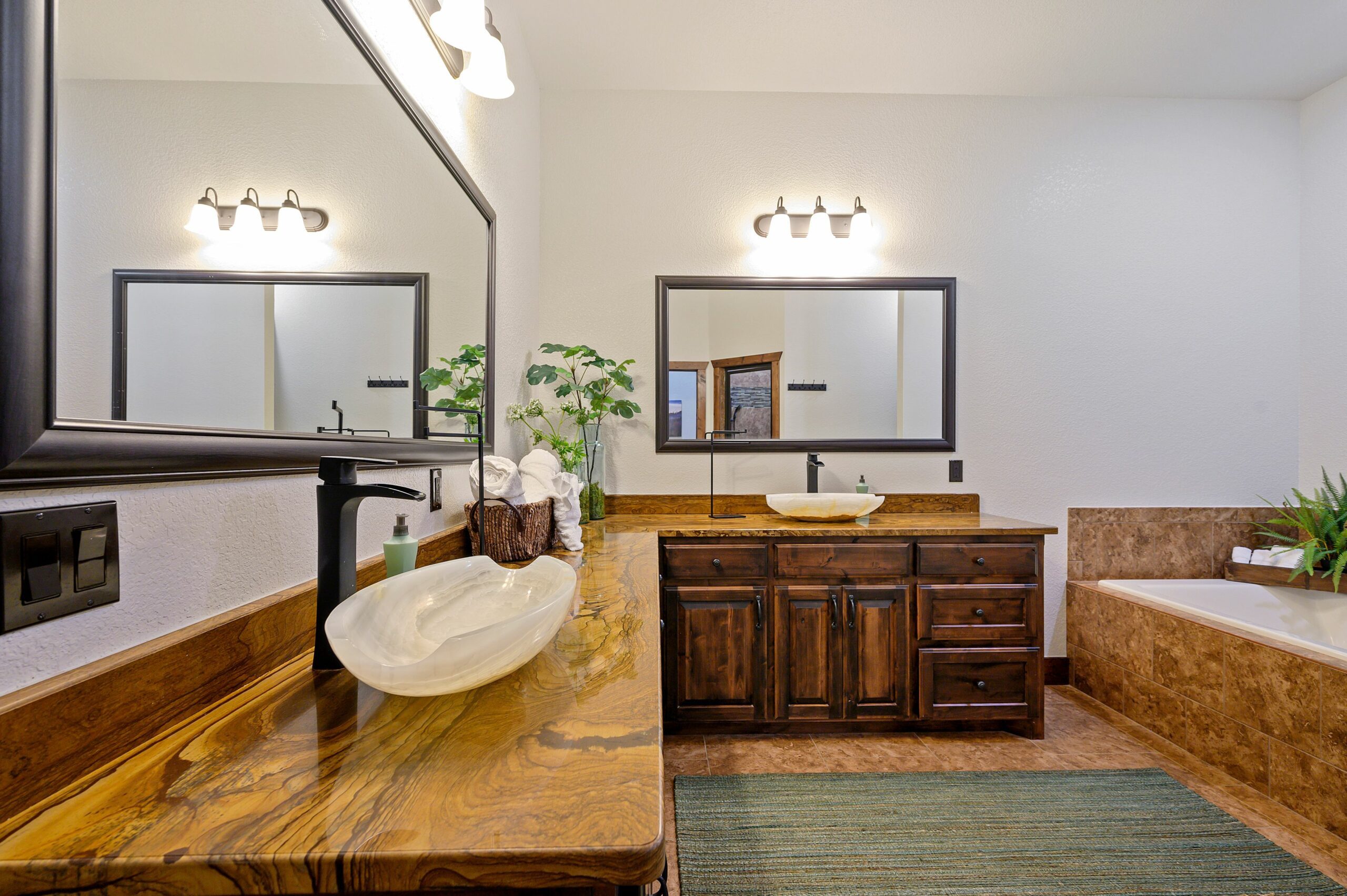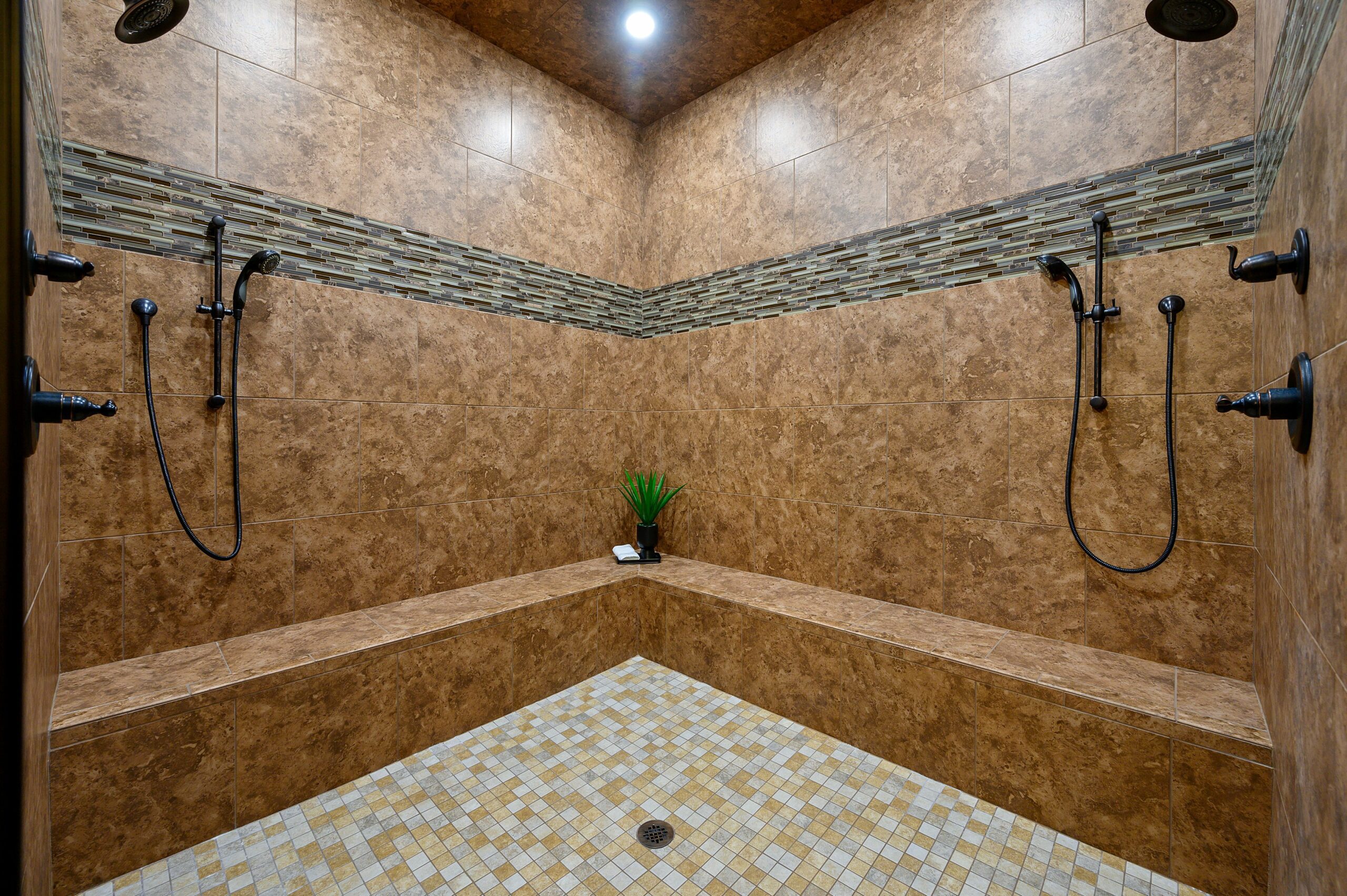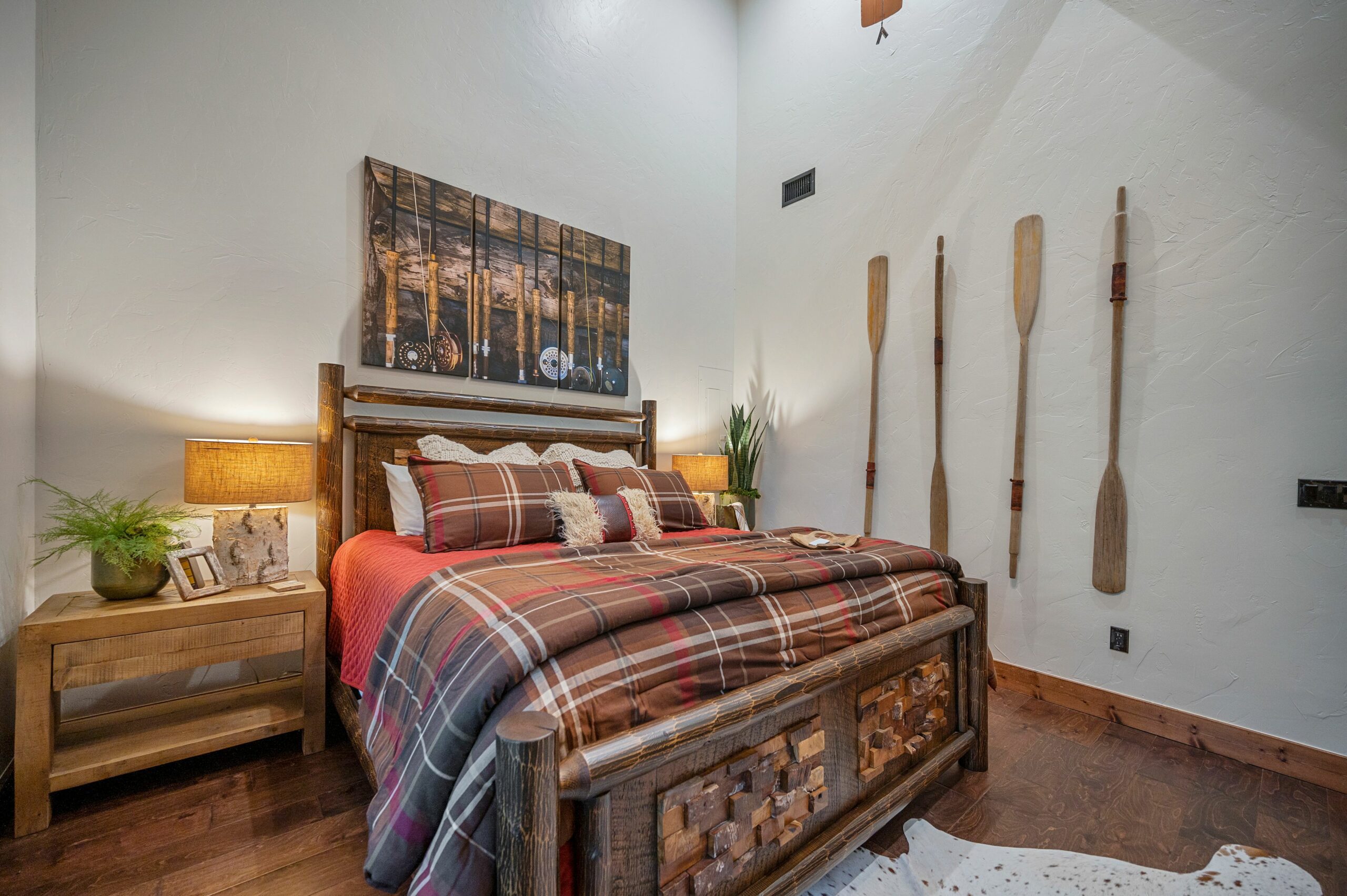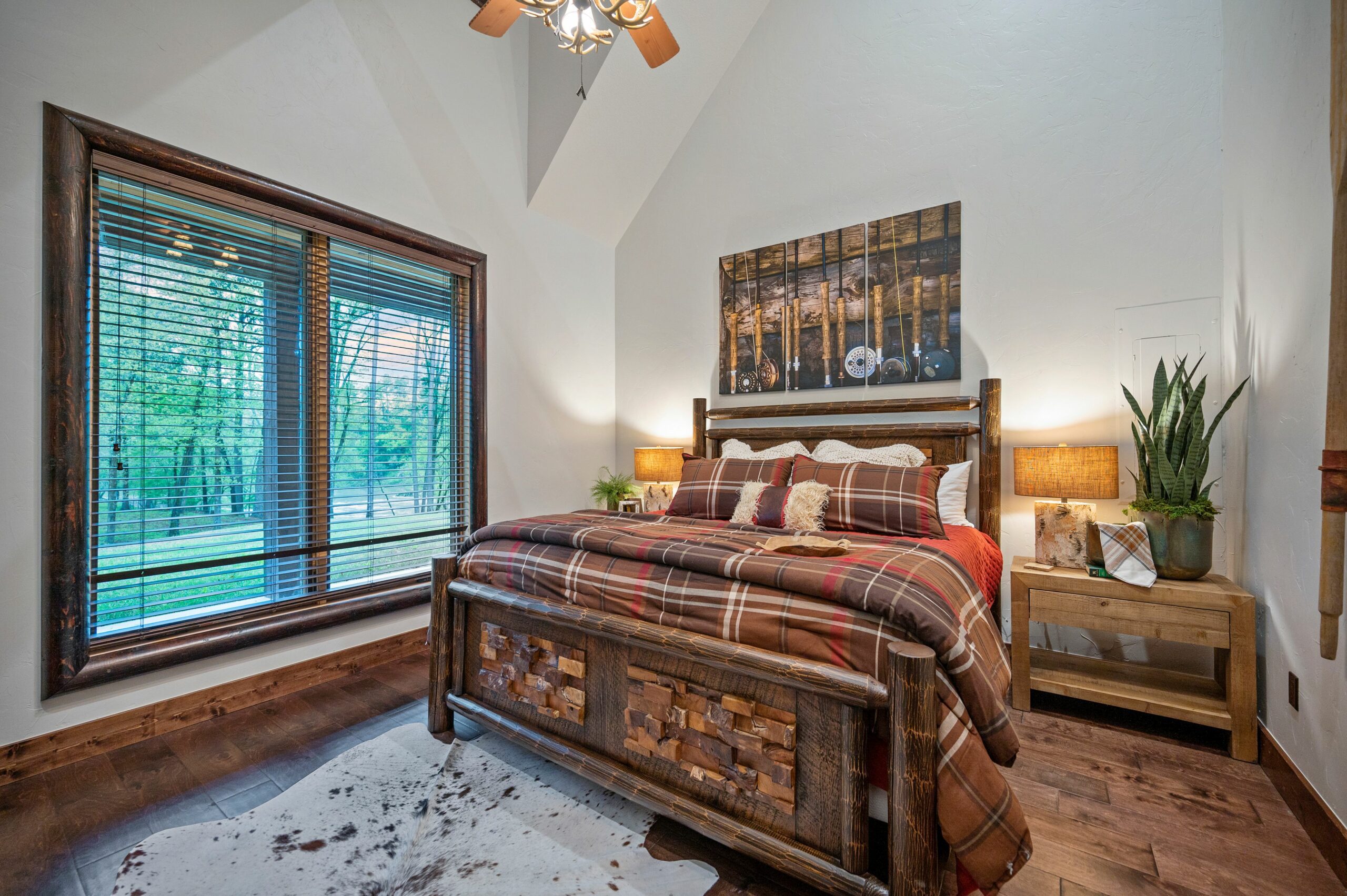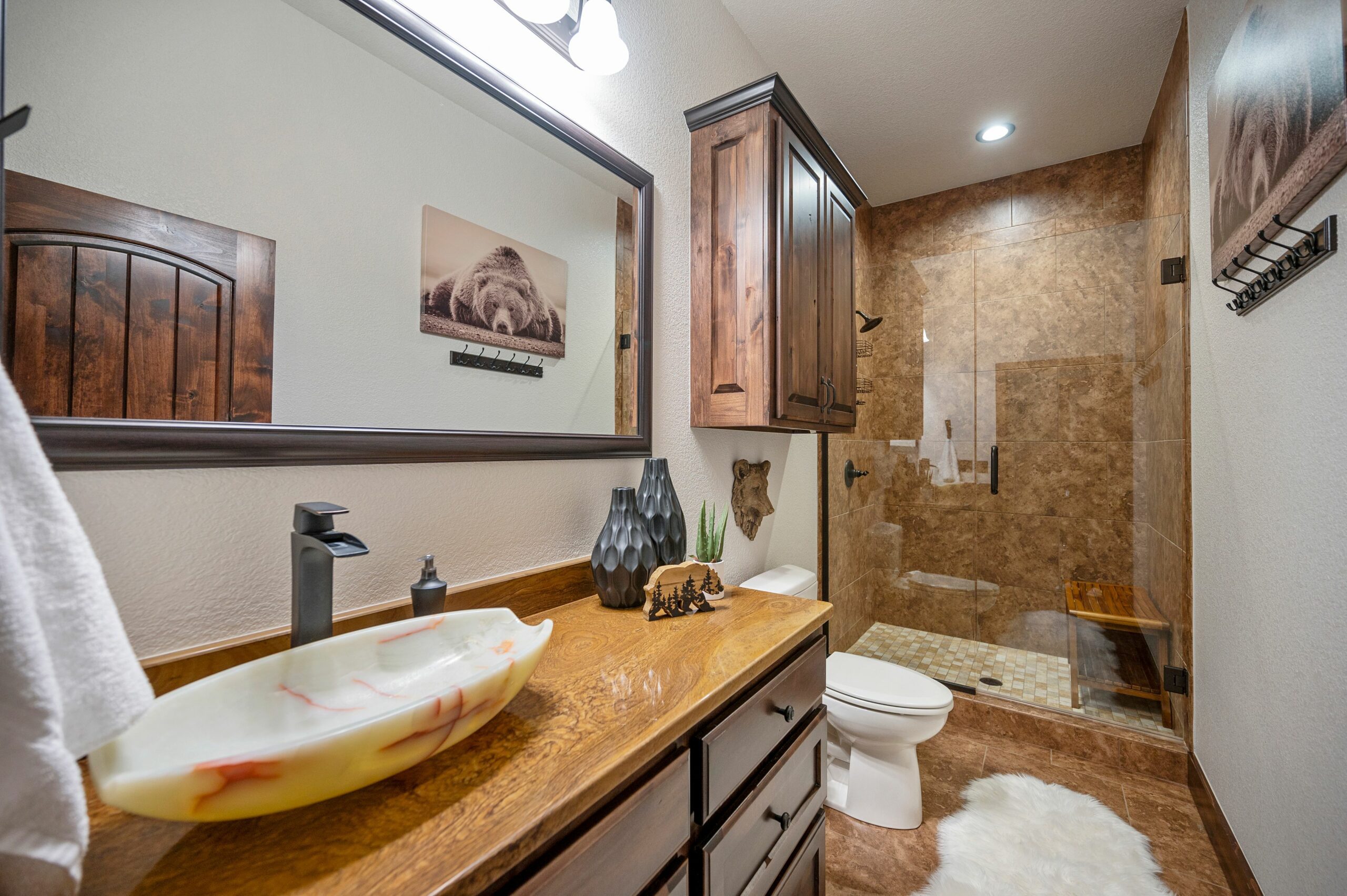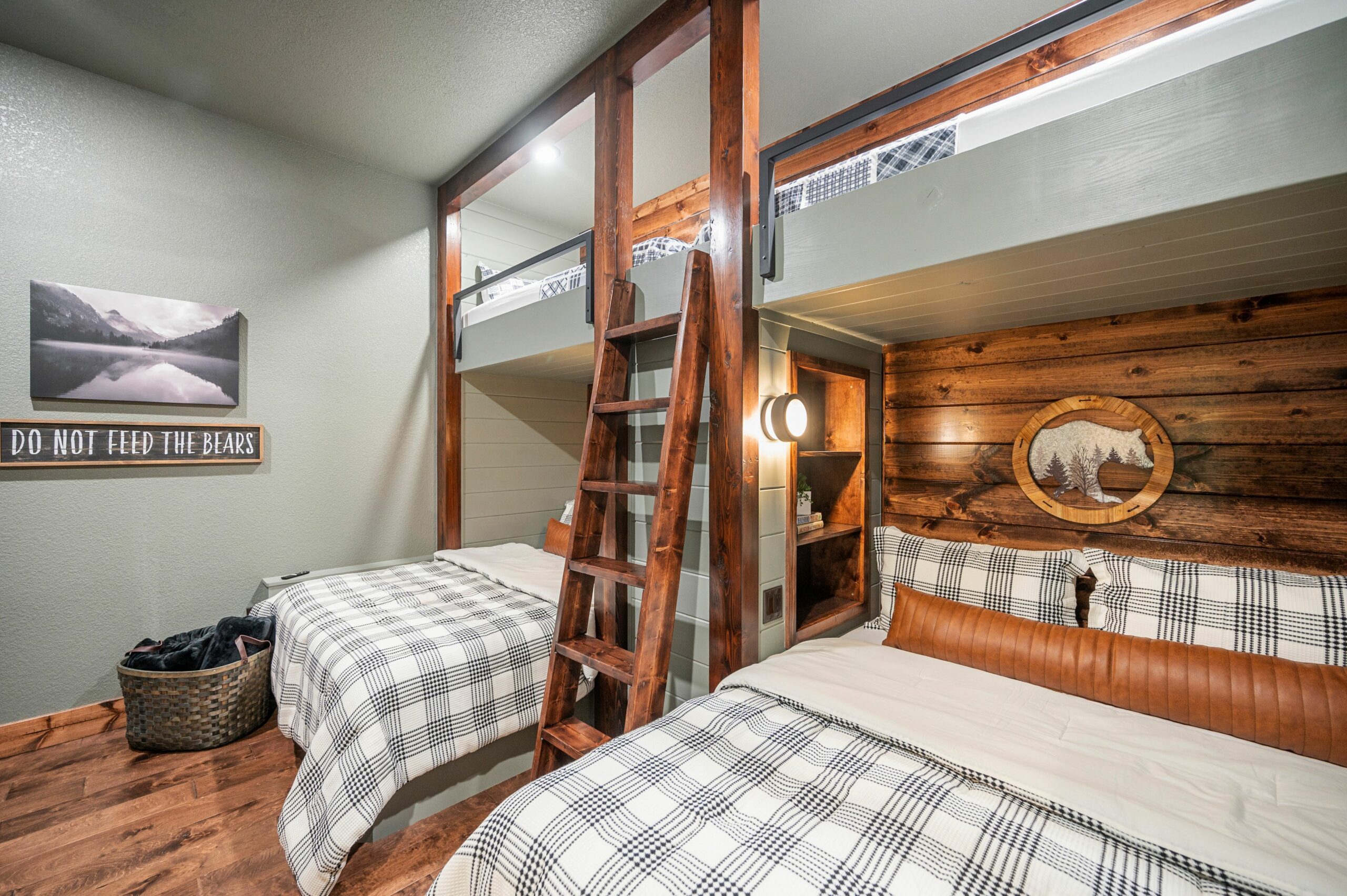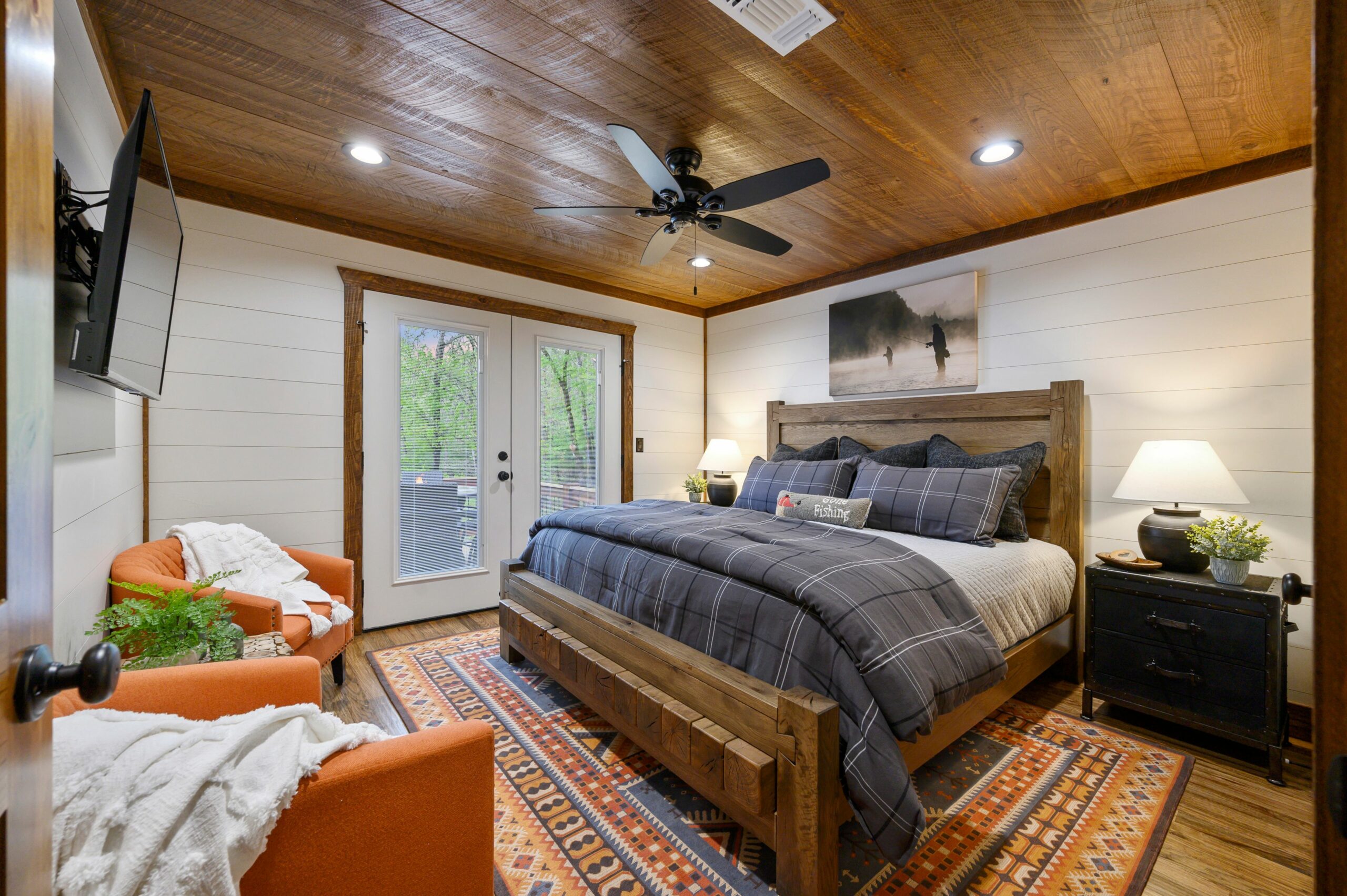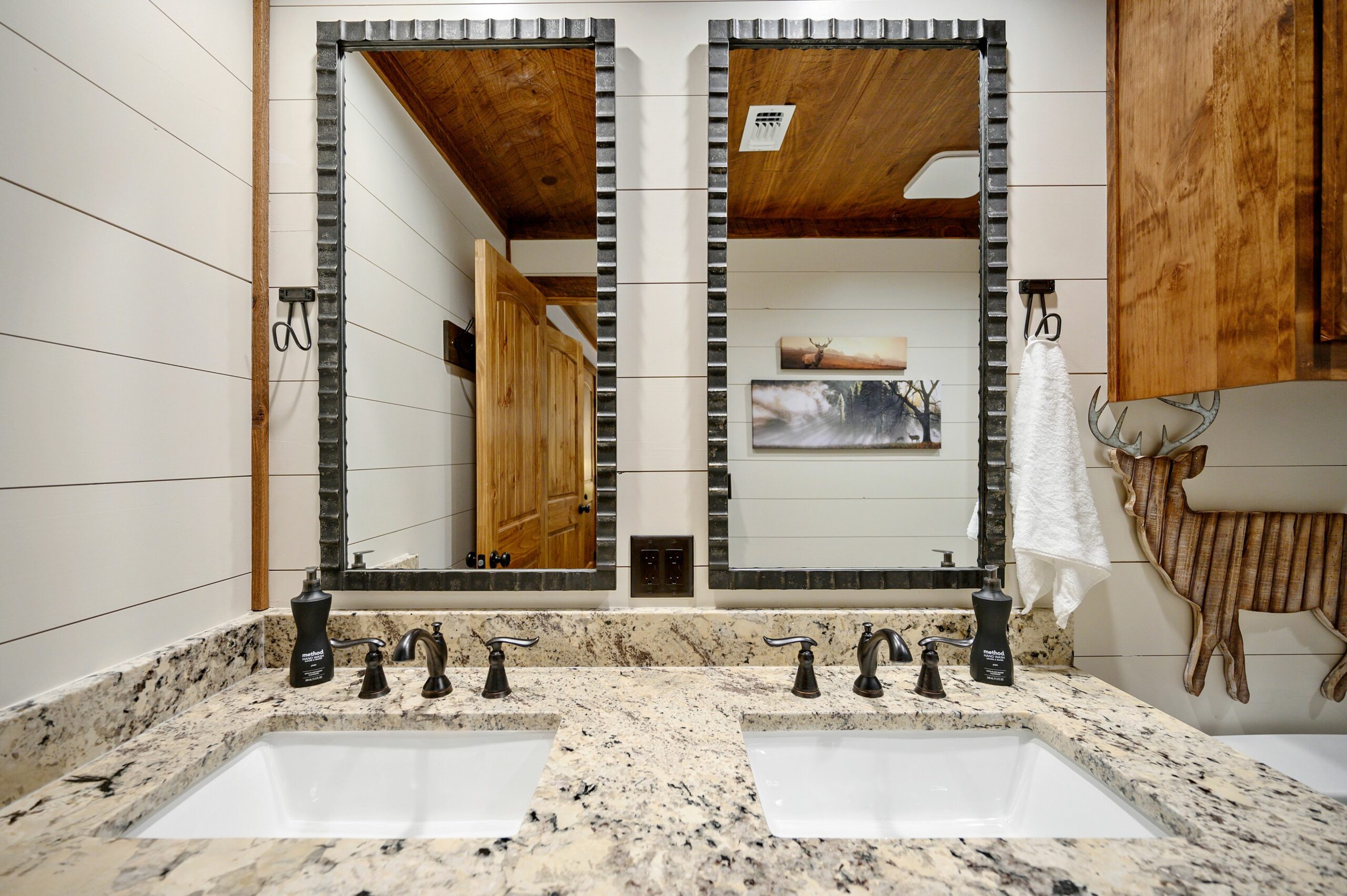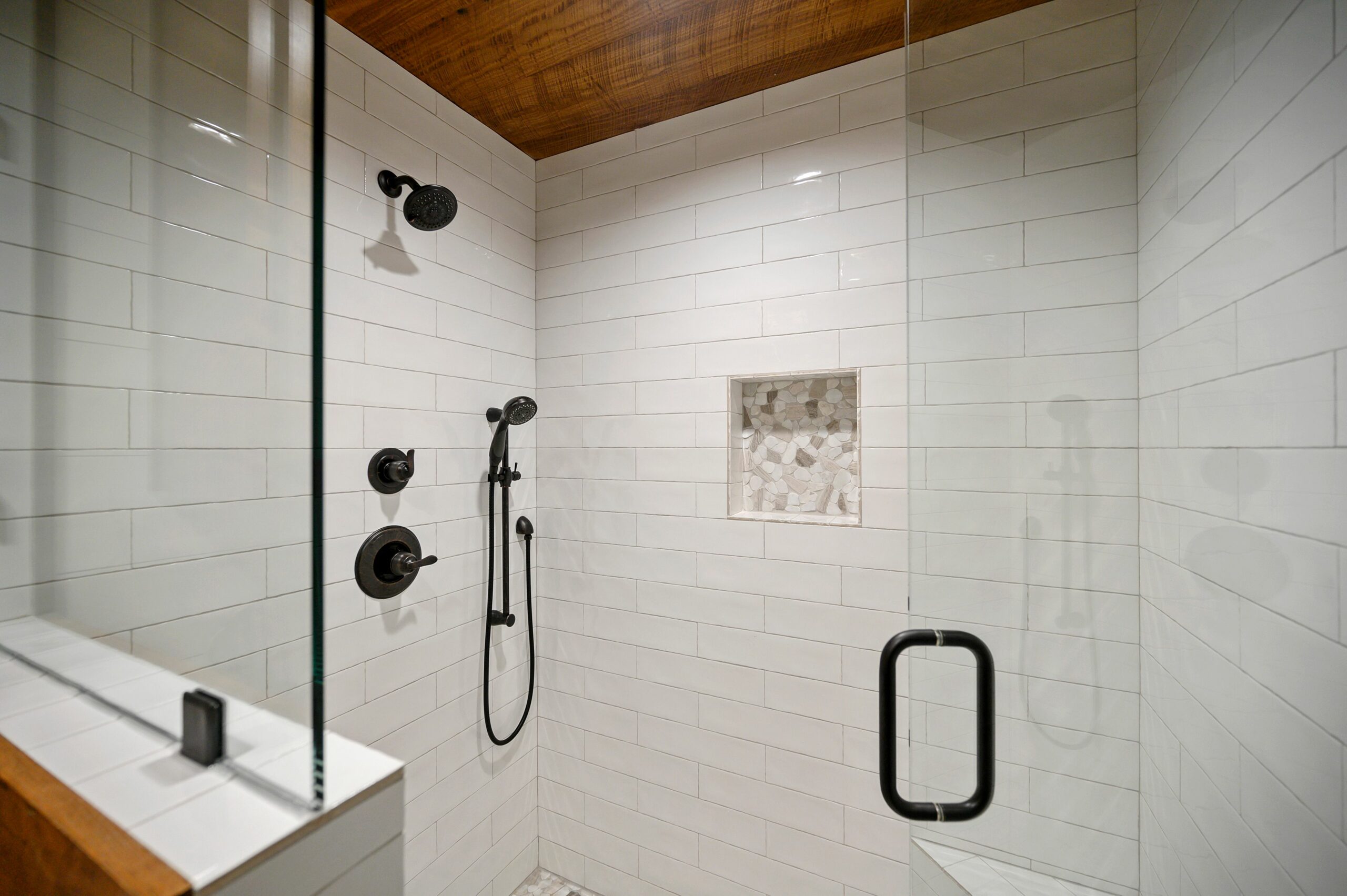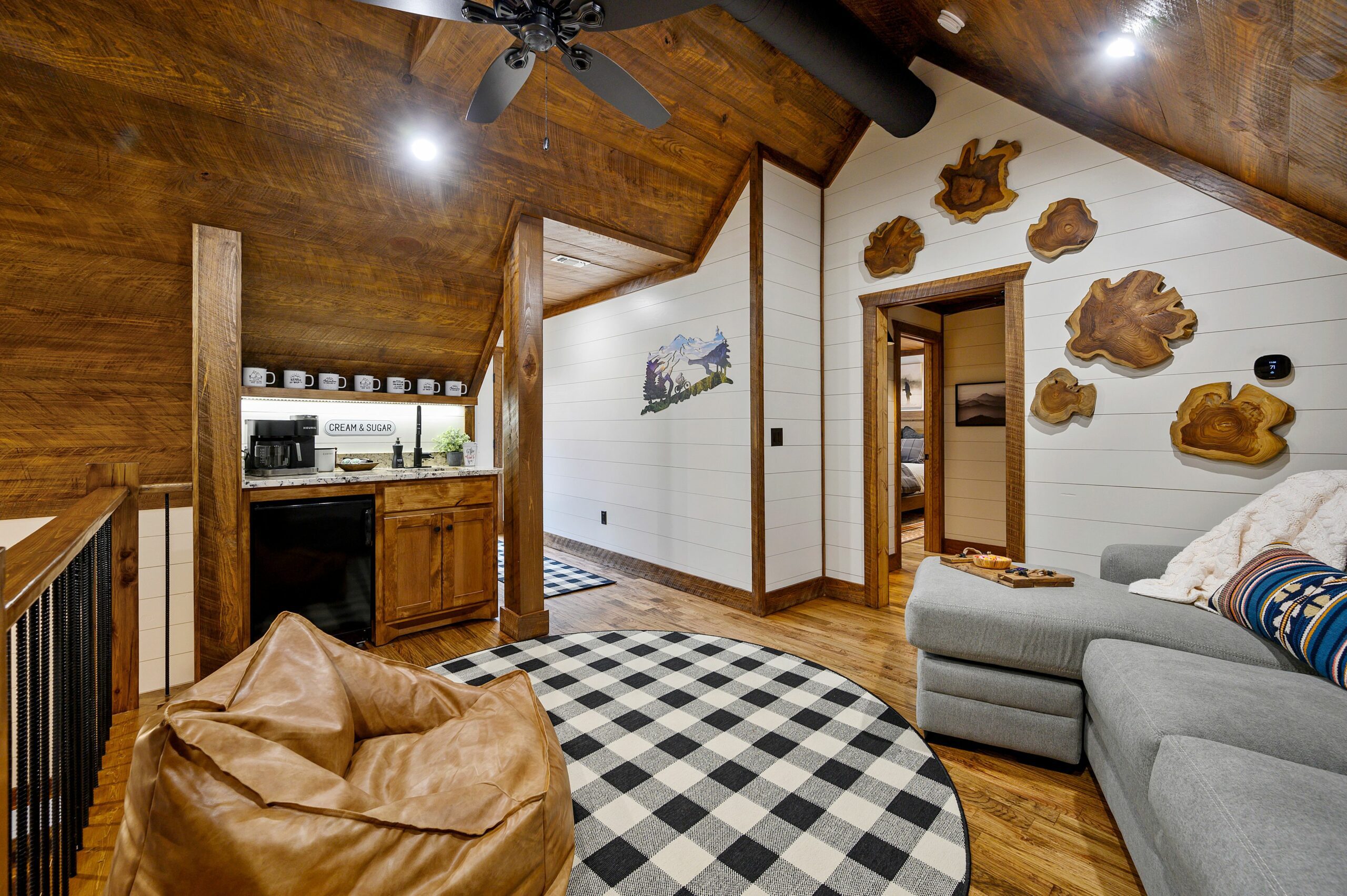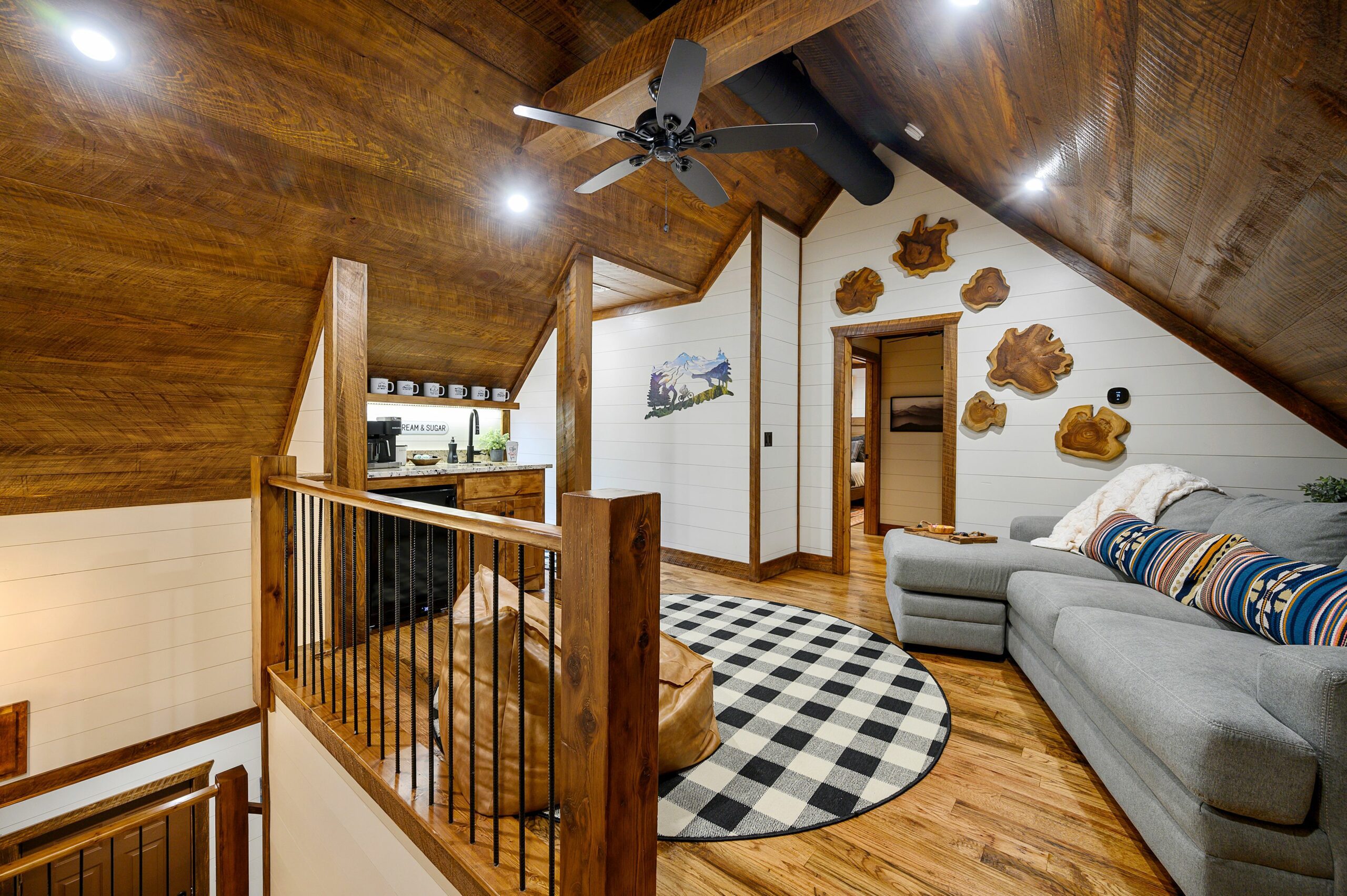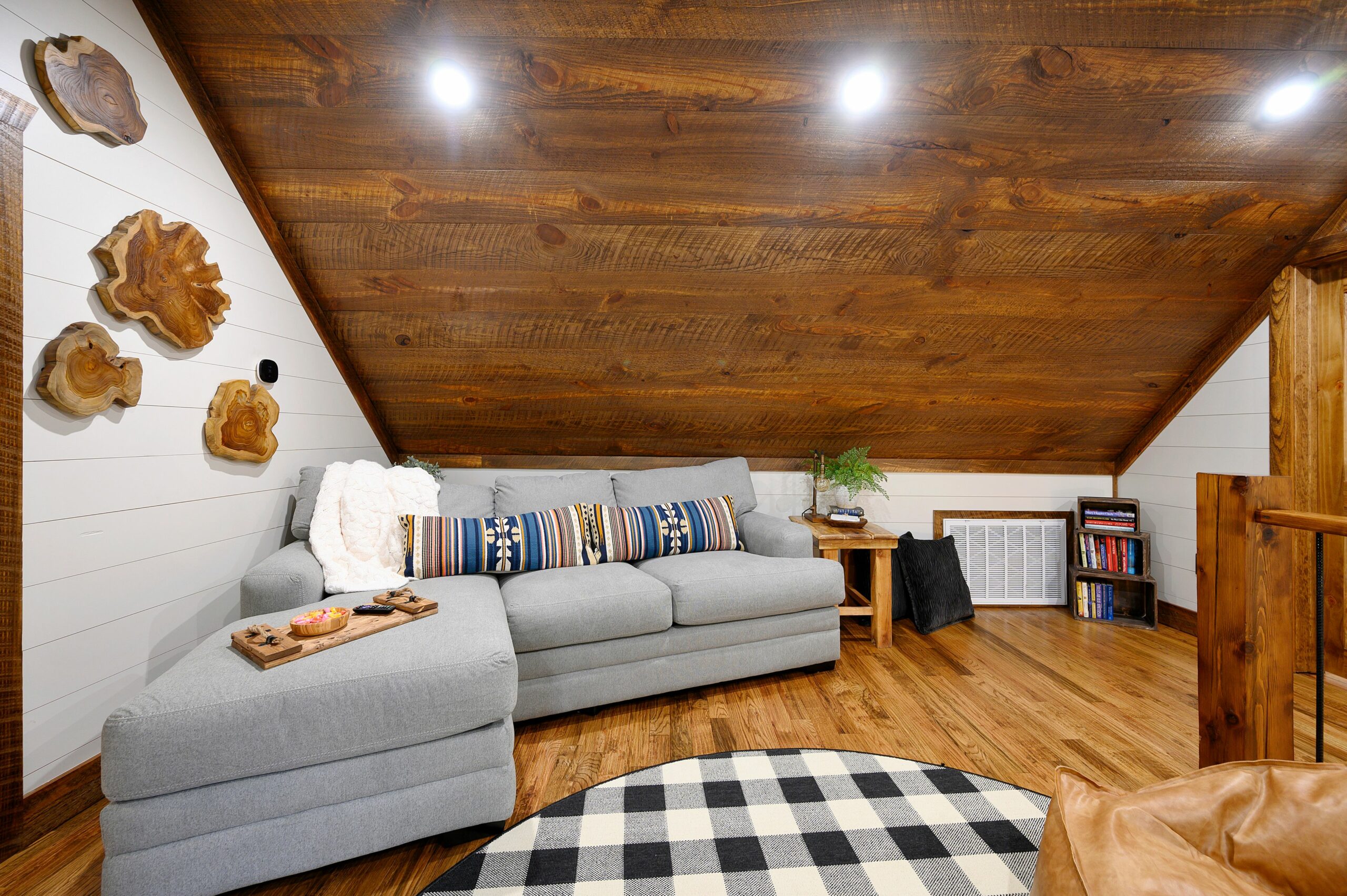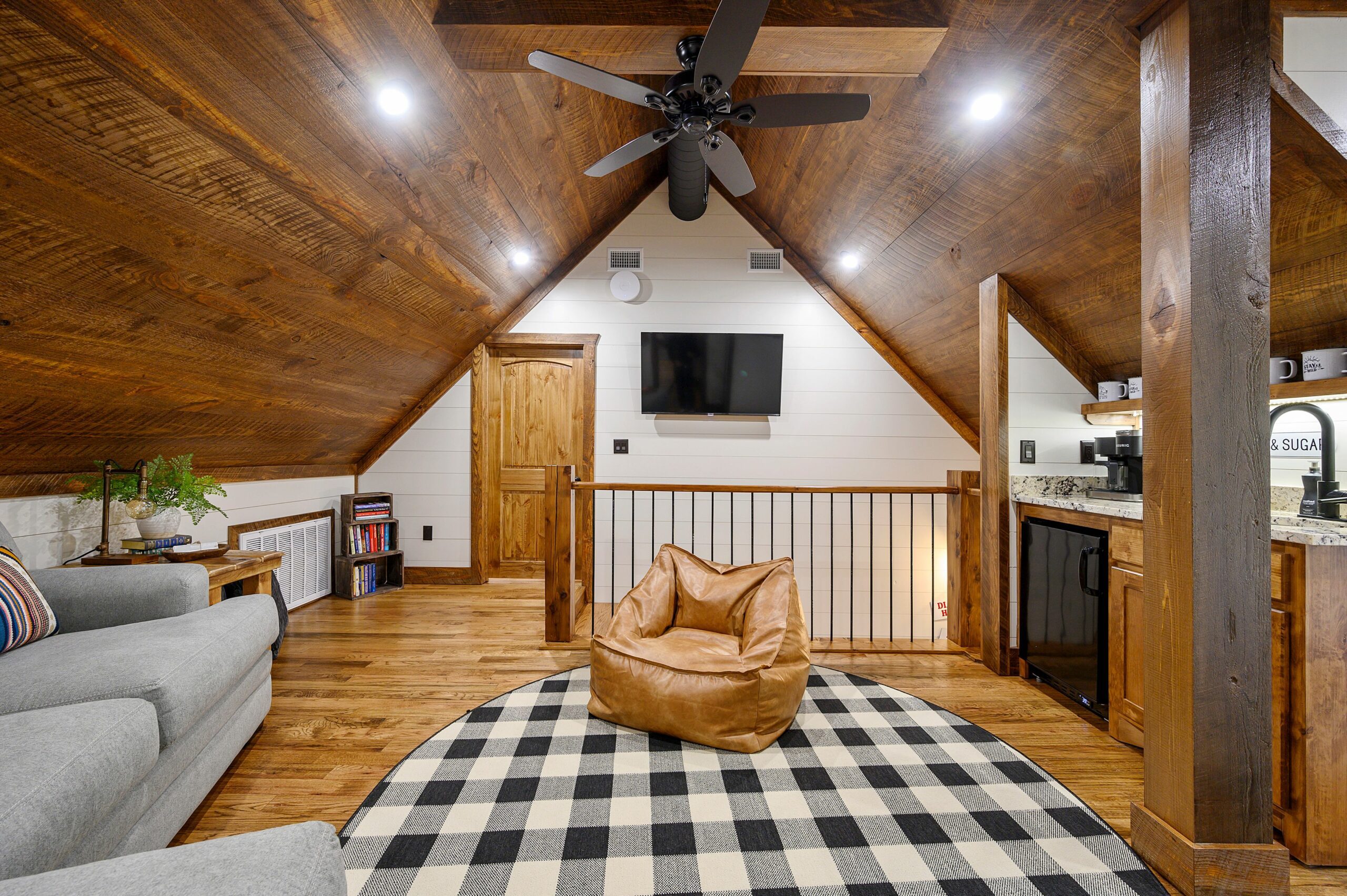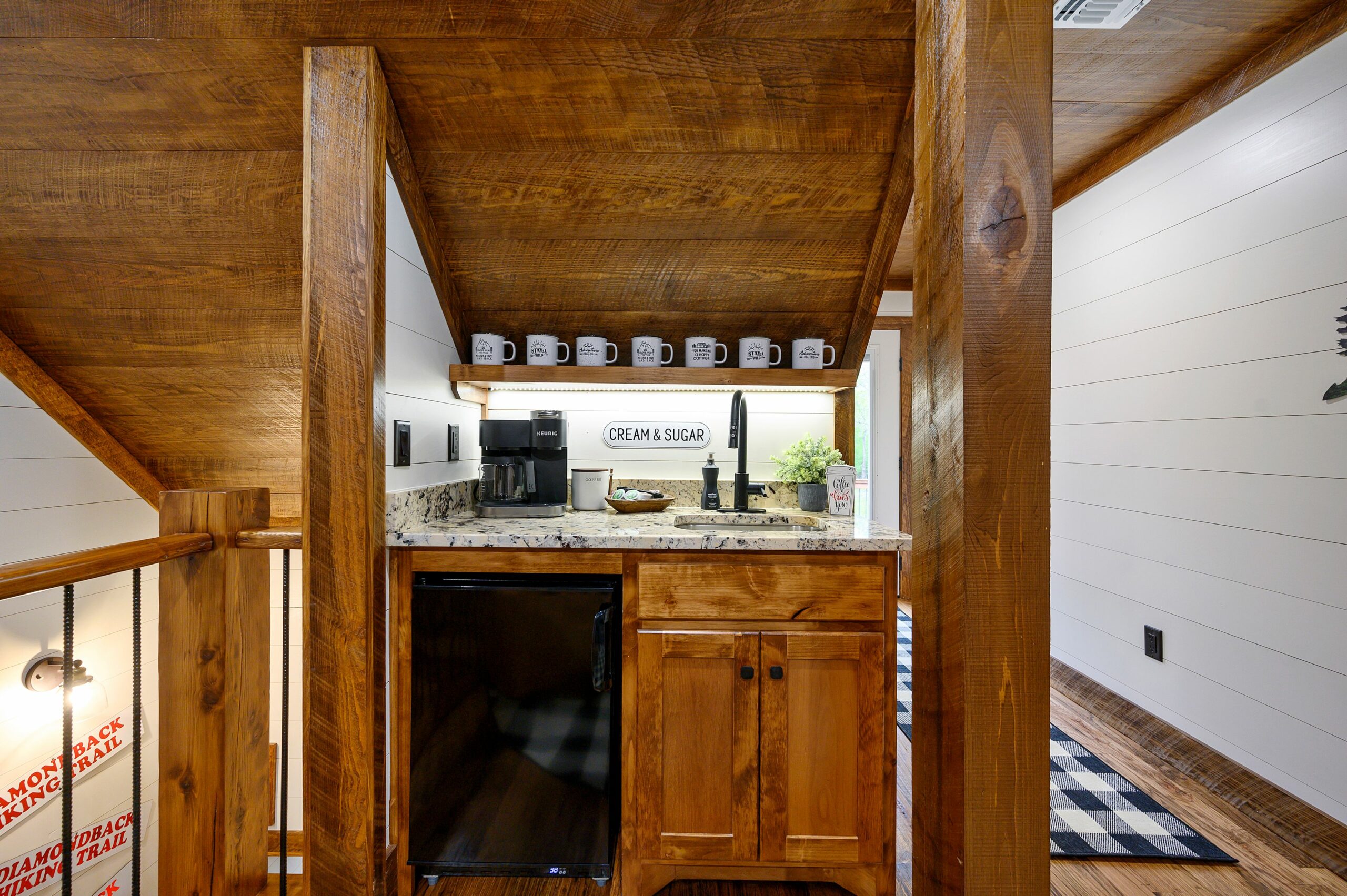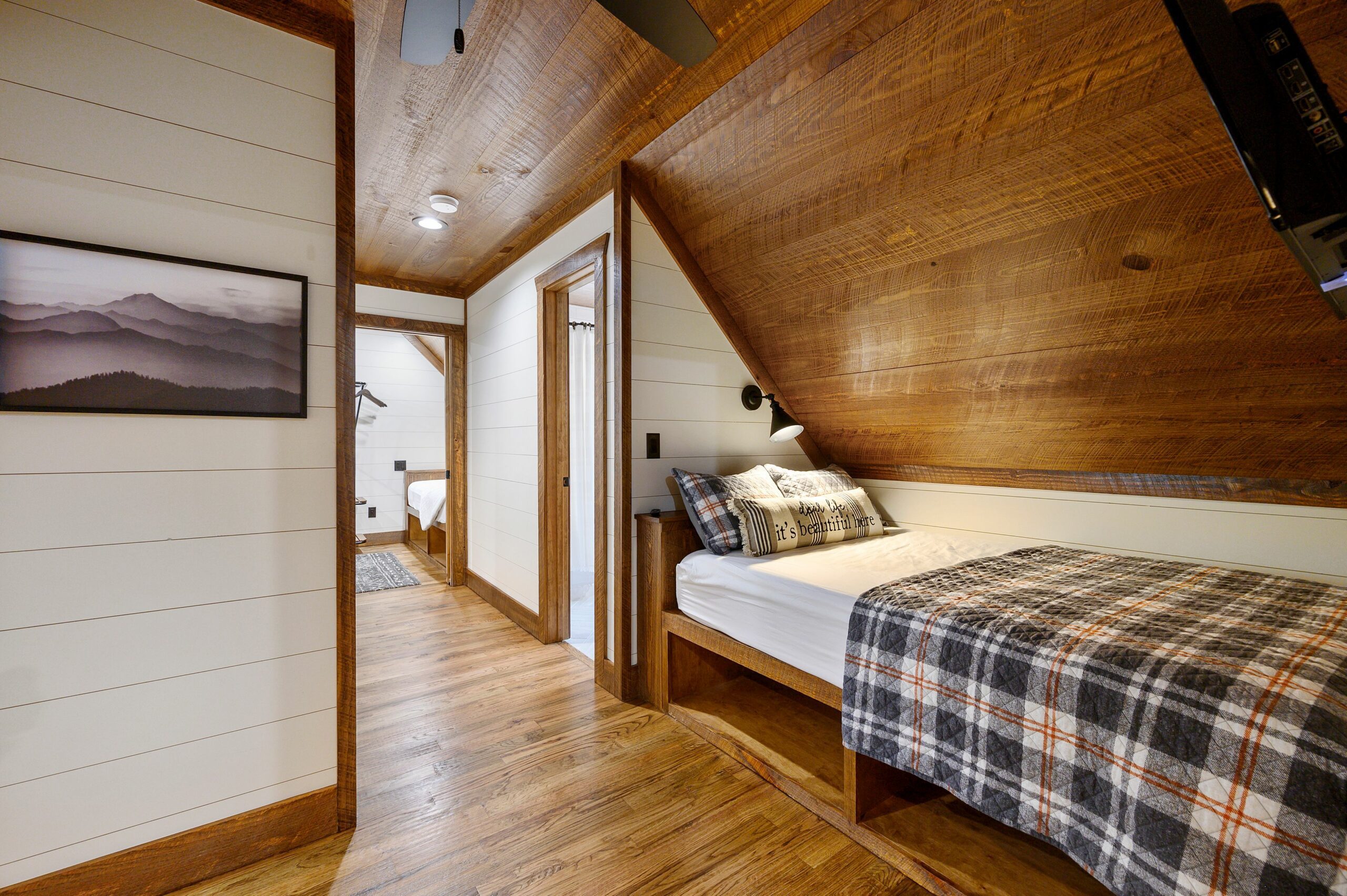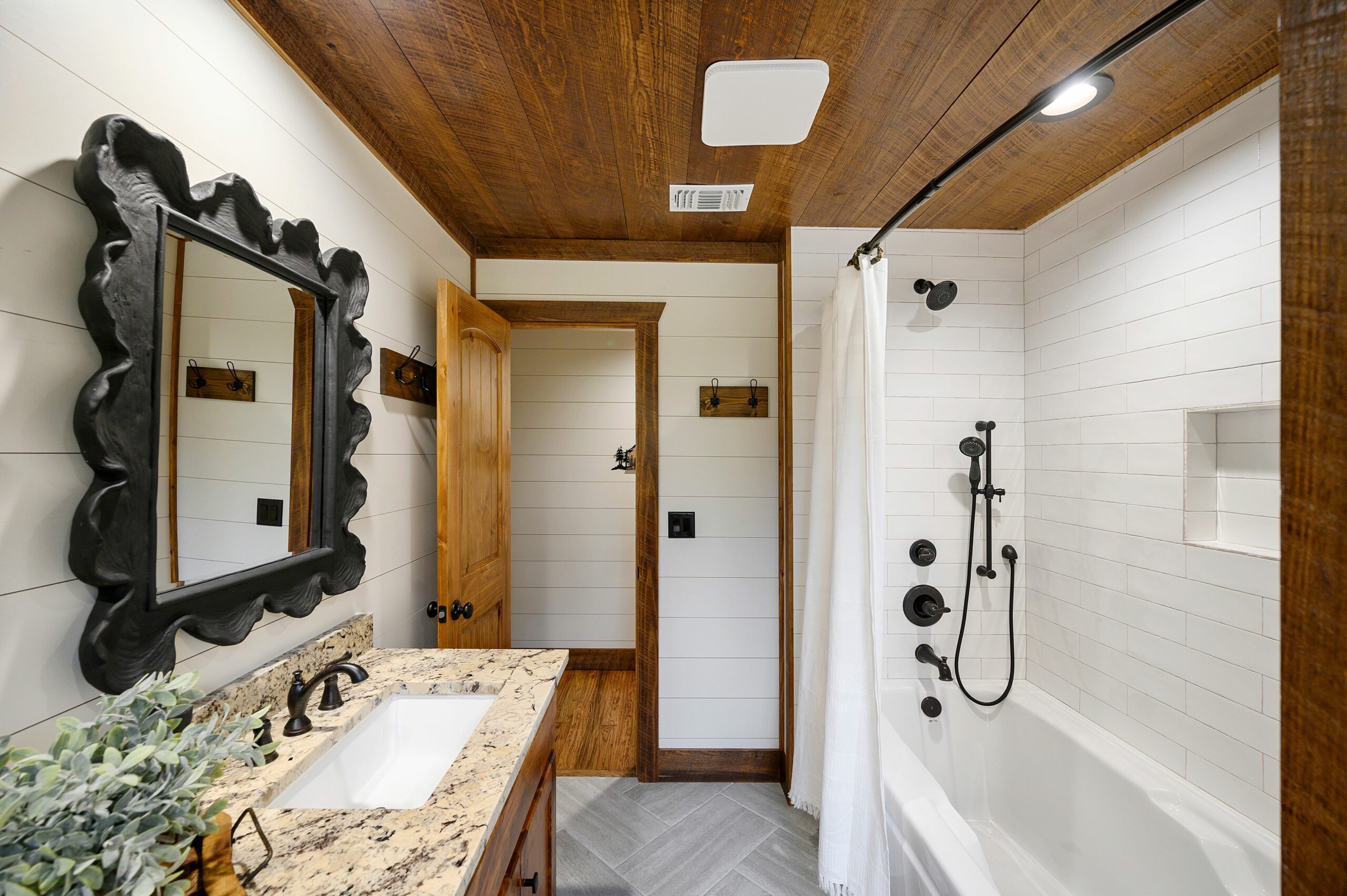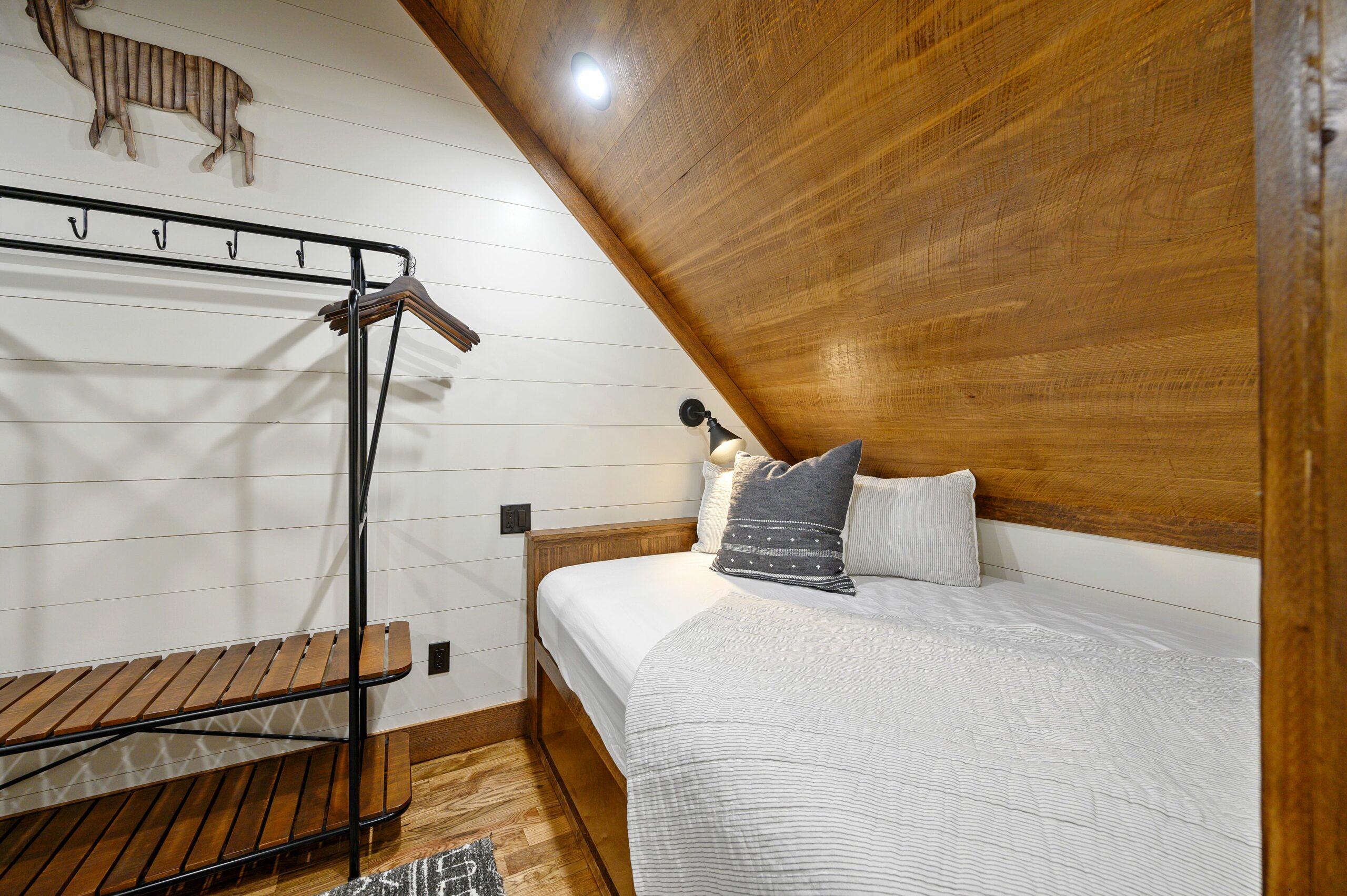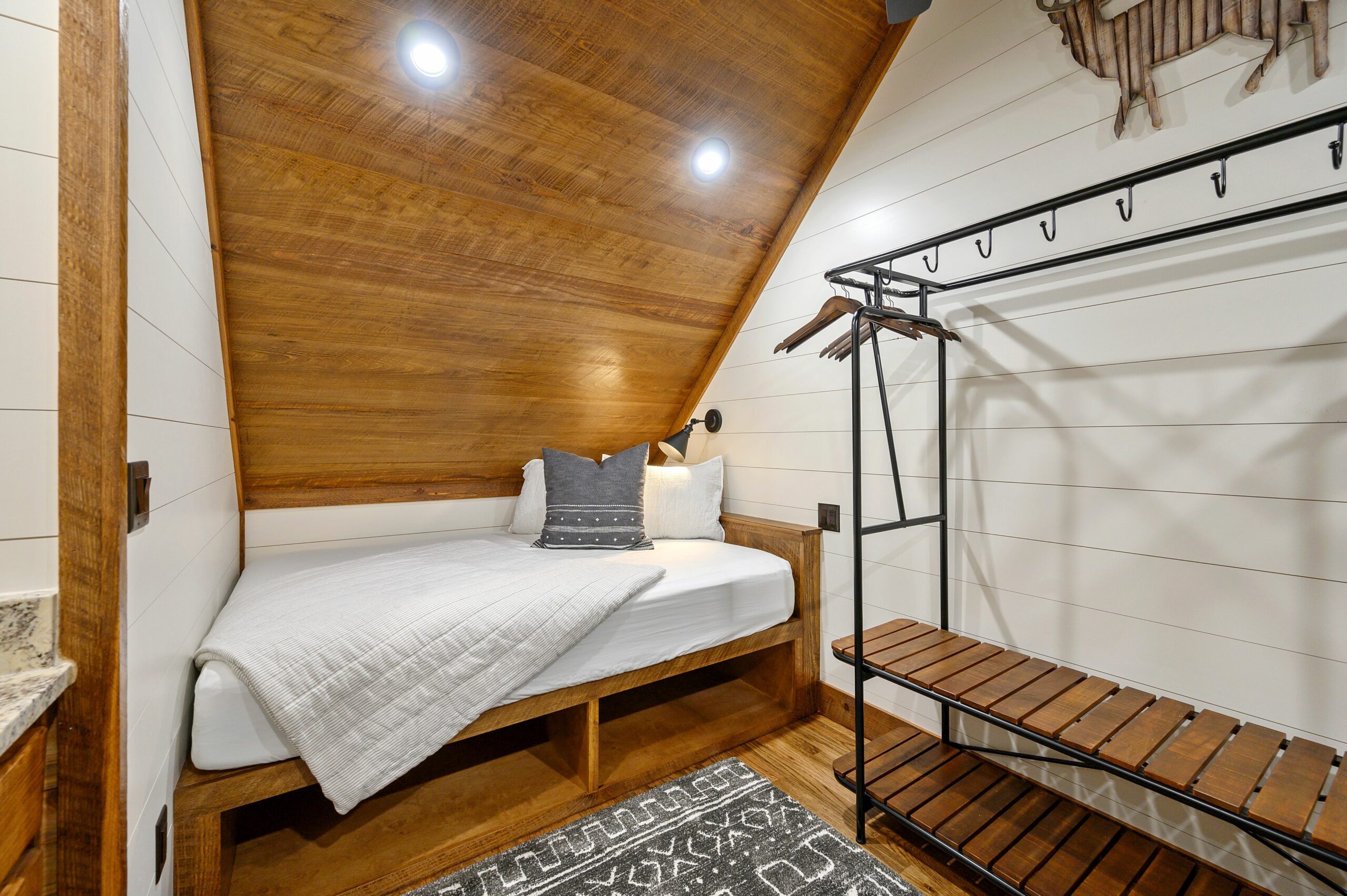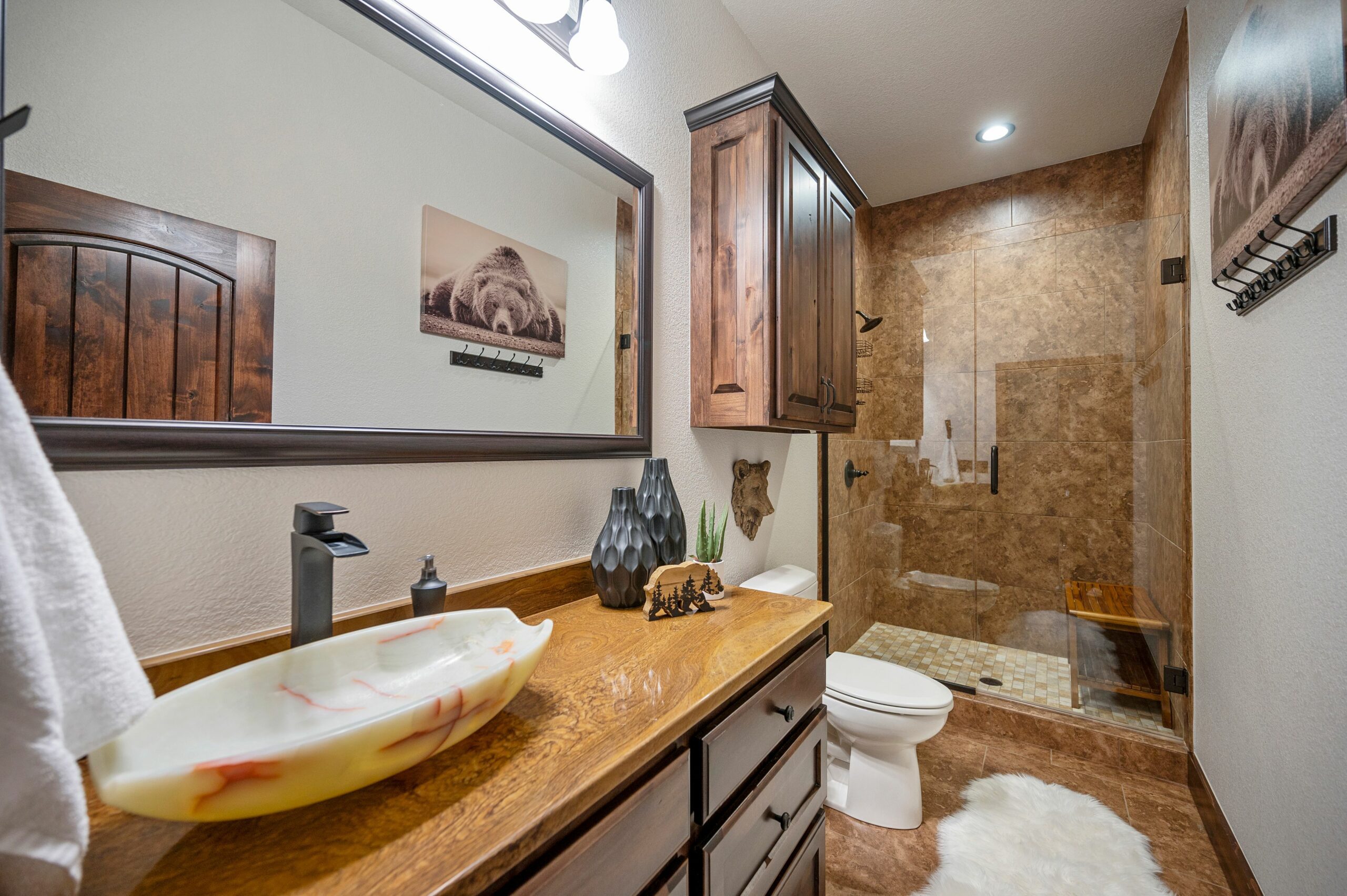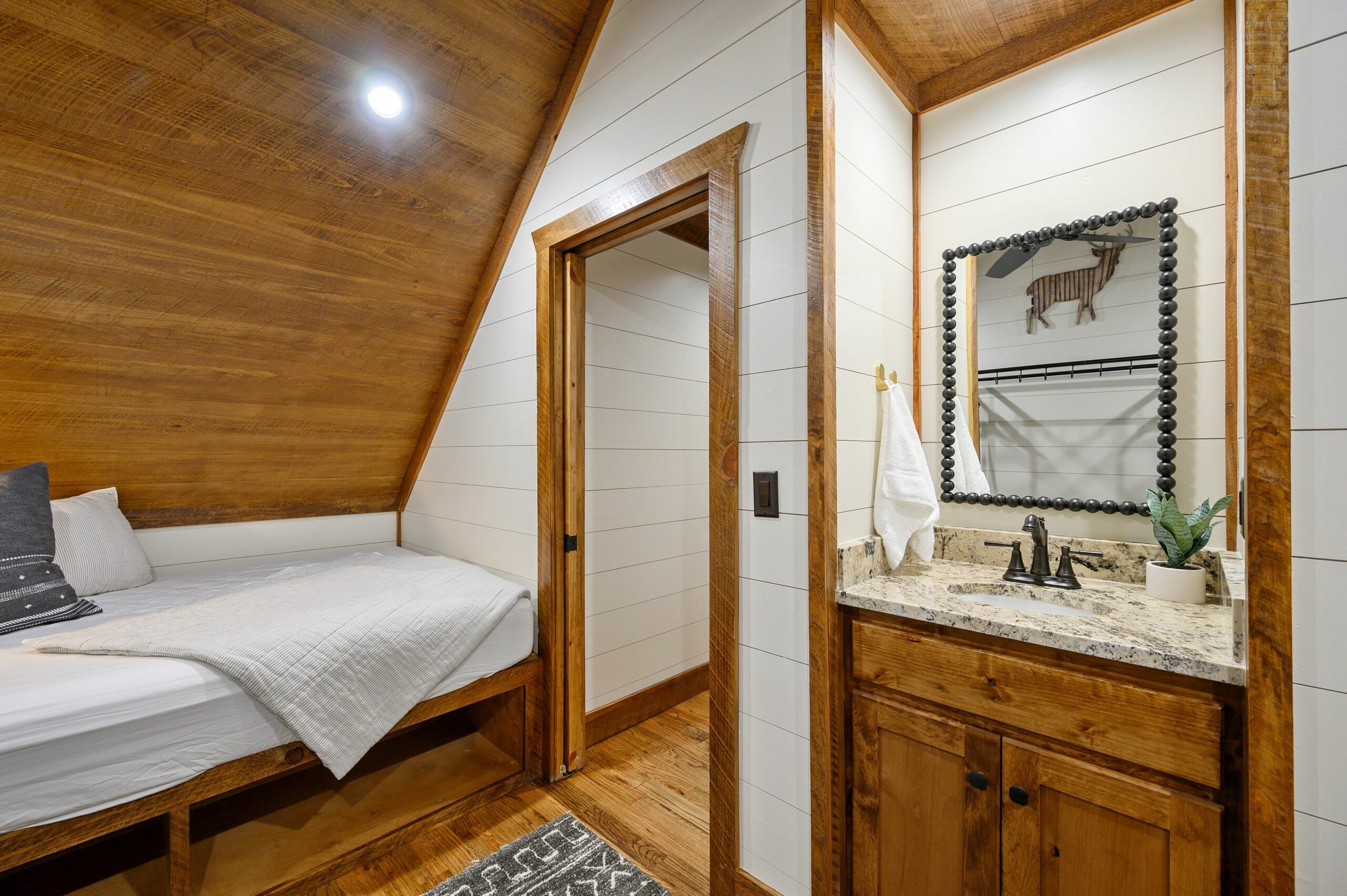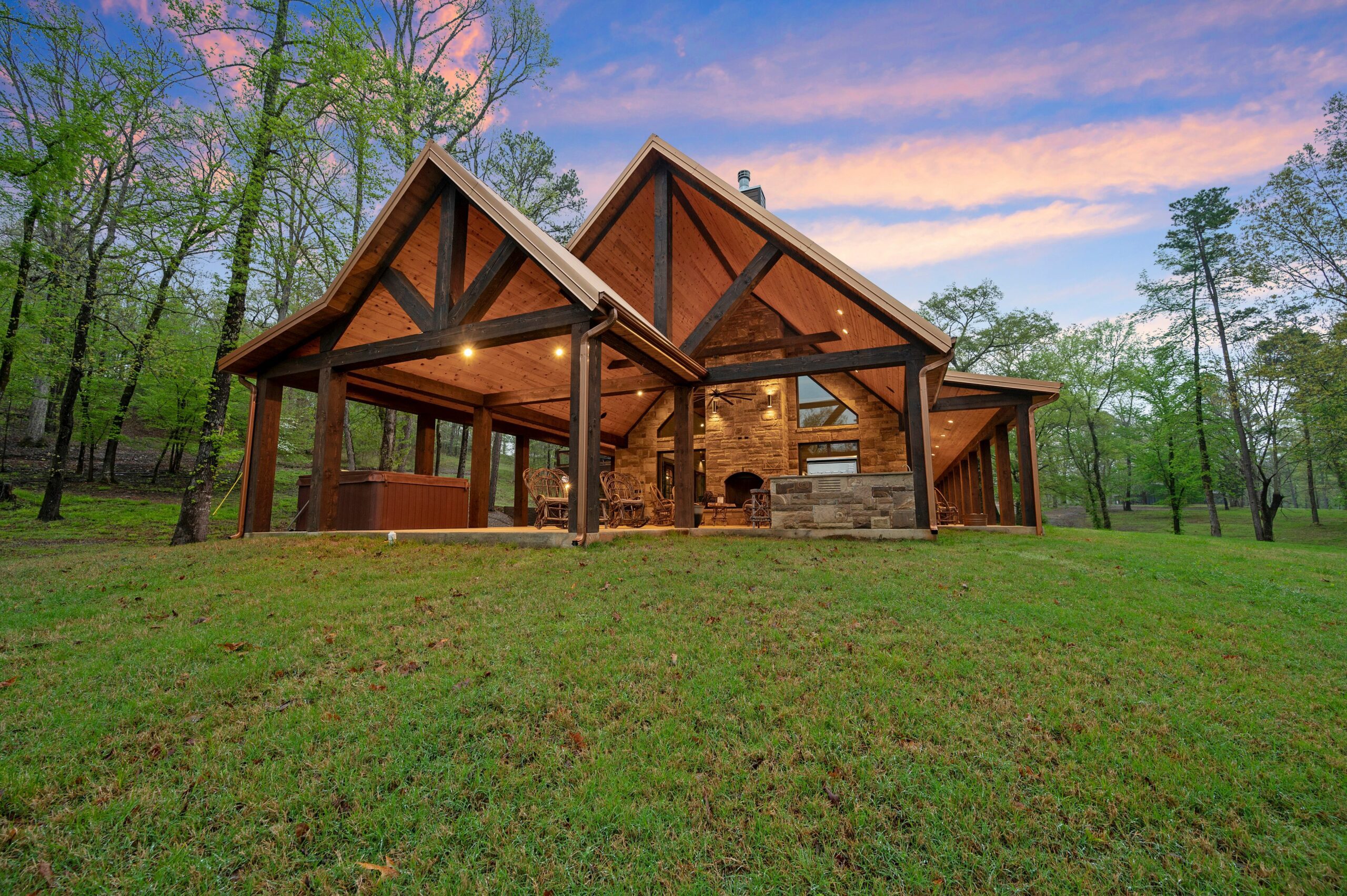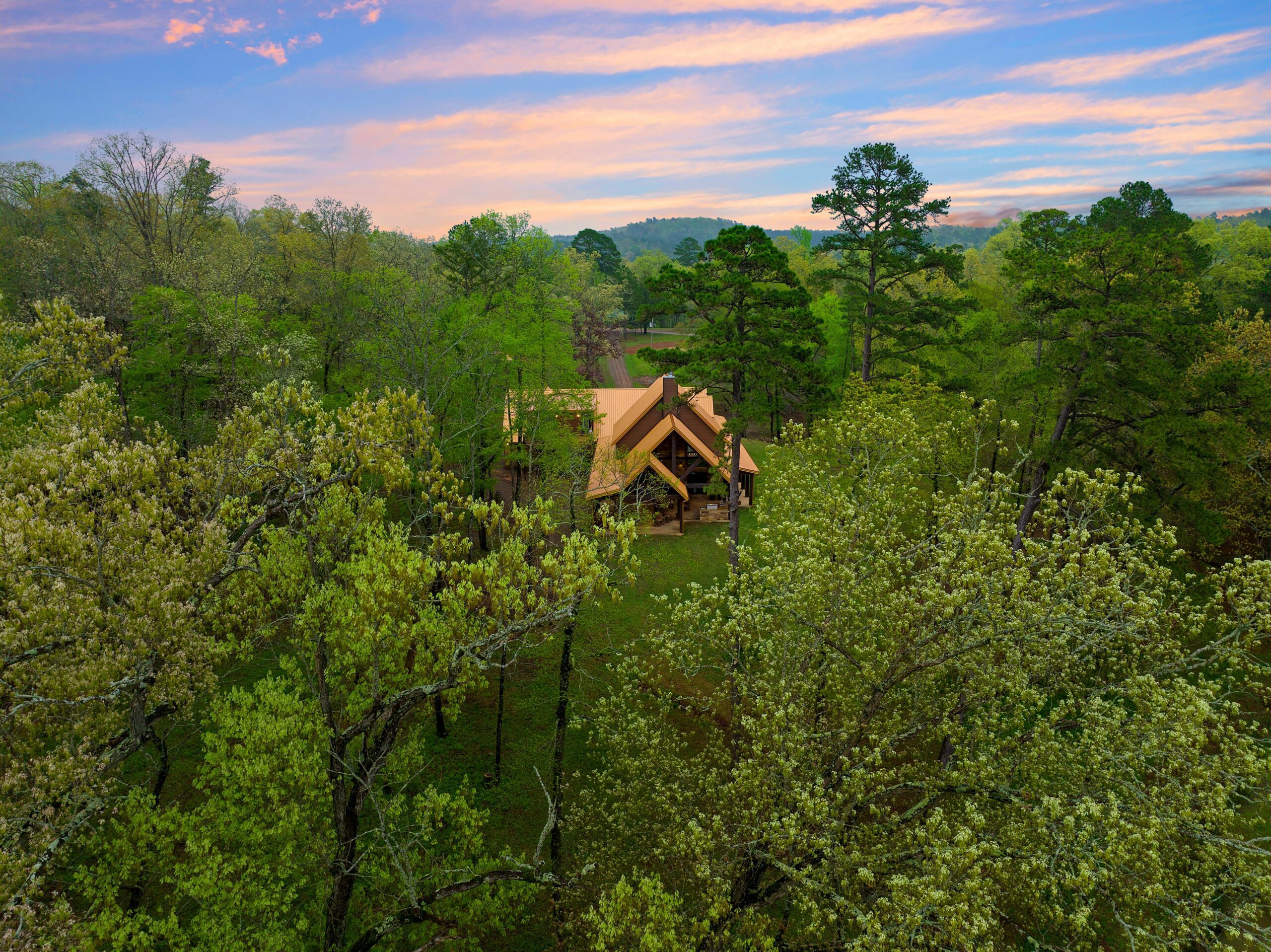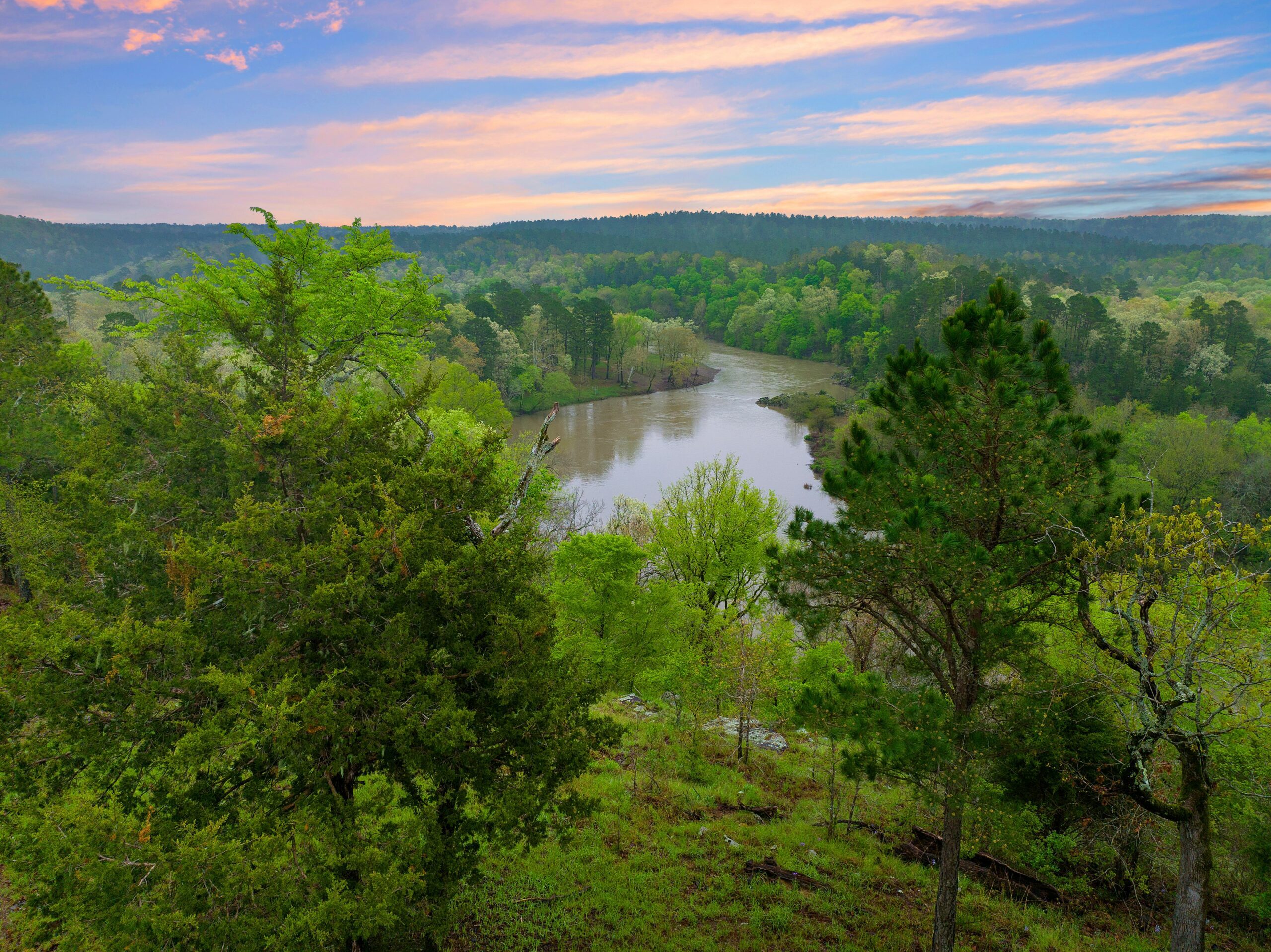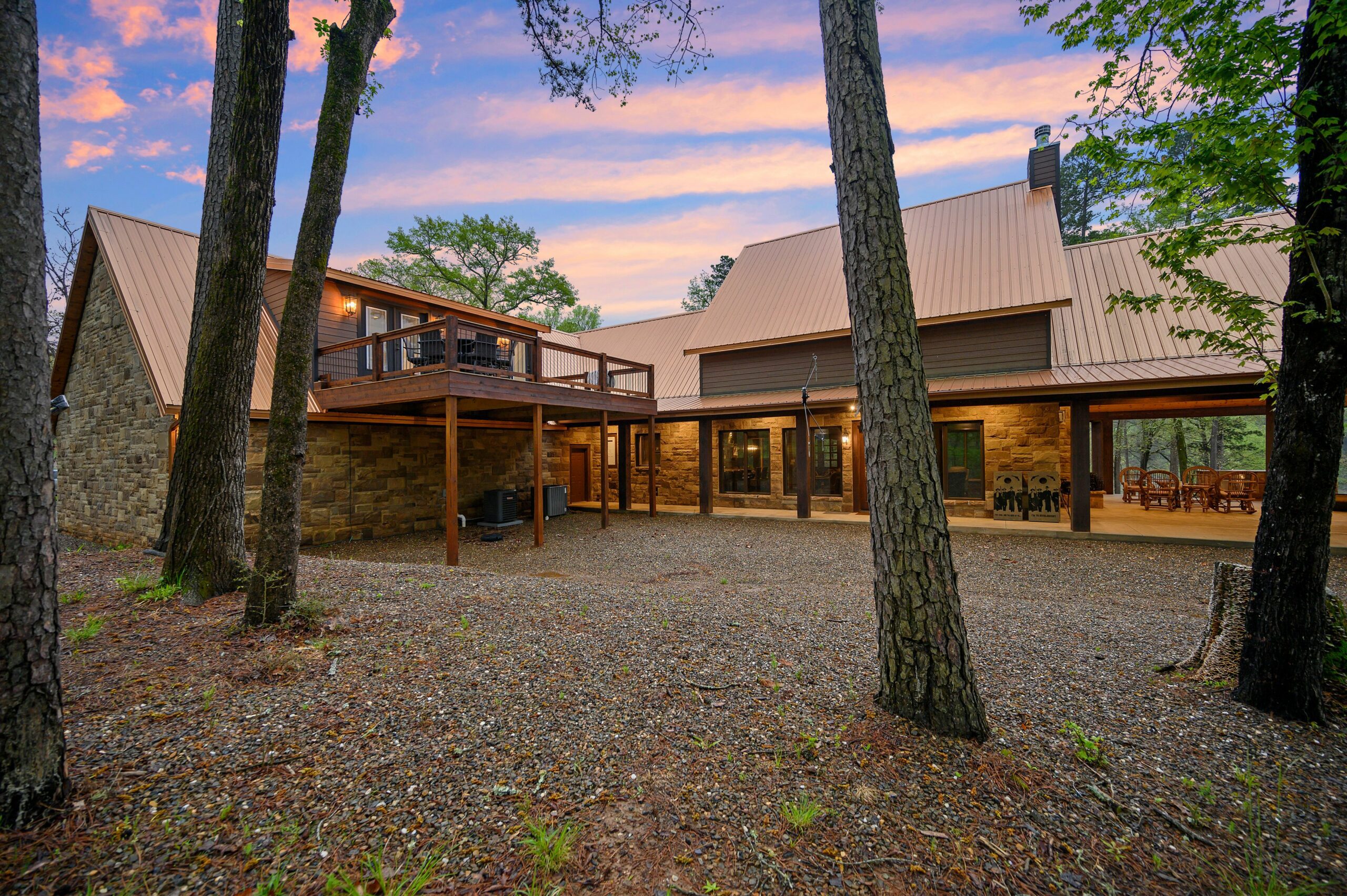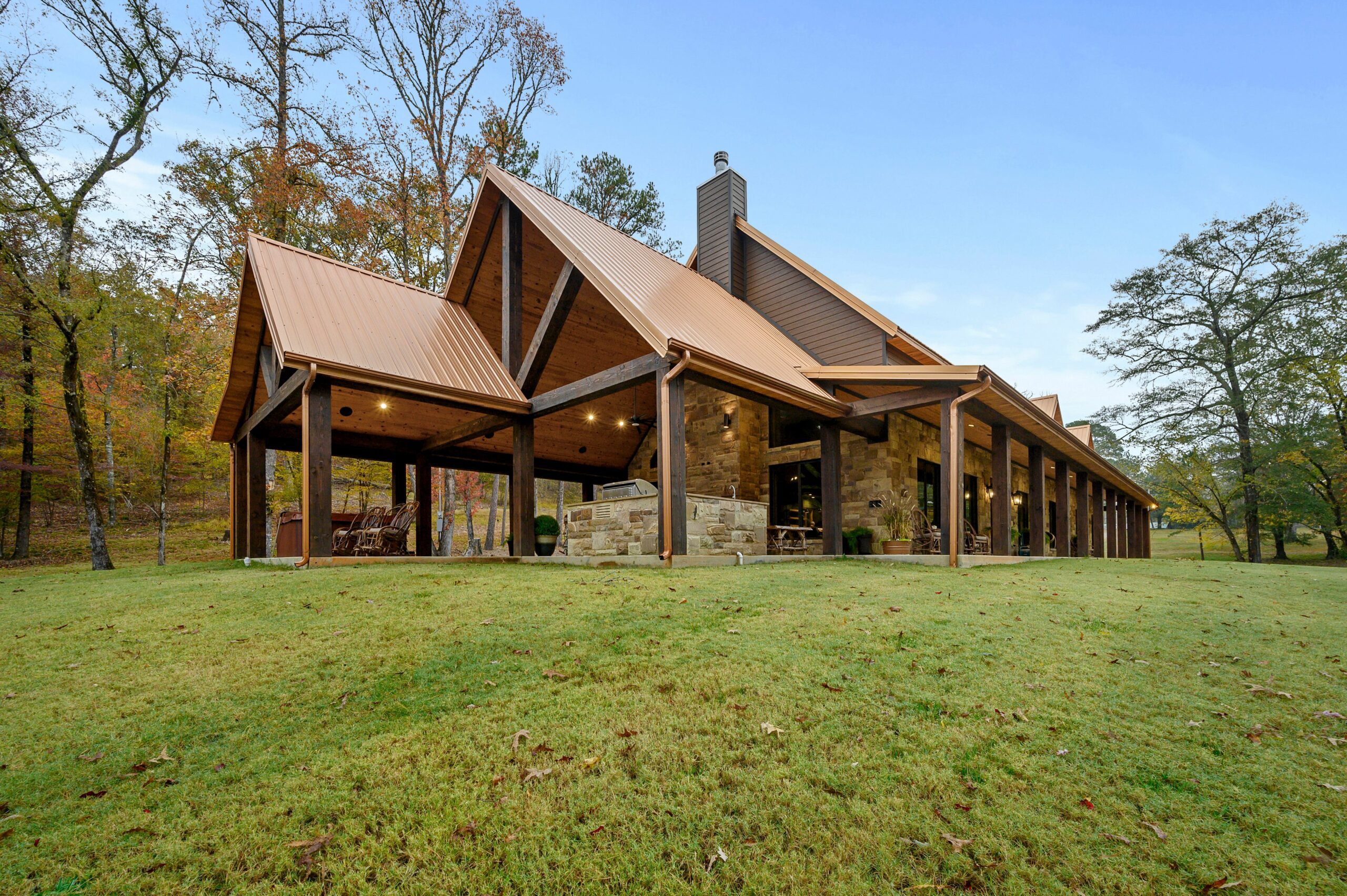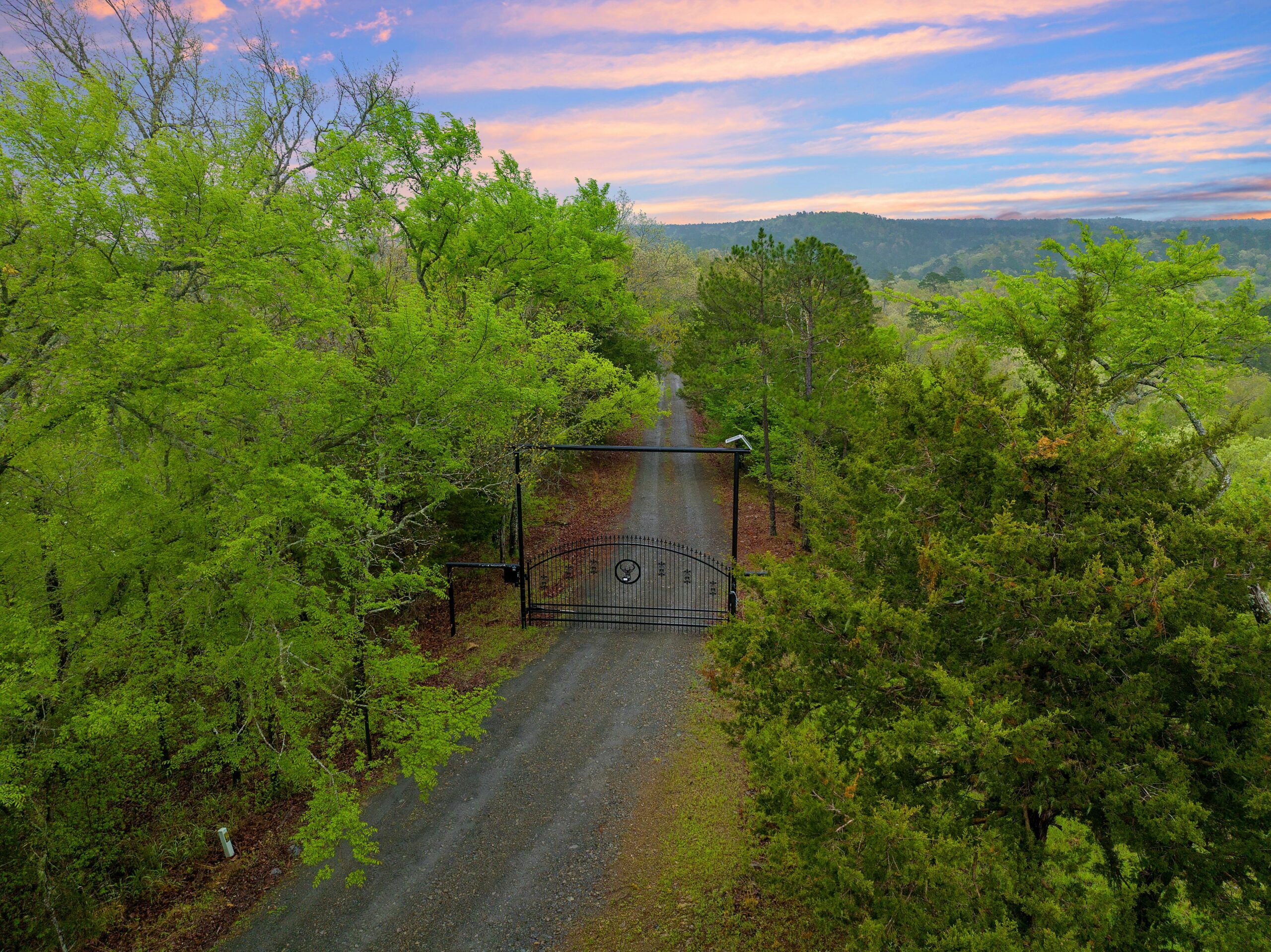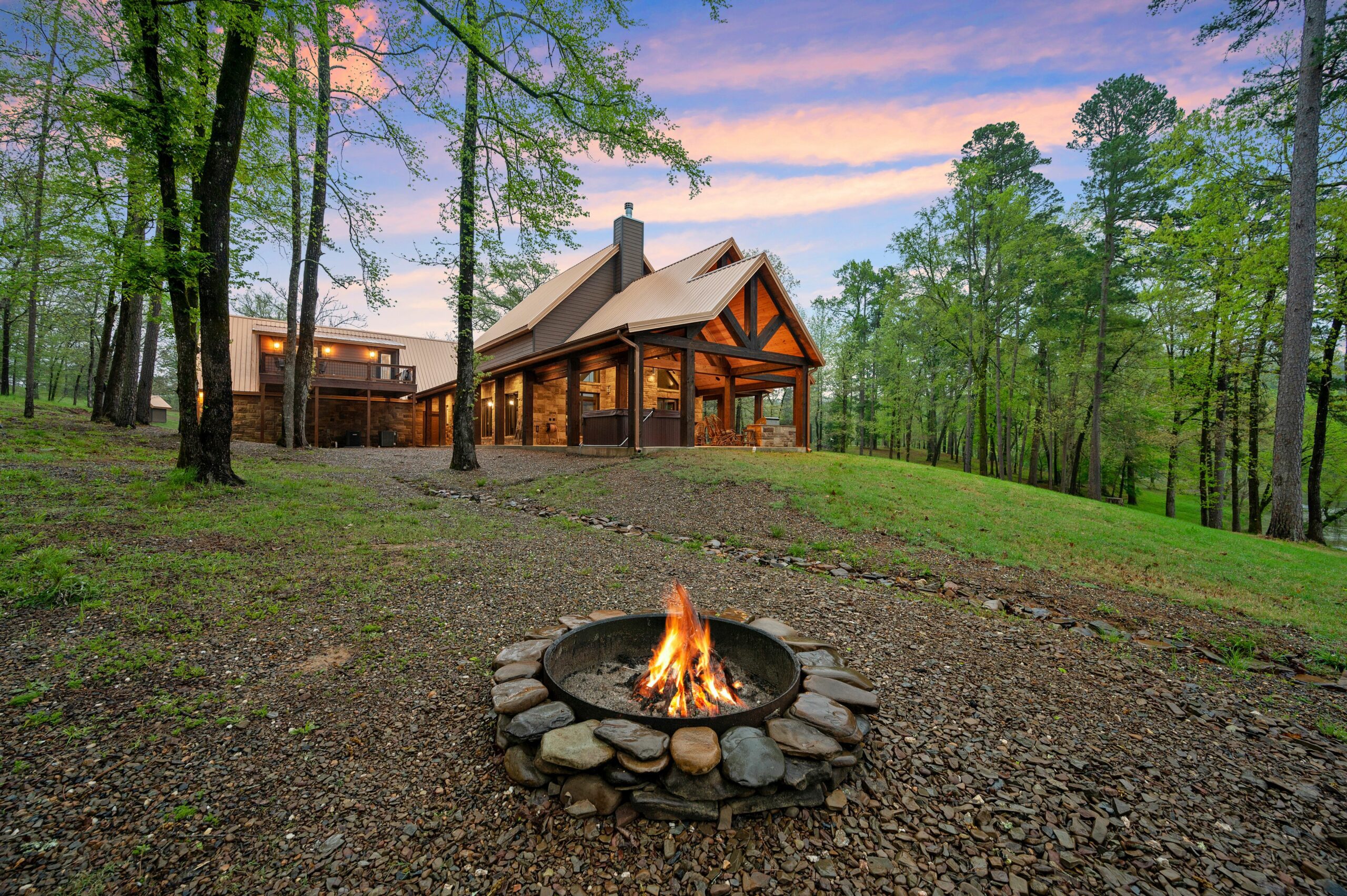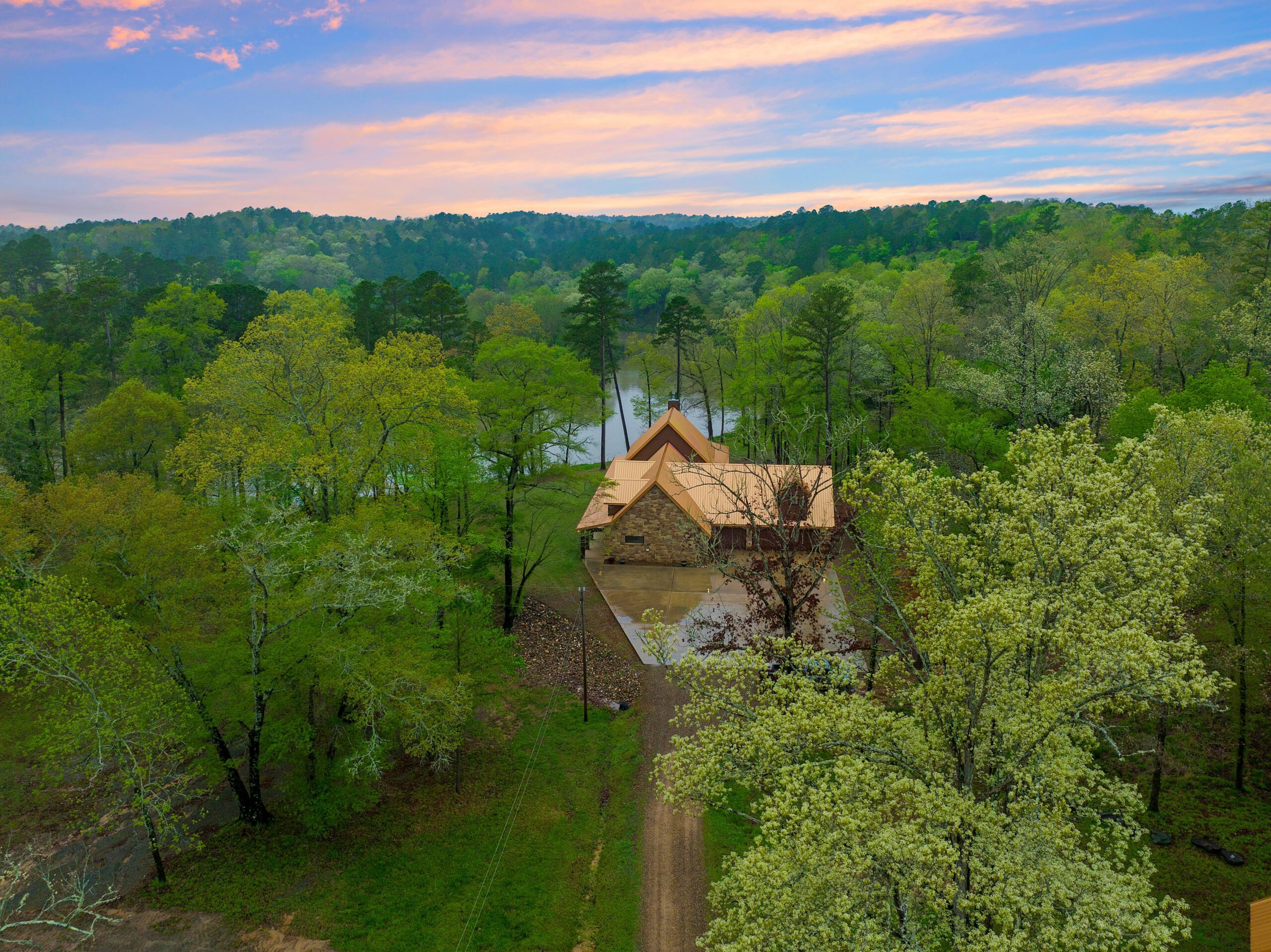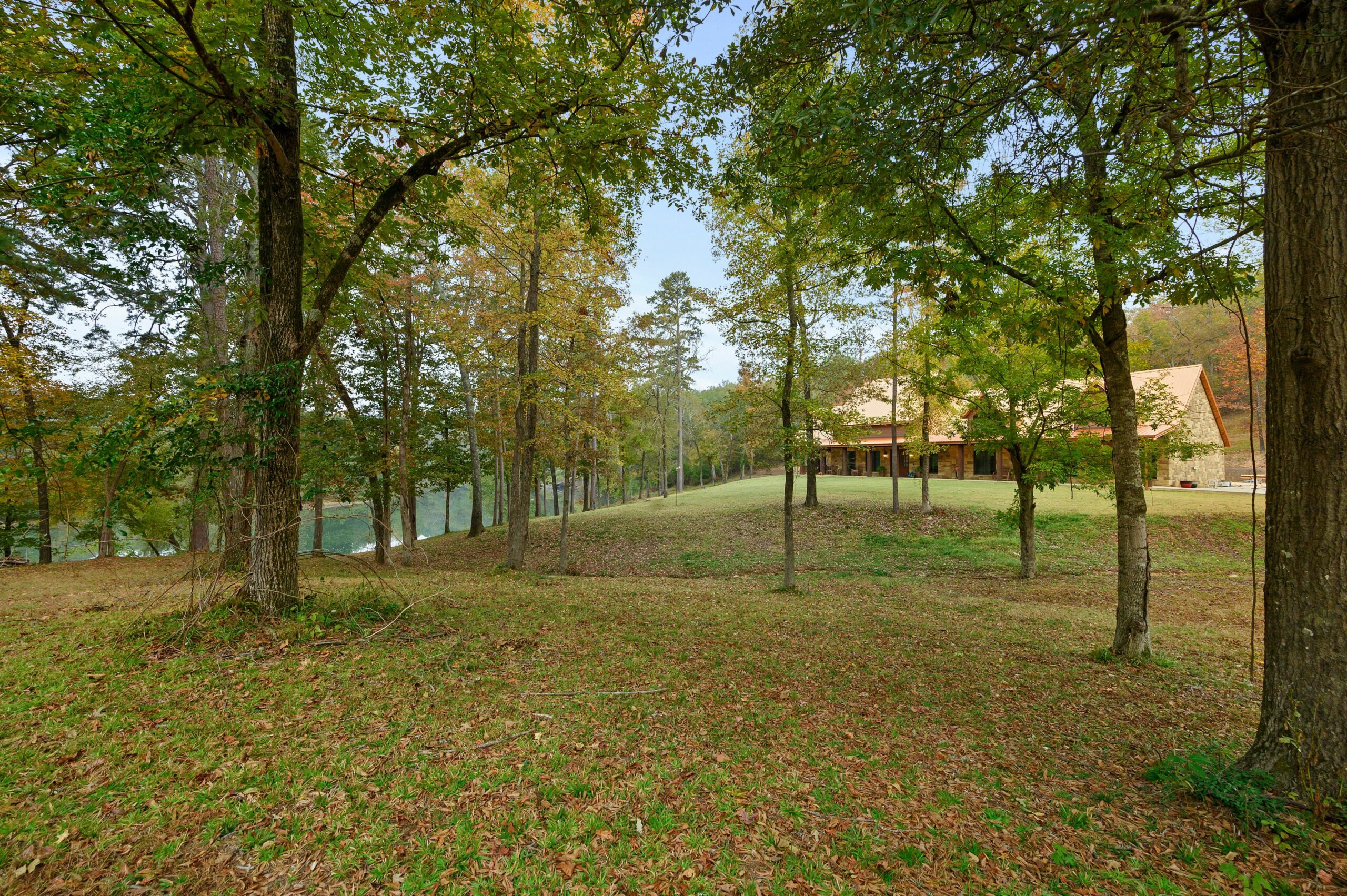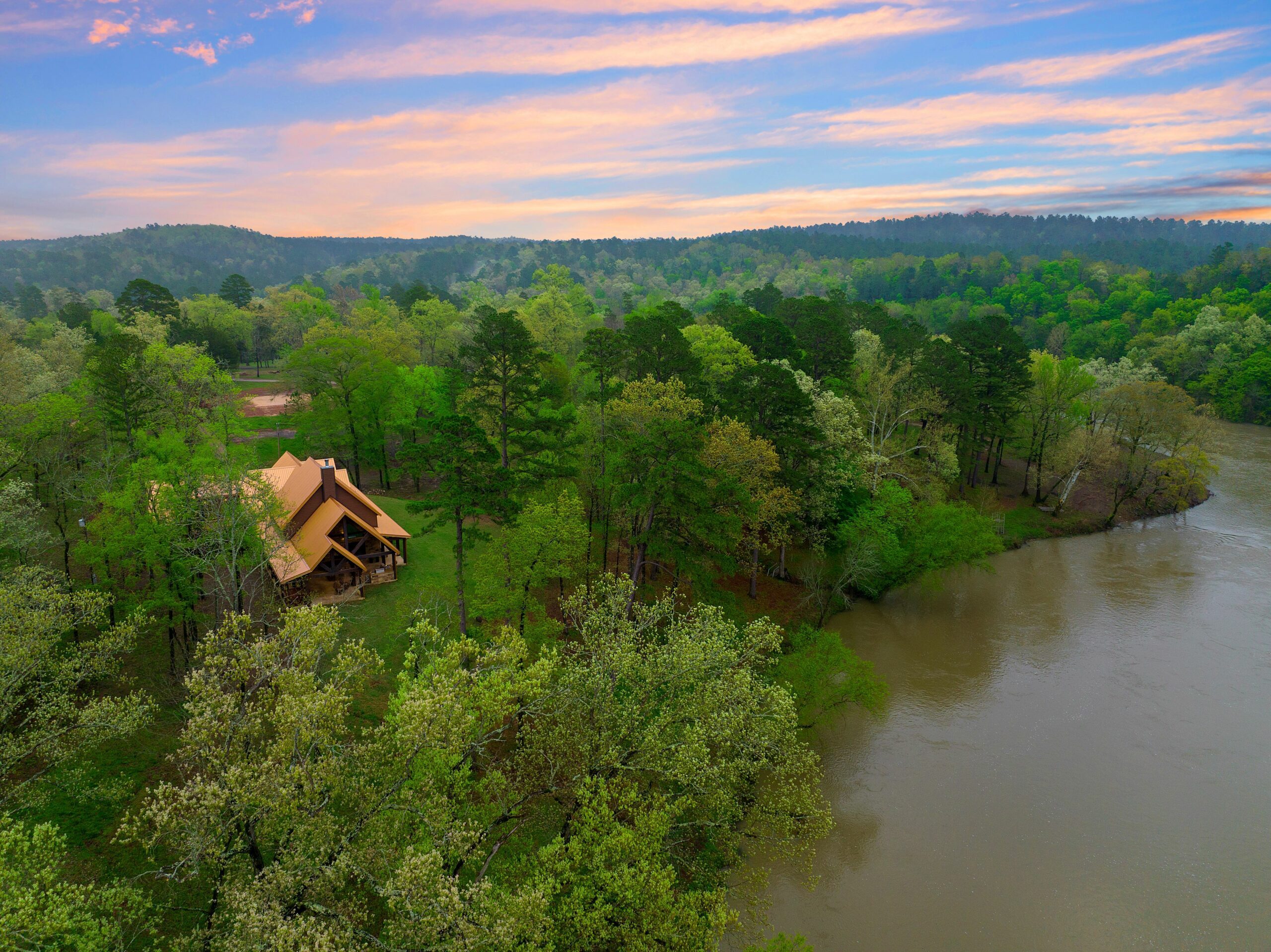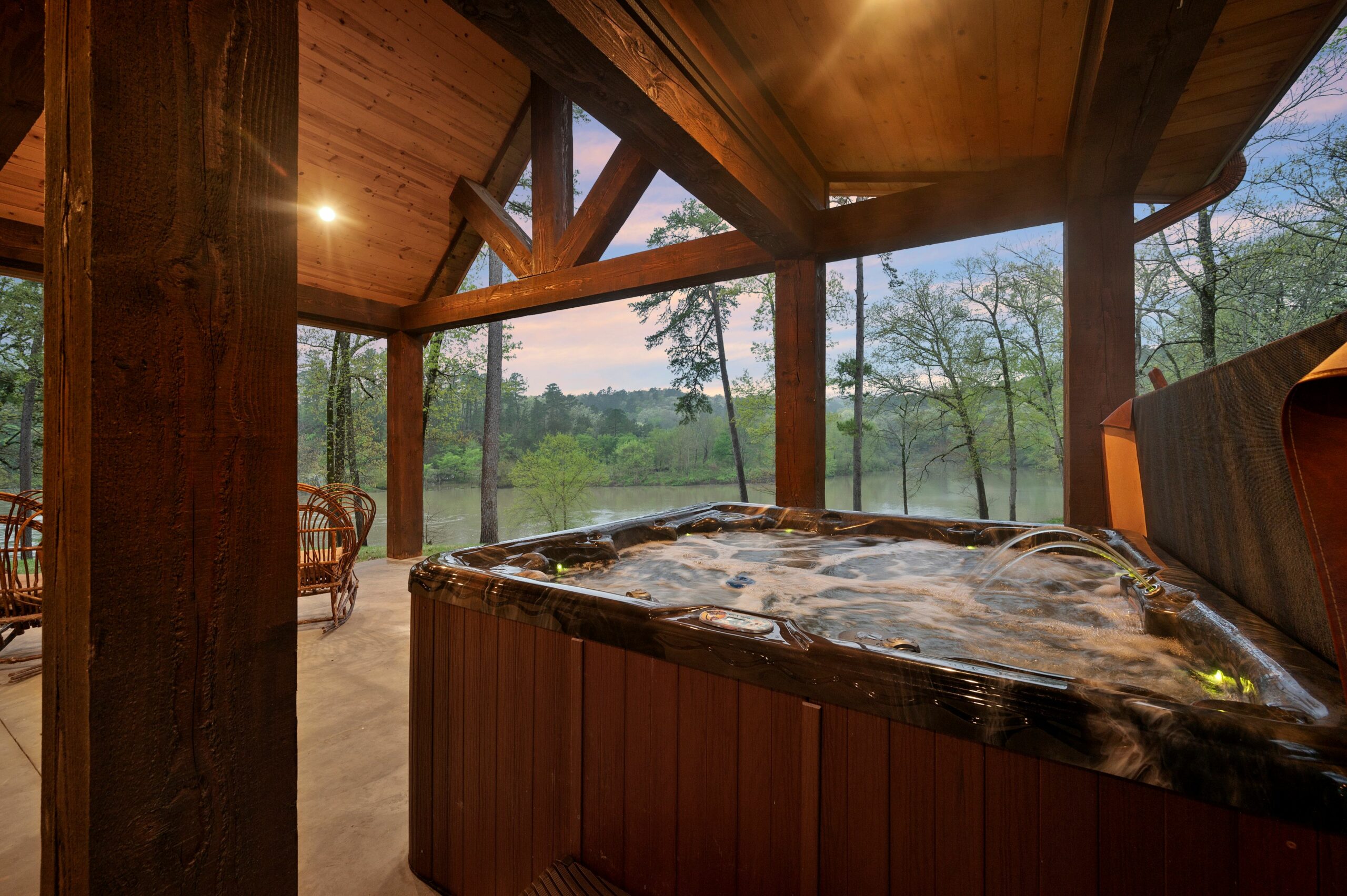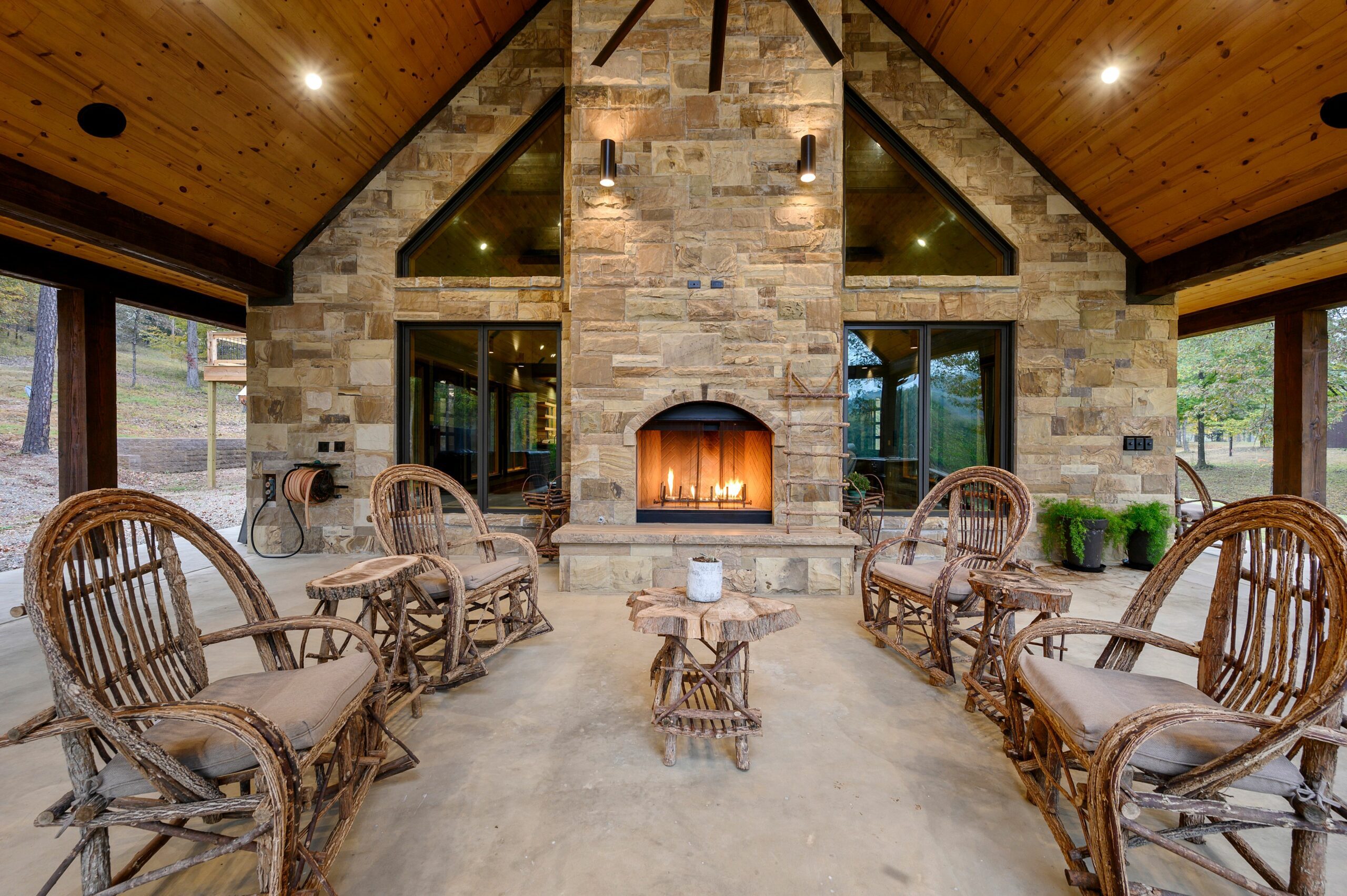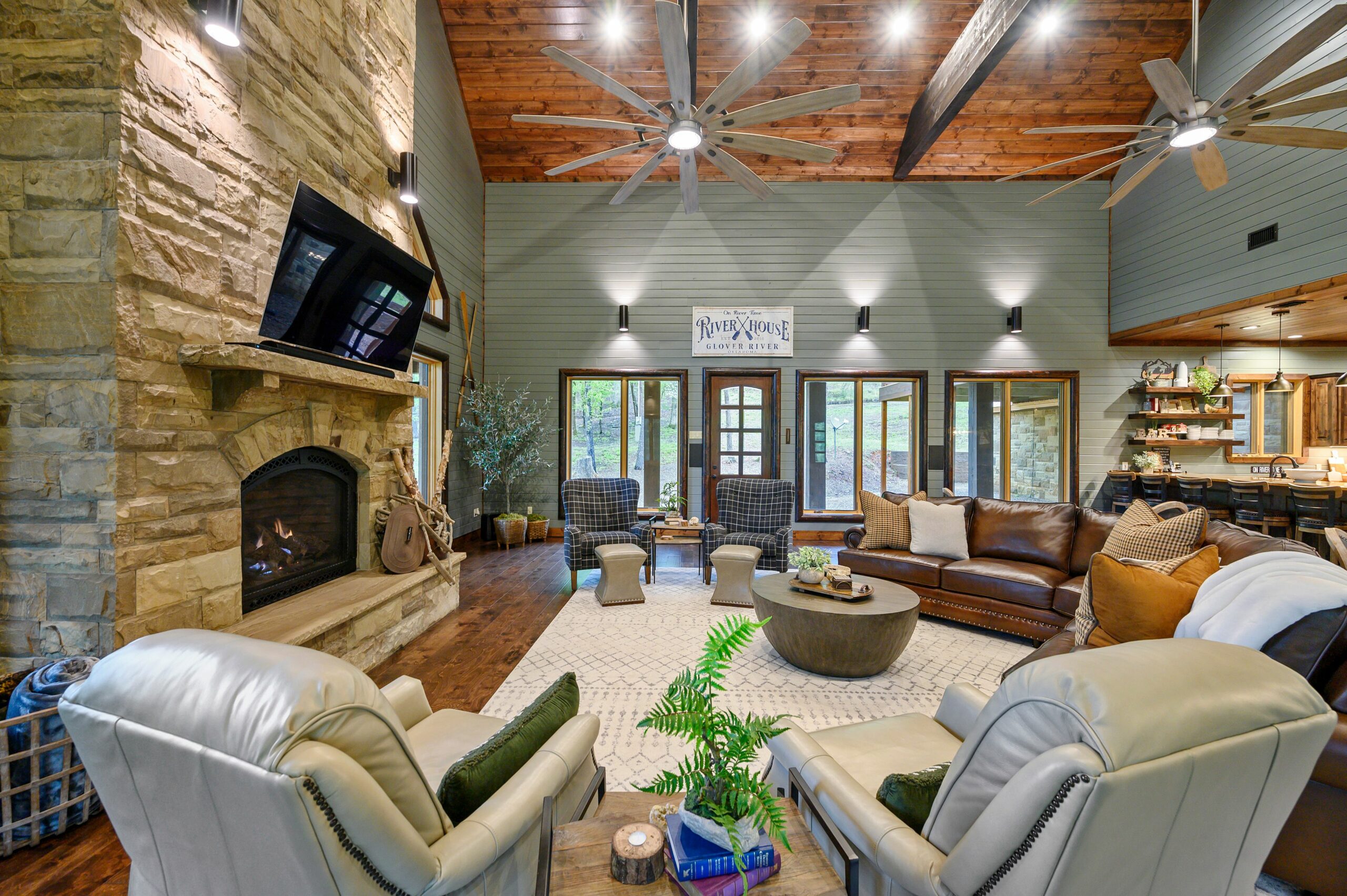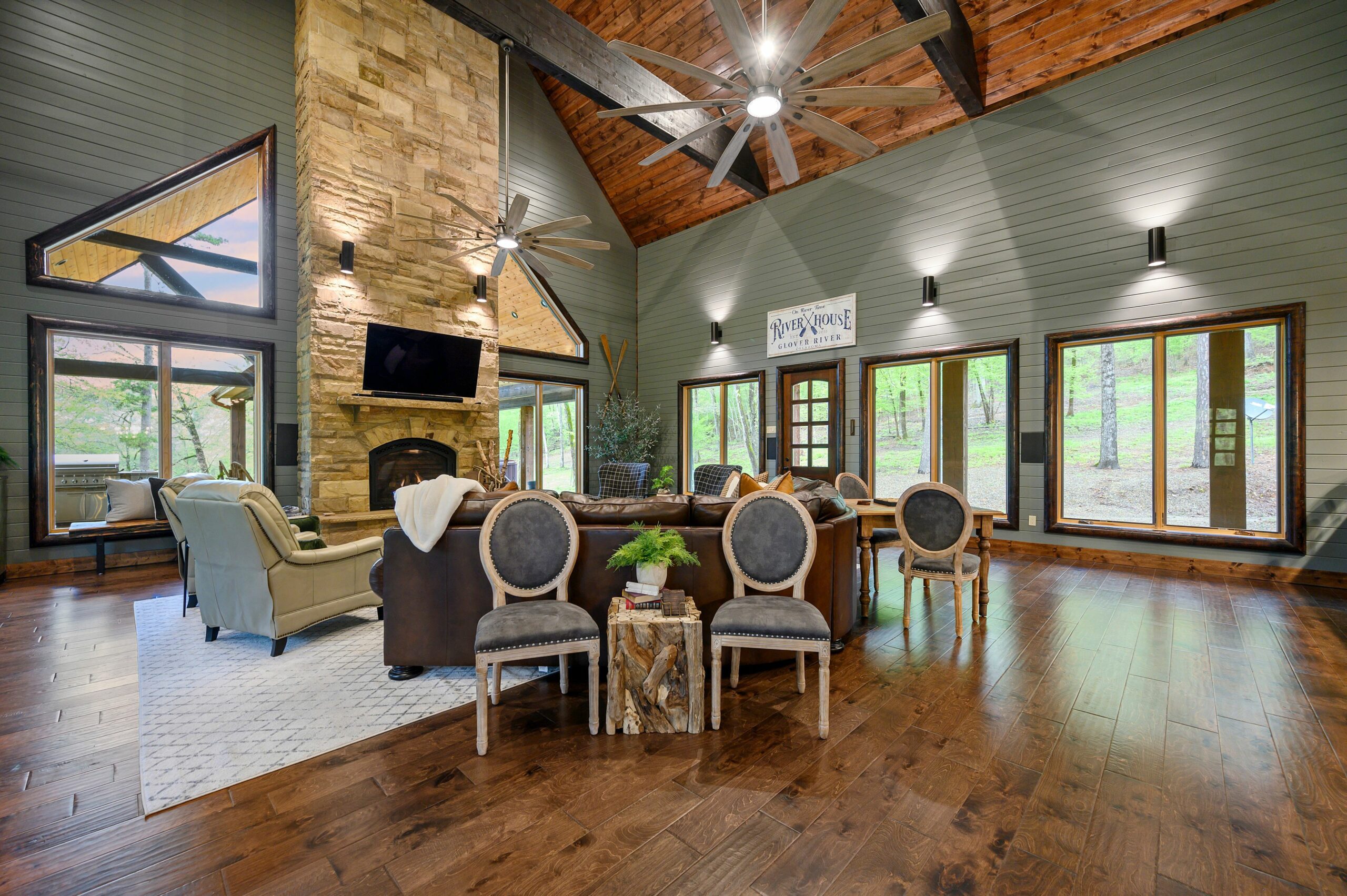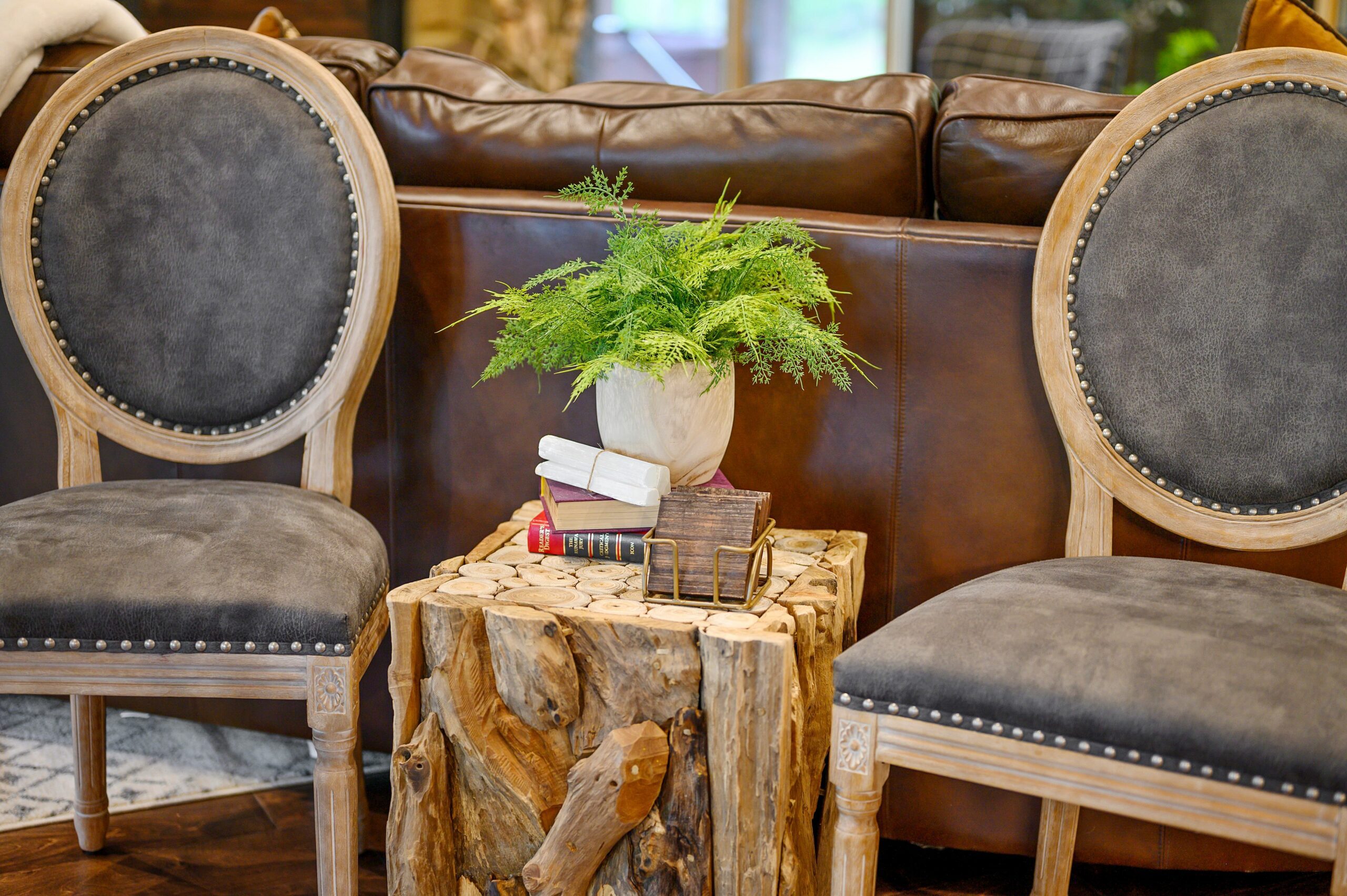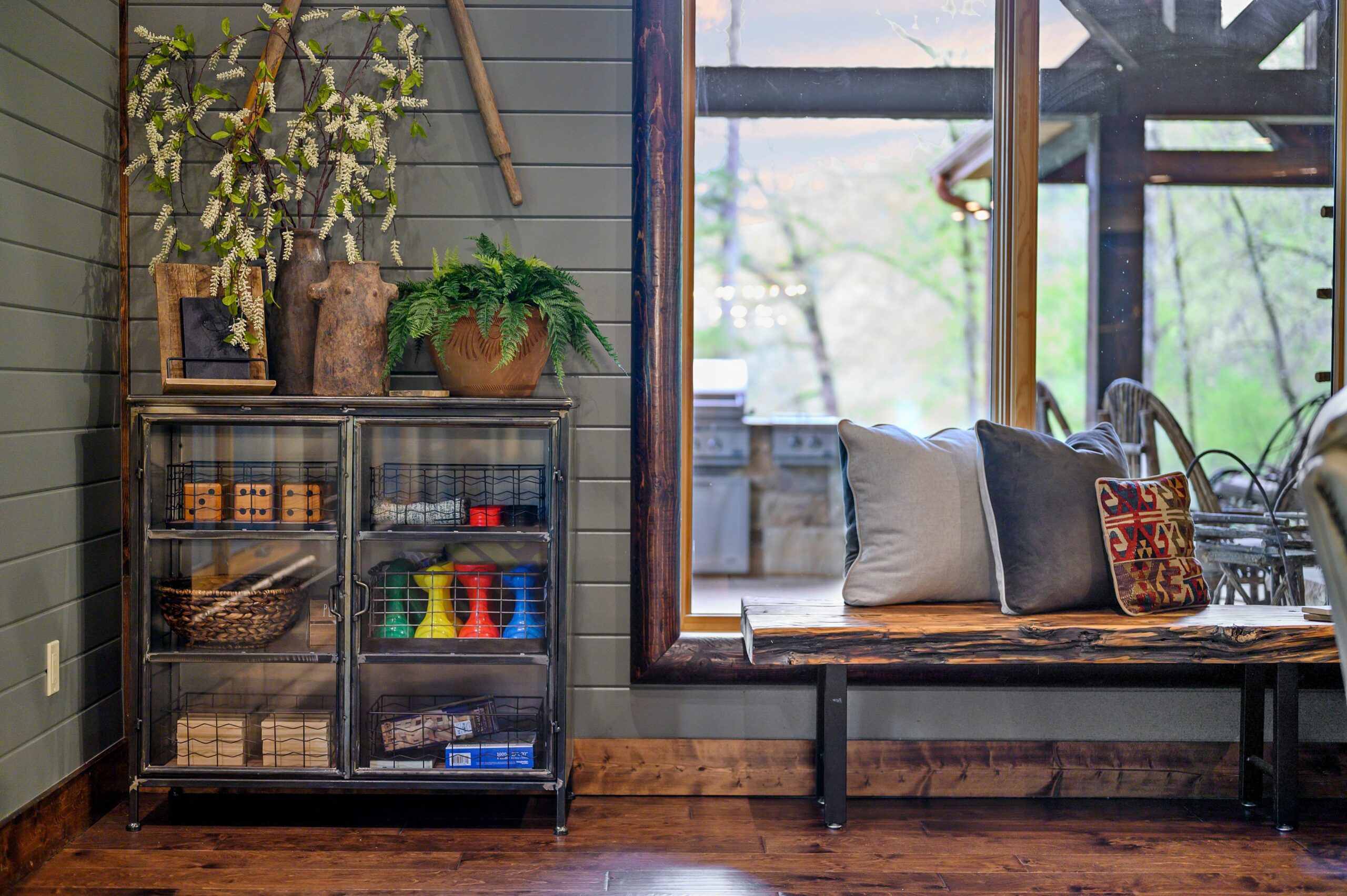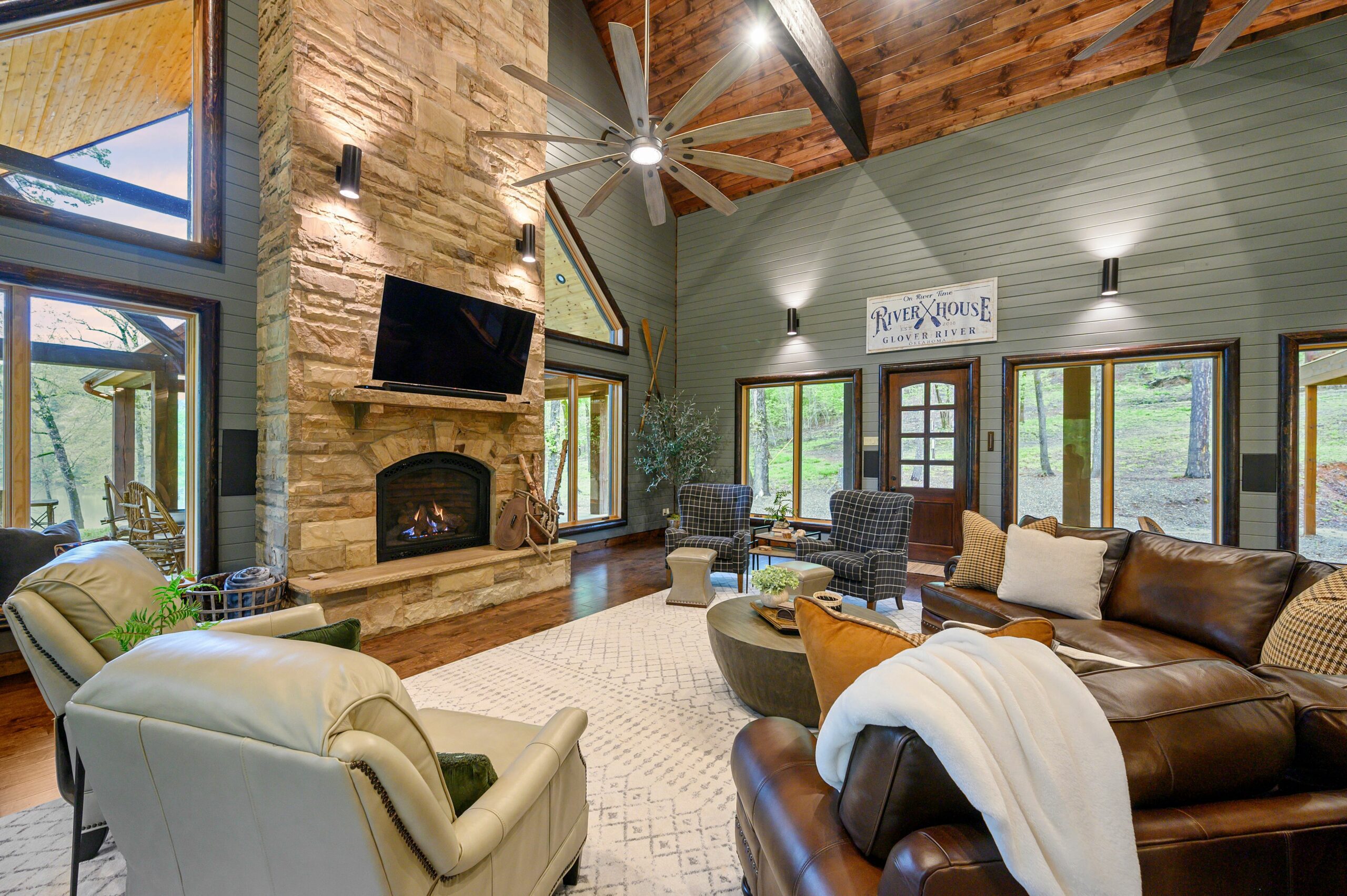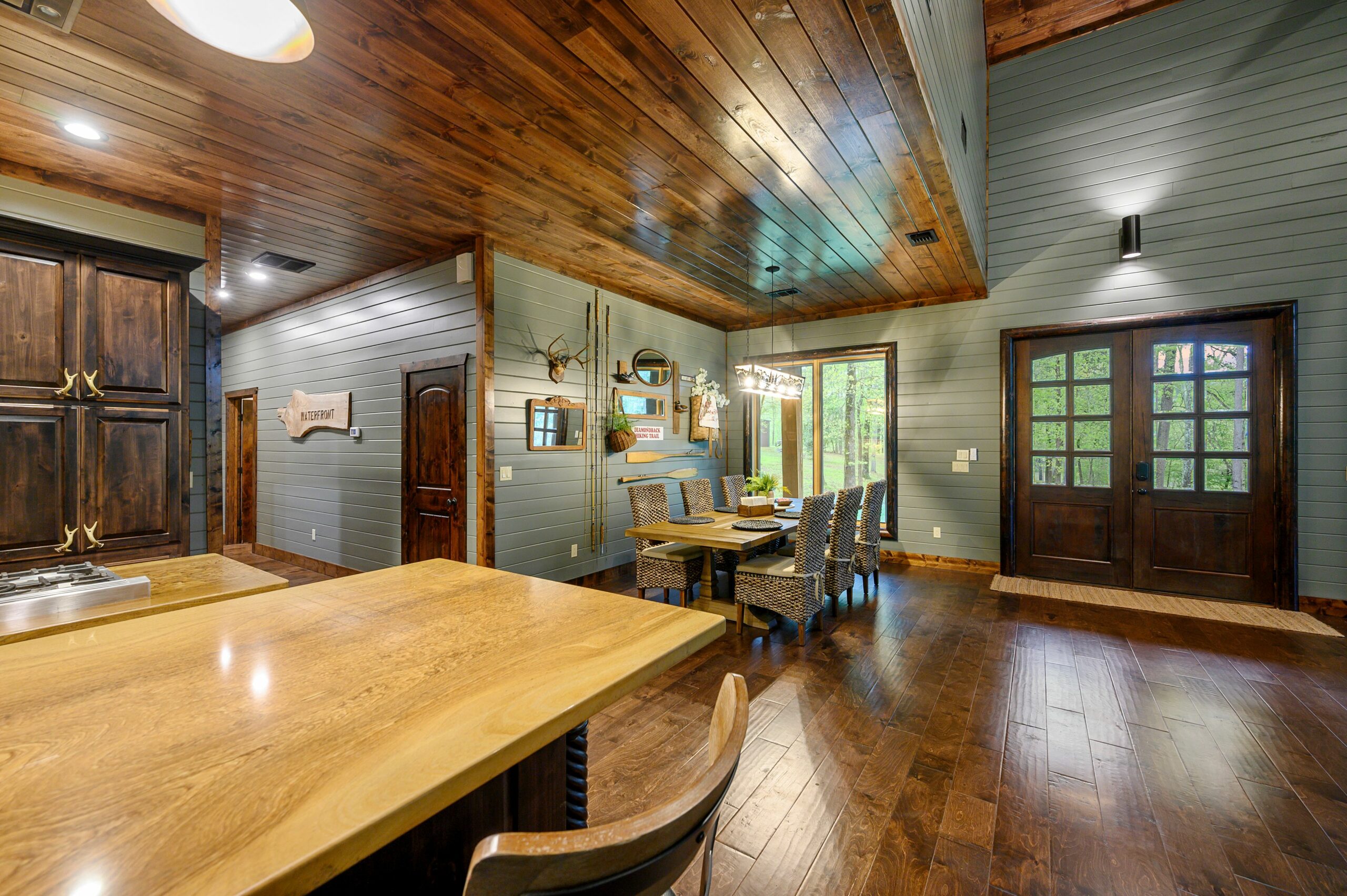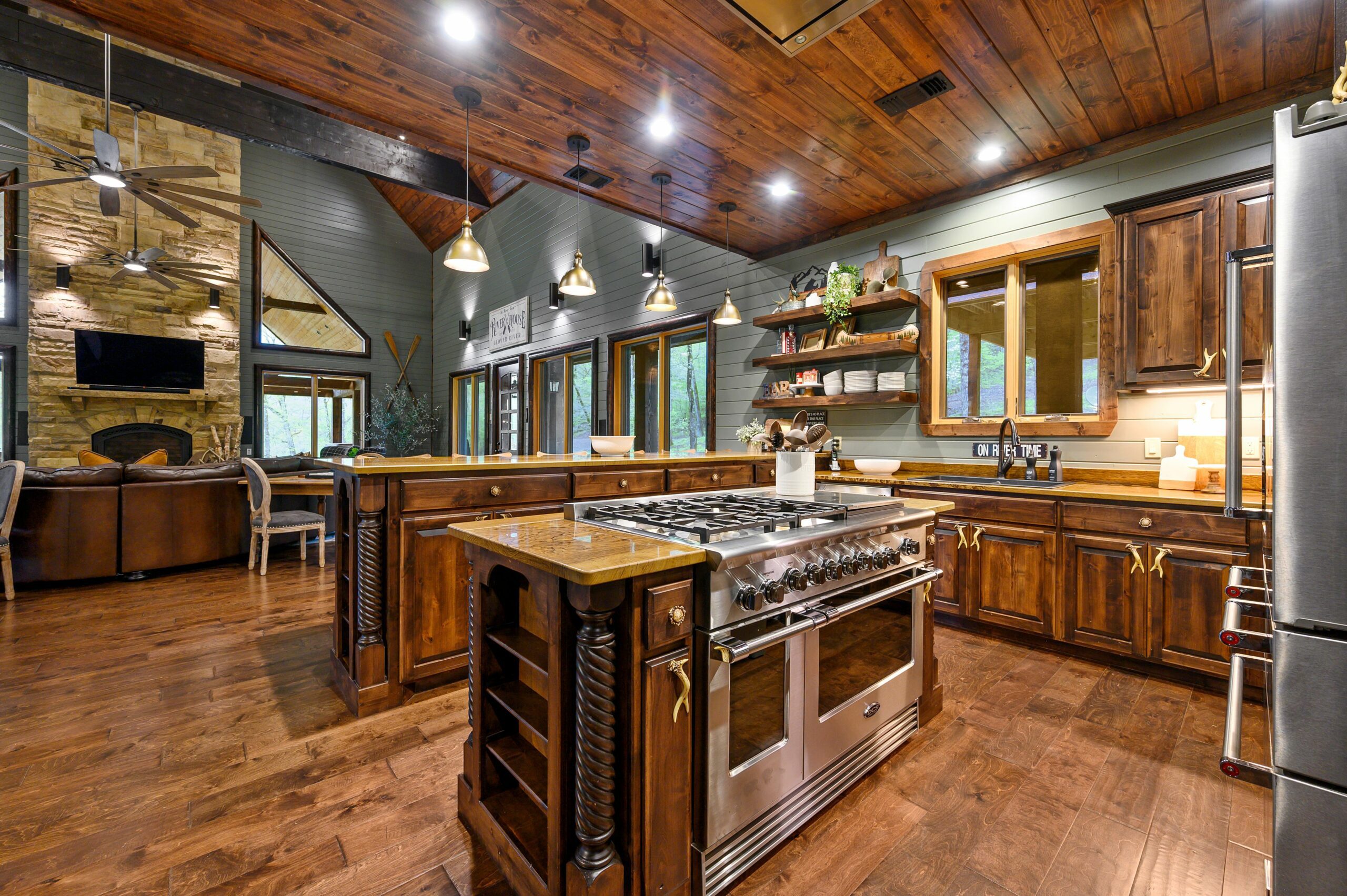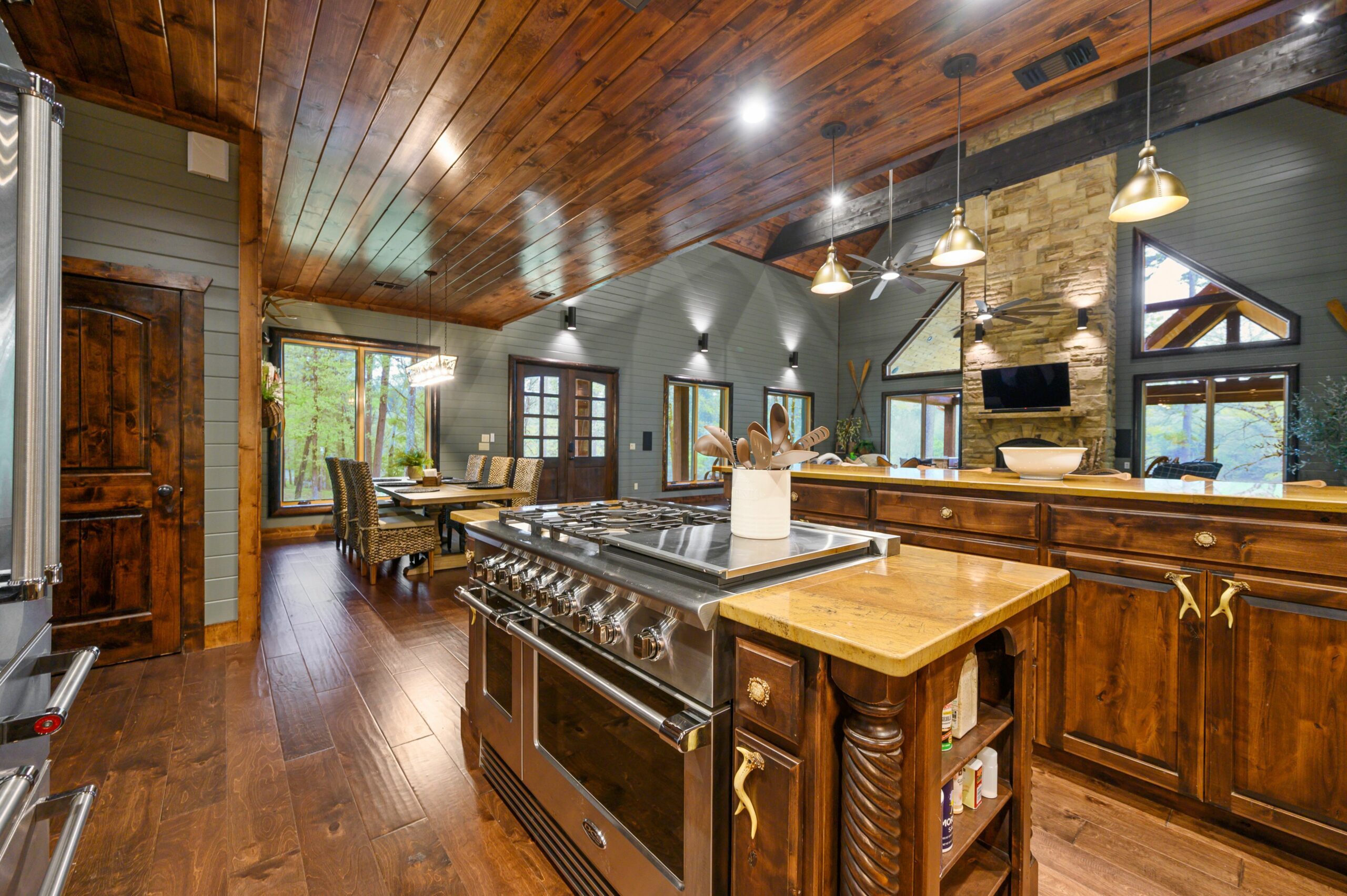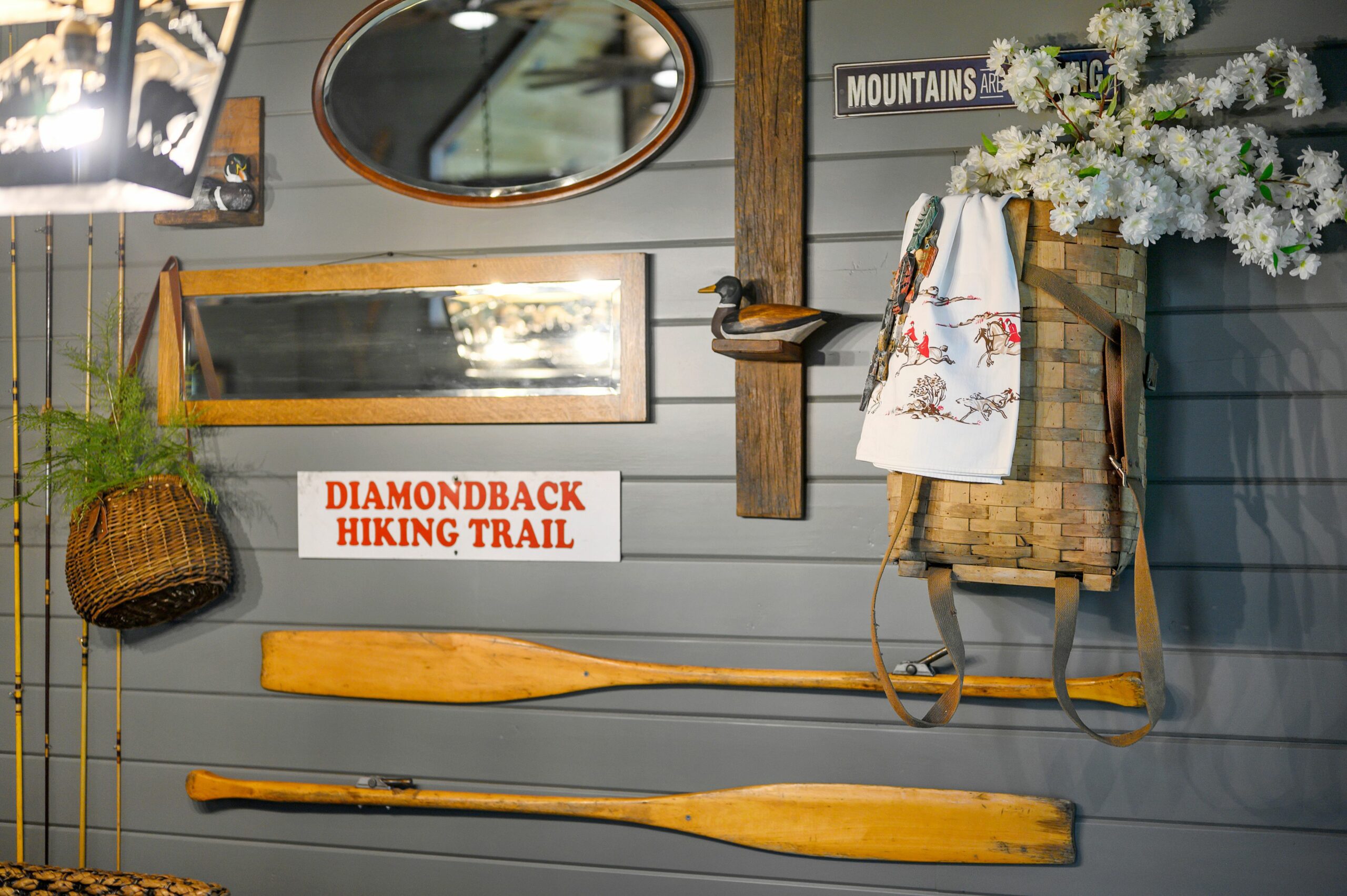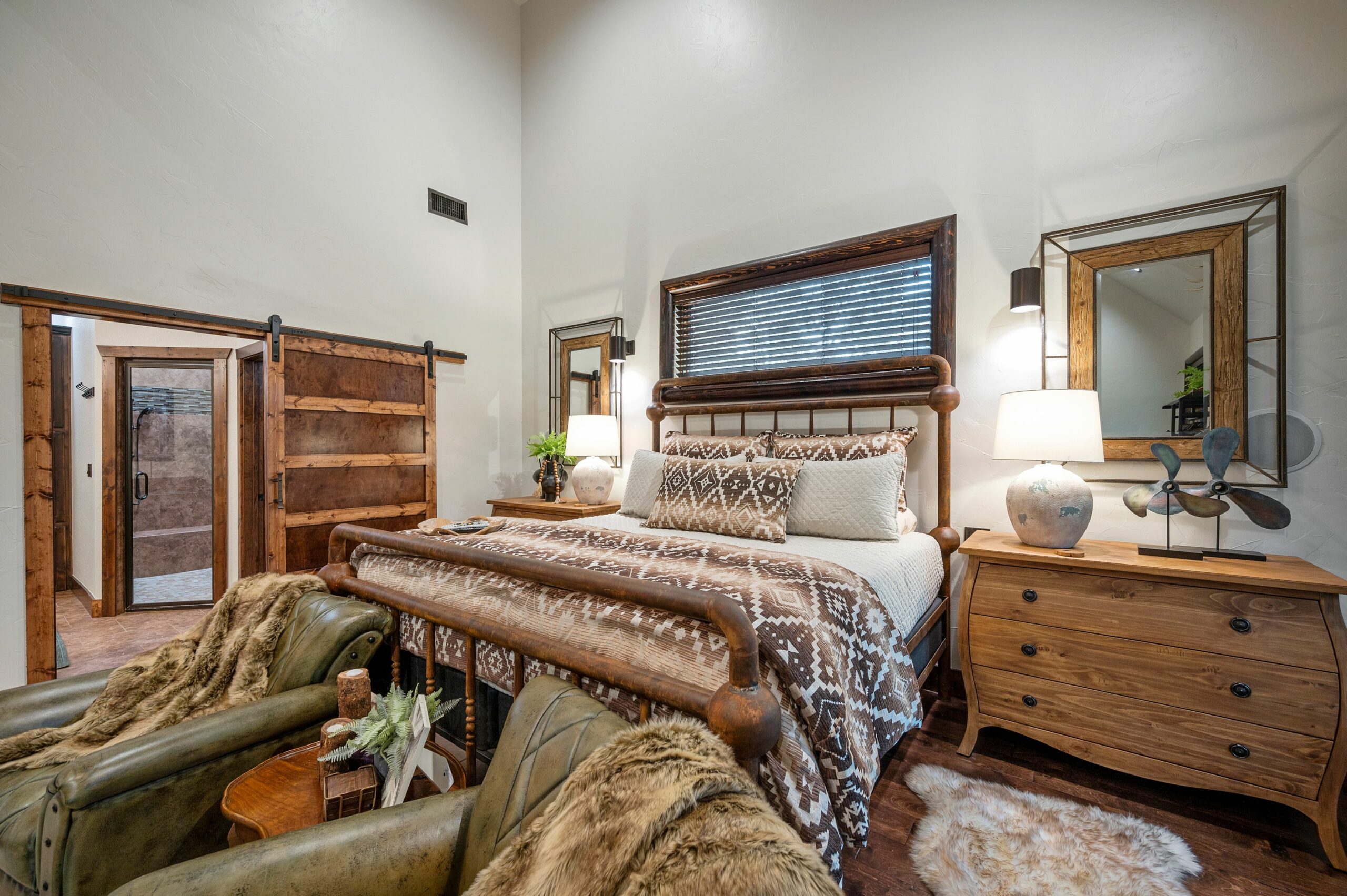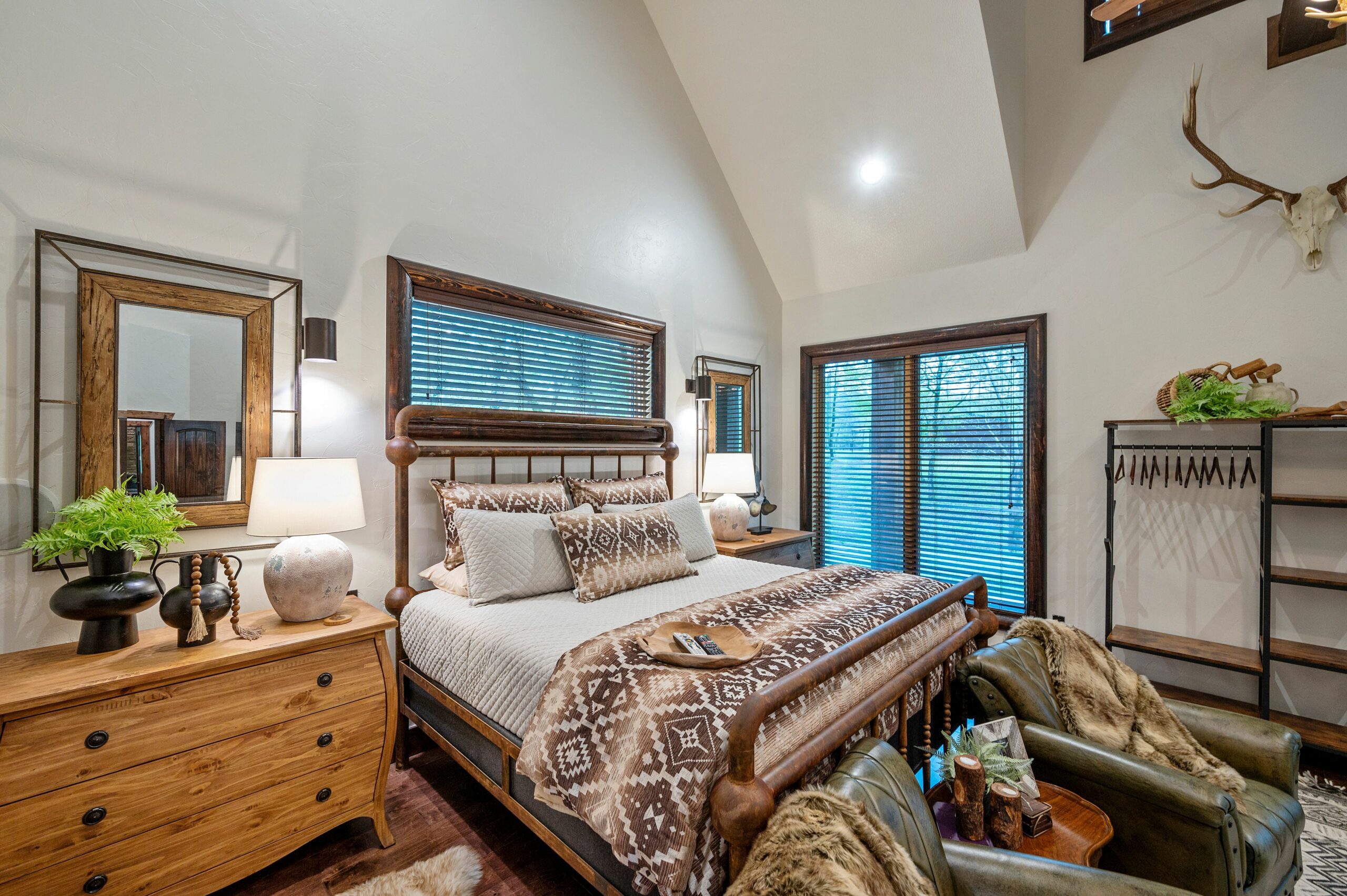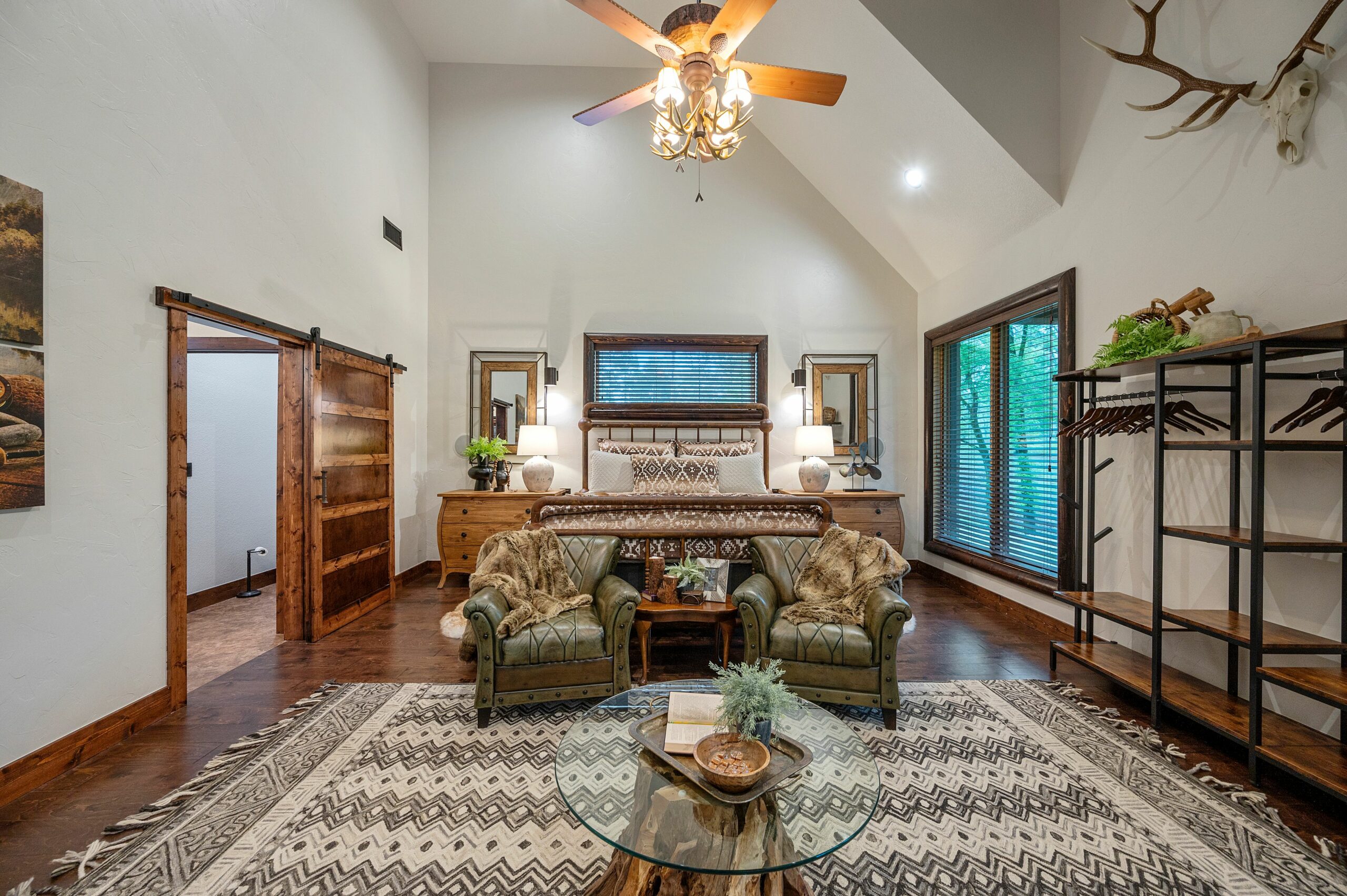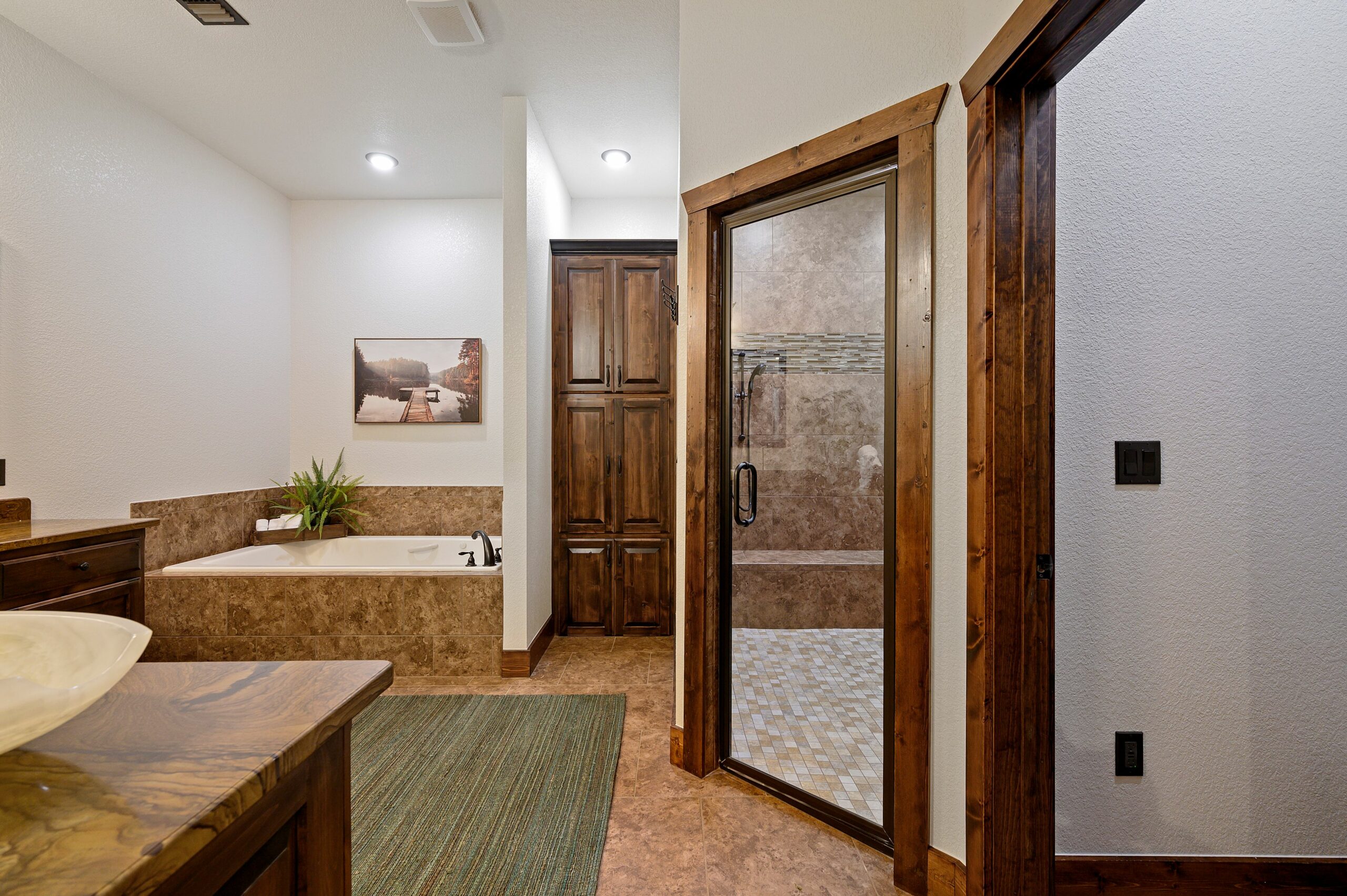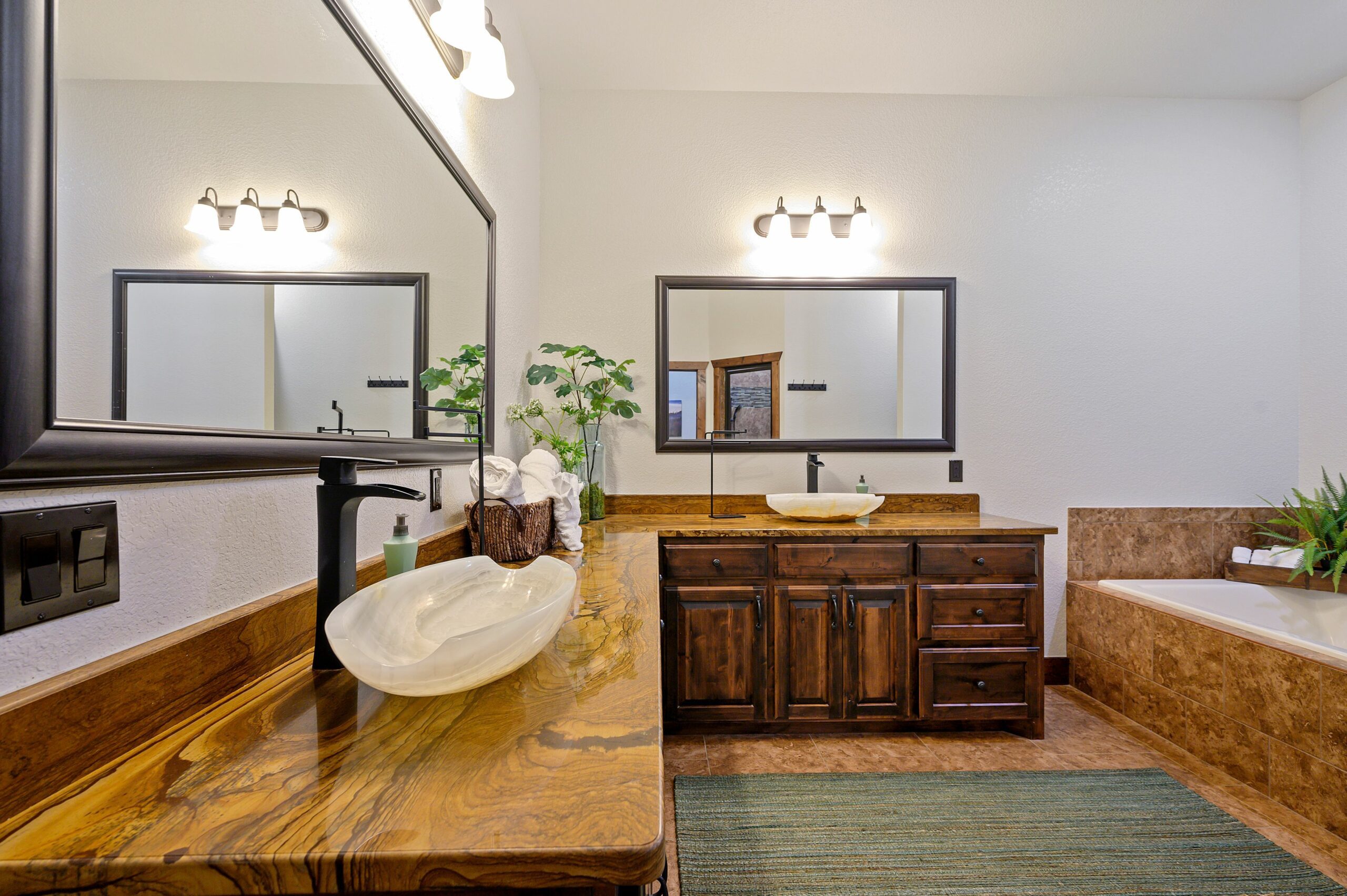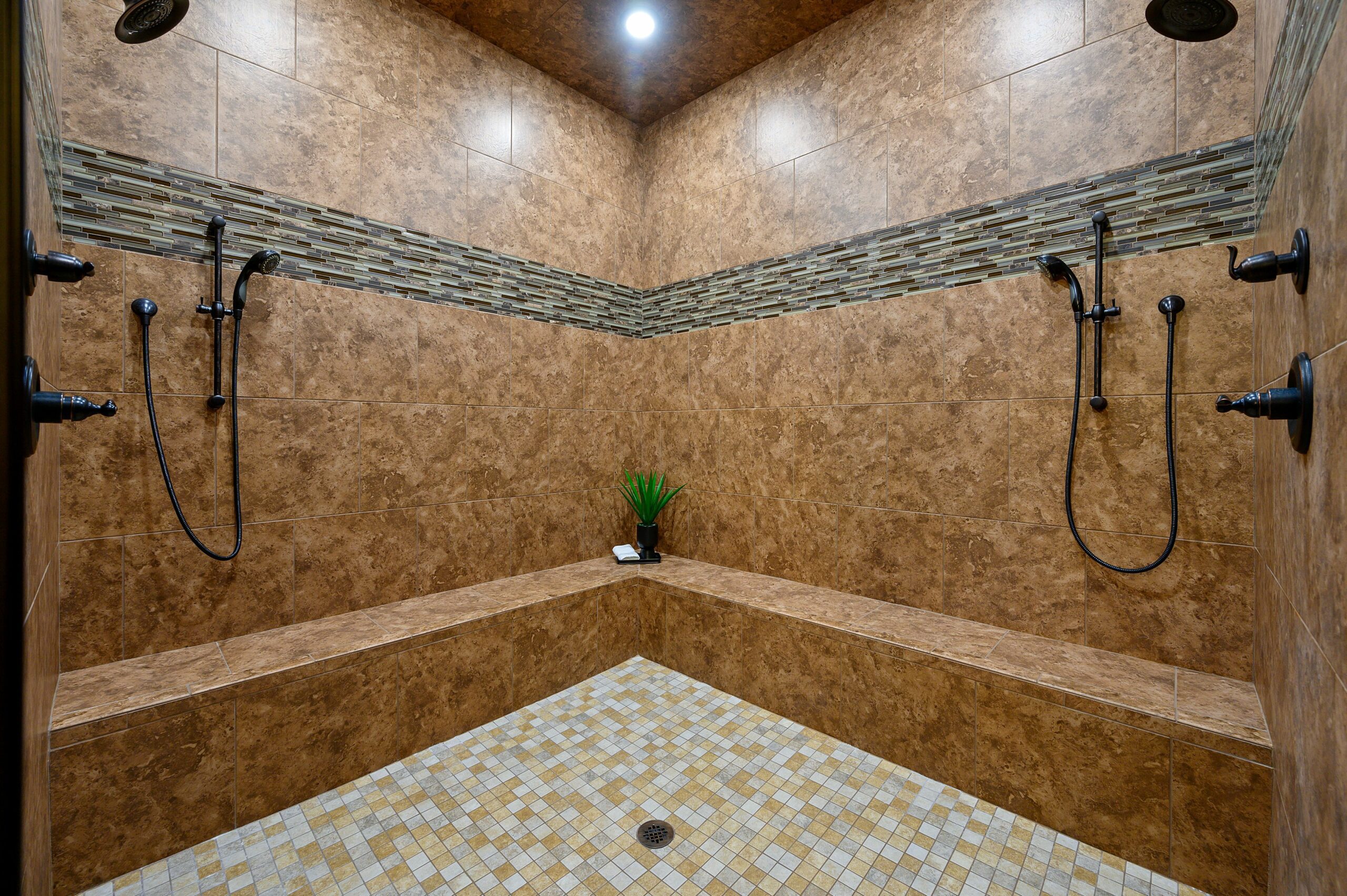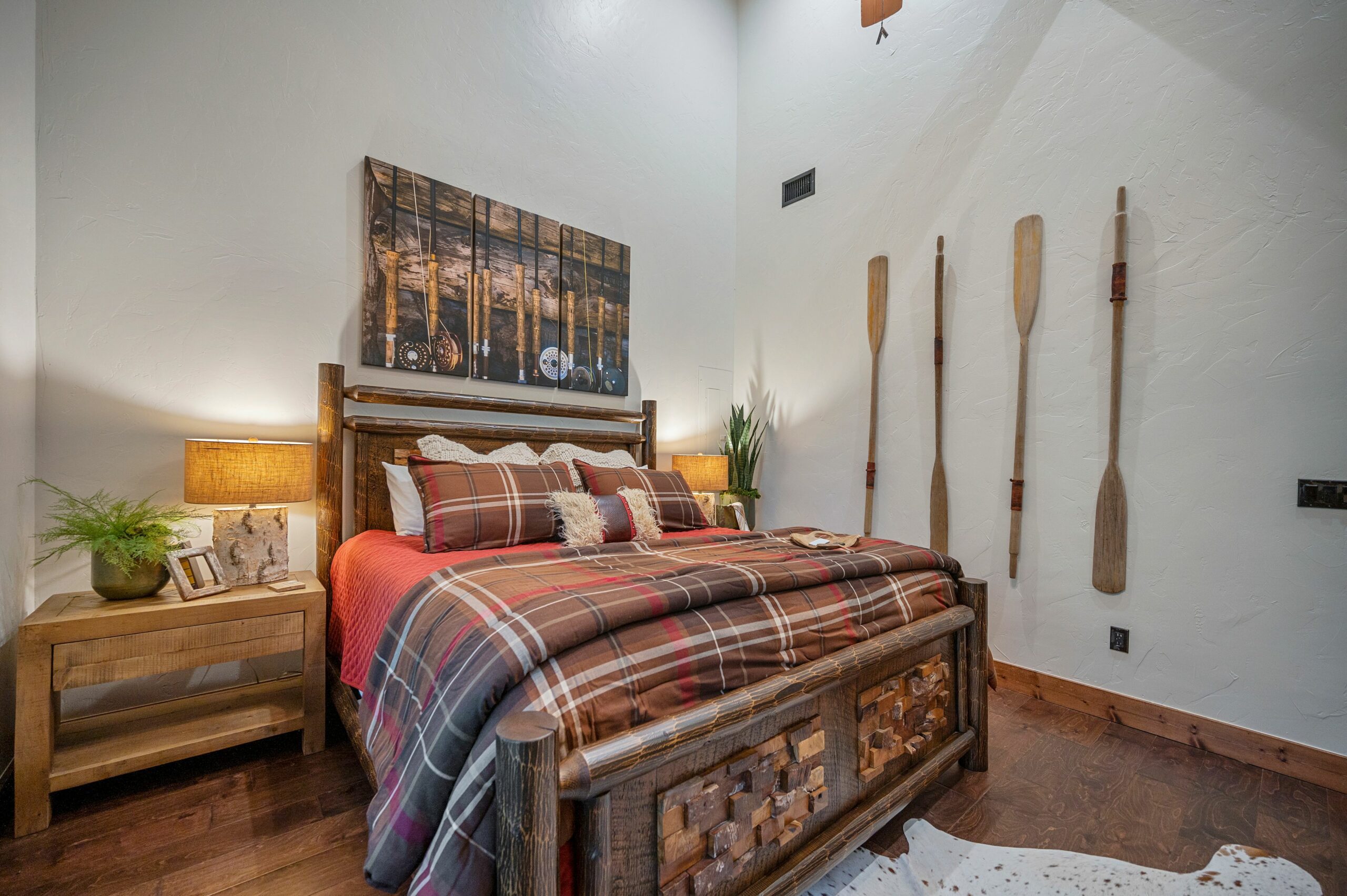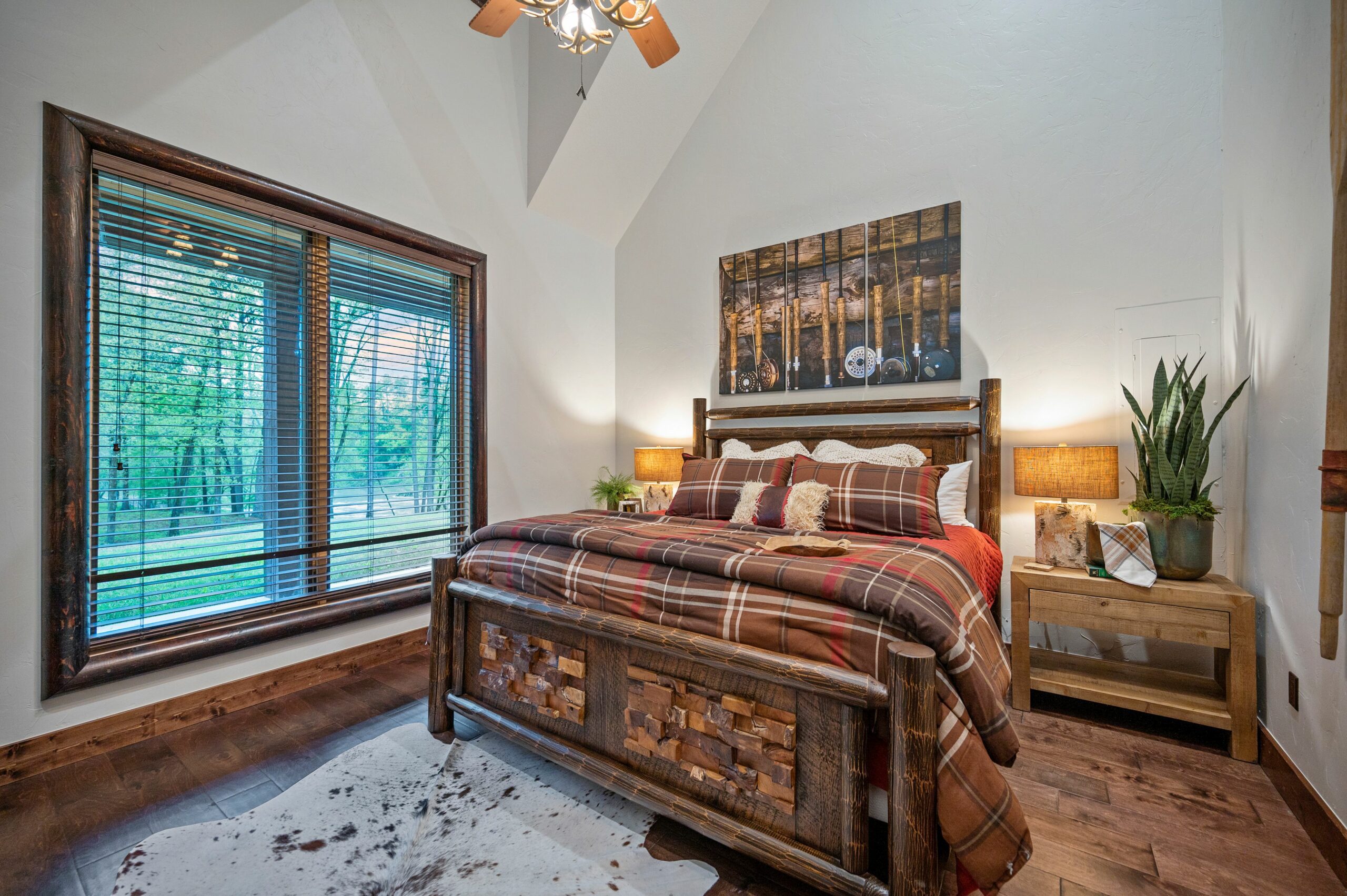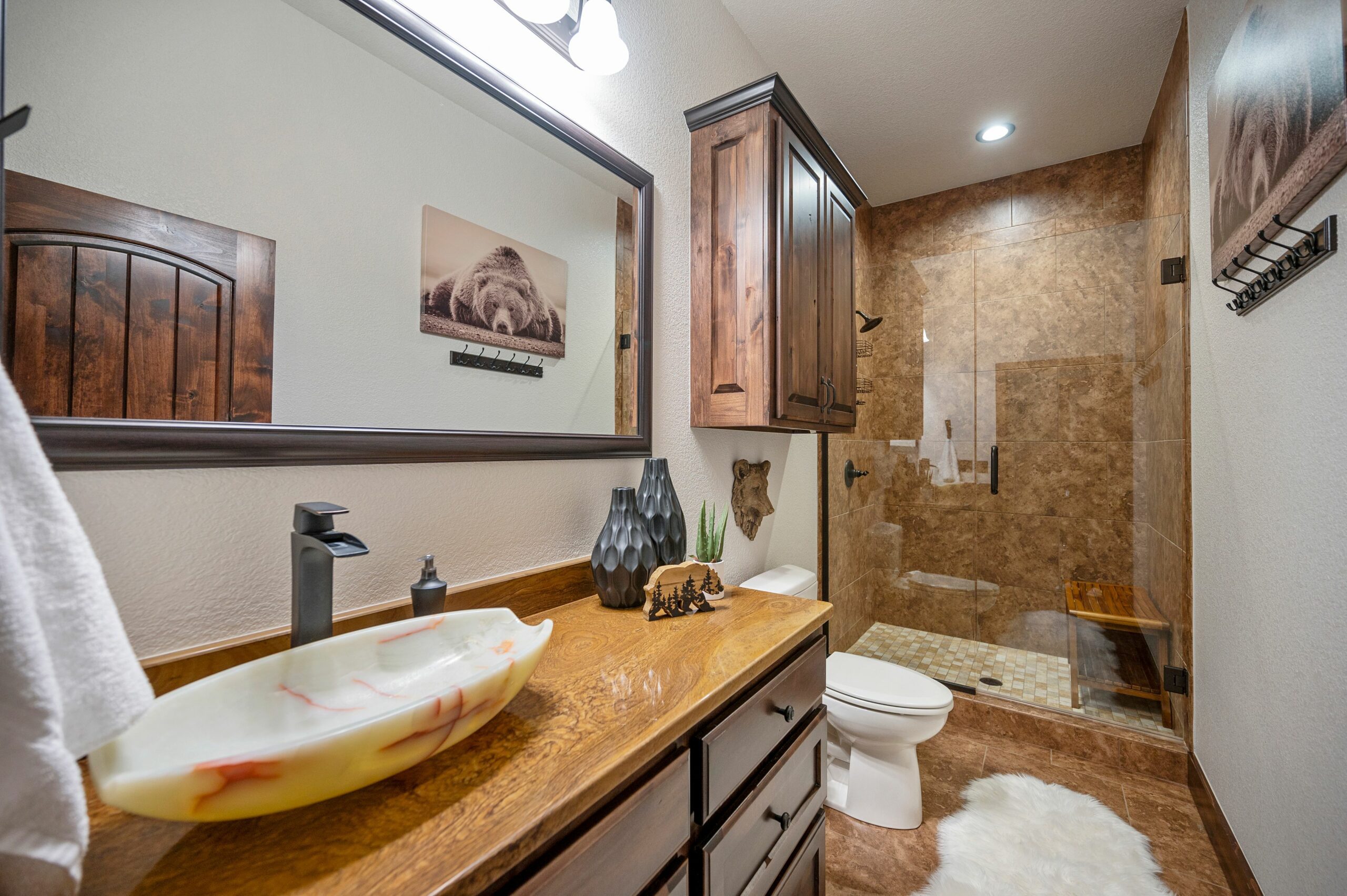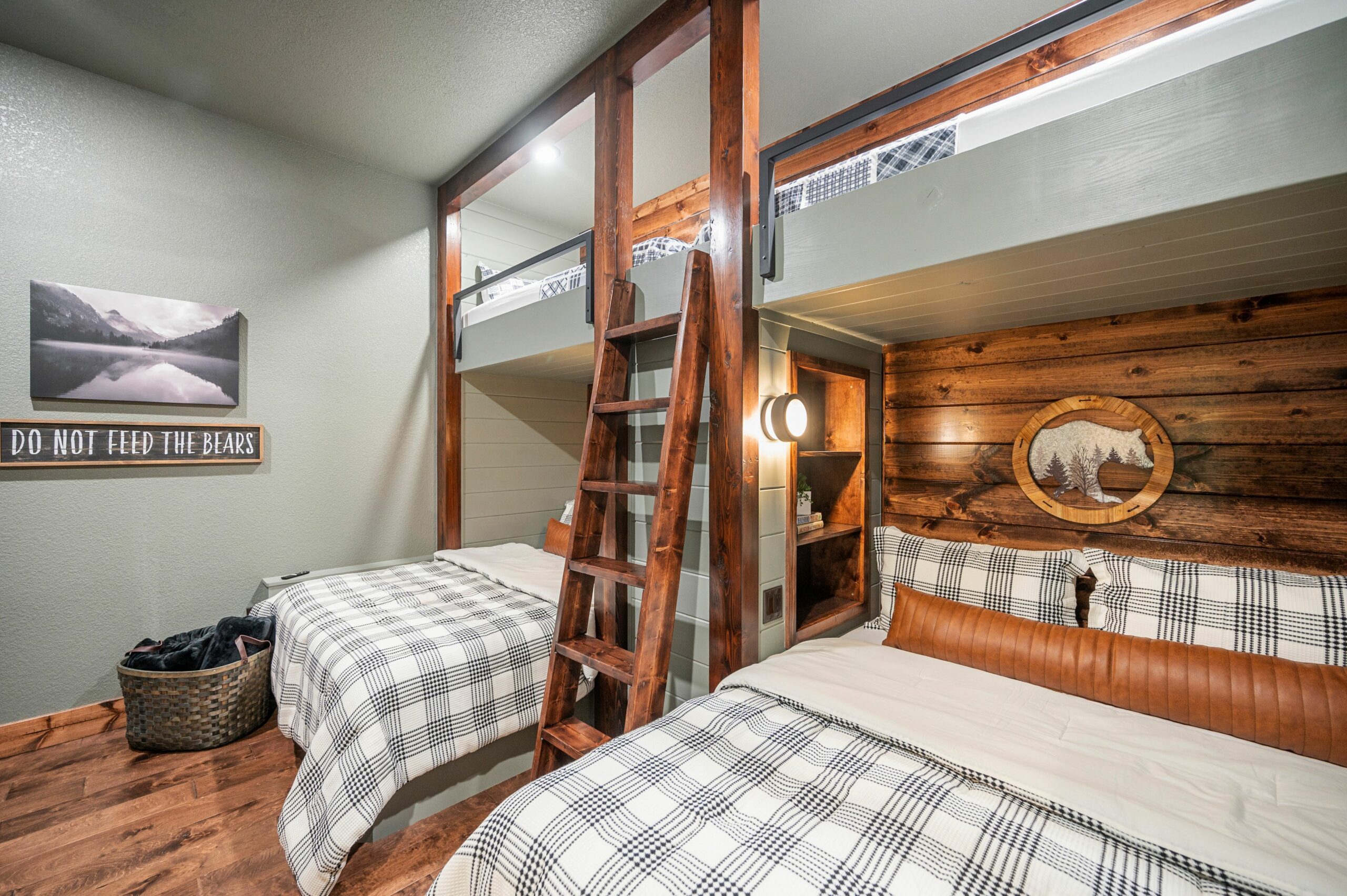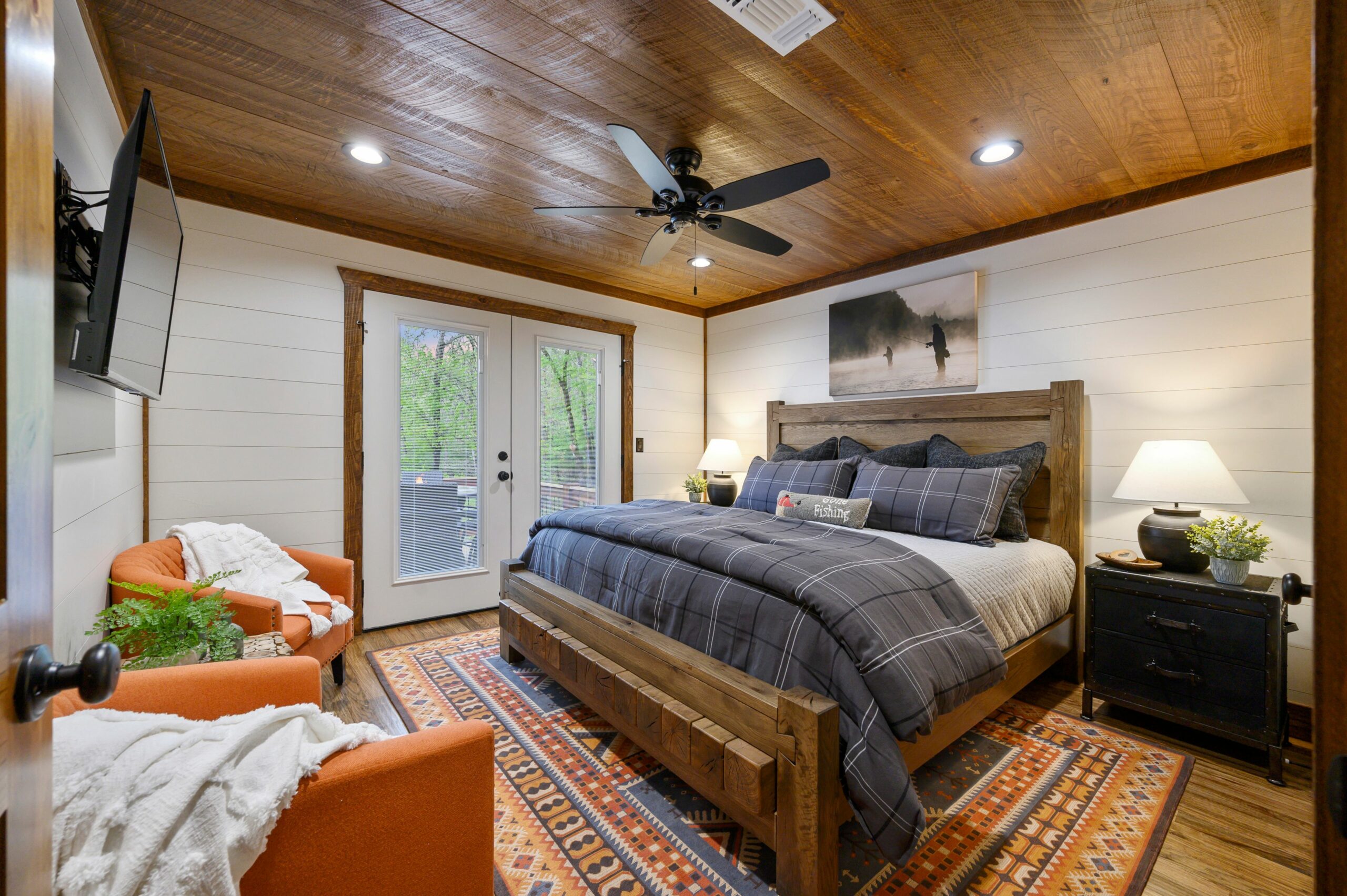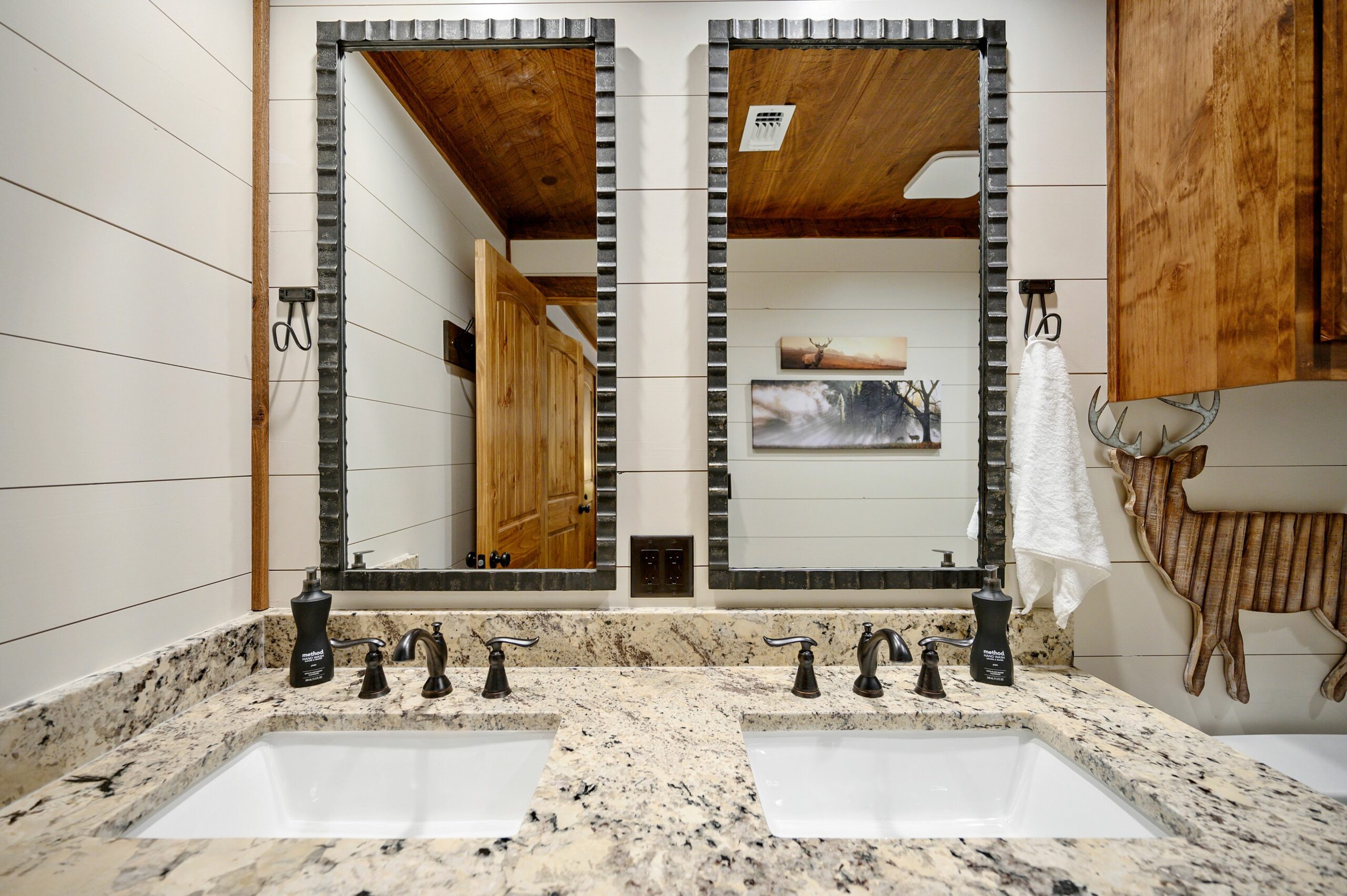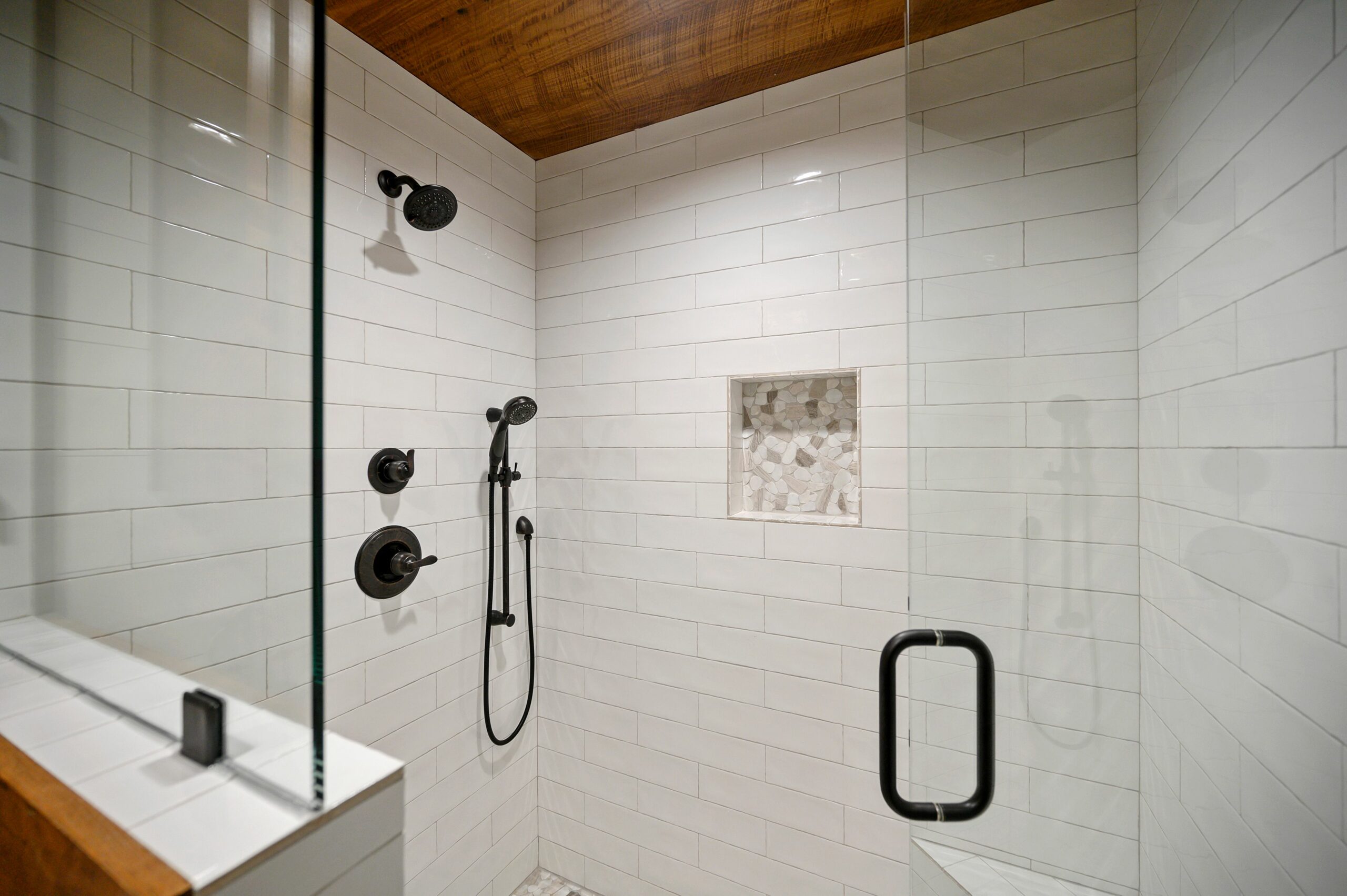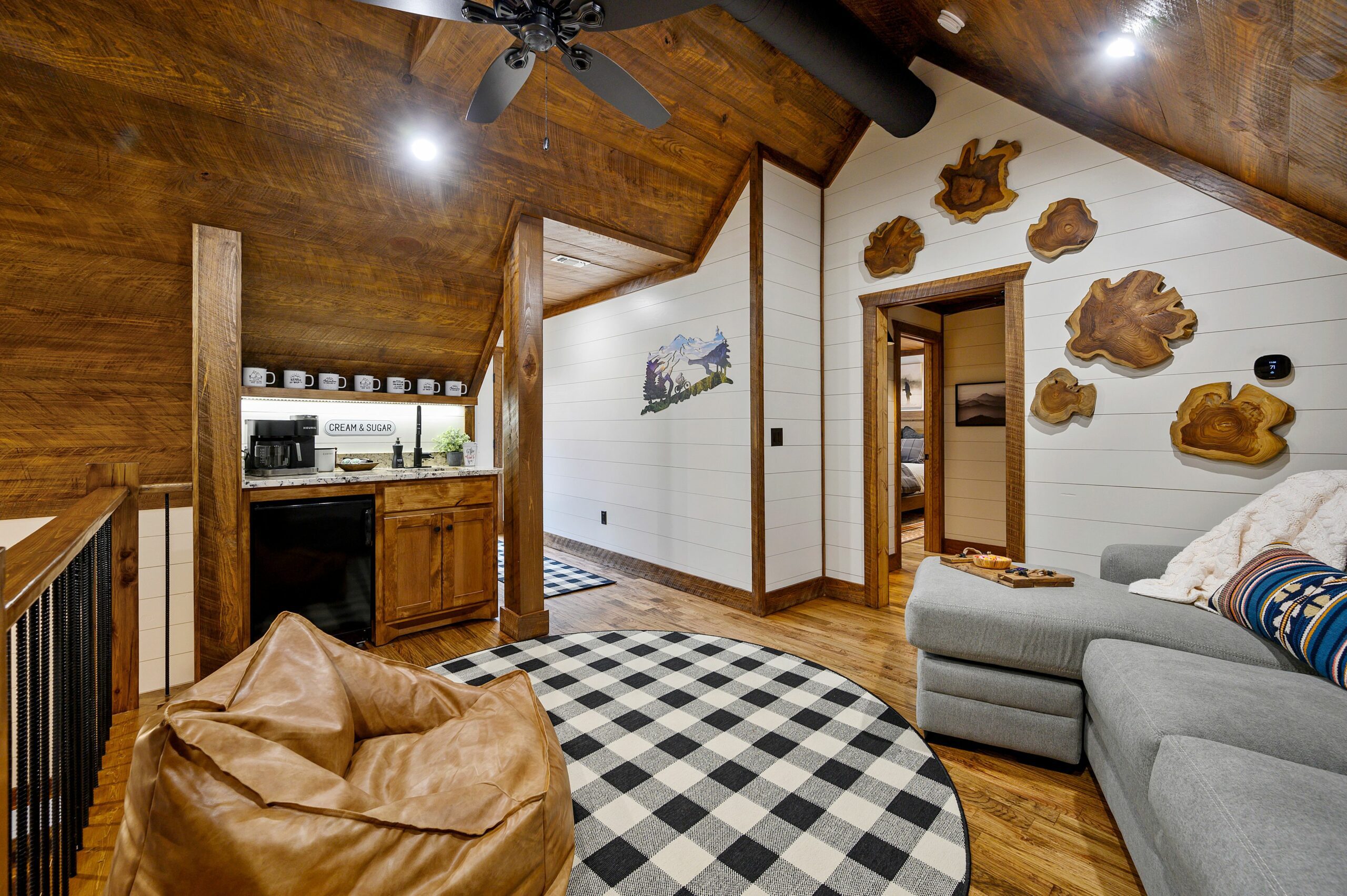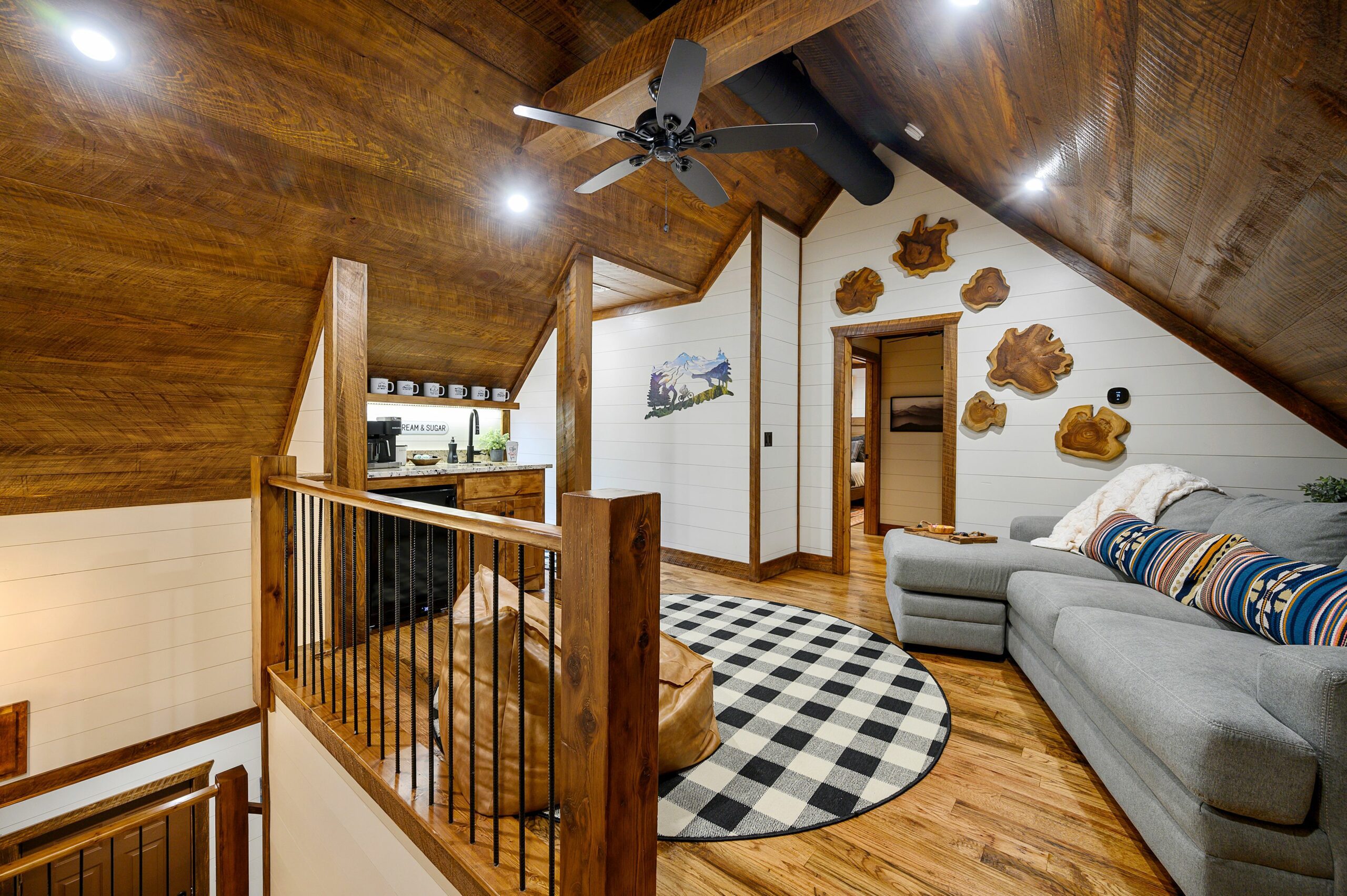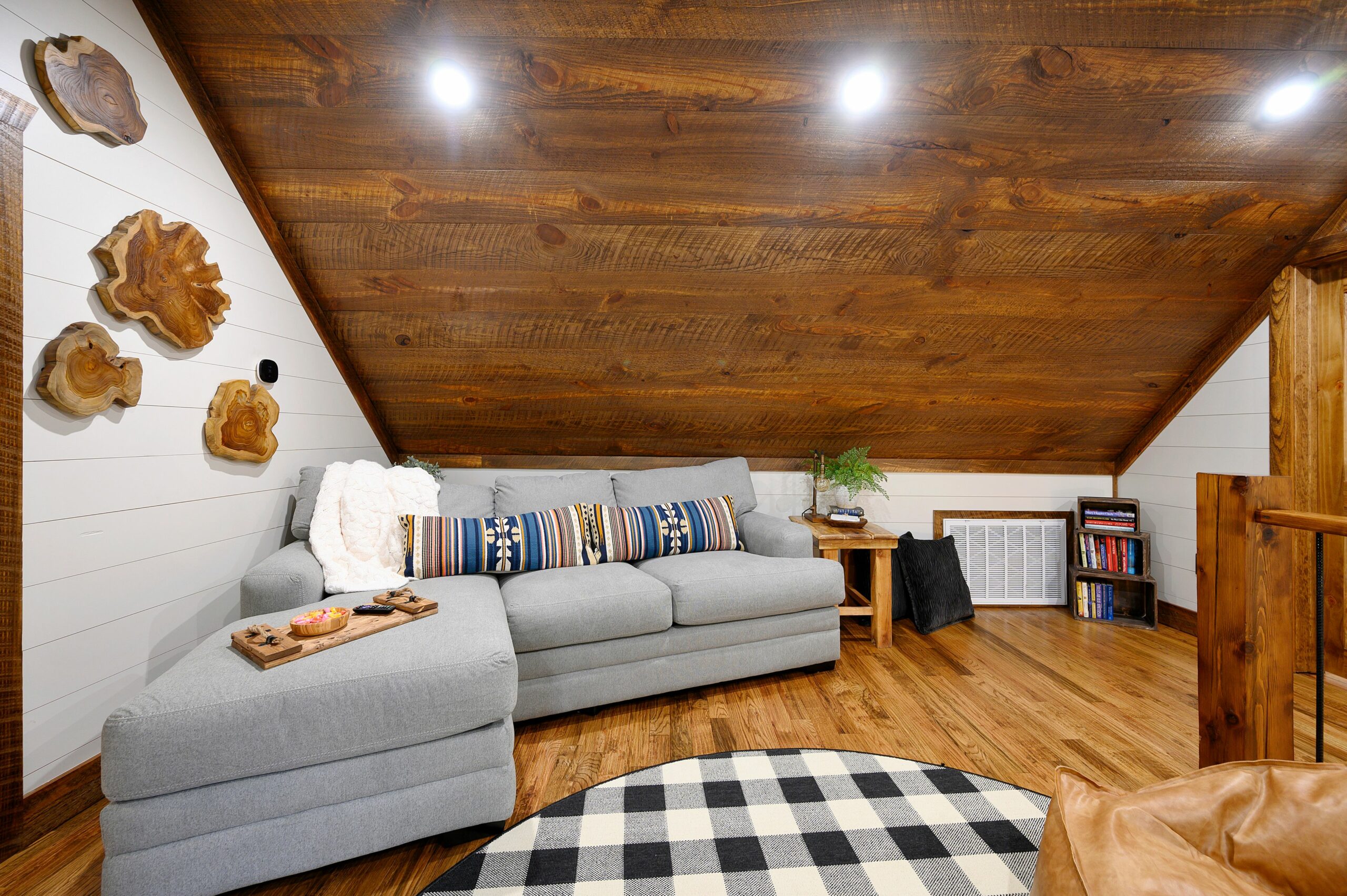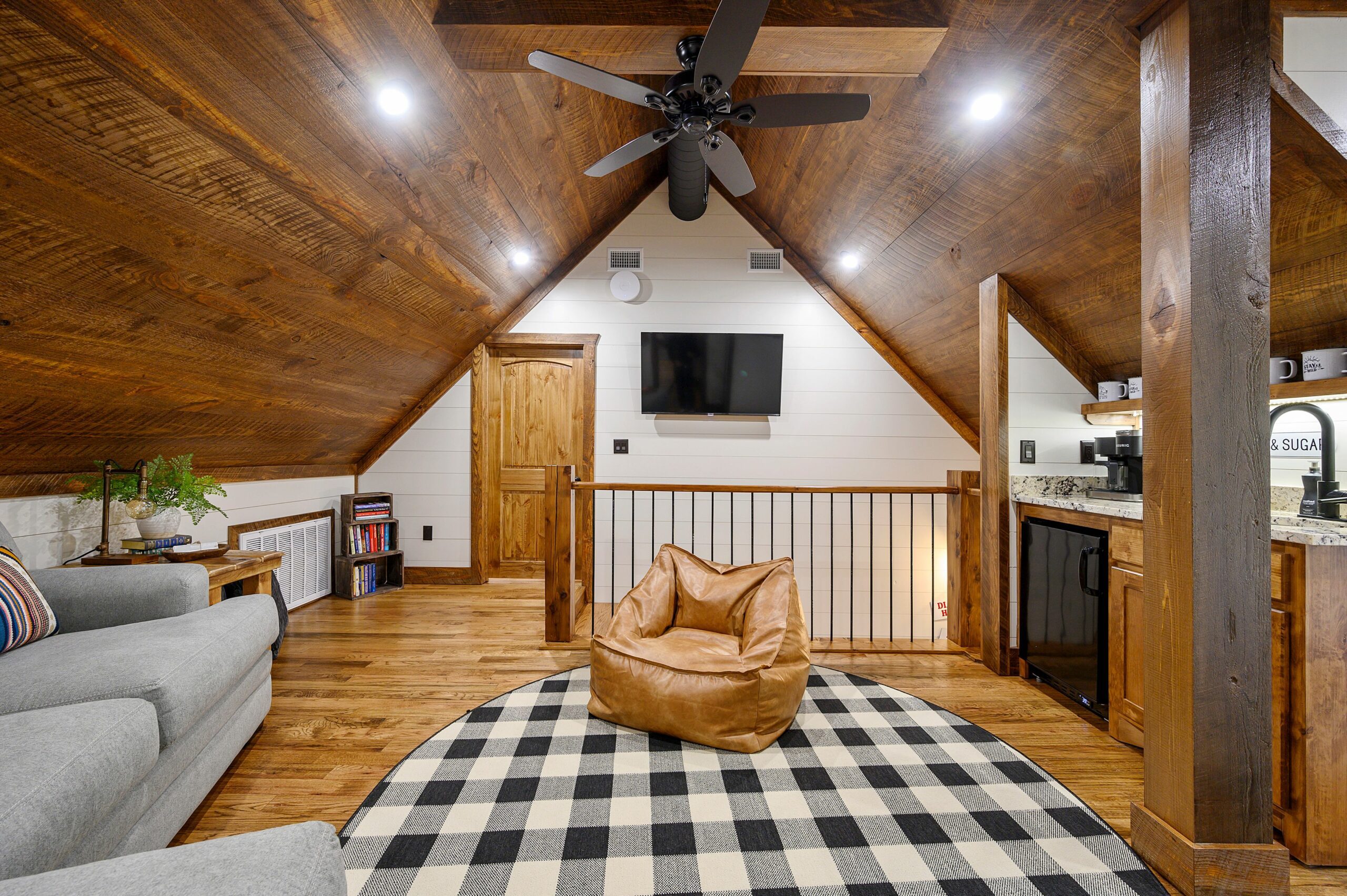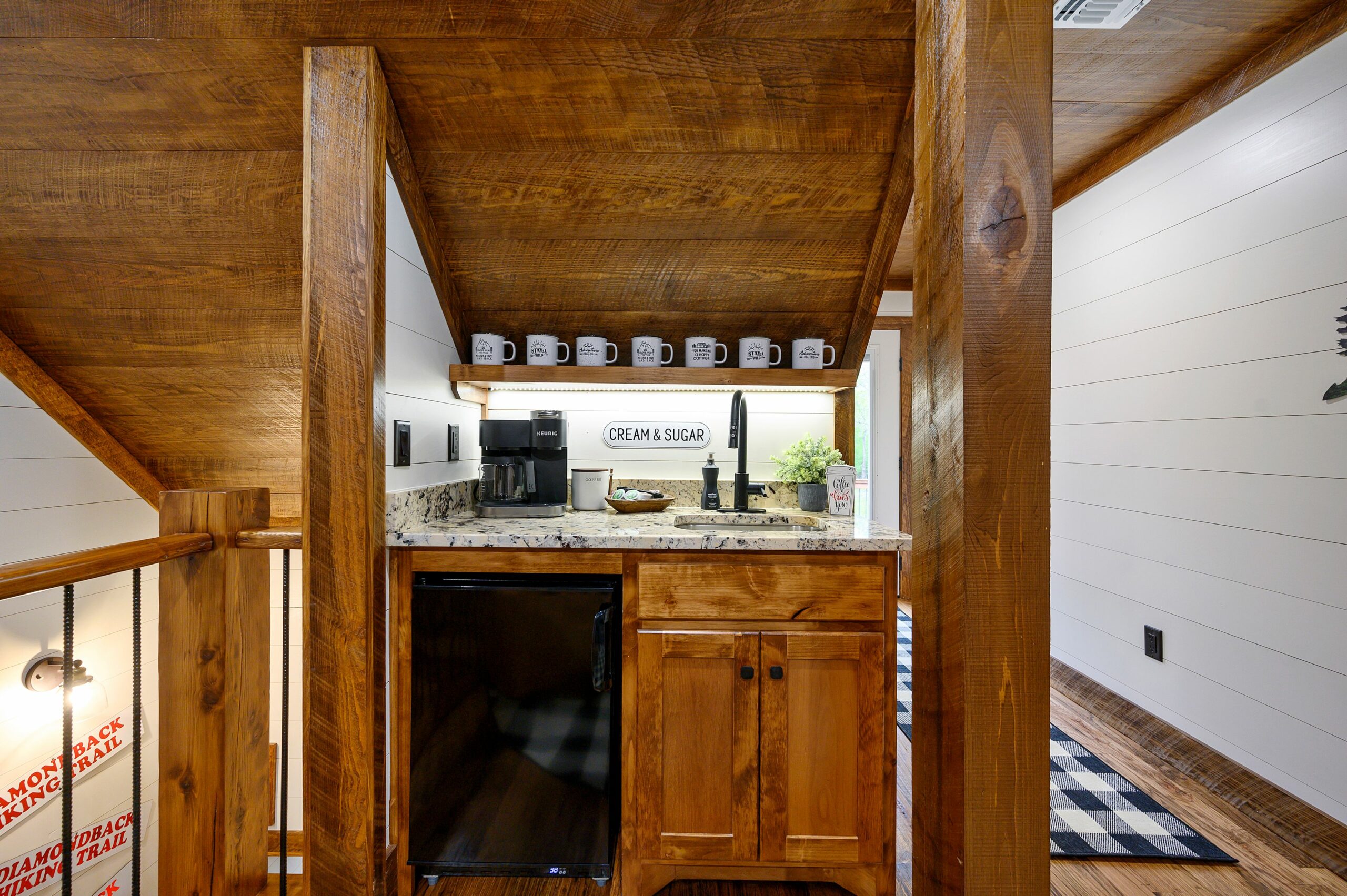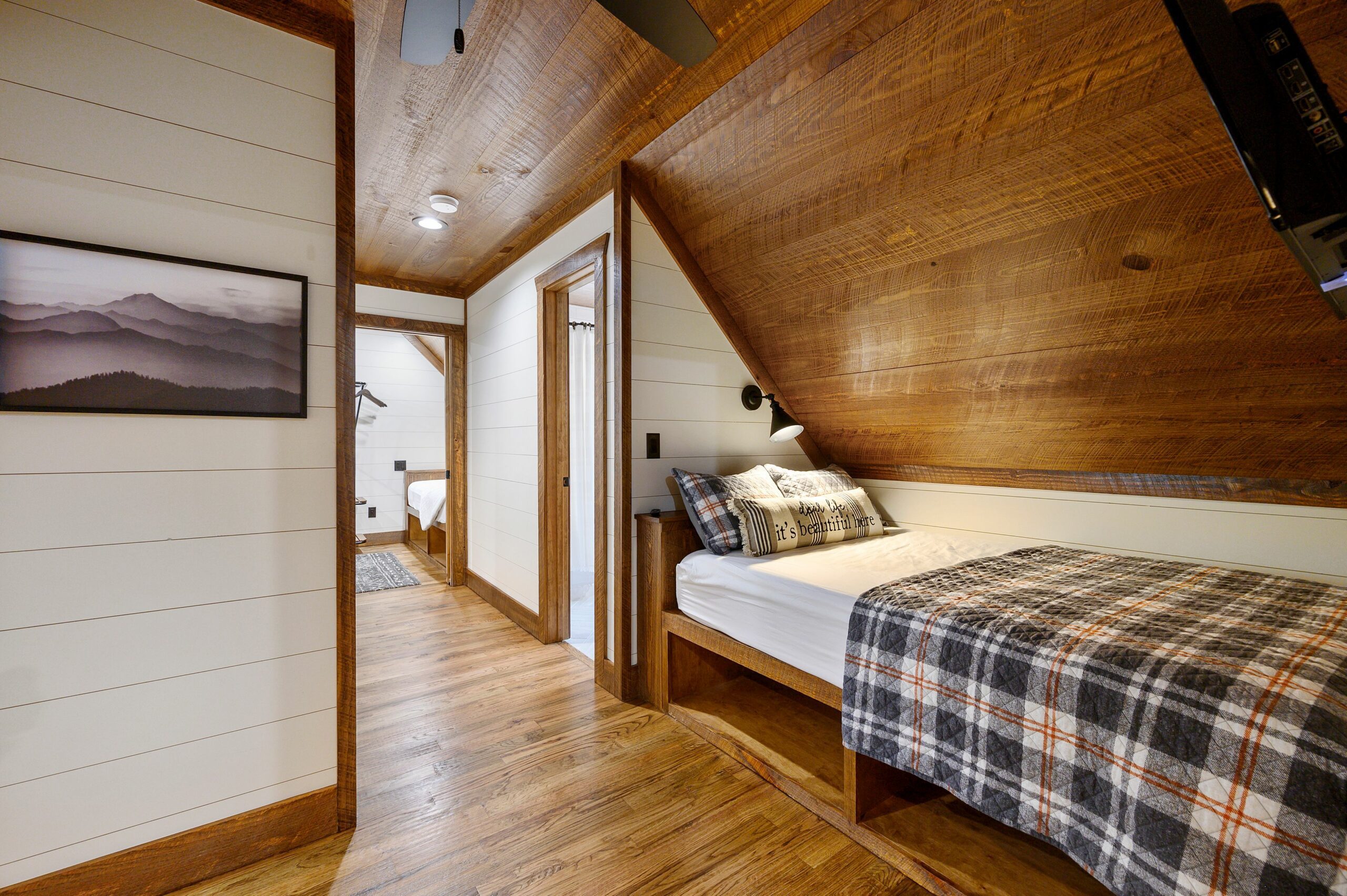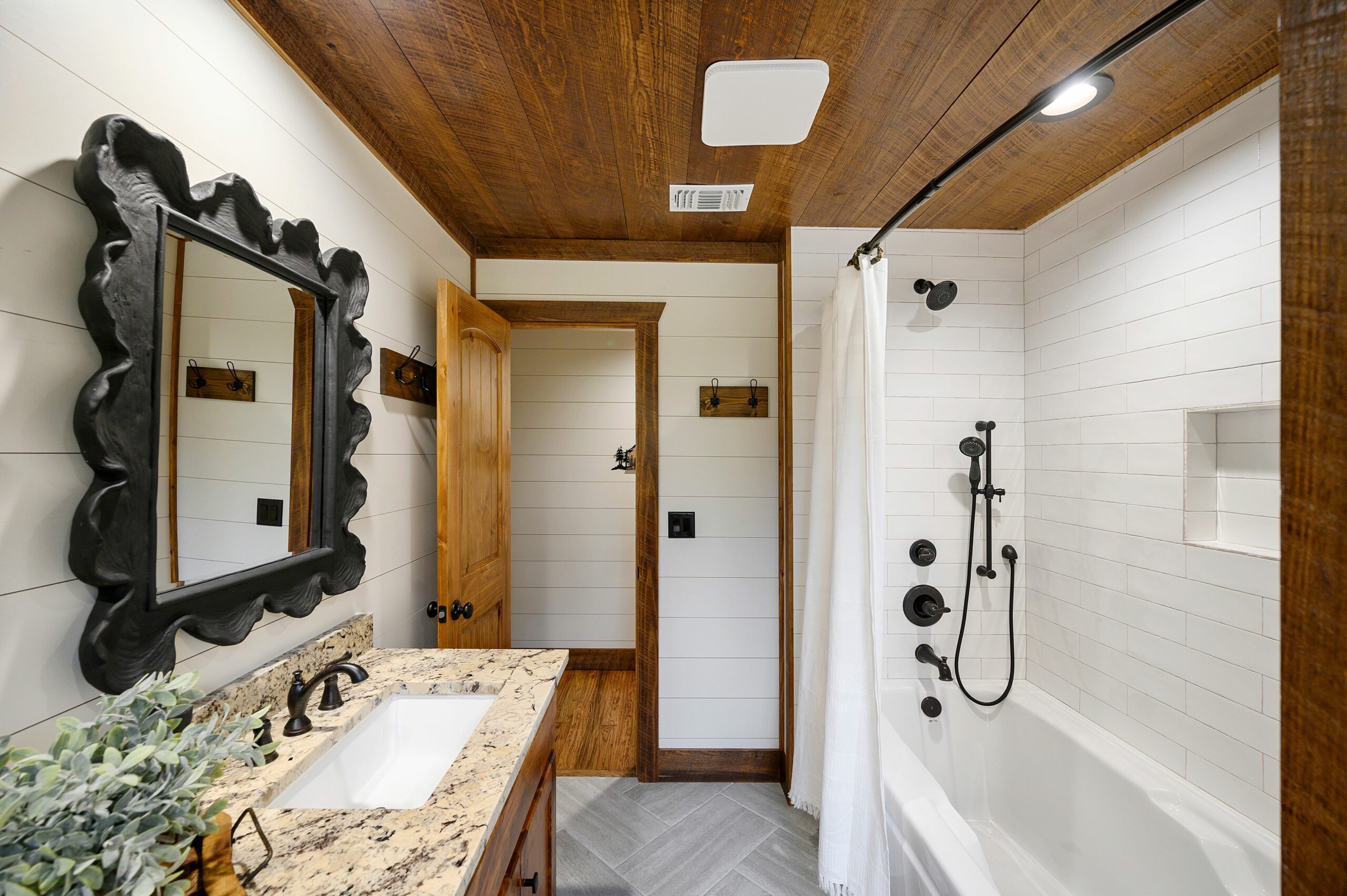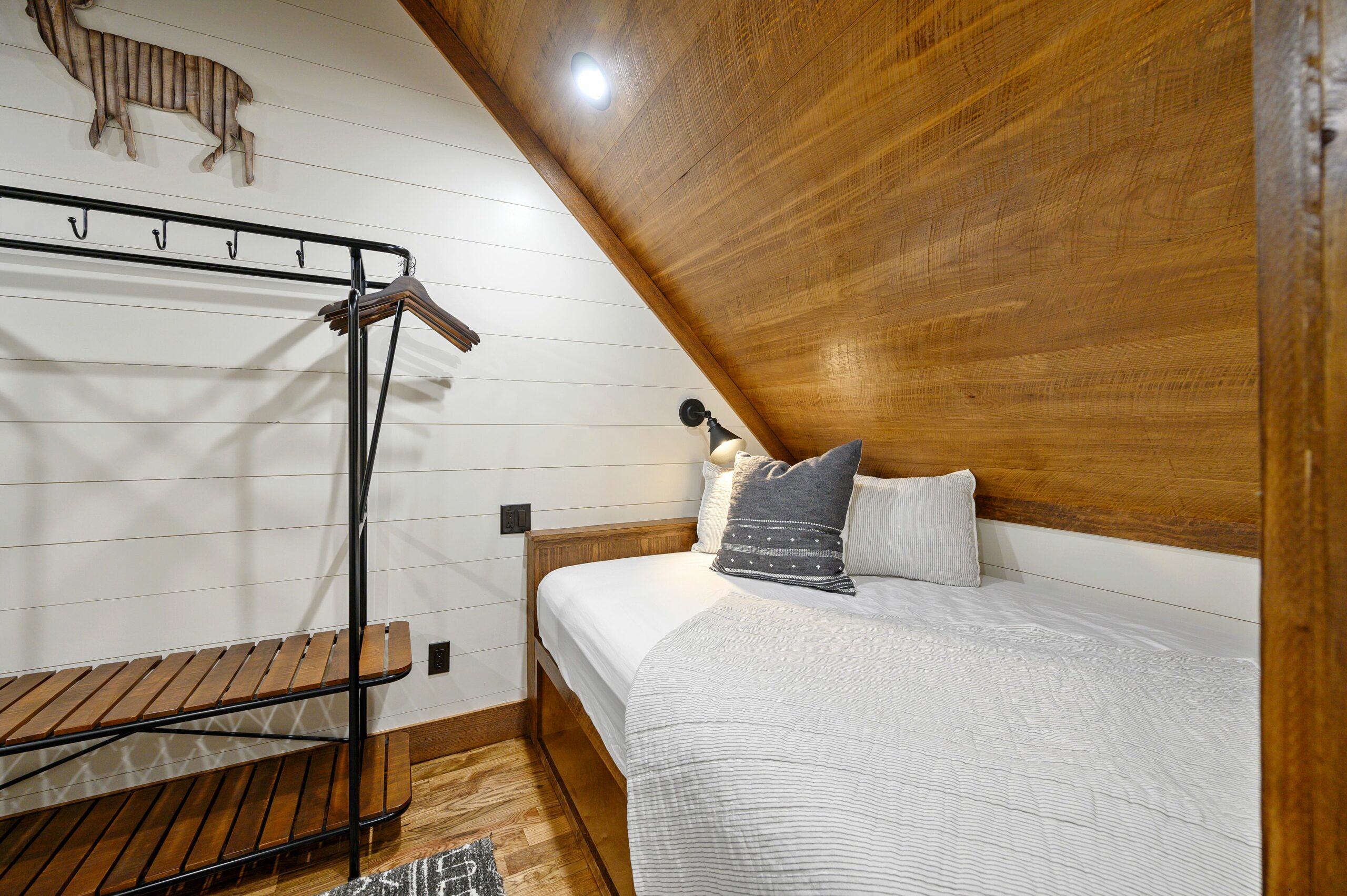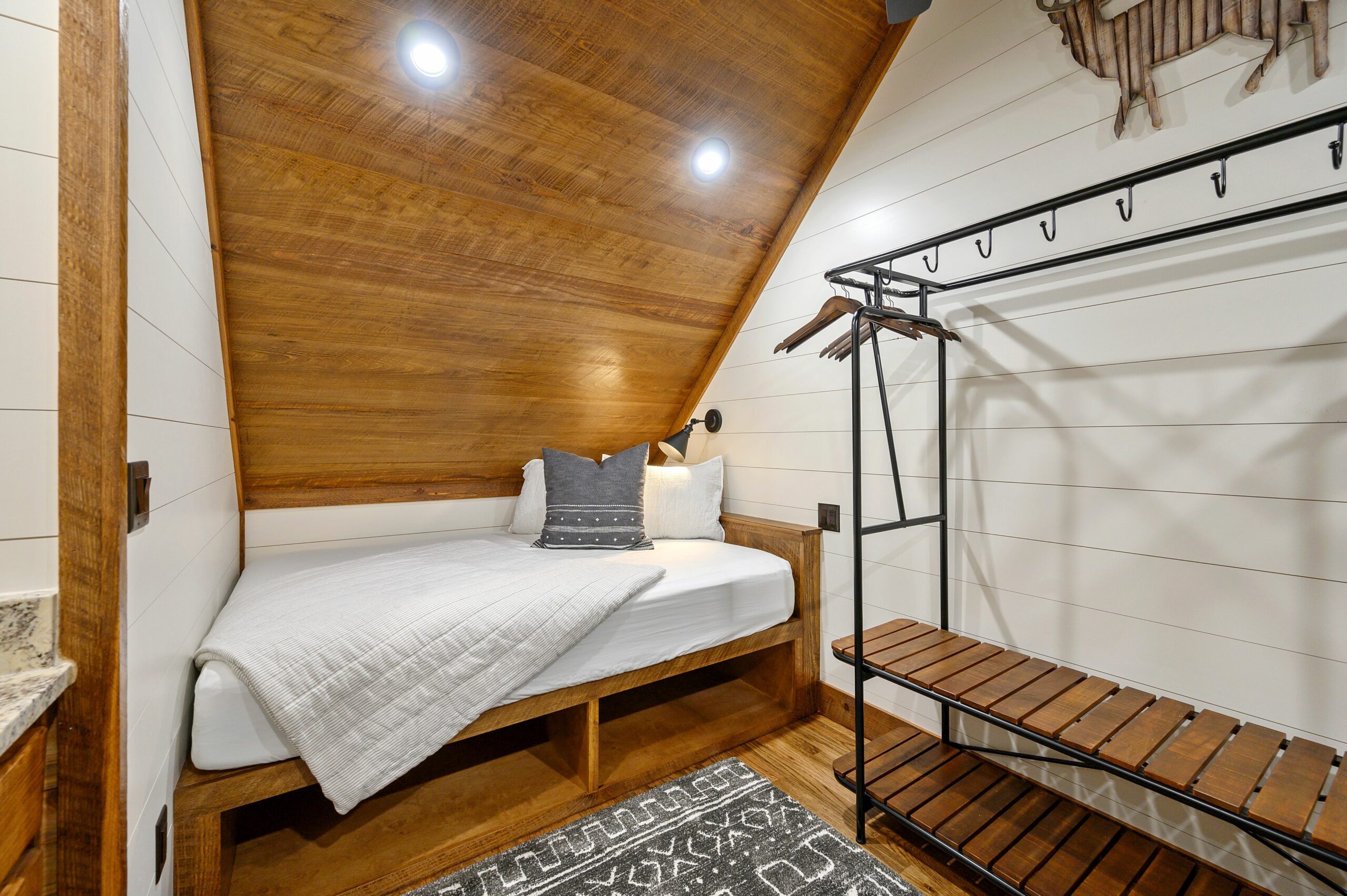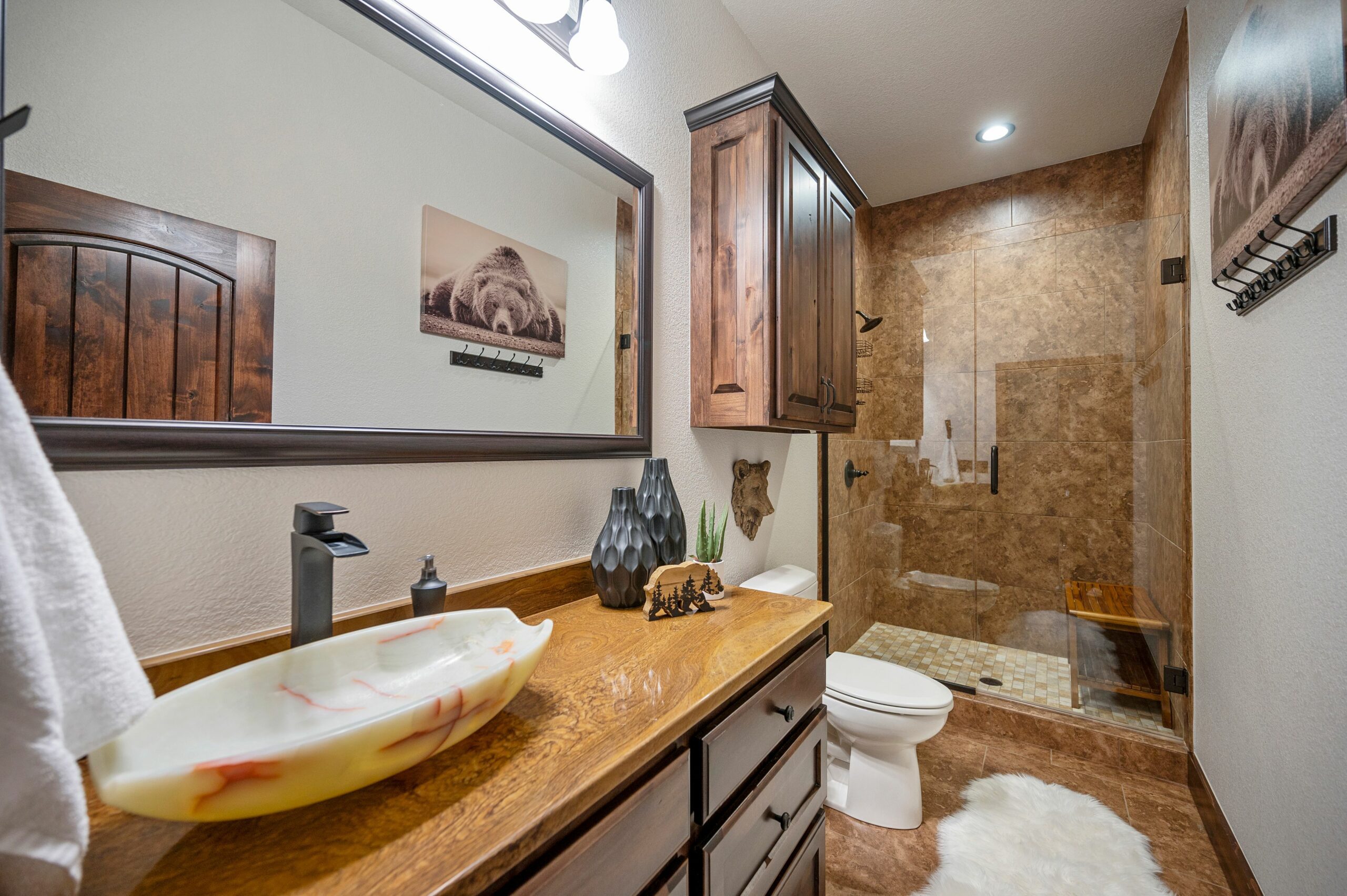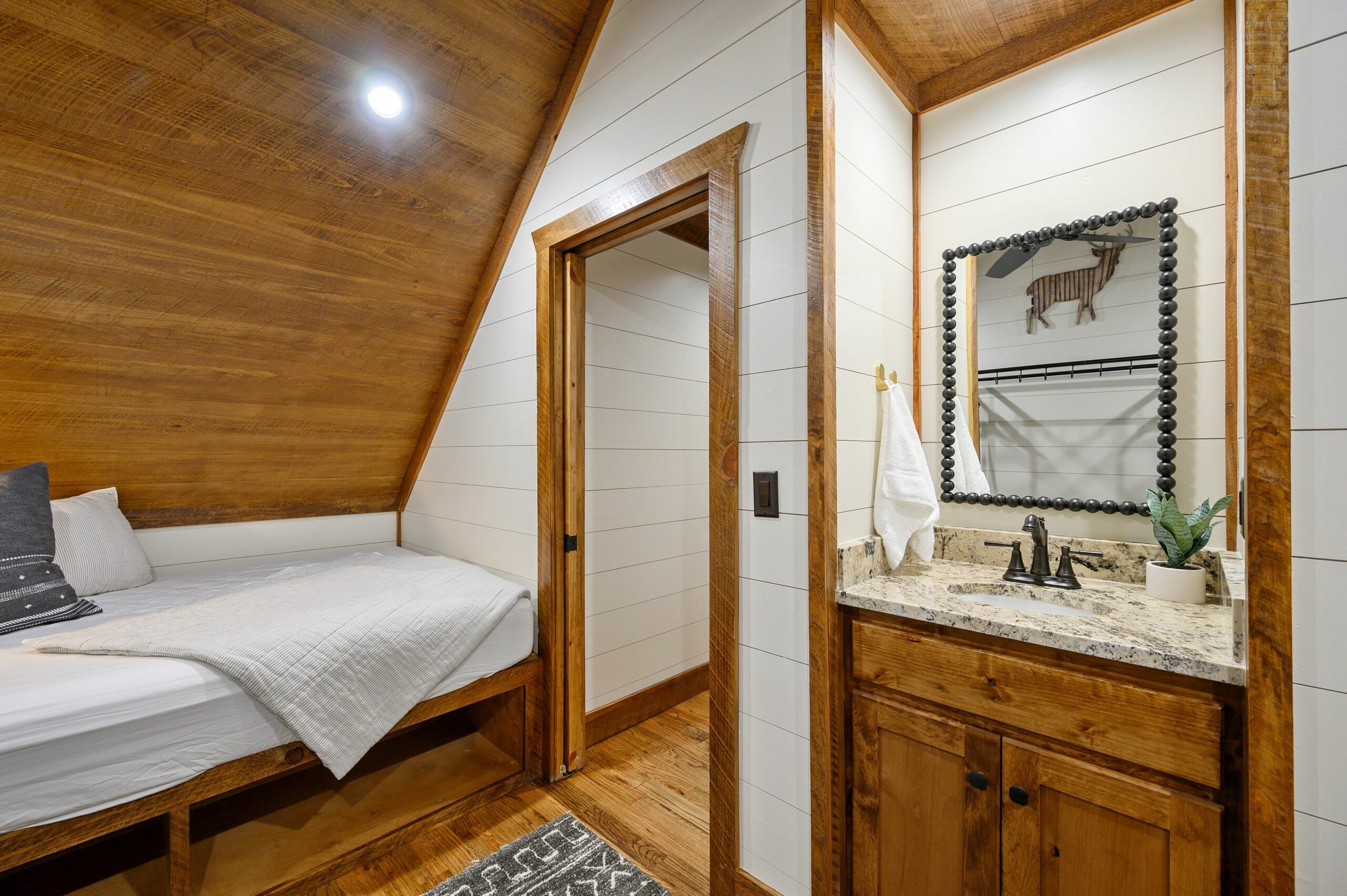 Last Wild River Resort offers a unique outdoor experience for nature lovers with total tranquility and seclusion! Glover River, the last wild river in Oklahoma, runs through the entire property and gives you gorgeous river and mountain views with massive moss rock boulders and ledges in the background. This is a place where kids get to experience nature and just being a kid. It can also be a place where adults can come to remember how it feels to be young and carefree again!
The first view you will experience at the entrance of the property is "The Lookout." It is one of the most beautiful mountain scenes in Southeast Oklahoma and sets the tone for the rest of your experience at this one of a kind property! With all of today's technology, it is nice to have a place you can go to disconnect and spend time with your family and friends. However, if you need to connect to the outside world, we do have wifi at the lodge, On River Time. It sleeps up to 18 and is located on the river's edge. The lodge gives you "Glamping", luxury camping in the woods.
ON RIVER TIME exudes a warm lodge theme throughout the cabin bringing the outdoors in. The great room and kitchen are open and very spacious. The fireplace is a focal point along with the amazing river view from the windows. The kitchen is fully stocked with all your cooking needs along with a gas stove and griddle. The dining table will seat eight, the bar seats six and an extra table seats four. There is a smart TV in the living room along with Directv. There is also a sound system in the living room and outside porch area. The outside covered porch has a wood burning fireplace, sitting area, an outdoor kitchen along with a hot tub with an up close and personal view of the river and mountains.
The downstairs has a large master king suite with a sitting area, jacuzzi tub, and sauna. There is another King Bedroom with a full bath that is across the hallway . It is shared with a bunk room with Queen over twin bunk beds. All of the bedrooms downstairs have smart TVs. Both of the king bedrooms downstairs have views of the river from the windows.
When you walk upstairs, you will enter a sitting area that has a cozy feel with a chaise lounge sectional and a bean bag chair. There is also a coffee bar, sink and a mini fridge in this area. If the guests upstairs are early risers, they can have their coffee upstairs, so they don't disturb the downstairs guests. When you leave the sitting area to the main hallway, there is a full built in bunk. The king master suite upstairs has a double vanity and white tile shower. There is an entrance to the outdoor deck from the sitting area, and the king master suite that has a beautiful river view. At the end of the hallway, there are two built-in queen beds and a vanity with a sink area. The second bathroom upstairs has two vanities and a tub/shower. There are smart TVs in every room with the exception of the bunkroom. Directv is in the sitting area as well.
The only sounds you will hear during your visit are those of nature. If you are adventurous, you can hike, which starts right on the lodge lawn, and explore across 164 acres through our hiking trails. Turkey Trot Trail, Whitetail Trail and Diamondback Trail will be a vigorous experience for the whole family. The trails will lead you past the flowing river and across Burks Hollow Creek to the destination of two different Mountaintops, Eagles' Ridge and Pines Peak. If you are a fisherman, you will love catching Bass and Perch at The Fishin' Hole. You can also take a canoe or kayak out to fish, enjoy floating around or just relax. There are also shallow parts to the river where you can bring your lawn chair to sit and watch the river flow over the rocks. If you enjoy games and activities, Nature's Yard is the spot to be. You can play volleyball, horseshoes, or hang out in the outdoor pavilion. If you would like to see a show, Sunset Theater is an outdoor amphitheater where nature takes the stage with the river sights and sounds with the mountain as the backdrop. The cast of the show is the occasional deer, squirrels, turkey and on some occasions eagles which are the stars of the show. The Last Wild River is a great place to spend time with family and friends to experience nature at its best! Words cannot do this little piece of heaven justice, but know it is good for the soul.
*On River Time is very secluded and private on 164 acres surrounded by US National Forest
*Hiking trails, fishing, kayaking and canoeing on property
*Property has a mile of river frontage and approximately a half mile of river access
*Corn hole, horseshoes, and volleyball
*45 Minutes from Beavers Bend State Park and Broken Bow Lake
*20 Minutes from Pine Creek Lake
*25 Minutes from Broken Bow, OK
*15 Minutes from Remote Floats on Glover River (2 Hour Float Trip)
*30 Minutes from Riverman Trail Rides Horseback Riding
*Events Allowed
NOTES:
*CELL PHONES will only work inside the lodge with wifi connection for internet. Wifi calling will work with phones that have that application.
*SATELLITE WIFI is available in the cabin but not guaranteed during your stay.
*GRAVEL ROADS are the access for the last 3 miles to get to the property.
--
Living Room:
Sectional * 2 Leather Recliners * 2 Wing Back Chairs * Gas Fireplace * Game Table * Game Cabinet w/Jumbo Board Games * Directv & Smart TV
Kitchen:
Refrigerator * Gas Stove w/Griddle * Dishwasher * Microwave * Blender * Toaster * Pots and Pans *Crock Pot * Mixer * Coffee Maker * Flatware * Dishes * Dining Table for 8 * Bar w/6 Barstools * Table w/4 Chairs
Downstairs Bedrooms:
King Master Suite w/Jacuzzi Tub, Shower Sauna, Smart TV
King Bedroom w/Smart Tv
Bunk Room with Queens over Twins w/Smart TV
Upstairs Bedrooms:
King Master Suite w/Smart TV w/Full Bath
Full Built in Bunk w/Smart TV
Built in Queen Beds w/Vanity & Sink
Full Bath w/Tub Shower & Double Vanity & Sinks
Upstairs Sitting Area:
Chaise Lounge Sectional * Bean Bag * Coffee Bar w/Dual Keurig & Coffee Maker * Mini Fridge * Directv & Smart TV
More Amenities:
Outdoor Hot Tub * Sound System in Living Room & Back Porch * Outdoor Fireplace * Outdoor Fire Pit * Volleyball * Horseshoes * Hiking * Kayaking  & Canoeing * Fishing
Miscellaneous:
*Starter supply of coffee, sugar, salt, pepper, paper towels, toilet paper, hand soap, dishwashing tabs, trash bags, and laundry soap will be provided.
*NO SMOKING*
*PETS NOT ALLOWED*
11/28/22
We had our wedding here in late October and it was phenomenal! The views here speak for themselves. The cabin is clean and has everything you'd need for a comfortable and luxurious stay. We cooked breakfast, went on hikes, had a private chef grill steaks, listened to the river, even had bald eagle sightings. All of our guests were blown away by this beauty here in SE Oklahoma. We had the ceremony in front of a rock face along the banks of the river followed by a party under the string lights at the reception space. Guests loved the saloon area and our vendors appreciated the commercial kitchen facilities. This venue is what made our wedding the one of our dreams. Last Wild River Resort is truly one of a kind.
~Dianna M.
11/04/22
Absolutely one of the most amazing locations my family, friends and I have ever been to. The views are one of a kind and the amenities and next to none. The management company had thought of everything you might need and were very responsive to and questions we had. It was tough to leave when the weekend was over. Would highly recommend visiting this resort.
11/01/22
Last Wild River is my family's favorite place to go. It has something for everyone. Hiking trails for my oldest...she loves to go off exploring with her favorite book. My younger kiddos love fishing and skipping rocks. And they all pile in the kayaks for hours of fun on the river while we watch from the beautiful porch above. The porch also doubles as my peaceful early morning spot, where I read and drink my coffee before everyone else wakes up. Then, at night, we cranked up the music and splashed around in the hot tub, ate smores by the fire, and played cornhole. The best part of all of these amenities is that it is all right there!! You don't have to drive to a separate boat launch or a state park for hiking and fishing. It is all at your fingertips at Last Wild River.
~Holly N.
10/12/22
I would rather not let people know about this place, but because they worked so hard to make it very nice, it deserves some publicity. This place is beautiful! Great for family gatherings! (Google 5-star review)
~JP
6/29/2022
It was amazing! The perfect getaway for our family! From kayaking, hiking, fishing, and playing games, it's truly the most peaceful place we have ever stayed. Will definitely be back next summer.  
~Jaime H.
CHECK-IN TIME:  Check-in begins at 4:00 pm. If you plan to arrive after 4:00 pm, please email us at bearmountainlodging@gmail.com.  This will help us better prioritize our cleaning schedule during the busy times of year.  On River Time is a self check-in and keyless entry cabin, you will receive your directions and key code via email 7 days before your arrival.
DEPARTURE TIME:  Check-out is at 11:00 am.  To make departure day more efficient for everyone, please text 580-212-4746 if you decide to depart early.  This will help us with getting the next guest in on time.  Owner is not responsible for items left in the cabin.  If requested, items will be shipped for a $25.00 handling fee plus actual shipping costs.
RESERVATION FEE:  We accept Visa, Mastercard, Discover and American Express.  You will need to use one of the major credit cards to make a reservation.  The Reservation Fee is 20% of the cost of the total reservation.  The Reservation Fees are applied towards the balance. The Reservation Fee is non-refundable.
BALANCE PAYMENT:  The balance is due 60 days prior to your arrival.  If reservation is made within 60 days of the arrival, the full repayment is due upon booking.
START UP SUPPLIES:  We will email a check-in report 7 days prior to your arrival to give you a list of start-up supplies we provide.  These supplies are not replenished during your stay.  Please bring additional supplies if you feel the starter supply is not adequate.
CLEANING FEE:  A non-refundable cleaning fee is required with all reservations.  This fee is for our housekeepers who dust, vacuum, sanitize, clean linens and towels, and maintain the hot tub.
ALL CHECK-OUT INSTRUCTIONS LISTED MUST BE COMPLETED PRIOR TO DEPARTURE. Renter agrees to maintain cleanliness of the cabin during their stay and leave the cabin in a reasonably clean condition when they depart.  All dirty dishes should be placed in the dishwasher and turned on before leaving the cabin.  Refrigerator needs to be emptied of all food.  Tie up trash bags and place them in outside containers.  Please start a load of towels before your departure.  You do not need to strip the beds. Our cleaning staff will take care of that. We will take care of the rest!  Additional cleaning fees will apply if the policy is not followed.  A rate of up to $45/hour, with one hour minimum can apply for additional cleaning.
AGE REQUIREMENT: You must be 25 years of age to reserve this vacation rental [and present].  This cabin is limited to families or adults 25 years of age or older.  We will not rent to students or singles under 25 years of age or unless accompanied by an adult guardian or parent.  We reserve the right to refuse service with monies forfeited if any discrepancies in our policies are suspected.
MAXIMUM OCCUPANCY-18:  Do not exceed the maximum occupancy allowed for the cabin.  Guests that violate this restriction will be asked to leave and will lose all rental fees.
GUEST LIST:  We do require a list of names and ages of guests before your arrival if you did not provide it at the time of your reservation.
RESERVATION REQUIREMENT: There is a 3 night minimum for this property.
DAMAGE PROTECTION WAIVER:  Each reservation includes a non-refundable Damage Protection Waiver of $79.  This waiver is designed to protect the Renter and Owner from charges due to accidental damage only.  The waiver provides up to $500.00 to repair accidental damages (beyond normal wear and tear).  If any damages surpass $500.00, additional charges will be applied to the credit card on file and written documentation will be sent to the Renter of record.  If damages are determined to be causes by the willful misconduct, the Waiver will be voided.  These occurrences will result in the Renter credit card on file being charged in full for any damages.  All ACCIDENTAL DAMAGE MUST BE REPORTED TO BEAR MOUNTAIN LODGING BEFORE RENTER'S DEPARTURE TO QUALIFY FOR PROTECTION.
ATV RIDING IS PROHIBITED ON THE PREMISES
CHANGING CABINS OR DATES:  Date changes or removing nights are subject to a $50 fee.  You cannot make a change if you are within 60 days of your arrival date. Reservations cannot be moved from one cabin to another.
NO HOUSE PARTIES OR OTHER EVENTS:  House parties are strictly prohibited.  Renter may use On River Time as a residence and may not hold house parties or other events, such as weddings or reunions, without management's consent. Renter understands that we will accept families, married couples, and responsible adults 25 years of age and older ONLY.  Renter acknowledges that violation of this agreement will lead to you being required to leave with NO refund.  Renter must state, in advance, the number of renters/guests during their stay at On River Time .
PETS NOT ALLOWED:  We know you love your fur babies and we do too. However we do not allow pets at On River Time  Non-Compliance of our NO PET policy will result in a $100 per day charge. Again, guests that violate this restriction will be asked to leave and will lose all rental fees.
NO DAILY HOUSEKEEPING SERVICE IS PROVIDED.
NO SMOKING IN CABIN:  We ask that you do not smoke inside the cabin.  If you must smoke, do so outside and away from the cabin and dispose of smoking remnants responsibly.  Non-compliance with the non-smoking rule, or any evidence of smoking in, on, or around the cabin, will result in in a minimum $150 per day charge.   ALL CIGARETTE BUTTS MUST BE FULLY EXTINGUISHED, BAGGED AND PLACED IN THE OUTSIDE TRASH CAN.
SHOOTING FIREARMS OR FIREWORKS are prohibited on cabin property.
HOT TUBS & COVERS:  Our hot tubs are drained, cleaned and chemically treated after every rental.  The cover must be in place when the hot tub is not in use.  Add a capful of shock enhancer in the hot tub after each use.   Children under the age of 18 are not allowed to use the hot tub without constant adult supervision.  Hot tub use is strictly at your own risk.  Persons with high blood pressure, skin sensitivities, or who might be pregnant are strongly urged not to use a hot tub. Anyone with medical conditions should consult with their physician prior to using the hot tub.
Do NOT allow anyone in your group to walk-on, jump-on or play-on the hot tub covers, they will break.  The condition of the hot tub is checked after every checkout and before your arrival.
WE LOVE OUR TREES!  Please do not cut on or cut down trees on the property.  Fines will be charged to your account for damaging trees.
WARNING CONCERNING NATURAL HAZARDS:  The river is a natural body of water with untreated water which may make it difficult to judge depth or see submerged objects.   Under water hazards may exist including submerged trees and wildlife, as with any natural body of water, you should use common sense and caution while entering and enjoying the water.  Diving and jumping in are discouraged.  Being a natural body of water, the river does not have many of the safety features found at man-made pool.  For example, there is not fence or barrier restricting persons from entering the water, no depth sign, nor any life guards on duty.  Swimming is at your own risk. 
The river is subject to occasional wet-weather flooding during heavy rains.  You are responsible for monitoring weather forecasts and area flood watches.  You should not use the river or other low-lying areas when flooding is a risk.
On River Time and the surrounding property offer excellent opportunities for hiking, kayaking, canoeing and other outdoor activities.  If you engage in these activities, we urge you to follow reasonable and customary precautions and safety measures.  You are responsible for your own well-being.  You undertake these activities at your own risk.
On River Time is in an area with an assortment of wildlife, including bears, wolves, coyotes, deer, and snakes.  These animals are wild and can be dangerous.  Even smaller animals, such as foxes, raccoons, skunks, rabbits and squirrels can be hazardous.  Do not get close or attempt to feed or touch wildlife.  You are responsible for your safety and the safety of wildlife.  If an animal approaches you, it is your responsibility to move away and maintain a safe distance.
PROPERTY ELECTRONIC EQUIPMENT: Please do not tamper with the electronics, television, receivers, etc. equipment in the cabin.  Also please do not unhook or disconnect any cords or wires from any of the equipment.  We do check the TV's, DirecTv receivers, and surround sound to ensure they are in working order. Please make sure everything is in working order before you leave.   A $100 fee will be charged for unhooking or tampering with any electronic device.
OUTDOOR SURVEILLANCE camera is located at the garage entrance of the house.
MAINTENANCE PROBLEMS will be addressed in as timely a manner as possible. However the rental rate cannot be adjusted due to any malfunction of equipment (which includes  T.V., VCR, DVD, heating units, hot water heaters, stoves, refrigerators, hot tubs, locks etc). In the extremely rare case where there is a major problem with heat, hot water, etc that makes the home uninhabitable we will try to arrange a different accommodation.  If that is not possible, all fees will be refunded. Non-emergency maintenance issues will be addressed during business hours.  Manager, manager's staff, and /or contractor of manager, may enter the rental property at an reasonable time to make any needed repairs.
COVID 19: As of March 14, 2020 the Covid-19 pandemic has been widely publicized worldwide.  All guests who book reservations are now aware of the risk and therefore our full cancellation policy is in effect. Covid 19 is not a valid reason for cancellation, therefore NO REFUNDS, NO EXCEPTIONS. 
I, the undersigned Renter, agree that I and my party will indemnify and hold harmless the Owner and Manager of the Property and that they shall not be liable for any damages arising from personal injuries sustained by the Renter or guests (including any minor children) as a result of any and all activities related to the rental, operation or use of equipment and Property provided by Bear Mountain Lodging, LLC.  By accepting this reservation, Renter agrees that all guests are expressly assuming the risk of any harm arising from their use of the premises or others whom they invite to use the premises.  Renter assumes full responsibility for any such injuries or damages which may occur, and further agrees that Bear Mountain Lodging, and Owner of the Property shall not be liable for any loss or theft of personal property.
CANCELLATION POLICY
*We require a 60 day notice of cancellation.
*All funds received at or before the time of cancellation are non-refundable.
*If the property is re-rented for the same time frame, you will receive monies paid back, less a service of $500.00.
*We request all cancellations in writing, via email. We will accept cancellations via phone, but will again request a follow up email. Only the renter on the reservation may cancel a reservation.
*Inclement weather does not make a valid cancellation.
*Trip Insurance can be purchased at www.insuremytrip.com.
COVID 19: As of March 14, 2020 the Covid-19 pandemic has been widely publicized worldwide.  All guests who book reservations are now aware of the risk and therefore our full cancellation policy is in effect. Covid 19 is not a valid reason for cancellation, therefore NO REFUNDS, NO EXCEPTIONS.